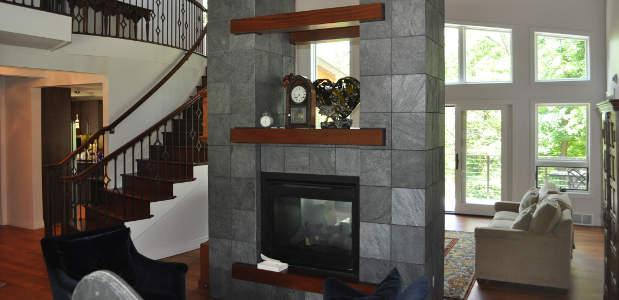 Few things are more comforting that sitting in front of a fire in your living room. At one time, log fireplaces were used as a primary source to heat a home. Today, fireplaces are built for aesthetics and ambience. For this reason, a gas fireplace is a terrific option when looking at adding that level of comfort to your home.
Why a Gas Fireplace?
The simple answer is that it is less hassle. A wood fireplace requires that you chop or buy wood, making a fire difficult on those cold nights when you realize that you are out of wood, the stores are closed, and it's too cold and dark out to cut it yourself. Wood burning units require far more planning, but convenience is not the only reason to use gas instead of wood. Burning wood is dirty. Even the slightest backdraft can cause smoke to come into your house allowing for smoke damage on your furniture, drapes, and rugs. They also require far more maintenance than a gas fireplace and allow in drafts that can be chilling and costly.
Types of Gas Fireplaces
The model most often considered is a gas log fireplace that ventilates outside the same way a wood-burning fireplace or stove does. Technological improvements have allowed for other models. Some gas logs are not even vented at all. This is accomplished because these units burn at such a high temperature that it results in nearly complete fuel combustion, decreasing the levels of carbon monoxide and ash to levels comparable to or lower than a vented unit and far lower than a wood unit.
Unvented units were created to allow flexibility in design, but it is not the only option. Vented, freestanding gas fireplaces are a terrific option as well. This is allowed by a feature called "positive venting," which allows venting in any direction, even down.
Gas Fireplace Inserts
Gas fireplace inserts are systems made to fit inside already existing wood-burning fireplaces. This is a terrific option to put an end to those chilling drafts, and to redesign the look of your fireplace to better fit your home design. The design options are endless, and a good installation company or gas fireplace insert distributor will show you how endless they are. You can choose anything from a traditional stone look to a metal facade.
Ready to start your
Gas Fireplace Install

?Find Pros
Safety
Whether you use a vented or unvented gas fireplace, it is always a good idea to buy a unit with an Oxygen Depletion Sensor, designed to turn off the gas when the carbon monoxide levels become too high. Similarly – and this should happen whether you have a gas fireplace, wood fireplace, or simply a cooking stove – you will want to make sure that there are multiple carbon monoxide detectors throughout your home.
In the end with a gas fireplace you will find a safer, cleaner, more efficient and inexpensive alternative to the old practice of burning wood to stay warm. And the ambience or a romantic night at home, or a relaxing time with a book by a fire, will become as simple as the flip of a switch rather than hours of labor. You might even find that one unit in the living room simply isn't enough. Perhaps there should be one in the kitchen, in your bedroom, and in a sitting room. And with the flexibility of these options, you will be able to meet those needs.
No Comments Yet