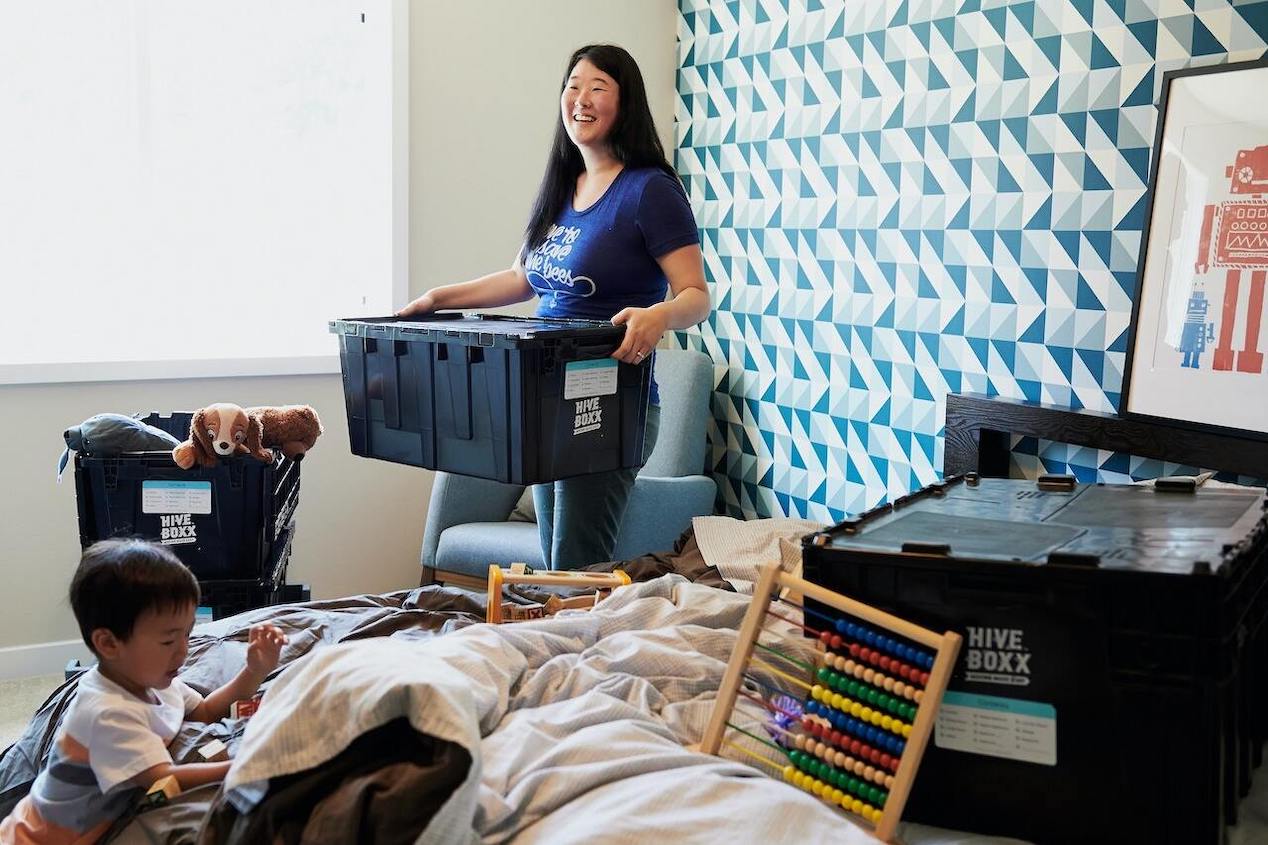 Every now and then, it's a good idea to give your home a once-over and clear some space. Whether you're preparing for a renovation or you just need a little extra room, take the time to assess your belongings. Chances are, you'll find plenty of items that you can get rid of to free up valuable space.
However, it's not always as simple as doing a lap around your home with a trash bag. We've broken down common items into seven categories so you can determine how to safely get rid of 50 items in no time flat.
Appliances
You may want to replace appliances during a kitchen remodel, but what should you do with your old ones? Appliances often have resale value, or you can donate them. Many manufacturers feature recycling programs to help those who need appliances.
1. Refrigerators
If you plan on tossing a refrigerator, contact your local trash service to see if there are bulk pickup services available or a large trash pickup day. Visit Earth 911 to find out if there are local drop-off locations near you.
2. Microwaves
You can recycle a microwave at a drop-off recycling center. You can also donate or sell it if it's still in good condition. Just be sure to clean it first.
3. Washers and Dryers
First, contact the manufacturer you bought your washer or dryer from to see if they offer recycling programs. If they are in good condition, contact a local nonprofit to see what appliances they accept.
You can also recycle these at a local scrap metal recycling center. Call your local recycling center to see if they can pick it up.
4. Kitchen Stoves
Like other appliances, consider donating stoves in good condition. You can also sell them in your local area.
Before moving the stove, it is a good idea to bring in a plumber to ensure the gas is properly disconnected. And because of their size, you can use a junk hauler to do the heavy lifting.
5. HVAC Systems
Large HVAC units such as heaters and ACs should always be recycled since they contain chemical refrigerants. Contact a professional to disconnect these devices for you. Some cities will pick them up from your curb. Ask your local waste pickup provider for details specific to your area.
Hazardous Household Items
After recent service from a local painter or local pest control company, you may have leftover liquids that you can't throw away. Handle hazardous or flammable items with care. Most cities have special drop-off areas for dangerous items and chemicals.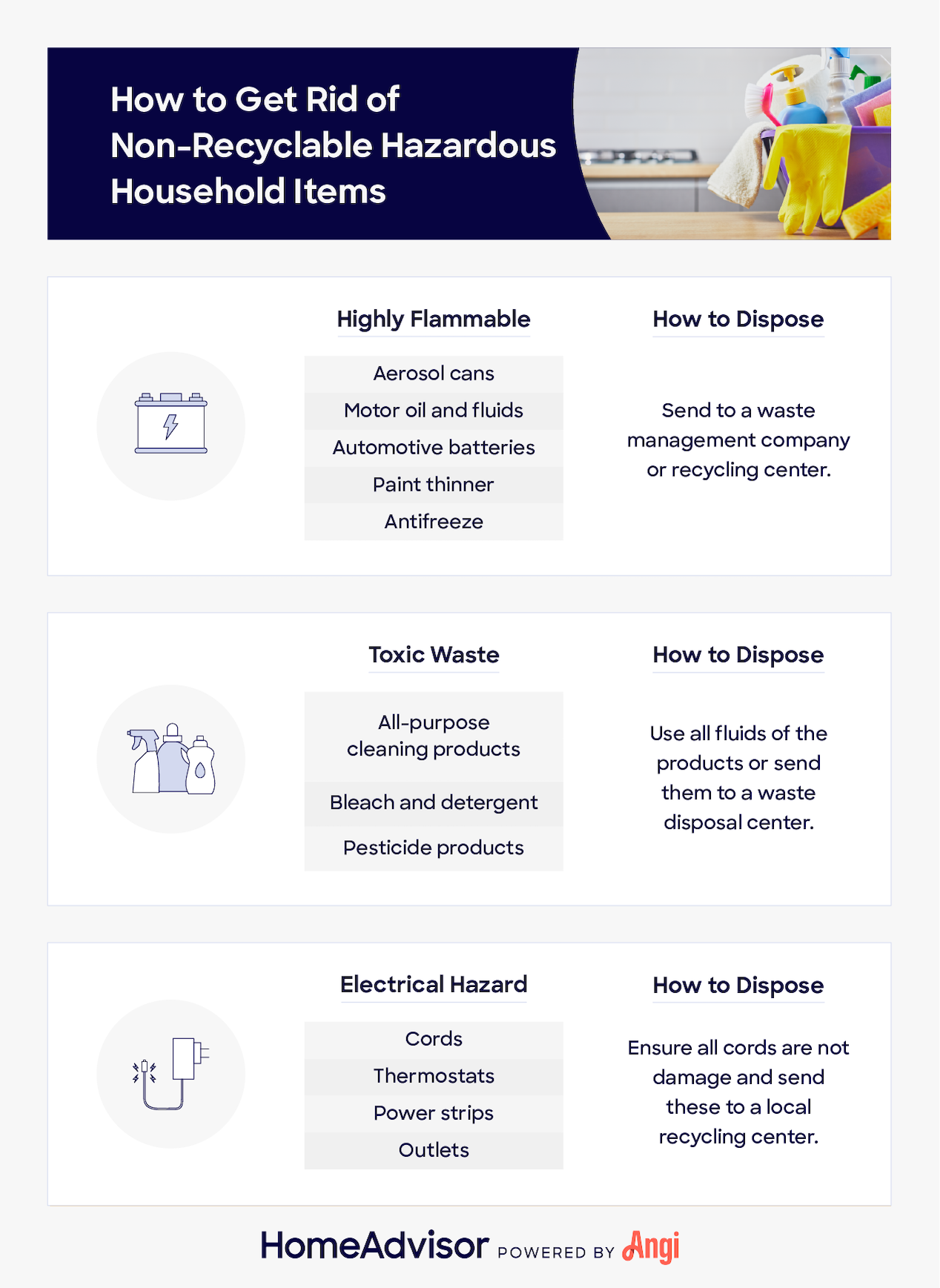 6. Automotive Batteries
Once safely removed from your vehicle, a car battery requires special handling. Car batteries are highly flammable and toxic. Bring old batteries to local auto stores for safe disposal. They can also go to your local hazardous waste drop-off area or a local metal recycler.
7. Motor Oil/Fuel
These fluids contain toxic chemicals and are flammable. Never pour them on the ground or down a drain.
You can reach out to a waste disposal center or hazardous recycling waste center for local guidance. Nearly every municipality will have a designated drop-off area for hazardous chemicals. Many auto stores accept used motor oil as well as other recyclables such as batteries.
8. Transmission/Brake Fluids
Just like motor oil, these fluids are hazardous. Proper disposal is essential, and you can take these liquids to your local household hazardous waste center. Dispose of these the same way you would oil and fuel. You can search for the nearest brake fluid recycling facility on RecycleNation.
9. Paint
You can't throw out most paint, as it is also considered hazardous waste. Take oil-based paint to an appropriate disposal or drop-off center. Additionally, Paint Care has drop-off locations in nine states, and Habitat for Humanity will often take paint in good condition.
10. Batteries
Batteries contain chemicals and metals that are hazardous waste. Take them to a hazardous waste disposal facility or recycling center. Many electronic stores offer battery drop-off services for recycling or disposal, as well.
If you're researching where to dispose of batteries, Call2Recycle can help find where to recycle batteries of all types.
11. Aerosol Cans
Completely empty your aerosol cans before tossing them in the recycling bin. If you can't empty them, take them to the local hazardous waste drop-off.
Common Household Items
Most common household items can be recycled or trashed, but consider selling or donating certain items that have extra use left in them.

12. Lightbulbs
Some recycling centers take light bulbs; others don't. So be sure to ask first. Hardware stores will also accept old lightbulbs, and some retailers even have lightbulb disposal services.
Otherwise, toss incandescent bulbs and lamps into the trash. Wrap broken bulbs in a paper or plastic bag before placing them in your trash bin.
13. Food Cartons
Though many food cartons contain paper products, few are recyclable. Drinking cups, solid paper products, and fast food packing should all go into the trash, as should plastic utensils. However, you should always check your items for specific differences.
14. Backpacks
A backpack in working order can have another life. Look for local donation centers, another great destination for a backpack ready for a new home. There are often local backpack drives before school starts, so keep an eye out.
15. Books
Hardcover books are too rigid to recycle. You'll have to remove the hardcovers to recycle the pages. However, consider donating books that you no longer want.
Libraries will take books in good shape. Some stores and online retailers will accept books in good condition to sell them. You can also look for a Little Free Library to donate them to or swap them for new books.
16. All-Purpose Cleaning Products
Be sure to use the entirety of the product. Pour the remaining contents down the drain and flush with water unless otherwise instructed. Rinse the containers with water as well. The empty containers are usually recyclable.
17. Kitchen Supplies
You can sell, donate, or recycle many kitchen items. High-quality items such as pots and pans can fetch considerable prices on resale sites and Facebook marketplace. Online resale sites are also great places to sell your dinnerware. But, items such as cups and plates will have to be in great condition. Otherwise, local donation centers will gladly accept gently used kitchen supplies.
Pay attention to anything damaged or discolored. These items should go to the recycling center.
18. Bedding
Getting rid of anything fabric will depend on its condition. Donate or sell bedding in good condition. Make sure there is no damage or obvious wear and tear. If the bedding is worn out, donate it to local causes such as animal shelters.
19. Pillows
Like bedding, you can recycle pillows of good quality. In some cases, not all the raw materials used to manufacture pillows are renewable. There are many ways to get rid of your pillows, from mail-in recycling to drop-off locations.
20. Prescriptions or Medicine
You should always finish all of your medication if directed by a doctor. If you can't, dispose of it quickly to help reduce the chance of others accidentally taking the unneeded medicine.
Typically, you should never flush medicines down the drain, according to the EPA. Instead, bring them to local take-back events or deposit unused, unwanted, or expired prescription drugs/devices in the trash. Remove any personal information, and be sure they are kept out of reach of children.
21. Holiday Decorations
Don't let your decorations collect dust year after year. Many home improvement stores may take your old holiday decorations. If not, look to sell them (or give them away).
Most decorations are recyclable. Hardware stores will take faulty strings of lights. Local organizations will also often have recycling drives to divert lights and other plastic decorations from landfills. If they are not artificial, Christmas trees can be brought to the nearest recycling center or left at your curbside, depending on your local ordinances.
22. Toys
Used toys often sell through online sites like eBay. You should also consider donations. Most charities, local and nationwide, will accept toys in good condition. You can also look for younger family members or friends who could use your gently loved toys.
23. Board Games
You can donate or sell these items if you have no use for them anymore. You can also give these to local families, friends, or local shelters and schools. Make sure all the parts and pieces are included.
24. Old Magazines and Newspapers
Like books, you can recycle any paper materials in your living space. Some thrift stores will accept old magazines, as will some libraries. But, the items must be in good condition, and this is not always a guarantee. Organizations like MagLiteracy will accept clean and gently read magazines for all ages.
Personal Care, Toiletries, and Cosmetic Products
The containers of cosmetic goods are often recyclable. Some companies even give you a discount or free items if you return empty containers.
25. Shampoo Bottles
You can store empty and rinsed bottles in plastic bags and put them in your recycling bin. You can contact your local recycling center to see if they can pick it up, or you can drop it off yourself.
26. Skincare Products
You can recycle these packages if the contents are plastic or glass. For bottled products, make sure the bottle is empty before recycling. TerraCycle and Garnier both have recycling programs for all brands of skincare, haircare, and cosmetic packaging.
27. Nail Polish
The EPA considers nail polish a hazardous item due to the chemicals it contains. Therefore, you can't recycle bottles of nail polish, but you can sell or donate them if they are mostly full or unused.
If you have a small amount of polish left, pour it into a newspaper and let it dry completely. Then, toss it in the trash.
28. Toothbrush and Toothpaste
Some brands like Colgate and Preserve have toothbrush recycling programs. You can recycle old toothbrushes there or use them to clean hard-to-reach places, like faucets and shoes. For toothpaste, use it all and recycle the package.
Office Supplies
If you're working from home, you may have more office supplies and packages you need to dispose of. Office supplies are a mixed bag when it comes to reusability.
29. Packing Materials
Styrofoam is not recyclable in most areas, but packing stores often accept it. Contact the local branch to be sure before visiting. They can also advise on other packaging materials, including plastic and cardboard.
30. Printer Ink Cartridges
Take them to a local office supply store for recycling. Some cartridges can be refilled. Use caution when handling these, as they can leak ink onto surfaces if mishandled.
31. Writing Utensils
Consider donating crayons, pencils, and colored pencils to local children's charities. Most writing utensils are recyclable, as well. Used pens can't go into normal plastic recycling bins because they contain bits of metal and ink leftover. The easiest way to recycle pens is to send them to a recycling program.
32. Cardboard Boxes
Cardboard can and should be recycled when it's ready for the trash. If the boxes are still fit for use, resell them online or in local neighborhood market groups. You can also try listing your boxes on local sites and groups to help neighbors who are moving.
Clothes and Accessories
If you don't resell your clothes, donate them to those in need. Shelters will take clothes still fit for wearing. And there are often seasonal drives for various articles of clothing.
33. Textile Clothing
You can donate or resell clothing that's still fit to wear. Many organizations and secondhand shops will take most clothing in good condition. There are also often coat drives in the winter months.
If the items aren't in good condition, you can recycle them at textile centers.
34. Shoes
Donate shoes in thrift stores, sell them online, or recycle them. Look for charities such as Soles4Souls or drives that collect shoes and footwear throughout the year. Junk shoes can be thrown out in the trash.
35. Jewelry
If you're not selling your jewelry, you should donate it. Even costume jewelry can end up in a secondhand or thrift shop. Unless broken or otherwise ruined, try to give your old jewelry some new life by passing it on to a new owner.
Gold can also be infinitely recycled, so you can also choose to sell or donate to recycling options.
Electronics
Some electronics require special disposal. Others need the regular trash bin.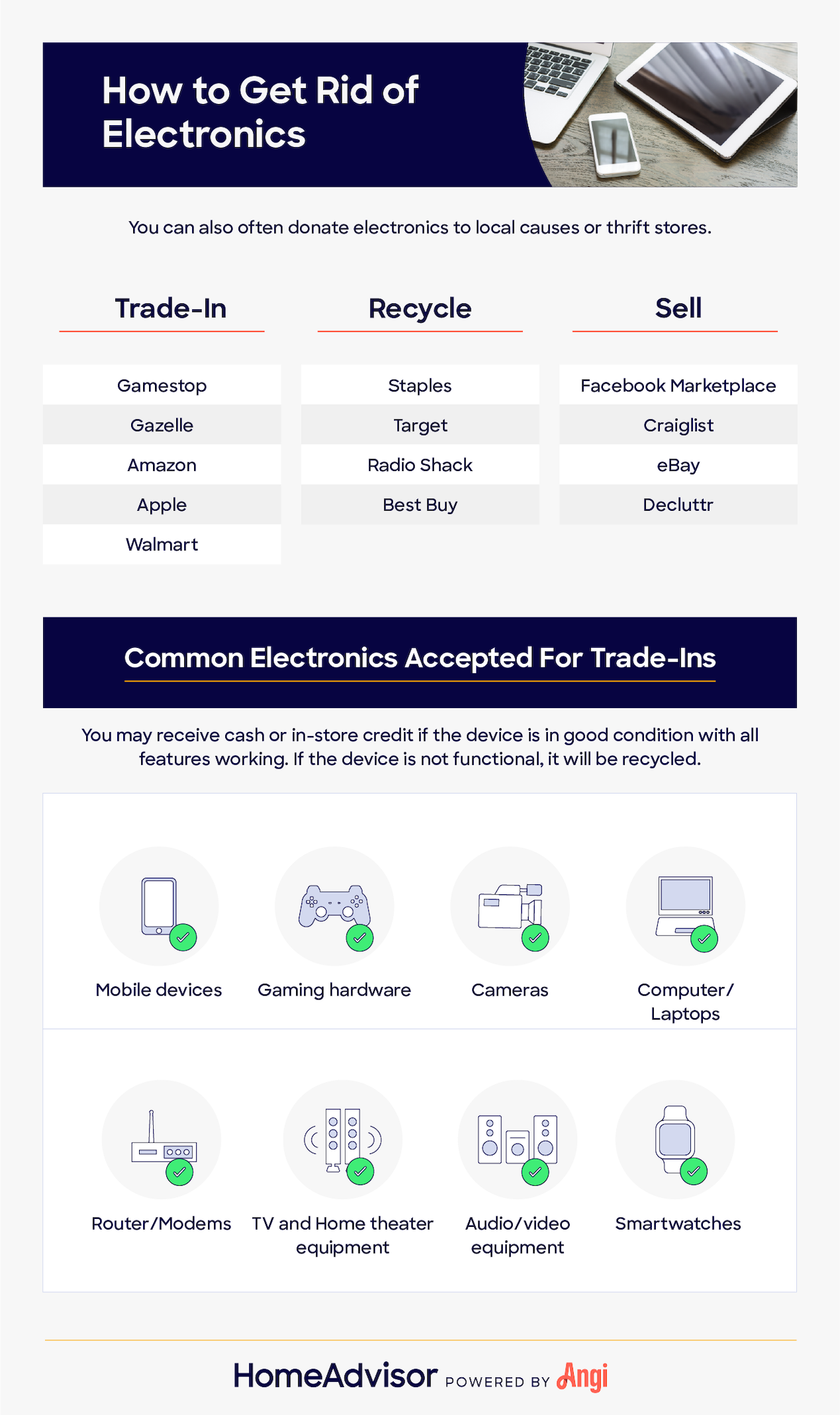 36. Cords and Chargers
Check with electronics stores as some may take cords and chargers off your hands. As long as they aren't obsolete, power cords will have continued use.
37. Cell Phones and Tablets
You can trade-in, sell, recycle, or donate cell phones and tablets to any nearby tech store. Some stores allow you to trade in your device and will give you in-store credit. There are also donation locations that take cell phones in nearly any condition.
Companies such as Apple and Verizon offer in-store credits when you trade in your previous mobile devices.
38. TVs and Monitors
Unless they are physically broken, keep TVs and monitors out of the trash. Retailers often offer recycling programs. TVs in good condition can be sold through local services. Or, consider donating them to local charities.
39. VCRs and DVD Players
Many local recycling programs don't accept VCRs or DVD players, but you can look for local donation areas. Consider senior living centers or libraries. Thrift stores might also accept donations like these.
Furniture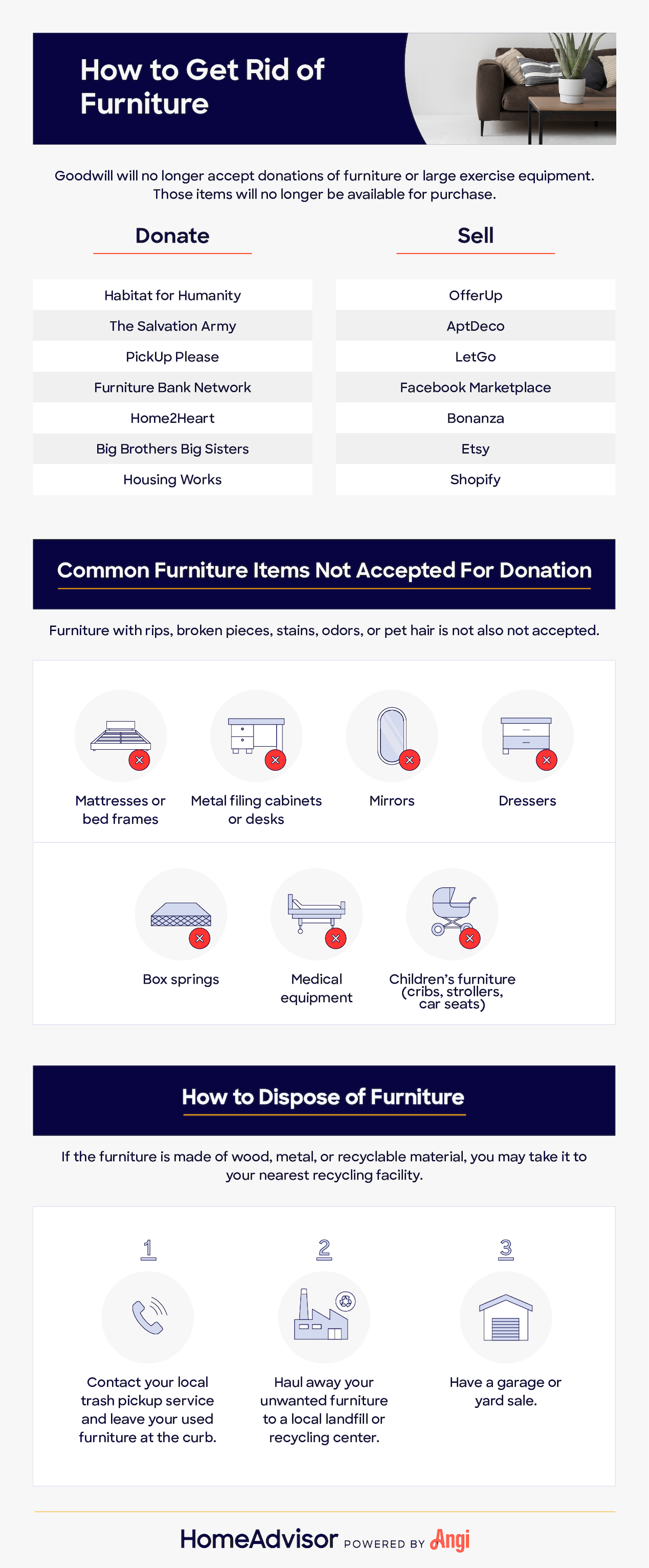 There are many options for furniture removal. Donate or sell items in good condition. For potentially valuable items, contact local appraisers to see if your old stuff is worth anything.
If the items are ready for the trash, rent a dumpster or use a junk removal service. You can also leave it on your curb if your city has a bulk pickup service. Here are some safe ways to get rid of some of the more common pieces of furniture.
40. Nightstands
You may donate nightstands to many charities such as FurnitureBank or Habitat for Humanity. Ensure each nightstand has all of its pieces and is not severely damaged before donating.
41. Patio Furniture
You can donate patio furniture such as outdoor chairs, tables, or umbrellas to a thrift store or office furniture store. You can also sell them. If you're not sure what to do with it, search on PickUpMyDonation, which will connect you to local charities.
If the furniture isn't in donating condition, it's time for the trash. For larger items, try to leave them dismantled to make them easier for disposal. Be careful of sharp metal edges.
42. Chairs
Chairs that are in good condition can often be sold on local online markets or services. Likewise, collectors and restorers often search for old chairs. If you need to dispose of chairs, disassemble them if you can. This will help ensure they can fit into dumpsters.
43. Dining Tables
Like chairs, tables in good condition are great to sell or donate. Because of their size, disposal might require the use of a junk removal service. Often, these services will also take gently used items to local charities. If possible, remove the legs and secure them to the underside of the table for easy transport.
44. Bookshelves
Consider donating bookshelves to a local school or daycare. You may also want to contact local shelters to see if they need them. They must have all shelves intact, and there shouldn't be much (if any) damage or marks.
45. Desks
Good-quality desks can have second lives through local donations or sales. Make sure they have all parts and pieces, including drawers. You can also try flipping furniture by painting or decorating it and then selling it.
Otherwise, most trash services should pick them up from the curb. If a desk is junk, break it down as much as you can before its final destination.
46. Rugs
Rugs and other pieces of carpet should be sold, donated, or recycled. If thrown away, they will often end up in a landfill. Rugs in good condition and without damage can be sold or donated through local channels.
If it's ready for the trash, contact local junk removal services to find a recycling facility. These services will often also come to you and pick up the rug for you.
Yard Waste
Outdoor materials follow your local ordinances and disposal rules. Be sure you understand what constitutes yard waste. If you hire a local gardener, they will typically dispose of organic materials for you.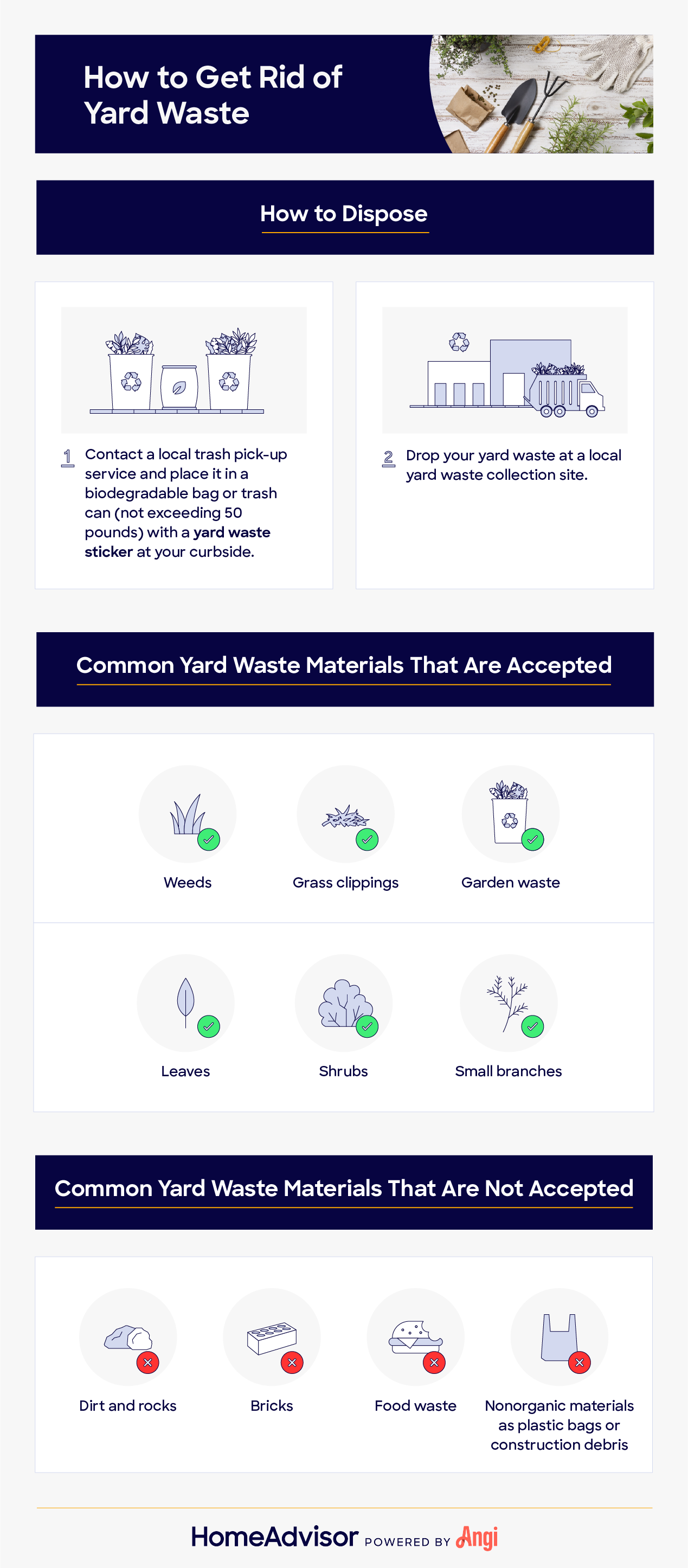 47. Yard Waste Materials
If you have a garden or yard, you'll have clippings and weeds at some point. You may contact your local trash pickup service and place it in a biodegradable bag or trash can (not exceeding 50 pounds) with a yard waste sticker at your curbside. Common outdoor materials that count as yard waste include:
Twigs
Weeds
Brush
Shrubs and bushes
Tree logs
Leaves and grass clippings
Bricks, dirt, and rocks are not considered yard waste; as such, most yard waste removal services will not accept them. Food scraps are not yard waste and should go in the trash.
48. Construction Debris
A junk removal service can handle scrap lumber, drywall, or leftover carpeting. You can also rent a dumpster for large projects. Some materials such as concrete require professional removal services. There are even nonprofits that accept donations of building supplies, such as Stardust Building Supplies.
49. Scrap Wood
Like certain construction supplies, you can recycle or donate scrap wood as long as it's in good condition. Make sure you remove any nails or screws. Search your local area for locations that accept wood for recycling or post your inventory on social media for sale or donation.
50. Tires
Landfills aren't an option for most tires. Many states ban whole tires in landfills, so look at your local options to get rid of them. You can take these to a nearby tire recycling facility or tire retailers.
Junk Disposal Methods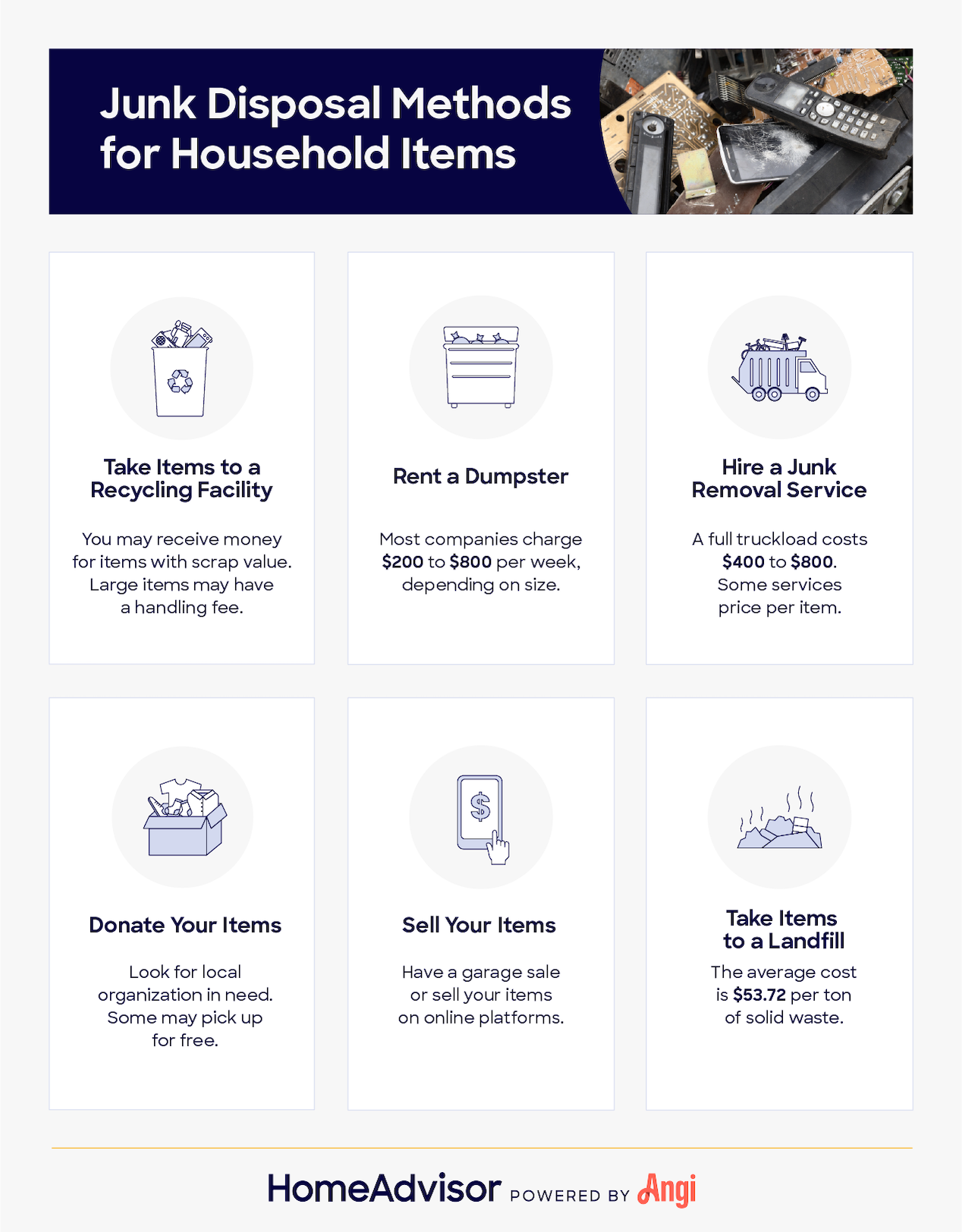 If you're confused about where some items fit or unsure about how much disposal will cost, here's a summary of common disposal options.
Recycling/Reusing
The first step should always be to assess items for reusability when decluttering. Upcycling, reusing, and recycling help reduce waste. This cuts down on items going to landfills, which is always good for the environment.
Plus, many industries use recycled materials, including building construction and repair.
Common recyclable items include:
Glass bottles
Plastic bottles
Batteries
Metals
Old appliances
Cardboard
Check with your local area for recycling centers near you. You can also consider passing items on to others through donation.
Renting a Dumpster
Sometimes, you'll need to dispose of large household items. Consider renting a dumpster if you're remodeling or simply cleaning out the house. Dumpsters are great for yard and general waste (if you have large quantities), and they can often handle large items—including drywall and other construction debris—so they are perfect for disposing of items in bulk.
Dumpsters rentals are often by the week, but some companies offer long-term rentals of a month or longer.
Renting a dumpster does come with a couple of considerations. First, you will need a space for it to sit on your property. It may also sit on the street in front of your house. Be sure to adhere to any local ordinances regarding dumpsters. Additionally, the average weekly cost for a dumpster rental ranges from $200 to $800; while there are dumpsters for nearly every need, they can be too costly for some to consider.
Junk Hauling Services
If a dumpster isn't a suitable option, don't worry. There are plenty of junk hauling services to consider.
These services are exactly what they sound like: they charge to haul away your stuff safely and quickly. Rates depend on load size and the items hauled. There are also additional costs for specific items, like heavy appliances or bulky furniture. Junk hauling services can also take care of:
Old electronics, including TVs, computers, and appliances.
Construction and yard debris
Hazardous waste, such as chemicals or dangerous items
Junk removal costs an average of $250, but these prices will vary by location. Always shop around locally to find the best deals.
Dropping Items at a Landfill
Alternatively, you can take your junk to a landfill yourself. Many landfill and waste management stations have different drop-offs for trash and recycling, so be sure to separate your items before you go.
While it is cheap to take items to a landfill, it isn't free. Plus, if your vehicle isn't big enough, you may have to rent a truck or trailer. Local landfills will also have different regulations for accepted items and fees. Some include handling fees; others have fees for hazardous materials. Do your research before heading in.
Donation
If you have items still in good condition, consider donation services. Nearly everything in your home can be donated. And when you donate, you receive the knowledge that you're helping others.
Garage Sale
Consider a garage sale if you're looking to make some money off your items. A garage sale or yard sale can be an easy way to get rid of unwanted (and unneeded) items—and you can make a quick buck, as well.
Garage sales are typically fair-weather events, but you can promote your sale on local social media pages year-round. Collectors and deal-searchers are always on the lookout for the next great item.
Sell Online
For more specialized sales, consider selling online. Dozens of sites allow for no-nonsense selling (and buying) of items from anywhere in the world. Selling online also allows you to set up meeting details from a safe distance. And you don't have to have an entire garage sale to get rid of your items.
Selling on local pages can allow for fast transactions, so selling online can be a great option for getting rid of items quickly. Note that this isn't always the case, and any item will have to be in at least working order for anyone to buy it.
Getting rid of your old and unused items will take a bit of research. Not only can you earn some money from your unneeded items, but some of them might require special handling for disposal. There are many destinations for your junk, but you must ensure your items make it to the proper destination.
Be sure to follow local guidelines for proper disposal. Donate whenever you can, and always be cautious with hazardous materials. If you have junk that you need to get rid of, research your local professional waste and junk removal services to find what works best for you.
No Comments Yet