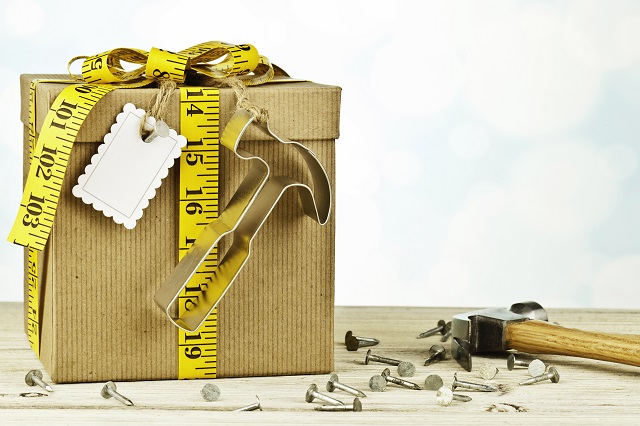 You're probably familiar with the whole trend around "gift experiences," for example giving his-and-her cooking classes to a happy couple in your life, or online guitar classes to the aspiring musician. Those gift ideas are all well and good, but for an experience that will truly keep on giving, why not think about home services this holiday season?
After all, home is where most of us spend the bulk of our time. Helping friends and loved ones make the most of the living experience will fill them with gratitude and get them off to a great start in the new year. We checked in with the pros at HomeAdvisor to target five top home-service gifts aimed at specific homeowner types.
Once you've found the perfect gift, learn how to give the gift of a home service.
Gift #1: A paint job for first-time homeowners
Advertisements from paint companies and home centers love to show young couples gamely painting their new home. In reality, though, the first year of homeownership is more stressful and expensive than people bargain for—a recent HomeAdvisor survey found that 50 percent of homeowners tackle more maintenance projects than expected, things like clogged drains and leaky roofs, and also spend more on the work than anticipated. That's why they're sure to love the services of professional painters, whether it's to paint the nursery or add a fresh pop of color to the front door.
What you'll spend
Painting a single room starts at about $200. For large master bedrooms, the starting price goes up to $300. Painting a front or exterior door might cost as little as $100. The average cost to paint a home's interior is north of $1,000, which is too rich for most holiday shopping budgets.
Gift #2: Home organization for busy parents
You might need to tread carefully with this one (maybe don't give it to your daughter-in-law, for example!). In less potentially fraught relationships, say your BFF or super-close sibling, the gift of home organization will work wonders towards getting their house in the shape they want, just in time for their New Year's resolutions.
Professional organizers are trained to help with a range of tasks, from decluttering closets to creating a storage system for the kitchen or garage. There are also organizers who function more like life coaches, helping clients come up with strategies around scheduling and other life skills. There are even organizers who specialize in electronics, helping people organize computer files or make sense of the apps on their smartphone.
What you'll spend
When hiring a professional organizer, most charge by the hour, usually between $55 and $85 per hour, with projects generally taking between 2 and 10 hours. Bringing order to a mudroom or walk-in closet will take about 3 hours, making either a perfect gift-size project.
Gift #3: Home automation for the world traveler
One of the beauties of smart home technology is it allows you to keep tabs on your home from anywhere in the world. That's especially helpful for homeowners who are on the road often. With the addition of a smart lock, for example, they can arrange for special visitors, maybe the dog walker or gardener, to access the home at specific times of the day. Smart smoke alarms and leak detectors, meanwhile, will alert them to potential dangers when they're far from home.
What you'll spend
Many home automation pros offer some kind of starter kit, including several connected devices along with the cost of installation, all for around $1,500. That all-in cost is probably too steep, but if you're just picking up the cost to install a home automation system, you can expect to spend a few hundred dollars. Or take the one-off approach, say with the purchase and installation of a new video doorbell, for about $200 to $300.
Gift #4: House cleaning for the single professional
The old cliché is the bachelor pad with dishes in the sink and potato chips in between sofa cushions. But there are plenty of time-pressed single people out there whose homes could also benefit from the deep cleaning of a professional maid service.
You might give a one-time cleaning of the entire home, or target a certain area, such as the garage, basement or attic. Cleaning services can also be hired for specific tasks, like to clean furniture, clean windows and clean carpeting.
What you'll spend
In determining the cost of hiring a house cleaner, you could opt for a cleaning company or an independent operator. In gifting situations, it's best to go with an independent operator, since larger maid-service companies often require a contract.
You might pay $50–$90 for a one-person, two-hour service.
The one-time cleaning of a 2-bedroom apartment averages $80–$200.
Gift #5: Handyman for staying-put seniors
The U.S. population is aging quickly, and about 90 percent of older Americans say they plan to grow old in their existing homes, rather than seek some form of assisted living, according to AARP. In some cases, homes will require major modifications to make this possible, for example widening doorways to allow the passage of walkers and wheelchairs.
In the short term, though, a good handyman will be a godsend for all those nagging repairs that your loved one can't get to—the loose gutter, the drafty window, the leaky faucet, and so on.
What you'll spend
The average cost to hire a handyman is just under $400, but that's usually spread across several projects. For example, hanging a light fixture starts at $65, installing a toilet is around $150, and replacing small electrical components, like a thermostat, light switch, and electrical outlet will range between $75 and $150. So, spending a couple hundred dollars on a handyman gift should go a long way.
How to Give Home Services as a Gift
The gift of home services means less time spent at the mall or shopping online, but you'll still need to figure out the logistics. The process is easier than ever, thanks to HomeAdvisor's new instant pricing and payment solution, which lets you see upfront costs to more than 100 popular home services, then seamlessly schedule and pay for the work, all in less than a minute.
When booking the service, simply list the address of your recipient instead of giving your own. Leave a note in the description box that you're purchasing the project for someone else.
Unless you know your recipient's schedule and availability, they'll need to coordinate with the pro ahead of the service.
So, get creative with gift presentation. You can make a hand-crafted coupon (e.g. "good for one professional house cleaning") to put in a card or gift box of sustainable cleaning supplies.
If you want to give a home project not covered by instant pricing (certain smart home tasks will be too specific, for example), you'll need to do more front-end coordinating with the service pro.
We suggest submitting the service request as if it's for yourself. Once you get your preferred pro on the phone, explain that you want to purchase their services for another person. The more specific you can be (identifying the make and model of the smart home device you want installed, for example), the easier it will be for the pro to give you an accurate cost estimate.
At that point, it's probably best to have your gift recipient reach out to the pro directly to handle scheduling. If all goes well, be sure to share the positive review online, so that others can see how easy it is to give the gift of home services.
No Comments Yet