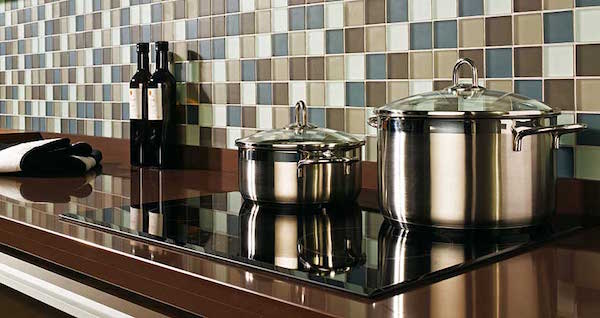 Glass wall tile is one of the most unique forms of tile being used in residential applications today. It comes in all shapes and sizes, though by far the most popular and striking glass tile is the small, mosaic style tile commonly seen in bathrooms and kitchen backsplashes. If you're interested in glass wall tile, talk to a tile installer or glass tile retailer about helping you choose the right tile and design for your home. Until you have a chance to do that, however, here's some glass tile basics to help wet your appetite and give you a few ideas to consider.
Glass Wall Tile Design
Few homeowners realize how many options are out there when it comes to choosing glass tile. In fact, the huge range of colors, style, designs, and shapes can make choosing the right glass tile a daunting prospect. Keep in mind you can find tile in just about any color and shape you can imagine, so the sky is the limit in that respect. Actual glass types, however, are more limited. Here's a few of the more popular glass tile options to help you get off on the right in your new tile search.
Clear glass tile doesn't mean colorless, only that you can see through the tile to the tile backing. Clear glass tile has an extra shine and extravagance to it than other options, though you'll need to carefully consider what goes behind the tile if you hope to be happy with your final installation.
Frosted glass tile uses frosted glass to create an opaque, flat surface. With frosted glass you won't have to be as conscious about the tile backing as with clear glass varieties.
Bubble glass tile is glass wall tile that has been manufactured with small air bubbles in the glass to add texture and character to the tile's appearance.
Crystal tile is glass bathroom tile that mimics cut crystal or jewels. Crystal tile is most popular as an accent tile because of its over-the-top extravagance.
Glass tile sheets are composed of glass tiles glued to a sheet backing to make for easier installation. Since most glass comes in smaller, mosaic tiles, purchasing it in sheets can cut a lot of time off of installation. It also takes the pressure off of design considerations, since most sheets are only available in set designs chosen by the manufacturer.
Go Green with Recycled Glass Tile
Another reason to choose glass bathroom tile or glass wall tile for you tiling needs is because many glass tile companies actually specialize in transforming waste glass into new glass tile. Not only will you be purchasing one of the most unique and beautiful tiling options out there, but you'll be supporting sound environmental practices and keeping old glass out of landfills as well.
Where to Install Glass Tile
As mentioned before, the two most popular uses of glass wall tile are in the kitchen and bathroom. Shower and tub walls take the cake in bathroom installations, while both bathrooms and kitchens are popular places for glass tile countertops and backsplashes. Besides those popular installations, however, consider glass bathroom tile for wall murals, pool decks, and pools as well. The truth is, you'll be hard pressed to find a more unique and functional tile for any area of your home.
No Comments Yet