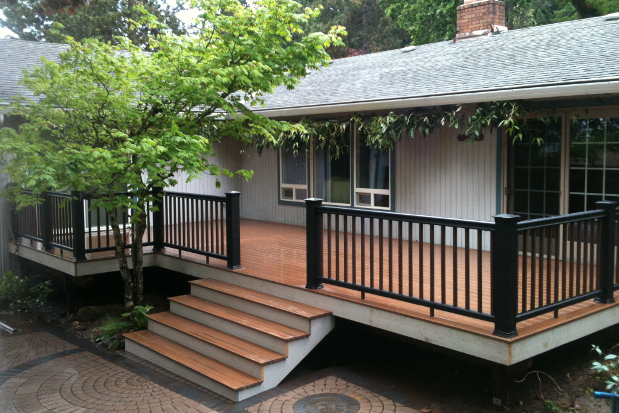 Outdoor living areas are one of the greenest additions you can make when it comes to remodeling your home. After all, what's greener than creating a space that allows you to spend more time outdoors appreciating and enjoying nature? Furthermore, from a green remodeling standpoint, outdoor living areas are prime candidates for green building practices, especially if low maintenance, long lasting, healthier, and more environmentally friendly decks, patios, and porches sound like a good choice for you and your home.
The Cost and Value of Green Decks, Patios, and Porches
When it comes to decks, patios, and porches, going green is probably going to end up being more expensive than if you choose a more conventional route. Unlike other remodeling projects like home additions or kitchen remodels, you won't benefit from higher energy efficiency and reduced energy costs with a deck or patio. In the end, however, the true value is best assessed by looking beyond the bottom line.
By utilizing green building materials, design philosophies, and environmentally friendly building practices, decks, patios, and porches can be more comfortable and enjoyable than traditionally built structures. They can also be healthier for your family, require less maintenance, last longer, and be better for the environment as a whole. Here's a list of suggestions to help you create the greenest outdoor living space possible.
Tips to Build a Green Deck
A green deck is challenged by finding eco-friendly building materials that don't require maintenance that involves harmful chemical treatments:
Use composite decking, composed from recycled materials, that never needs to be sealed, treated, or painted like wood decking.
Avoid irresponsibly harvested, and high-priced, luxury decking materials such as ipe, a tropical hardwood.
If you opt for a wood deck, insist on Forest Stewardship Council (FSC) certified wood, so you know that it's been harvested in a responsible manner.
Check out our deck cost calculator before you begin budgeting.
Tips to Build a Green Patio
To build a green patio is deceptively simple. More eco-friendly than decks or porches, follow these guidelines to preserve the green qualities of your patio:
Build a brick, stone, or ceramic tile patio instead of a deck or porch. Not only are patios more environmentally friendly than decks and porches, but brick, stone, and ceramic tile patios have a longer lifespan and require less maintenance than wood decks and porches.
Take advantage of natural shading provided by deciduous trees and shrubbery, and incorporate existing trees into your green patio design. Deciduous trees and shrubbery provide natural shade during spring and summer, making your patio a more pleasant place to pass the time.
Make sure the grade slopes away from the home when your project is finished. Doing so ensures that water will run away from your foundation instead of toward it, the latter of which can result in moisture problems in your basement, as well as foundation problems and failure over time.
Tips to Build a Green Porch
A green porch is more about design and installation and less about materials. Follow these tips before construction begins to build a green porch:
Build south-facing porches. South-facing outdoor living areas receive direct sun exposure 12 months a year, which makes them more comfortable and usable year round. They also heat up quicker in the winter months, facilitating snow melt, so you'll spend less time shoveling the walkway that leads to your green porch.
Use pressure treated lumber using alkaline copper quaternary (ACQ) treatment. Pressure treated lumber in the past contained arsenic, heavy metals, and other toxic additives that can leach into the surrounding environment. CCA (chromated copper arsenic) treated wood is particularly bad, and is considered a hazardous waste material by the EPA.
Installing energy saving features like LED lighting, motion sensors, and timers can help reduce energy consumption, whether you're considering a deck, patio, or porch.
You may want to know the cost to screen in a porch to prevent insects from invading.
Final Thoughts for Green Decks, Patios, and Porches
The scope of green remodeling can feel a little overwhelming to some homeowners, probably because the greenest deck, porch, or patio is one that incorporates green philosophies and design into every aspect of the project—a practice known as whole systems building. Don't let that scare you away from committing to green remodeling on smaller scale, however. The truth is that any step toward eco-friendliness is a step in the right direction for you, your new outdoor addition, and the environment as a whole. If you think green is the right choice for you, be sure to talk to your contractor about adopting a green building philosophy, find a contractor who specializes in green building and remodeling, or seek out the services of a consulting firm to help you plan and design the perfect, and greenest, outdoor living addition for your home.

1 Comments