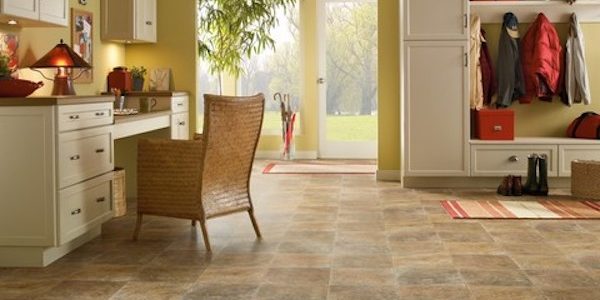 In most remodeling circles, vinyl and linoleum share a reputation as quality options for homeowners looking for an economy flooring solution. In green remodeling circles, however, there is a clear frontrunner. Natural linoleum is a superior product in just about every facet, including health, longevity, and durability. Vinyl, on the other hand, has some significant drawbacks, especially in the health department. Here's a quick breakdown from a green remodeling perspective on vinyl and linoleum flooring.
Vinyl Flooring from a Green Perspective
For starters, let's talk vinyl. There are some serious concerns about the durability of vinyl flooring, and its shortcomings from a health standpoint. Here's a list of things you need to know if you're thinking about installing vinyl flooring in your home.
Vinyl Can Trap Moisture—In hot and humid climates where air conditioning is the norm, vinyl flooring can end up trapping moisture in your home. That can mean rot, flooring failure, and in a worst case scenario, the development of dangerous mold, which has been associated with everything from respiratory problems to disorders of the immune and nervous systems.
Vinyl Chloride—Vinyl flooring off gases vinyl chloride fumes into your indoor environment. We all know that "beachball smell". In addition to being a known carcinogen, vinyl chloride has been implicated in vision and hearing problems, birth defects, gastrointestinal problems, and disorders of the skin, respiratory system, and liver.
Vinyl Flooring and Longevity—Vinyl flooring also comes up short in the longevity department, since it rarely lasts 10 years, and shows age even quicker. That adds up to more frequent, and expensive repair or replacement flooring projects, and more waste sent to the landfill.
Natural Linoleum Flooring is Green Flooring
On the other side of the green spectrum are natural linoleum flooring products. This flooring alternative is green through and through, from its impact on the environment as a whole, right on down to durability and health issues. Here's why it's recommended:
Natural Linoleum is Made Green—Unlike vinyl, which is a petroleum product at heart, natural linoleum is made of renewable, natural materials like linseed oil, pine resins, and cork.
Natural Linoleum is Healthier—Natural linoleum's low toxicity levels mean it doesn't off-gas harmful volatile organic compounds (VOCs) like vinyl chloride, and it's anti-microbial to boot.
Natural Linoleum is Durable and Long Lasting—Natural linoleum is also easy to repair, stain resistant, and enjoys a long life. Where vinyl floors are lucky to make it 10 years, a natural linoleum floor can last up to 40!
Need to find a pro for your flooring project?
Find Pros
The Cost of Going Green
While it's easy to make the case that going green with natural linoleum flooring is in your best interests from a financial and a health standpoint, most homeowners are still curious what the cost of going green is going to be if they choose natural linoleum over vinyl. To be honest, you'll probably pay a little more up front for higher quality natural linoleum products. But keep in mind that natural linoleum can outlast vinyl by up to 30 years! And if you look at it from a green perspective, those higher costs are worth every penny, and then some, in the long run. For example, things like healthier families, less personal time wasted on maintenance and flooring replacement projects, and investing in a better world for our children and grandchildren all add value to going green with your flooring— and that is hard to put a dollar value on. The true value of going green reaches far above any bottom line.
If you think green flooring is the right choice for you, talk to you contractor about installing a product like natural linoleum, find a contractor who specializes in green remodeling practices, or contact a green consulting firm that will help catch you up to speed on how to achieve the greenest home possible.
---
1 Comments