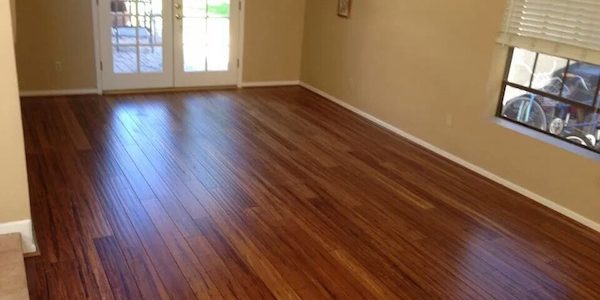 Few hardwood floors have more character than hand scraped flooring. Hand scraped flooring is traditionally composed of hand scraped flooring planks, rather than milled boards. And, much like other hand made building materials, the charm of these floors lies in the unique irregularities that result from the hand scraping process.
Hand Scraped vs. Distressed
If you're interested in having hand scraped flooring installed in your home, you're sure to run into distressed flooring as you shop around. Both have a unique, aged charm when it comes to appearance, and both are excellent flooring choices. The big difference is in the manufacturing process. Distressed flooring comes off of a factory production line. All those "irregularities" (dents, scratches, grooves, etc.) in the wood are actually part of a larger pattern being pressed or rolled into the wood surface. Genuine hand scraped floors, however, are actually hand scraped, plank by plank, by individual craftsmen. The result: no two boards are ever going to look exactly alike. In short, a distressed hardwood floor looks unique, but it's not. A hand scraped floor, on the other hand, is truly one of a kind.
Find Out Who's Doing the Scraping
Besides making sure you're getting real hand scraped floors, it also pays to ask your supplier or contractor who's doing the scraping. Hand scraping has traditionally been done by trained craftsmen (Amish wood workers, for example), who take great care in their work, and in producing a quality final product. As the popularity and demand for this unique hardwood flooring material has grown, however, so have suppliers who get their hand scraped flooring from less desirable sources. Less expensive lines of hand scraped hardwood floors are now being produced by unskilled laborers, and even prison laborers. The difference in quality can be staggering.
There's a fine line between flooring that has the distinctive look of hand scraped lumber, yet still functions and feels like a solid floor, and one where the irregularities cross the line from charming to ugly and inconvenient. No hand scraped floor is cheap. That being the case, it's worth it to pay a little bit extra so you know that your hardwood floor was made by skilled craftsmen who care about their work.
Need to find a pro for your hand scraped floor?
Find Pros
The Finer Aspects of Hand Scraped Flooring
Once you've found a supplier that carries genuine hand scraped wood, things really get complicated. Hand scraped hardwood flooring is available in a wide variety of widths and woods, though traditional hardwoods such as walnut, hickory, cherry, and oak are the most popular. Besides those design features, you'll also need to decide how you want to finish them. The one thing to keep in mind as you make all these choices is the texture of hand scraped floors. Darker woods, and finishes, will bring out more of that hand scraped character, enhancing lines and shadows, and emphasizing grooves and scrapes in the wood where the finish pools and stains a little bit darker.
If you're interested in hand scraped flooring, talk to a hardwood flooring contractor or supplier about choosing the right wood, finish, and installation method for your home.
---
No Comments Yet
You can be the first to comment!