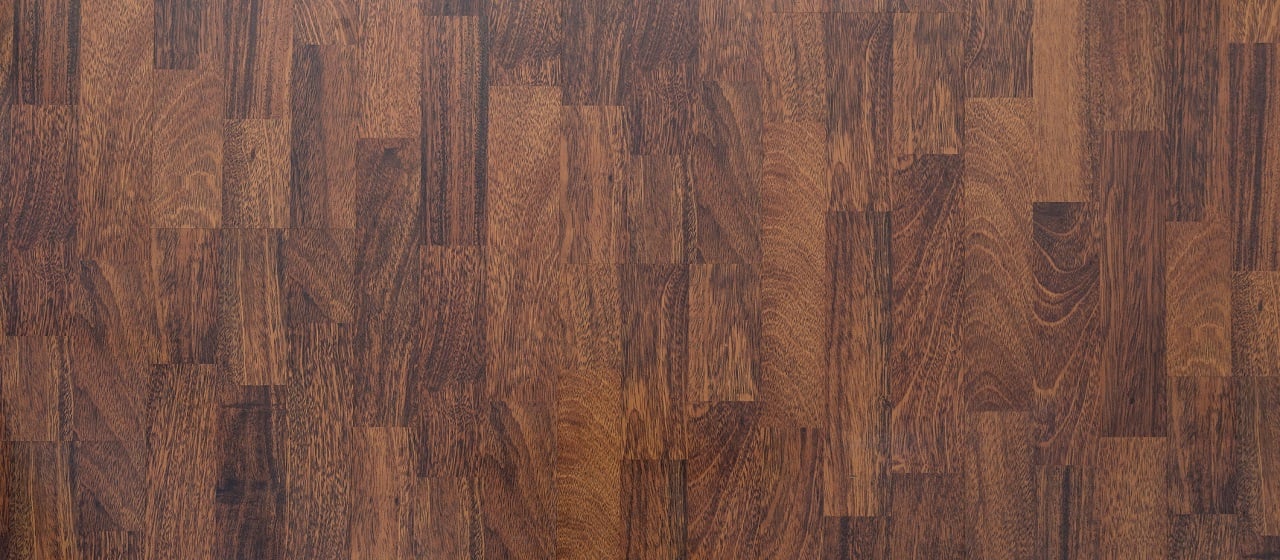 Left/Top: ©Tuomas Lehtinen / Moment / Getty images.
Bottom/Right: © Zephyr18 / Getty Images Plus/Getty Images.
The difference between laminate and hardwood flooring is more than just cost. Both are acceptable floor coverings, and each has applications it's best-suited to. Laminate can be installed in basements, kids' spaces and wet areas where hardwood will not perform well. Hardwood, on the other hand, brings a sense of warmth and luxury that cannot be matched by synthetic materials and, if cared for properly, has a higher resale value and longer lifespan than laminate.
On This Page:
What's the Difference Between Hardwood and Laminate?
Laminate flooring differs from hardwood in both construction and appearance. Laminate is predominantly human-made while hardwood floors are made of actual wood. Laminate has a wider selection of finishes, mimicking natural floors such as hardwood or having bright patterns and colorful designs. If you're trying to choose between laminate or hardwood for your home project, it's important that you understand the key differences.
Hardwood
Hardwood is harvested from mature trees. It's then milled and sanded and either stained and finished in the factory or installed unfinished, then stained and sealed. There are many popular types of hardwood flooring that range in color from the pale blonde of white oak to the deep brown-black of ebony.
You can also choose what type of hardwood floor finish you want. For example, moisture-cured urethane is hardwearing and great for busy homes with pets and kids.
Laminate
Laminate is a human-made composite product. It has a moisture-resistant stabilizing base layer topped with synthetic fiberboards that give volume and strength. On top sits a photographic layer that gives the plank its design and color, along with a clear resin to make it more durable.
Laminate cannot be refinished, so it has a limited lifespan compared to well-maintained hardwood.
What is Laminate and Hardwood Floor Best for?
| Laminate is best for… | Hardwood is best for… |
| --- | --- |
| Rooms with moisture, like bathrooms | Living rooms |
| Kids' play areas | Older homes |
| Cost cutters | Longevity |
| DIYers | Radiant heat systems |
| Easy cleaning | The environment (if sustainably sourced) |
| Pet owners | Resale value |
| Those seeking more style choices | Repairs & maintenance |
Hardwood vs. Laminate: Which is Better?
Both hardwood and laminate are good choices. Each material has strengths and weaknesses. The benefits of laminate are its cost-effectiveness, water resistance and ease of cleaning. Hardwood's unmistakable appearance, longevity and ability to increase property value also make it an attractive choice.
Appearance:
THE BEST APPEARANCE: HARDWOOD
Whether you're on a tight budget or you can afford to be more flexible, you want to make sure you'll like the final look.
Hardwood
Pros
Natural texture with unique organic grain patterns
Can take on different stains and finishes
Lighter hardwood flooring can have interesting stains added
Cons
More easily scratched than laminate
Vulnerable to discoloration if exposed to too much sun
Laminate
Pros
Synthetic materials are improving in quality
Attempts to mimic the look of hardwood flooring
Endless style possibilities
Cons
Wood grains look too uniform and unrealistic on photographic layer
Cost
THE BEST MATERIAL FOR YOUR WALLET: LAMINATE
Your budget influences your material choice. Additionally, the size of the space can determine how much you can afford to spend per foot.
Hardwood:
Laminate:
Laminate flooring costs between $0.70 and $2 per square foot without installation
Pricing is dependent on thickness and quality of the print layer
Care
THE WINNER FOR SIMPLE CARE: LAMINATE
Your floors need to be easy to keep clean and germ-free. With high-quality finishes, both laminate and hardwood are both relatively easy to keep clean. However, there are some key differences.
Hardwood
Pros
Easy to clean by vacuuming or sweeping
If scratched, can be refinished. Use furniture pads to prevent scratches
Cons
Sensitive to moisture so can't be mopped with excessive water
Too much sun exposure on certain species can cause discoloration
Cannot use abrasive cleaners
Laminate
Pros
Easy to clean with a light vacuum
Water-resistant; they can be mopped with water
Less likely to fade from sunlight
Cons
If damaged, they must be replaced rather than being resanded
Cannot tolerate standing water
Installation & DIY
THE WINNER FOR EASY DIY INSTALLATION: LAMINATE
Whichever material you choose, for the best results, professional installation is the way to go. But let's look at the ease and challenges of the installation process for each.
Hardwood
Pros
Prefinished hardwood flooring reduces installation time
Custom stains and finishes are available
Tongue-and-groove hardwood planks make DIY installation easier
Cons
More difficult to install for DIYers than laminate
If using unfinished planks, contractors will need several days to finish the flooring and let it cure.
The dust and odor of the finish is not safe to inhale
Laminate
Pros
Can be installed below grade and over existing floors
Tongue-and-groove means it's easier to put together
Comes prefinished; no need for sanding or sealing
Cons
New installations have strong scents that take days to dissipate
Can omit VOCs (Volatile Organic Compounds) that may negatively impact your health
Cutting planks requires precision
Durability
THE WINNER FOR LONGEVITY: HARDWOOD
To make your investment worthwhile, your flooring needs to stand the test of time. It needs to be durable and able to handle daily activity.
Hardwood
Pros
Can last more than 20 years with proper maintenance
Refinishable
Cons
Not as resistant to scratches, stains and dents as laminate
Each species differs in durability
Prone to moisture damage and warping if not sealed regularly
Laminate
Pros
Resistant to scratches, stains, and dents
Ideal for busy lifestyles
Cons
Most will last 15-25 years
Cannot be refinished
Must replace an entire plank if damaged
Repair & Maintenance
THE REPAIR AND MAINTENANCE WINNER: HARDWOOD
Accidents do happen: Floors get scuffed by the constant tread of feet, pets can cause scratches or someone might drop something sharp or heavy. Find out which material is the best for repair and maintenance.
Hardwood
Pros
Hardwood floors can be refinished many times
Noticeable scratches are reversible
On hand-scraped and reclaimed planks, minor damage just adds more character
Cons
Laminate
Pros
Doesn't need sanding or resealing
Inexpensive to repair
Cons
Stains easily if you don't attend to spills quickly
Whole planks need replacing if damaged
Scratches are visible and unsightly
Environmental Friendliness
THE WINNER FOR THE PLANET: HARDWOOD
Hardwood: 
Biodegradable
One of the few flooring choices that, if sustainably sourced, is environmentally friendly
Laminate:
85% of laminate floors are recyclable
LEED Certified
Moisture Resistance
THE BEST FOR KITCHENS: HARDWOOD
THE BEST FOR BATHROOMS : LAMINATE
Even if you're not installing new floors in a kitchen or bathroom, it's likely they'll encounter moisture on a regular basis, so it's important you know how these materials tolerate water.
Hardwood
Pros
The denser the wood, the more water resistant
Regular care and finishing protects floors from water damage
Cons
Can grow mold if exposed to constant moisture
Untreated wood more likely to get moisture damage
Needs regular resealing to maintain moisture-resistance
Laminate
Pros
Top layer can resist moisture
Laminate is synthetic so less likely to develop mold
Cons
Can be damaged by standing water
Proper maintenance and cleaning is necessary
If seal and top layer are damaged, water can seep in and damage the boards underneath
Water damage can cause top layer to bubble up
Radiant Heating
In colder climates, radiant heating keeps your home comfortably warm, but it isn't compatible with all flooring types, so talk to your flooring professional before you make a decision.
Laminate:
Specialized laminate can be used with radiant heating
Often, laminate flooring doesn't conduct heat efficiently
Gapping may occur due to expansion and shrinkage caused by temperature and humidity fluctuations
Hardwood:
Thin boards are good for radiant heat
Choose wood that can adapt to humidity fluctuations
Pets
THE WINNER FOR PET OWNERS: LAMINATE
Pets and their claws can be hard on your flooring, so find out which material can best withstand their antics.
Laminate
Pros
Pet nails unlikely to scratch
Easy to clean pet hair
More water resistant, so better for puppies and kittens
Cons
Pet waste can make flooring smell
Can be slippery for a pet
Hardwood
Pros
Finished hardwood flooring fares well against pet scratches
If flooring is damaged, it can be refinished
Easy to clean
Provides better traction for pets
Cons
Unfinished hardwood floors aren't moisture-resistant
Spilled water bowls could cause moisture damage
Hardwood floors can sound loud if pets race around
Resale Value
While adding new flooring will boost the look and potential resale value of your home in the short term, what about the long term?
Laminate:
With its lower cost, laminate doesn't add long-term value to your home
Only lasts about 25 years
Hardwood:
Can last generations
54% of homebuyers would invest more in a home with hardwood flooring
Which is Best for Your Home?
Laminate and hardwood are both viable options for your home, with choices available to suit most budgets. But each has different properties and is suited to specific needs.
Bathroom Flooring
In the bathroom, laminate flooring is the better choice as it's more able to withstand moisture and does not require extra sealing or special precautions. For more luxurious options, check out the best bathroom flooring materials.
Kitchen Flooring
For kitchens, hardwood makes the best floor. If properly sealed, it's durable, warm, and beautiful. It's also easy to keep clean and is less slippery than laminate. Just be sure to wipe away spills quickly.
Living Room Flooring
Hardwood is a great choice for living rooms. The living room is usually the biggest, most-used room in the home, so if you're going to spend money anywhere, it's here. Hardwood adds character. It's attractive, comfortable to walk on and its one of the first things your guests see.
High-Traffic Areas
High-traffic areas need a flooring that can cope with regular use. For utility areas that withstand lots of wear, choose laminate—muddy boots and wet laundry won't have any impact on good laminate. Hallways and other high-traffic areas in the main part of your property should be a dense, durable hardwood like ebony or Brazilian cherry. These woods are hard enough to withstand a lot of foot traffic, yet beautiful enough that they'll add value to your property and leave a good impression on visitors.
Hardwood vs. Laminate vs. Other Material Comparisons
There are many types of residential flooring, with hardwood and laminate being two of the most popular. Let's see how they stack up against other wood-look flooring.
Vs. Engineered Wood
Engineered wood costs less than laminate but is on a par with hardwood. While not solid wood, engineered wood flooring does have a thin veneer of real wood laid over a dense plywood or fiberboard base. Good quality planks are indistinguishable from solid hardwood. They're also suitable for use with radiant heat. Unlike laminate, they can usually be refinished a couple of times, but still do not have the longevity of solid wood floors.
Vs. Vinyl
Vinyl floors cost less than engineered or solid wood but are similar in price to laminate. While it can look like wood, vinyl can also mimic tile or stone, or have completely different, colorful designs. It won't add long-term value to your home, but vinyl is a great budget-friendly choice that is moisture-resistant, comparatively easy to lay and easy to clean.
Top Hardwood and Laminate Flooring Brands
| Top Laminate Brands | Top Hardwood Brands |
| --- | --- |
| Shaw | Bruce |
| Top | Carlisle |
| Armstrong | Hearne Hardwoods |
| Pergo | The Woods Company |
| Bruce | Westhollow |
| Mohawk | Saso |
| Quick-Step | Aspen Hill |
| Mannington | |
9 Comments