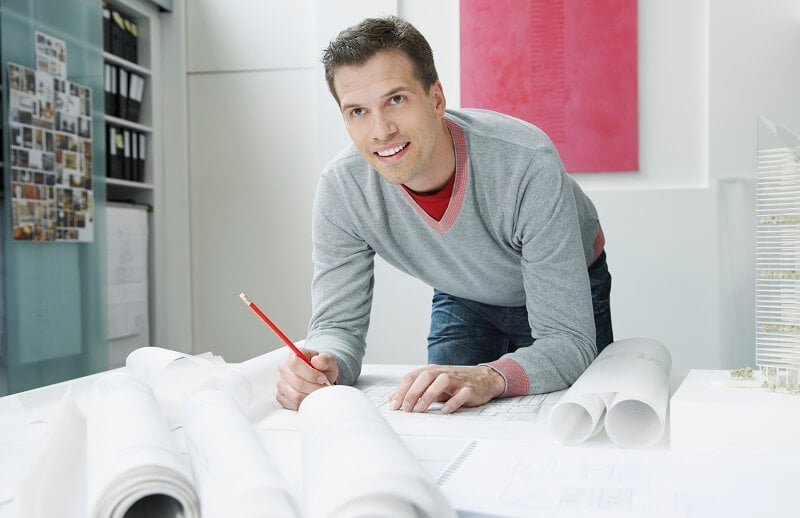 Who Draws House Plans?
Before your custom home, remodel or expansion begins, you'll need technical house plans for your general contractor to follow. If you already have an engineer and a design, you'll need a draftsperson to turn that design into a blueprint for the construction crew. If you need comprehensive services that includes the technical, engineering and design aspects of your project, you're better off hiring an architect.
Learn the difference between a draftsperson and an architect. Find out which one you should hire. Discover specialties and what you need to know to find a professional you can feel confident in.
On This Page:
Draftsman vs. Architect
The difference is mainly in education and scope. Most drafters work for architects or as part of a construction company. An architect is the visionary behind the functional design of a home. Under their supervision, draftspersons translate that vision into technical blueprints that a construction company follows.
Draftsman vs. Architect

Draftsperson

Architect

Education

0-4 years

None required but typically technical, associates or a bachelor's degree.

5-7 years

Bachelor's degree required, Master's preferred.

Internship

Not required

3 years

License

Not required

Required in all states

Services

Technical

Technical, Design & Oversight

Average Cost Per Project

$1,800

$5,000

Where they work

Architectural firms, Construction companies

Architectural firms as associates or partners

Main Duties

Converts engineered designs into technical drawings.

Designs, engineers and oversees projects.
Note: Commercial properties usually require an architect. In some rarer cases, your HOA or local government may require a licensed architect to sign-off on completed residential designs. Check with all local agencies and homeowner associations for plan requirements before hiring a professional.
What an Architect Does
An architect's functions include design, drafting and engineering. They oversee the design of a home, the materials used, lighting, sound and how they all combine into one structure. Becoming one requires at least a five-year bachelor's degree with another three years of internship work before sitting for the required licensing test. They are also trained and experienced drafters.
They also offer services including plan submissions for permits and on-site project oversight. If you are looking to construct a custom house from scratch, you'll need the skills of a local architect.
What is a Draftsperson?
While architects represent the vision of a project, a draftsperson's job is mainly to prepare technical designs. There are no licensing requirements, though optional certification programs exist.
Though none is required, they typically acquire a two-year degree or opt for a bachelor's. It doesn't include training in the design or engineering aspects of home planning. Although, making alterations to existing plans and outlining ideas is well within their field.
What Does a Drafter Do?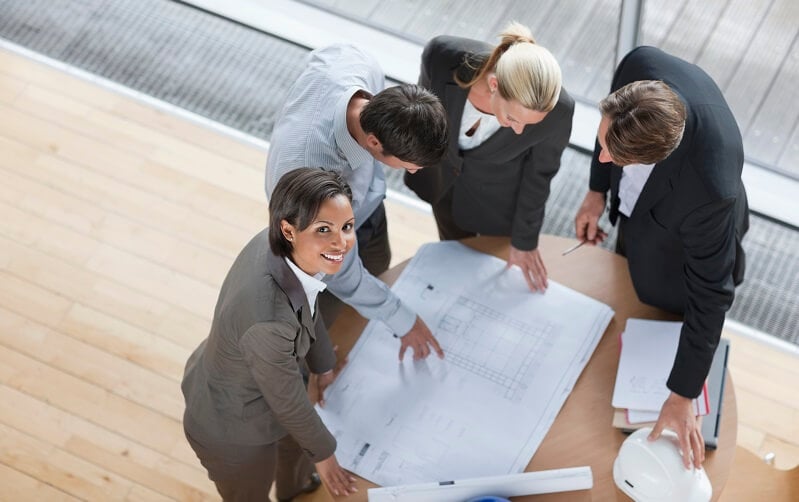 Draftsmen use specialized design software to convert designs into usable blueprints and other technical drawings. They usually specialize in one of five areas, though homeowners typically only use them for their "architectural" services.
Five areas of specialization:
architectural
civil
electrical
electronics
mechanical
Drafters also take the plans to structural engineers or other licensed professionals for approval if an element in the building needs special consideration.
They can also make drawings of existing buildings to apply for building permits for remodels and additions. Building permit costs or $400 to $1,700 aren't usually included in their fees.
Architectural House & Residential Blueprint Drafters
This type specializes in residential and commercial buildings. They take designs from architects, designers, engineers and other construction contractors and turns them into blueprints for building crews to follow.
Most municipalities do not require architects or engineers to design residential construction plans for single-family dwellings. A draftsman can put your ideas down on paper at a lower cost. Always check with an engineer or architect to make sure plans meet code requirements.
Commercial Building Draftsman
This is a type of architectural draftsperson who deals exclusively with commercial spaces. Skyscrapers, office buildings and even retail fronts are all more complex with differing code requirements from residential structures. It is typically a requirement that an architect stamp, or sign of on, all commercial plans.
AutoCAD Drafters
Blueprints used to be sketched by hand, but now the computer allows quick and accurate drawings. The latest Computer Aided Drafting & Design (CADD) software, like AutoCAD, can do 3D renderings and drafting. This includes floor plans and elevations as well as plumbing and electrical plans to meet standards set by the International Code Council building codes.
Professional Mechanical and Detail Drafter
These pros specialize in creating technical drawings for machinery and equipment. They produce diagrams and 3D representations of things like medical equipment, earth moving machinery and in the automotive industry.
Often, house plans will include a mechanical, plumbing and electrical plan. Though it shares the word "mechanical," this is completed by an architectural drafter.
Civil Drafting Contractor
Civil drafters prepare technical designs and topographical maps for local, state and federal government projects that include sewers, bridges and highways.
Electrical Drafters
Electrical drafters prepare wiring diagrams for electricians and other electrical contractors for both residential and commercial buildings.
Electronic Draftspersons
This specialty deals with diagrams for electronics such as a computer, phone or anything with integrated circuitry.
Freelance Draftsman
When you hire an architect, you get the services of a draftsman since they're employed by architects. However, you can sometimes buy these services on a freelance basis.
For small and simple residential projects, hiring a freelancer can save money and time. However, make sure they are experienced in code requirements or you risk having your plans rejected by your local building code enforcement agency. An internet search for "local building codes" will guide you to your local code office.
How to Find & Hire a Draftsman
The best way to find and hire a draftsman is by reading ratings and reviews of licensed and qualified professionals. However, you'll also want to get multiple quotes, check examples of their previous work and ask some specific questions.
Get a Quote from Multiple Pros
Don't go with the first professional you find. Always get at least three quotes. Once you have quotes, compare them against online estimates.
Discover the average national cost to hire a draftsperson.
Read Ratings & Reviews
Ratings and reviews tell you more about the drafting professional's work history. Not only will you find out how satisfied previous clients were, but you'll also get a feel for how they work.
Check Work Guarantees & Licenses
Draftsman positions don't require licensing. However, there are certifications available for the field. Be sure to ask what training and education they have prior to signing a contract. Find out what work guarantees they offer.
Questions to ask a Drafter
Always walk through a project with any potential drafter. Think of it as a job interview. Engage them in conversation, lay out your ideas and see how they respond. While you can't expect specific ideas until you hire one, you'll get a general feel for how they operate and if they would be a good fit for you.
Make sure to include these questions in your conversation.
What work guarantees do you offer?
Will you alter plans if something comes up during the construction phase?
Do you work with an architect, designer or engineer?
Are all plans guaranteed to meet or exceed code requirements?
Will you work with my general contractor directly?
What education and certifications do you have?
Do you have any references?
FAQs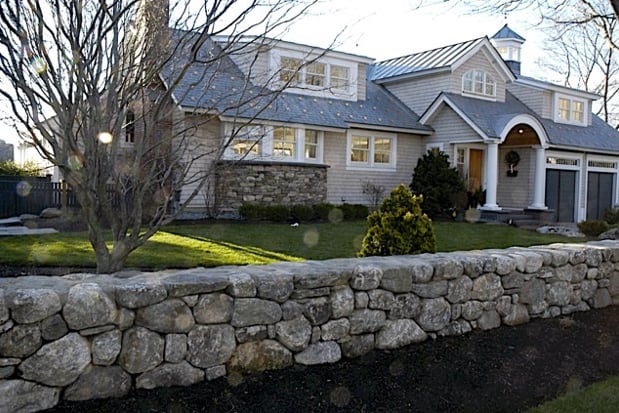 What is a Roofing Draftsman?
Architectural drafting includes roofing. Some professionals who work at roofing manufacturing or installation companies may only work on roofing and cladding components.
What are Floor Plan Drafting Services?
A floor plan is a simplified drawing of the layout of rooms on one floor of a home. These are usually created by designers for arranging furniture and appliances. These are not technical drawings or blueprints and should not be used in place of them.
What is a Draughtsman?
Draughtsman is simply the European spelling of draftsman. The terms are interchangeable.
When Can I Hire a Draftsman Instead of an Architect?
If you have a complete design idea for a residential property and either you or your contractor employs an engineer, you can hire a draftsman to make your design into usable technical drawings. This is typical for simple additions and remodels like adding a bathroom, finishing a basement or adding a garage.
What are Blueprints?
Traditionally, blueprints are technical drawings in white on blue paper. The term is now used interchangeably with any type of digital construction plan. Classic blueprints are still in use for older homes. Drafters translate these paper plans into digital representations when remodeling or adding on to older homes.
How Does a Draftsman Compare to Similar Professions like Engineers & Designers?
Little similarities exist between draftsmen, engineers and designers. They all complement and often work on teams with each other.
Drafter – creates technical drawings from design ideas. Usually works for engineers, designers and architects.
Engineer – designs and oversees the technical aspects of a construction project. Where an architect thinks of design aspects, the engineer works on making it a reality. They are mostly concerned with environmental issues and meeting all codes and regulations for the safety aspects of the project. They also manage projects.
Designer – only concerned with the visual aspects of a project. They often create their own technical drawings though sometimes work in conjunction with engineers, architects and draftspersons.
Need Blueprints or Plans Made?
If you have some design ideas or just need some blueprints updated, call in a professional. Find a draftsman near you with our database of prescreened professionals. You can read reviews, get multiple quotes and complete your project with peace of mind – all from one place.
3 Comments