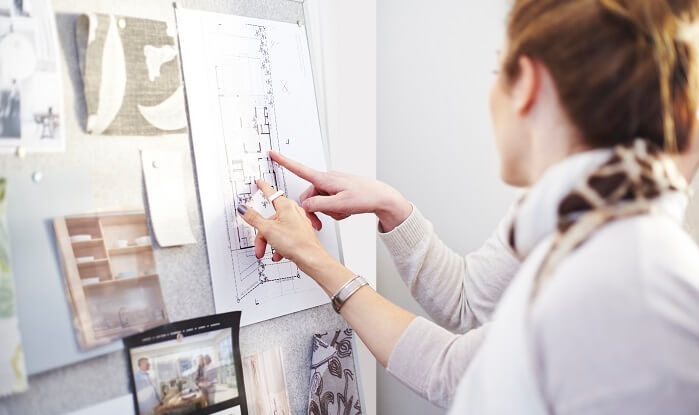 While requirements vary by state, most high-quality interior designers have at least a bachelor's degree in interior design or a similar subject. They have passed the National Council for Interior Design Qualification exam. They will also have a business license and liability insurance. When selecting an interior designer to work with, ask to see their portfolio and their project management style. Find the right interior designer for your remodeling or renovation project with HomeAdvisor's digital tools.
On This Page:
Qualifications of an Interior Designer
If you want to remodel or renovate your home or even just one room in your home, an interior designer is the professional you need to help keep the space functional while changing it to fit your needs.
Hiring an interior designer should start with checking out his or her qualifications, though there is no one-size-fits-all path to finding a high-quality one. Each state has its own laws and regulations regarding licensing. You can learn more about that by visiting our State-By-State Guide to Contractor Licensing. You can also check out our network of professional interior designers to help guide you to the perfect match, as well as learn more about the extensive screening process we use to make sure everyone in our network is reliable and credible.
While there is no formal education required to become an interior designer, most professionals do earn a bachelor's degree in the subject or a similar area from a college, university or art institute. Upon graduation, interior designers must have two years of hands-on experience before they can become licensed.
Most states recognize the National Council for Interior Design Qualification exam as an industry standard for licensing. While an interior designer isn't required to take the exam in every state, many firms need it before hiring them. Some states, like California, also require you to take a second exam.
Many interior designers continue their education throughout their career through workshops, online courses, and trade school offerings. Often, they go on to specialize in areas of interior design like:
Residential interior design
Commercial interior design
Sustainable design
Lighting design
Set design
Retail design
Finally, an interior designer must have professional liability insurance.
Looking for an interior designer?
Services Interior Designers Offer
An interior designer's services will vary from firm to firm and professional to professional. Usually, most of them offer basics like:
Re-evaluating and rendering floor plans
Space planning
Cabinet and millwork design and layout
Furniture layout
Kitchen design
Bathroom design
Design for individuals with special needs (ADA services)
Interior architecture selection
Finish selection
Remodeling a room
Updating a home
Moving or changing the size of doors and windows
Interior Designers vs. Interior Decorators and Architects
When you look at what an interior designer does, you may wonder if you need to hire an architect or interior designer instead. Truthfully, all three jobs do have some overlapping components, and they may all work together to create the home or room of your dreams.
Type of Professional
What They Have in Common
What Sets Them Apart
Interior Designers Vs. Architects

Can draw up plans for a project
May oversee a project from start to finish
Design spaces that are both functional and aesthetically pleasing

Architects work on both interior and exterior design
Architects may focus more on the big picture
Architects deal more with issues like engineering and codes

Interior Designers Vs. Interior Decorators

Focus on the interior of a home or building
May help you pick out permanent fixtures, like lighting, cabinets and countertops

Interior decorators focus more on style than function
Interior decorators typically come in and do their work after the designer and/or architect is finished
Get a Quote From a Local Designer
Questions to Ask Interior Designers
There are many important questions to ask an interior designer before you agree to hire them. Once you've narrowed down a list of potential candidates, jot down some notes about the job you have in mind, such as your overall goal, the square footage of your space, your ideal timeline and your budget for the design project. Keep it on hand while you conduct your interview so the professional can provide you with specific answers.
What Design Services Do You Offer?
Again, not all interior designers work on all projects. If you're asking for a quote on kitchen design, but the designer doesn't do kitchens, you'll need to keep shopping around. In some cases, the designer may be able to refer you to a colleague.
What Is Your Project Management Style?
A good interior designer is also a good communicator. They'll present their plans and listen to your ideas, whether you describe them in person or send them inspiration from your Pinterest boards. Asking about their project management style will provide you with an idea of how you'll communicate from start to finish and whether or not you've found an interior designer who will work with you.
Can I See Your Portfolio?
A designer should work with you, no matter what your style is, but it's only human nature to show some bias in your work. Asking a designer to see their portfolio gives you an idea of how versatile they can be and whether they can handle your project.
What Happens if I Don't Like the Finished Project?
Interior design can be expensive, and you don't want to end up with space you don't love. For this reason, your interior designer should keep you in the loop throughout the project, so you can catch something you don't like before it becomes permanent. Whatever their answer, make sure you're comfortable with it.
How to Use HomeAdvisor to Find an Interior Designer
If you're ready to begin looking for interior designers near you, there's no better place to start than HomeAdvisor's LiveDirectory of Pros. You can browse ratings and reviews for interior designers and other professionals by city or the specific tasks you need to complete.
You can also use our Top-Rated Pros Near Me tool to match the perfect candidate(s) for your project. Just answer some questions, like the type of service you need, the space where you need it and whether it's a full or partial remodel or new construction. You'll also need to add your zip code to keep your search local.
If you have a specific project and budget in mind, you can quickly book fully-vetted professionals through our Fixed Price Services tool. Once you've set up the project, you can kick back and relax.
Looking for an Interior Designer?
FAQs
What do interior designers do?
No matter the project and its scope, designers generally follow the below steps.
Analyze the structure
Identify the limitations of the current layout
Propose solutions to existing problems
Consult local construction guidelines
Create and implement the plan
How do you work with an interior designer?
Working with interior designers is much like any other professional you'd hire for your home. Here are a few tips:
Respect their time
Keep communications professional
Be specific about your expectations
When should I hire an interior designer?
If you want to renovate your home, you may need a designer. Some contractors will provide these services for the project, but others won't.
What do designers charge?
The cost to hire a designer runs from $50 to $200 per hour. Some pros charge by the hour, while others set a flat fee for the project.
What's included in a design contract?
Size and scope of the project
Fees for the pro's services
Homeowner responsibilities
Timelines for completion and payment
Standards for purchasing materials
Limits on services
Refund and cancellation policies
Are interior designers worth it?
Interior designers cost $6,400 per project on average. For your money, this professional service covers many details that homeowners often miss. An ideal result may save money on repairs.
Who hires designers?
Companies and homeowners hire interior designers to help renovate building interiors. Many pros work in a firm, but others run their own businesses.
When do I need an architect vs. designer?
Hiring a home architect is different than hiring a designer. You'll need an architect for plans that concern the exterior structure of the home.
Find a Designer for Your Project
No Comments Yet