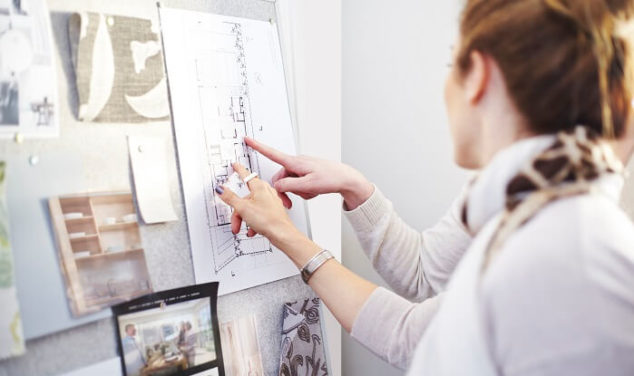 Looking for an Interior Designer?
Hiring an interior designer helps make your renovation or remodeling beautiful yet functional. These pros can transform a room into an innovative space that works for years to come.
As you begin to look for a designer, make sure that your goals are easily shareable. A clear direction will help ensure that you choose the right one. Below are some tips to help you hire the best designer for your home.
On This Page:
Why Hire an Interior Designer?
Interior designers update your home based on the project you have in mind. Their work can improve your resale value by confirming that the work meets current building trends. Pros work on residential projects like:
complete home redesigns
home renovations or remodels
apartment or condo updates
single room remodels
Complete Home Redesign
When you plan a complete overhaul of your home's interior, you'll need a designer. This pro can help you determine what's not working and how to fix it on a larger scale. Homeowners often take this approach to modernize a structure that's getting older.
Hiring a Designer for a Home Renovation or Remodel
If your interior home project requires remodeling, a designer can help you communicate their plan to the contractors doing the work. Sit down with them to discuss the structural and aesthetic details of your upgrades. That way, everyone is on the same page.
Looking for an interior designer?
Apartment or Condo Updates
A design pro knows how to find rules specific to your community to ensure that the plan they create will meet guidelines. Renovating an apartment or condo requires a different approach than a single-family home. For example, the unit may share access to utilities or equipment that you can't change.
Remodeling One Room
Although many pros work exclusively on larger projects, you can still hire one for smaller jobs. For example, they can help you:
convert a master bedroom into a suite
expand a bathroom
change the size of a room's windows or doorways
Benefits of Hiring an Interior Designer
Expertise
Knowledge of trends and timeless styles
On-the-spot problem-solving
Understanding of local and state building codes
Project management
Need A Designer's Help?
Difference Between Choosing an Interior Designer vs. Hiring a Decorator
When you compare designers and decorators, remember that designers must meet certain requirements.
Interior Designers
Complete professional training in the function and layout of the space
Draw strategic plans to renovate walls, windows, flooring and more
Focus on furnishings and colors
Do not change the layout of permanent structures
Hiring an Interior Designer on a Budget
Hiring an interior designer costs most homeowners between $1,900 and $11,000. If you're working with a small budget, make sure you actually need a professional for the project. When you plan a remodel, try limiting the pro's tasks to the most relevant items. For example, they can help you choose the best layout for a room renovation. You may not need them to complete the whole room. Instead, you can plan to DIY decorating tasks like the color palette and furniture selection.
Hire Interior Design Students
Hiring design students who have completed most of their education can help you save money without compromising quality. They may cut you a deal if your project serves as a final project or meet the requirements of an internship.
Before contacting local schools, find out if your state requires pros to have a license for paid work. Otherwise, ask these questions of students you want to hire:
How much experience do you have working on projects like mine?
What will you charge?
Do you have past clients or professors I can contact?
Get a Quote From a Local Designer
How to Find & Hire a Good Interior Designer
Before hiring, set a budget. Think about the things you want from the space, such as:
an open floorplan
more light
better storage
bigger rooms
a spacious kitchen or bathroom
more room for entertaining
The best way to find an interior designer starts on your computer. Here's a few ways to help you narrow down the list:
Search trustworthy online directories
Browse ratings and reviews
Select professionals who can meet your needs
Visit their websites for more information
Contact at least three designers to get quotes and ask questions before deciding
Questions to Ask Interior Designers
Once you've settled on a few interior designers you want to contact, you need to know which questions to ask. As you interview, expect all levels of experience and price. Pay attention to what they say about your project, to confirm that they share your vision. Ask these questions to see who makes the cut:
1. What's in Your Portfolio?
Make sure that the work you see in a potential designer's portfolio meets your expectations. Pros have an individual eye for design that could vary widely in price and style. Ask each one for a link to their website or a document highlighting recent work. Look for photographs and details about each project.
2. Can I Get Three References?
Ask for a few references to satisfied customers. Be sure to talk to them about their experience, not just the result. An interior designer's work may be outstanding, but if they're a nightmare to work with, beware.
3. What Is Your Training?
Designers must have professional training. This usually comes in the form of a two-year or four-year degree. Your state may also require a license.
4. Do You Have Experience With My Project Size?
Make sure that your interior designer is comfortable working on projects like yours. Sometimes, pros prefer to work within a specific size range, like a room or a whole house. They may set minimums on the project size or budget to justify the cost of their work.
5. How Can I Get a Consultation?
If the pro looks good on paper, ask if they will come to your home to consult. Confirm you understand their policies before you schedule an appointment. Evaluating your space and creating the initial plans for your project can take hours, so designers usually won't do this for free. Many offer a consultation package that pays them for their time without requiring you to commit to hiring them for the entire job.
Looking for an Interior Designer?
FAQs
What Do Interior Designers Do?
No matter the project and its scope, designers generally follow the below steps.
Analyze the structure
Identify limitations of the current layout
Propose solutions to existing problems
Consult local construction guidelines
Create and implement the plan
Check out our comparison guide for more on what interior designers do.
How Do You Work With an Interior Designer?
Working with interior designers is much like any other professional you'd hire for your home. Here's a few tips:
Respect their time
Keep communications professional
Be specific about your expectations
When Should I Hire an Interior Designer?
If you want to renovate your home, you may need a designer. Some contractors will provide these services for the project, but others won't.
What Do Designers Charge?
The cost to hire a designer runs $50 to $200 per hour. Some pros charge by the hour, while others set a flat fee for the project.
What's Included in a Design Contract?
Size and scope of the project
Fees for the pro's services
Homeowner responsibilities
Timelines for completion and payment
Standards for purchasing materials
Limits on services
Refund and cancellation policies
Are Interior Designers Worth It?
Interior designers cost $6,400 on average. For your money, this professional service covers many details that homeowners often miss. An ideal result may save money on repairs.
Who Hires Designers?
Companies and homeowners hire interior designers to help renovate building interiors. Many pros work in a firm, but others run their own businesses.
When Do I Need an Architect vs. Designer?
Hiring a home architect is different than a designer. You'll need an architect for plans that concern the exterior structure of the home.
Where to Find an Interior Designer in Your Area
Now that you know how to hire a good designer, it's time to start the search. Remember these tips:
Find a Designer for Your Project
---
No Comments Yet
You can be the first to comment!