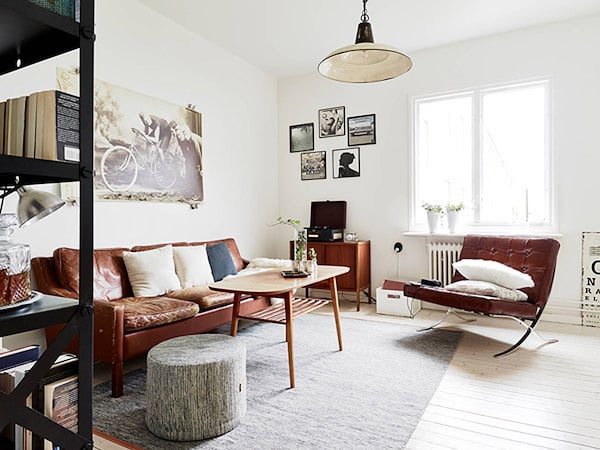 Looking back at what each decade brought us in terms of interior decorating can help people decide how and where to begin. This survey should help show what works and what doesn't.
1960s: How much Farther Out can your Flower Power Go?
Floral patterns weren't exactly invented in the 60s, but the era wasn't just about psychedelics, either. Whether it was for wallpaper or upholstery, floral became relatively common. Of course, these days you need subtlety—an even hand, a discriminating eye—and the right decorating context to pull it off. The 60s are canonized in the history of American culture for revolution and civil rights. The decorating trends weren't far behind. Whether it's feng shui or being one with the universe, emotive, holistic decorating owes a lot to the 60s vibe.
Retro-Possibilities: Organic, custom-built furniture. You should always start with furniture when putting a room together, so if you're thinking retro, you won't go wrong with 60s furniture.
Leave it in the 60s: Gaudy, competing colors and patterns. Tie-dye is great for t-shirts, but using Lysergic acid diethylamide for decorating inspiration isn't cool.
1970s: Because the Most Common Fiber for Shag Carpet is Polyester
Everything in interior decorating seemed to be about comfort, and this translated in many minds to plush. Shag carpet was only the beginning. Cushy recliners and velvet couches replete with too many pillows were the centerpieces of many living rooms and dens. The custom furniture of the 60s went on steroids, fabricated from a new catalog of glass, plastic and steel. The 70s also proved that not all wood is classic, as inexpensive wood paneling is one of the surest eyesores from this time period. Indeed, old laminate counters and linoleum floors are some of the most compelling reasons for today's kitchen and bathroom remodel investments.
Retro-Possibilities: Colored appliances. Stainless steel appliances are hard to argue against, but the 70s proved the choices for color in appliances extend well past white and stainless steel.
Leave it in the 70s: Shag carpet. This one is a no-brainer. Not only is it a decorating faux pas, but you'll be spending all your time trying to keep it clean. Also, stay away from the harvest gold and avocado green color scheme.
1980s: It was Pretty in Pink, so We Put Salmon on the Walls
Many either loved or hated the 80s. There wasn't just a mix of good and bad things–everything was simultaneously terrific and horrific. Same with interior decorating trends. Playing with drywall texture can be a great idea, but the 80s chose the "popcorn" ceiling, generally considered the worst look. Accent borders can do wonders. Wood and tile flooring can yield stunning results by using different types for a decorative border. In the 80s, we thought the ugly wallpaper from the 70s would look good as a border for the walls. Wrong again.
Retro-Possibilities: Faux finishes. Just make sure you do it right. Hire a professional painter to sponge your walls or to stain your cabinets, floors and furniture.
Leave it in the 80s: All color schemes: pink overload, salmon-peach walls and anything neon. Plus, that partner-in-crime of the 80s color scheme should be ripped from their fixtures: bad mood lighting.
Ready to start your
interior decorating

?Find Pros
1990s: I'm in such a Hurry that I Don't Have Time to Decorate
Teenagers went to raves while their parents stayed home and discovered the 24-hour news cycle. The Computer Age. Grunge, Hip-Hop, Techno–everything was speeding up, leaving less and less time in the day. More and more households had dual-income families and fewer homemakers. Interior decorating became all about minimalism. Stainless steel appliances, open space, sleek lines and geometric contours mirrored the fast-paced lifestyle that began to take hold as a cultural reality. Low-maintenance anything, including hard-surface flooring, self-cleaning ovens, high-powered dishwashers and plenty of storage to keep rooms clutter-free were all in vogue and still are.The world hasn't exactly slowed down, after all.
Retro-Possibilities: The focus on appliances and convenience. Dishwashers shouldn't just be high-powered they should also conserve water and energy. Instead of just a sleek kitchen with sleek stainless steel appliances, try one that's also jacked in and jacked up with Wi-Fi, a stereo system, and an espresso machine.
Leave it in the 90s: Being afraid of color. Saving time by keeping things simple is one thing, but it doesn't really apply to color scheme. Drab doesn't equal relaxing. Black and white doesn't always equal style.
Interior Decorating in the New Millennium
Much of the focus on contemporary decorating has to do with blending many of these elements together into a cohesive whole, but the one area that sticks out as a new focus is lighting design. The ante is especially high given that many energy-saving light bulbs aren't as flattering as incandescent bulbs. Track lighting was only the beginning for professional decorators and discerning homeowners. Mixing task lighting and accent lighting to create an interior that is as visually appealing as it is convenient is the message du jour.
Ready to start your
interior decorating

?Find Pros
No Comments Yet