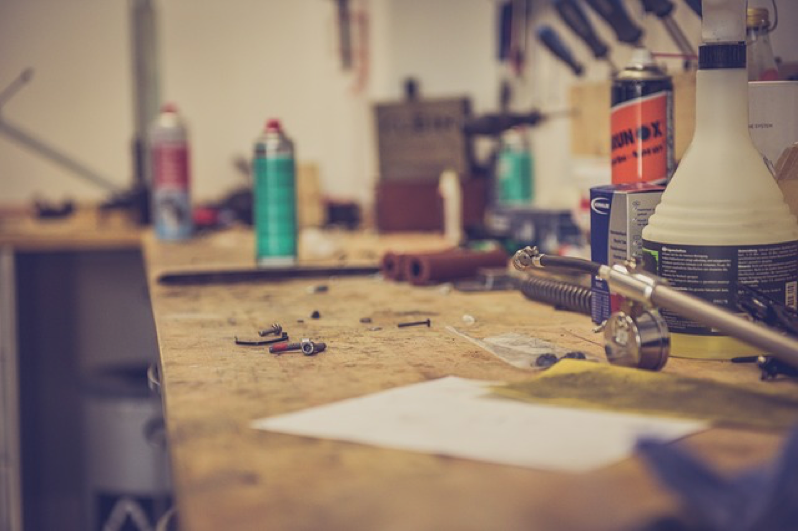 Image via Pixabay
Whether you're an avid crafter or a car enthusiast who fixes up old classics on weekends, having a dedicated work space is essential to artisans of all sorts. Even if the square footage in your home is limited, creating your dream workshop is not as far out of reach as you may think. All you'll need to do is choose your space, then lay it out and organize it to suit your needs. And this guide will help you every step of the way!
Picking a Location
For most people, the ideal hobby workshop is its own dedicated room. It could be a spare bedroom, your kids' old playroom that they've since grown out of needing, or a formal dining room your family rarely uses. Even a small spare bathroom can make an excellent darkroom for photographers or mixing station for people who make their own soaps, lotions, and body care products. But the reality is that many people simply don't have a full extra room they can devote to their passion, and that's OK. The key is to get creative and think outside the box when it comes to the space you do have.
Take that coat closet in the hallway, for example. It's likely full of stuff you either don't need or can easily relocate, and you can remove the door to extend the space. If it's got shelving, you can remove as much as you need to in order to give yourself room to work, and use what's left to store your hobby supplies. Existing closet rods can be used for hanging storage, plus it's a perfect spot to hang any necessary hobby garments like aprons or work gloves.
The garage is another often-overlooked space you can consider. It doesn't have to be the entire room, especially if you use it for storage, but you can even carve out a corner for all your hobby needs. One of the perks of the garage is that if your passion projects tend to get messy, you won't have to worry about tracking it throughout your house. Do keep in mind that you'll want to make sure your garage is well-ventilated, whether it's attached or unattached, year-round. This is especially important if you live in an area with seasonal extreme heat or cold or will be working with potentially dangerous chemicals.
The laundry room is another excellent choice. There's usually ample storage space, including hanging rods, and a folding surface can become your new work area. Plus, many laundry rooms have utility sinks perfect for rinsing paint brushes, filling buckets, and other general clean-up processes. However, keep in mind that you'll need to be strategic about how you store supplies — note any chemicals that are heat-reactive and will need to be kept far from the dryer, and keep electronics as far from the sink as possible.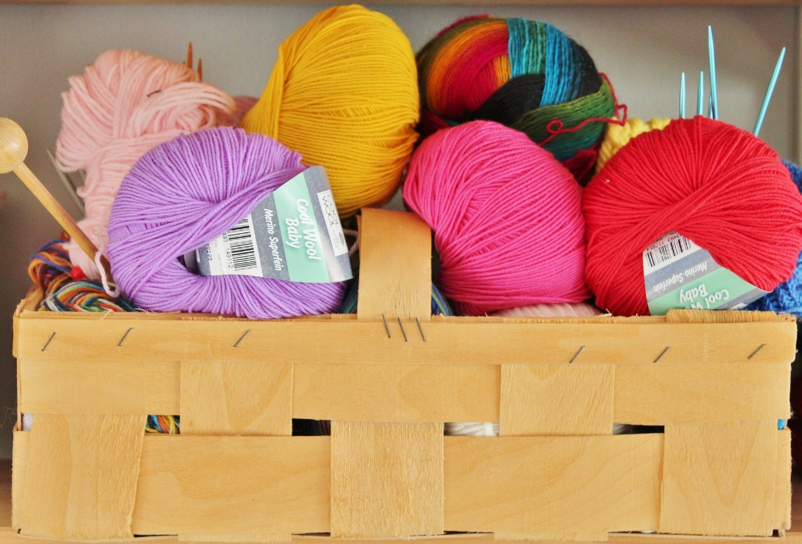 Image via Pixabay
No garage or closet space to meet your needs? Take a walk around your home and scout out the unused areas: it could be that awkward space in the living room where no furniture or bookshelves would fit, or perhaps that corner under the stairs where you typically keep the pets' food and water dishes. You might even realize the overhang of the counter is not only the perfect work space, but an out-of-the-way solution for storing your supplies. Look for opportunity in every room, and keep in mind that you can always go mobile — if one area would be a perfect work space and another would be ideal storage space, you can use rolling carts or drawers to transfer your tools when you're ready to work.
If possible, you'll want to choose a work area with plenty of natural light, especially if you're an artist. Even just a single window can make the smallest spaces feel less confined, and on nice days it can make a major difference in ventilation. Being able to look outside could also give you needed inspiration on slow days, or allow you to keep an eye on your children while still enjoying some "you" time.
Getting Organized
Your first priority for setting up your hobby workshop should be safety. Make sure that any potentially dangerous tools, supplies, and chemicals are kept completely out of reach of children and pets. If you have leftover childproofing gear from when your kids were little, it's an excellent way to keep curious hands and noses out of harm's way. Talk to your kids about any supplies you use that may look like they're everyday tools but that could be dangerous for them to use (for instance, if you have extra-sharp fabric scissors). Let them know that your hobby supplies are for your use only, unless they get permission and supervision to do otherwise.
Additionally, if you'll be using anything with a long cord, plan for an effective way to prevent it from becoming a tripping hazard. You can mount them to the wall, or find creative ways to stow them after each session of work. Even if you don't have children or seniors in the home who are particularly vulnerable to tripping, keeping your space free of cords will keep it looking and feeling more organized.
Decorating your work area might not seem like a major priority, but it's important that you make it a welcome environment that you look forward to spending time in. Crafters may feel inspired by painting the walls their favorite colors, or hanging photos of the projects they want to tackle next. Woodworkers might hang photos of their favorite pieces, while car enthusiasts can put up posters of their all-time favorite hot rods. And don't forget to incorporate your own work — whether you have a few of your own paintings hanging or a photo of your sister with the quilt you stitched her on the shelf, your work space is the perfect spot to display your accomplishments.
If you're not sure what colors you want to use in decorating, yellow has been shown to have a mood-lifting effect, while earth tones like blue and green have a calming effect. You don't necessarily have to paint every wall or go overboard with decorating, but however you choose to decorate, make it the kind of space that will make you feel focused, inspired, and content.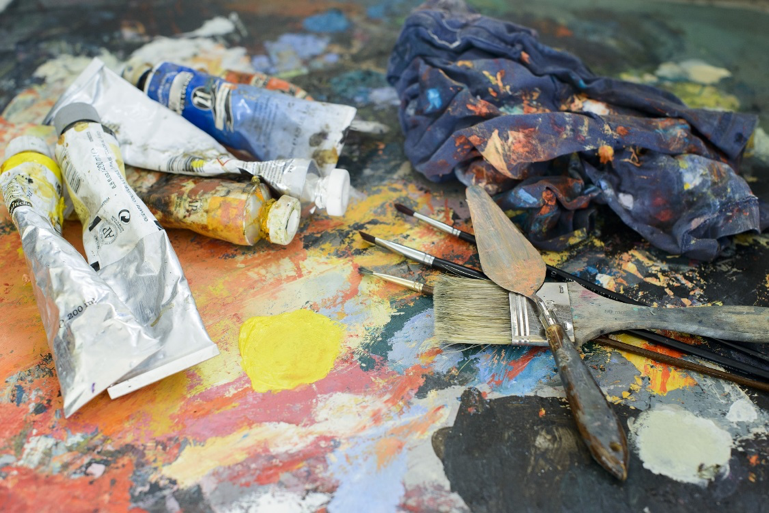 Image via Pixabay
Flooring will be another consideration to make. If you'll be working in the garage and have a concrete floor, you might want to consider using epoxy floor finish that's simpler to clean and won't track dirt and dust into the home. If you'll be standing while working for long periods, rubber mats can be an easy way to take the pressure off your back and joints and are easy to clean.
For other rooms, it's best to stick with tile or hard flooring as much as possible. The easier clean-up is, the better. Even if you'll only be sewing or quilting and won't use any dyes, paints, or other messy supplies, it's much easier to find lost pins and small tools on a hard floor than carpet. If you have the option to re-floor the space, go with a material that is durable, easy to clean, and will be comfortable to work on.
Next step: lighting. You'll want a combination of both overhead lights and bright lamps for tasking, and you might want to experiment with different kinds of bulbs to find out what best suits your needs. You might opt for soft white overhead and brighter LED lights for your table, or even a magnified light for particularly tedious work. Chandeliers can also brighten up smaller spaces effectively, and adhesive-backed sticky lamps can be easily placed on walls and shelves.
Your work surface should be strong, durable, and give you plenty of room to spread out. Typically, a large, heavy table or counter made of wood or metal will be best, but smaller spaces can be made adaptable with fold-down tables or counters. If the height won't be accommodating for long periods of work, you can adjust it with blocks or PVC pipe — just be sure to secure it to the wall or floor so it isn't too wobbly. If possible, position your work surface so you're close to any power outlets you'll need, or near the sink if necessary. And comfortable seating is a must, so at the very least opt for a padded stool with a backrest.
When it comes to storage, the possibilities are endless no matter what your space limitations are. If money is tight, you can re-purpose washed-out jars, tin cans, and butter tubs to store small items like nuts and bolts, brushes, paint, spools of thread, and sewing needles. You can also purchase some over-the-door organizers and rolling plastic drawers to maximize your space. Pegboards are inexpensive and can be sized to just about any space without giving up their efficiency, and magnetic strips on the wall can be an easy, accessible way to store metal tools. Spring tension rods can make tight spaces between cabinets and appliances more accessible and offer a place to hang works-in-progress, pieces of inspiration, or pictures of the project you're currently working on.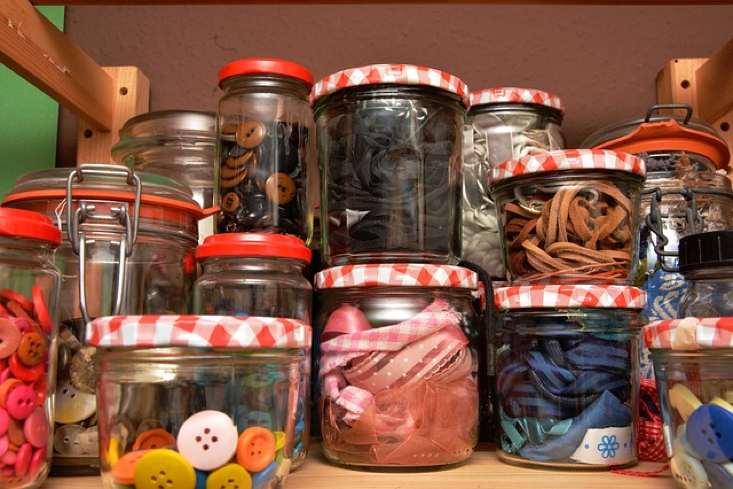 Image via Pixabay
If you're using cabinets or shelving already present in the work area, keep your supplies separate and in a dedicated space. Label or color code where items go, and organize tools in a way that makes sense to you: perhaps your paint can be arranged by ROYGBIV standards, your tools by function and size, or your scrap booking stickers by genre. Keep the supplies you'll need and use the most somewhere handy, and everything else as out-of-the way as possible. Adhesive hooks can extend your cabinet space even further, and items like empty egg cartons or washed-out pudding cups can keep small items visible but organized.
If you need larger, easy storage, wine crates, magazine racks, and shoe boxes are all low-cost and can be spruced up with a little paint or other decorative touches. Clothes hangers (especially more durable plastic ones) can be used to hang items neatly, and are easy to transfer if your storage is separate from your work space. If you have kids, there are all kinds of ways to repurpose their old stuff to meet your needs — from baby food jars to old cribs to pool noodles, you can finally simultaneously free up and create storage space!
Everyone deserves to have their own space for their passion project, be it a crafting station or simply a place to journal. Look around your home with a creative eye, and you'll realize that much of what you need to create your ideal hobby workshop is already nearby and can be easily converted. And don't forget: even if you don't have the space or budget for your ideal working station just yet, you can work on improving the space you have in the meantime.
No Comments Yet