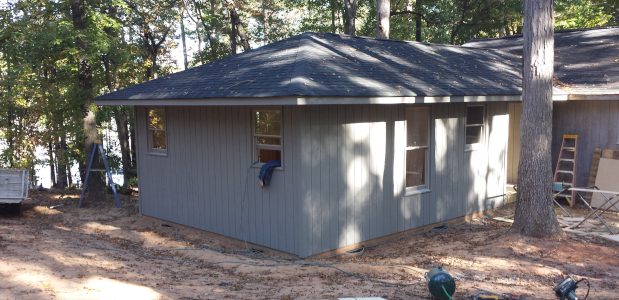 A house addition is exactly what the term claims: adding onto a house. Yet, additions can arrive in many forms, be many different sizes, and address many different functions. You can build out, up, down, or any other direction from the existing structure. We have compiled some of the basics that you need to know before you begin your addition.
House Addition Plans
You might live on a thousand acre ranch, but most of us have a finite amount of space, and we are constantly trying to maximize what little of it we have.
First, consider all the ways in which you can expand the ground floor. Whether you are thinking of selling soon, later, or never, it's a wise idea to add extra space to the ground floor because as you age, you will be less able to climb the stairs. If you have a single level home, this won't be a problem.
Second, realize that this addition will eat into your yard and change the shape of your home and your landscaping. Most additions are toward the back of the house, so most likely the look of your home from the street will not change. If you have a large yard and can spare several feet of it, this is no problem.
Third, if your yard is small you need to determine property lines (don't forget vertical property lines) so that you don't waste your money. Also, if you have a really small yard, and your planned addition will leave you with almost no yard at all, consider taking up the rest of the back yard and getting a little more spacious addition.
Second Story Room Additions
Another idea is to build up. Second story additions are a little trickier in that the weather really needs to cooperate since a portion of the roof will be open for a small amount of time. This is a great addition for a master bathroom or for extra bedrooms if more children are on the way. Depending on the situation, building up can sometimes be less expensive per square foot than building out because there won't be any need for foundation work. This is not always the case, however, so be sure to consult builders or architects early in the process so that your course is properly set before you get too far.
Hidden Costs for Room Additions
Think of what happens to a woman when she gets pregnant. Her body was one size, now it has a very different structure. She will need more to eat, need bigger clothes, it will be more difficult to regulate her temperature. A room addition can do the same thing to a typical day-to-day budget. You will need a little more heat and air conditioning during certain times of the year (excepting sunrooms, which are typically warmer than other parts of the house), you might have to recarpet several other rooms to match the new carpet in the addition, and your furniture might not work as well with the added space.
Not that you would stop your room addition plans because it might cost more to heat your home, but you just need to consider the changes to your home that will after the house addition is complete. These changes are not a sign that your house addition was a bad move or that something is wrong, this is just how the process works.
The Best Advice
The very best most basic advice about house additions is to get in touch with professionals as early on in the process as you can. Talk to builders, contractors, architects and any other sub contractor whose knowledge you need. Keep in mind that their time is valuable, so be respectful of it, particularly if you haven't secured financing of if your house addition is a long ways from breaking ground.
No Comments Yet