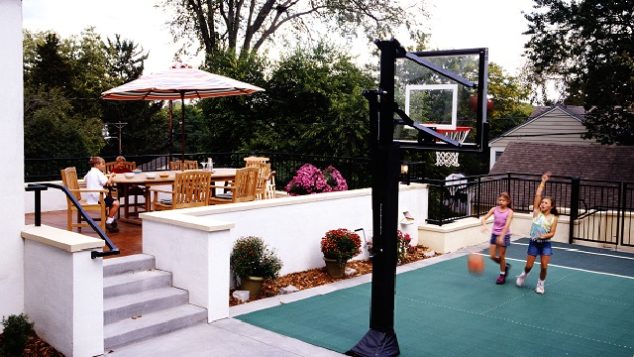 Playing basketball is a great way to get in some exercise, have fun and spend time with family and friends. If you or your kids want to play hoops at home, you've got plenty of options.
Regardless of your budget, DIY ability or your available space; there is a backyard basketball court that will work for you. Here are some things you should consider before you get started on building the perfect court!
Cost Factors
The cost to build a backyard basketball court can range anywhere from a $450 for a basketball hoop at the edge of your driveway; all the way up to more than $76,000 for a custom, full-size court.
Exactly how much you'll spend on a basketball court depends on a variety of factors; including size, site prep, materials and desired features.
Labor
Building a court yourself can be a tough project, but if you have the right tools and expertise it can be a good option. However, you may end up paying more to fix problems or redo the project altogether later.
Another aspect to consider is time. Typically DIY projects take longer to complete; whether things come up that are more important or there are surprises in the construction process.
Jobs to consider hiring a professional for…
While you could do these jobs on your own, getting professional help will speed up the process. However, it is up to you and whether you are a home-project enthusiast who has the right equipment.
Size
Most people think the larger the court, the higher the price. They're not wrong, but there are some additional factors to consider when it comes to determining how much court you can afford.
When you order less than a full truckload, the cost for concrete delivery to the job site may come with a short load fee.
Similarly, grading or excavating companies may charge a minimum fee to cover the costs of transporting heavy equipment, insurance, and other set expenses.
To be clear, there are few, if any, instances when you can save money by choosing a larger facility over a smaller one. However, the cost difference between the two may be less than you expect when you factor in these added costs.
Site Preparation
Regardless of what style basketball court you want, you'll need a flat, level surface. Many homeowners already have a paved driveway, which is typically sufficient for a half court. As long as the size is right, you'll just need to ensure it's level.
In the event you already have a cleared lot that is flat, only minor yard leveling will be required, and your site prep costs will be minimal.
However, if you are planning to install your court on an area of your property that is difficult to access or is covered in trees, the cost of re-sloping this area will increase the price.
If you need to move sprinkler heads or take down and replace fencing, expect to spend even more.
Materials
The materials you choose for your basketball court will play a major role in how much you pay.
Asphalt: While many outdoor courts are comprised simply of asphalt – the material can deteriorate over time. Due to temperature changes that cause it to expand and contract, asphalt cracks and creates bumps that will need to be fixed.
Concrete: Other courts are concrete, which holds up better over time, but is hard on your joints when you play on it.
Synthetic: If you intend to spend a lot of time on the court, consider covering your concrete base layer with a synthetic material designed to improve drainage and cushion impact to prevent cracking.
Many companies also offer custom color and design options that will make your court stand out. You should know that the added protection and customization costs as much in materials and installation as the concrete base, basically doubling the cost of your investment.
For example, a fully-equipped half court with just concrete ranges from $5,500 to $6,000. With the added surface, you can expect to pay approximately $10,000.
Features
The features and accessories you choose to add to your court, including the pole, backboard, hoop and net, can be as basic or as fancy as you like.
Re-bounders, containment netting and other perks will increase the cost little by little.
Major investments such as fencing and lighting can cost you several thousand extra, but allow you to get more use out of your investment.
Whether you're the parent to a mini Michael Jordan or a future WNBA All-Star or you've simply always wanted a dedicated space to play your favorite game at home, you can likely afford at least a modest home basketball court. Make a plan for costs, identify which projects you can DIY and which ones require you to hire a pro; and you'll soon be shooting hoops in the comfort of your home.
---
No Comments Yet
You can be the first to comment!