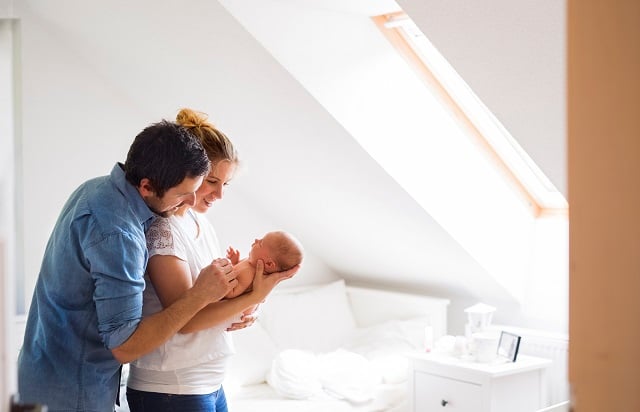 According to most people, having your baby at home is an "alternative" way to welcome your baby into the world, but it hasn't always been that way. As recently as 100 years ago, home birth was the only option. In other words, if you're of child-bearing age right now, chances are your grandparents weren't born in a hospital surrounded by doctors, nurses, and sterile equipment. In the early 1900s, it was far more likely they came into the world at home with the help of a midwife. Since then, hospitals have become the new norm.
Now, home birth is making a comeback, and the practice has come a long way in the last hundred or so years. It is usually safe for women with healthy pregnancies to give birth at home. It also has benefits that no hospital could offer. You control your labor and delivery — within reason. You decide how and where you welcome your child into the world. As a bonus, you could pay a lot less in medical bills.
If you're considering a home birth, read on with an open mind. There are myths and stigma around having your child at home, and with the health of mom and baby on the line, you're right to be skeptical. However, you may realize a home birth is perfect for your family when you learn more about how home births work.
During Pregnancy
"Patience is a virtue." When you're eagerly awaiting a child, that is an understatement. Whether it's you'll be a first-time mother or this is your latest new addition, anticipation is the hardest part. In addition to just wanting to hold your baby in your arms, you are likely worried and worn out. Luckily, there is plenty to do while you wait, especially if you are planning to have a home birth, starting with finding the right medical practitioner.
Find your medical practitioner.
A midwife or nurse-midwife usually presides over a healthy pregnancy when the mother intends to give birth at home. The right person should not only possess the training and experience to deliver your child safely, but he or she should also make you feel at ease. Look for a practitioner who is accredited with the American Midwifery Certification Board (AMCB), practices with a consulting physician, and has admitting privileges at a local hospital. Many ob-gyn offices have a midwife on staff, but you can also reach out to friends and family for recommendations.
Of course, that is not the only thing you'll need to take care of before your bundle of joy arrives. Here are some other tasks to check off the pre-baby to-do list:
Call the insurance company.
While a home birth typically costs less than one at a hospital or a birthing center, not all insurance companies will cover it. Coverage varies by state, as well as by insurance company and plan. In some cases, you'll need to pay out of pocket for certain things, like any equipment that isn't provided by your practitioner.
Take childbirth classes.
If you are laboring at home, you won't be receiving an epidural. Childbirth classes offer practical suggestions when it comes to pain management, breathing, and delivery techniques that will help you through the process. It always helps to know what to expect.
Make a birth plan.
From what music you'll play to who will be in the room, you will design your birth plan. You can start from scratch or find a sample plan online. It's helpful to walk through all of the possibilities in advance, rather than having to make split-second decisions during labor. Just remember that things rarely go according to plan, so in addition to your natural birth plan, have a plan B that includes hospital transport.
Collect the supplies you'll need.
Your midwife will bring the necessary medical equipment to monitor and treat you and your newborn. If you would like a birthing tub, balance ball, or other labor or delivery equipment, you will likely have to provide that yourself. You will also need to collect items like old sheets and towels to protect bedding and floors.
Make a plan for other children.
You'll probably want your partner nearby for the duration of your labor and delivery, so if you would like for your children to be in the home, be sure you have an extra set of hands to look after them. If you want them to head over to Grandma's, that's OK, too. Just be sure to set it up in advance. It would help if you also had someone on call in the event your child needs to be picked up or dropped off at school or daycare.
Prepare your home.
From designing a kid-friendly bedroom that will grow with your child to babyproofing, there is plenty of nesting to be done before your baby's arrival. Aim to complete any DIY home safety projects or hire a professional to childproof by the six-month mark of your pregnancy.
Welcoming Baby
If you're about to be a parent, chances are someone has gifted you a copy of What to Expect When You're Expecting. Before you open the cover, that well-meaning loved one should also tell you that there is nothing more unpredictable than birthing a baby. So, while the advice offered in that book is valuable, the first and most practical rule of all when it comes to home births is, "Expect the unexpected." Here are a few tips:
Be flexible with your birth plan.
Many a parent have set up a birthing tub, only to leave it untouched. Some mothers fill a playlist with hours of their favorite jams only to want complete silence. Plenty of mothers-to-be have planned a natural birth at home and ended up welcoming their newborn baby in a hospital room after all. Making the plan will help you decide what's important to you when the time comes to make decisions, but you have to be ready to throw it all to the wind.
Plan for pain.
There's no sugar-coating it: childbirth hurts. The best thing you can do is have a plethora of pain management strategies available and use them. Cycle through positions until you find one that is relatively comfortable. Try out the breathing techniques you learned in childbirth class. Let your loved one massage your temples or your back. Perhaps most importantly, have someone there who can remind you what techniques are available and help you utilize them.
Cope with complications.
While pain may make you feel like heading to the hospital for an epidural, most patients can handle the pressure. Some complications merit physician intervention. These include:
exhaustion for mama
abnormal heart rate for baby
problems with the placenta or umbilical cord
evidence of fecal matter in the fluid.
If, at any point, your midwife tells you it's time to go to the hospital, don't dwell on how you thought the delivery would go. Your health and that of your baby is priority number one.
After the Birth
One of the main reasons many mothers (and fathers) choose an at-home birth is the slower pace than that of a hospital delivery. As long as you and baby are both healthy upon arrival, your first and most important job will be to bond with your baby for a few moments. No one will whisk your little one away from you. You can cut the cord, feed yourself and your little one, and introduce him or her to the rest of the family on your own time, in the place where you feel most comfortable and relaxed. After that, you can expect the following to happen:
Your midwife will assess mother and baby.
Your midwife will check your vitals and give your newborn his or her first assessment. The services your midwife can provide will vary by state and by midwife. Not all practitioners have all the equipment necessary to do heel pricks and pulse-ox measurements, for example. If other tests or procedures are required, you can have those done at a later appointment with a pediatrician or family doctor.
The birth team cleans up.
That's right: you get to bask in the glory of new motherhood while other people clean up the mess. They will also help you get cleaned up, from taking a shower to helping you get dressed.
There will still be paperwork.
Your practitioner or assistant will help you fill out the birth certificate application, Social Security application, and an acknowledgment of the baby's birth.
Mom and baby will need more care.
Over the next few weeks, your midwife will likely come back multiple times to check on you to ensure you are healing well. To get your baby checked out, you'll need to schedule an appointment with your pediatrician or family doctor between 24 hours and three days after birth. This is also when you'll have your male child circumcised (if you choose to do so).
In the end, the goal of any birth plan is simple: a healthy, happy mother and baby. How you choose to do it is a personal choice for you and your family. If you'd like to have your baby in the comfort of your own home, don't be discouraged by what you've heard. Under the right circumstances and with practical preparation, home birth can be the perfect way to welcome your baby to the world.
No Comments Yet