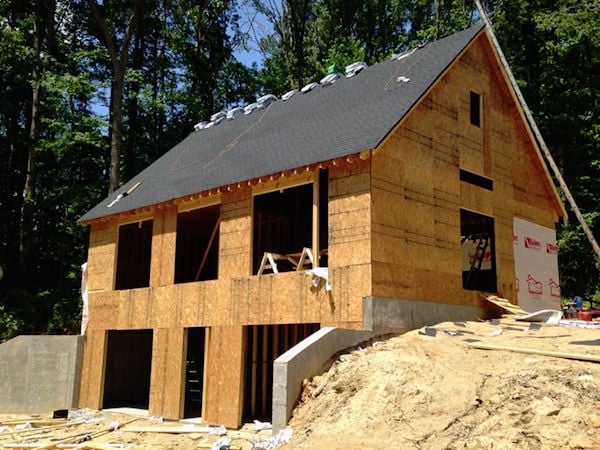 Improving your home can be exciting when you get to make something new out of something old. You can gain more space, turn a room into something completely different, or just update the out-of-date. But project length and time estimates are hard to come by. And that's a problem for homeowners who want to know how long they will have to live in a home that is under construction. We have taken the most common home improvement projects and asked the customers, who have recently completed these tasks, what was the length and timeline for their home construction project. While specific homes, location, and scope can cause a project to run long, the following figures for project length are a solid ballpark estimate for inquiring homeowners.
Additions and Remodels: Project Length and Time Estimates
Home Addition: This project takes the cake, but has the greatest variance in terms of cost. Those surveyed at HomeAdvisor state that 3-4 months is about average for this project. But remember, this is only 3 months of construction. The planning, design, and permitting stages can make this project twice as long, even if the construction only takes a few months. The good news is that it's new space, so for the most part you won't have an existing space torn up. And the reward is a bigger home. Homeowner Tip: This is a long project, and you're basically in a temporary marriage with your contractors. Take steps like making the occasional pot of coffee, leaving bagels, or buying lunch. This keeps the relationship strong and the project going smoothly.
Kitchen Remodel: HomeAdvisor users reported 6 weeks as the average time to complete a kitchen remodel. Of course, depending on the details and size of the project, some homeowners reported as long as 4 months, when moving walls and rearranging plumbing, and as short as 3 weeks when only replacing countertops and flooring. Homeowner Tip: Hire a designer. Whoever you hire to complete the project will need professional plans to work with.
Bathroom Remodel: 4.5 weeks, says the 1050 homeowners HomeAdvisor surveyed. The most common advice is to have a strong marriage if you only have one bathroom. Again, if you are moving the toilet or bumping out a wall, this can significantly increase the time; however, new tile and new paint will likely be sub-2 weeks. Homeowner Tip: Move everything out of the bathroom before the contractors arrive; it helps speed things along and shows the pro that you are trying to help the process.
Basement Remodel: HomeAdvisor users report that this project takes 7.5 weeks on average. Most would think this wouldn't take longer than a kitchen remodel because basements can go unused during a remodel. However, basements have lots of toys these days: home gyms, theaters, digging out windows, and these projects can end up taking a while. Homeowner Tip: Unless you have outside entry, place carpet squares on the path to the basement. This will protect your floors as the contractors walk in and out.
Ready to start your
home construction

?Find Pros
Outdoor Construction: Project Length and Time Estimates
New Asphalt Roof: What's great about a new asphalt roof (besides replacing the bad shingles) is that it only takes about a week. Of the 1249 people HomeAdvisor asked, the average time of project was a few hours shy of 5 days. Better still, you don't even have to be home while they work. Homeowner Tip: Roofers can work much faster if they can position a large (10-20) yard dumpster next to your house for the old roofing materials. If you can create a space for this dumpster, your new roof can go on much more quickly.
New Siding: No matter what type of siding you choose—stucco, vinyl, metal, or wood—you are staring at just a little over 2 weeks. Homeowner Tip: Move all items in your yard out of the way, and if possible, create a space for your siding pros to store the siding material. They'll love you for it.
New Deck: Over 1000 homeowners from across the country with new decks reported that the installation process took about 2.5 weeks. To speed up the process, these homeowners advised to get professional plans early. The deck builder needs professional plan to work off of, and if you come to the table with them, the deck will be finished sooner. Homeowner Tip: Deck builders need a place to store their tools and the deck materials. Clear a space for them that is not only close to the deck and helps the builders, but also won't ruin your yard.
New Pool: The difference in pools can be a huge difference in time. HomeAdvisor users reported that fiberglass pools can be installed in 3 weeks; vinyl-lined pools can take the whole month; and concrete pools can take three months (because the concrete needs time to cure). Whichever type you fancy, just know that it will be awhile before you can start swimming. So if you're thinking about a pool for next summer, now's a good time to start planning. Homeowner Tip: The price and project length difference between a fiberglass pool and a concrete pool is big. So if time and cost are of the essence, consider looking into the other pool options.
Home Improvements: Project Length and Time Estimates
New Windows: HomeAdvisor users report 3 weeks as an average amount of time to replace all windows. Not to worry, you won't be left in the cold for that long. Most of the time is spent upfront measuring and then after the install to ensure a tight fit. Plus, the fewer windows, the less time. Homeowner Tip: There are many different brands and types of windows, so make sure that you research the entire market so that you know which price, efficiency rating, and warranty is right for your home.
Wood Flooring: HomeAdvisor users reported that installing new wood flooring will take one long week. Homeowner Tip: remember that in most climates the wood slats need to be stored in the home for about 3-5 days to acclimatize to the humidity, which means that you might have to step over the material for a few days before your new floor is complete.
Wood Fence: 834 HomeAdvisor users say that their new wood fence went up in about 3 days. 1 day to set the posts, 1 day to put up the boards, and 1 day to attach the gate and seal the wood. This is a popular and quick project that provides security and privacy. Homeowner Tip: An air tight fence might be great for privacy and security, but it will damage your landscaping by obstructing the air flow through your yard. Consider having the boards staggered to keep your landscaping healthy.
House Painting: Over 1600 homeowners reported that it took one long week to paint their home. Certainly bigger houses and multi-storied houses may take longer. Homeowner Tip: provide your painters with a place to wash their brushes and park their truck. It's these extras that make them want to do a little extra for you.
Ready to start your
home construction

?Find Pros
1 Comments