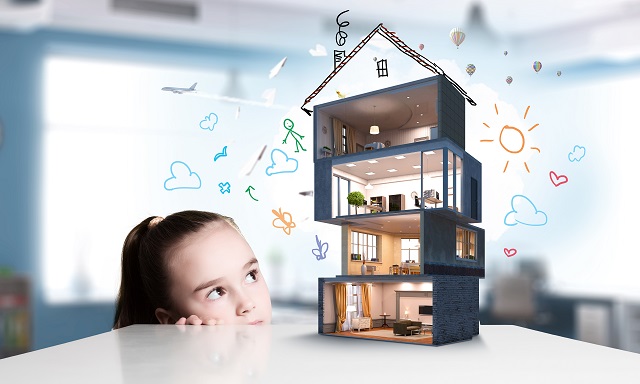 Home design is more than just color schemes and fabric swatches — it's the blending of art and science, architecture and engineering, creativity and practicality. In other words, it is an incredible way to spark a child's imagination while teaching them important skills like engineering, art and math.
Designing a home, from planning square footage to decorating a master bedroom, excites many kids and gives them a way to express their originality and inventiveness — and at the same time, uncover how math and engineering can be applied to daily life. If you're looking to build those skills in your child, or just simply have a kid who loves home design, this guide offers ideas for activities to try out with your kids. From taking measurements for stairways to understanding the color wheel, these exercises include:
Thinking like a designer
Using design to solve a problem
Creating a meditation space
Building forts on a rainy day
Accommodating someone with a disability
Thinking like a designer
The first skill your child will need to build — with your help, of course — is learning how to think like a home designer, decorator or architect. Kids have bold, bright imaginations all on their own; yours is likely no different. He or she will have some pretty incredible ideas, but you can use this list to help them apply their idea to a home design framework often used at Stanford's Institute of Design:
Analyze the audience: Ask yourselves a few questions:

Who will use this completed project?
What inspires them?
What are their likes and dislikes?
How can this project satisfy their needs?

Explore ideas: Brainstorm ideas to use design to help your audience. Come up with as many as you can — nothing should be considered too farfetched, silly or stupid.
Design a prototype: Sketch out a prototype of your idea or use blocks, Legos, cardboard, fabric or other types of building materials to create the general idea of what you'd like to design.
Test your idea: Test a more finalized form of your idea with your audience and make more adjustments.
Thinking like a designer will help your child learn how to think critically, create processes, follow steps in order, work on a timeline, and accept constructive criticism graciously. When you help your kids apply these concepts to their ideas, you help them move from conceptualizing a design to figuring out how to implement it. This is especially helpful when you want to encourage them to use home design ideas to help solve a problem or meet a specific need.
Using design to solve a problem
Do things get a little hectic in your kitchen at meal times? Do people bump into each other, or do you have countertops that aren't convenient to stove tops? Do wet clothes get left by the washing machine too often? Does the flow in your living room prevent everyone from having a good view of the television, or is there no room to play a video game that gets you up and moving?
Surely one — if not more — of these problems can be found somewhere in your home, and your kids can use home design ideas to solve them. First, have them consider who will use the space and why. If they are trying to resolve the issue of space for playing games, they may want to think of themselves, their friends and other family members. This means the space needs to accommodate multiple people of diverse sizes. Second, get them to brainstorm ways to free up space. Maybe the furniture can be rearranged, or perhaps new, smaller furniture can be bought. When you narrow down the options, consider any design flaws that might pop up; for example, smaller furniture may mean less seating. Next, have them create their design prototypes. They can research game room design ideas or measure the area and the furniture to sketch a new, more accommodating space. Other ways kids can use home design ideas to solve problems include:
Designing storage options for a cluttered toy room
Building storage to keep sporting equipment off of the floor
Motivating themselves to do homework with a desk or a book nook
Creating fun, exciting stands and courses for indoor pets to get more exercise
Just because things could be better doesn't necessarily mean your kids have noticed the need just yet. In that case, find design activities that interest or excite them.
Creating a meditation space
Most people know the positive impact meditation can have on adults, but few realize there are similar benefits for children. Regular meditation for children can result in improved attention spans, a bump in grades, relief from chronic stress or trauma (like bullying, divorce or death), reduced anxiety, enhanced relaxation (which also decreases anger, stress and frustration) — the list goes on and on. If your child is experiencing one or more of these issues, encouraging them to design their own meditation space is an ideal way to support them on their path to improved mental health. Here are a few design ideas they can help with:
Renovate a large closet or pantry with paint, pillows and music.
Create a meditation nook in a quiet corner of the house, free from inside and outside distractions.
Design storage space to keep your meditation area uncluttered.
Decorate with natural tones and nature-inspired accents. Try to keep it simple.
Consider lighting design — ways to bring in or take advantage of natural light or using dim light sources like sconces and lamps.
Use flame-free aromatherapy options.
While coming up with home design ideas for relaxation can help the whole family soften and unwind, other times call for excitement and energy.
Building forts on a rainy day
If you use the word "architecture," your kids might turn their noses up. That word brings up images of solving math problems and sweating over tools like saws and hammers. However, if you start with the outcome — a super cool indoor fort — your kids will feel excitement instead of dread for the rainy-day project. If you don't have a lot of materials, this type of activity is especially fun for creating prototypes. Using your kids' imaginations, the fort could be used by intergalactic soldiers to guard their land against aliens or for a quiet, comfy place to dive into a distant land through a favorite book. Animate their minds with a fantastical purpose, and then work with them to build prototypes both large and small, such as:
Building blocks for the prototype of a sturdy fort
A model castle made from construction paper or cardboard
A life-size indoor fort with furniture, camping gear, blankets and pillows
Cardboard boxes for a life-size or model fort, decorating it with markers, crayons, paper and other craft materials
Your children can use home design principles to create their fort prototype, whether large or small. From a creative standpoint, they will need to examine color palettes, furniture, fabrics and decor. From an engineering standpoint, they will have to measure materials, calculate angles, build or draw samples to scale, and decide on the best quality building materials to use.
Accommodating someone with a disability
You can teach your children inclusivity and compassion by using home design principles to help them include friends or family members with disabilities. Teaching your kids about accessibility in the home will help them understand the value of seeing people for their abilities, not their disabilities. Some ways to encourage them to think about home design for accessibility include:
Building portable ramps so a friend in a wheelchair can come inside your home
Putting brightly-colored labels on toys your kid likes to share with a friend with low or partial vision
Allowing your child to help redesign a bathroom for a family member in a wheelchair, including picking out a tub, shower and toilet that provide wheelchair access
Asking your child to help design the contrasting colors for the kitchen to help a family member with low or partial vision
Teaching home design to kids teaches them about science, technology, engineering and math (STEM) through creative and colorful activities. Not only can these activities merge entertainment and education, but they can make a positive impact on your home environment and your family bond.
No Comments Yet