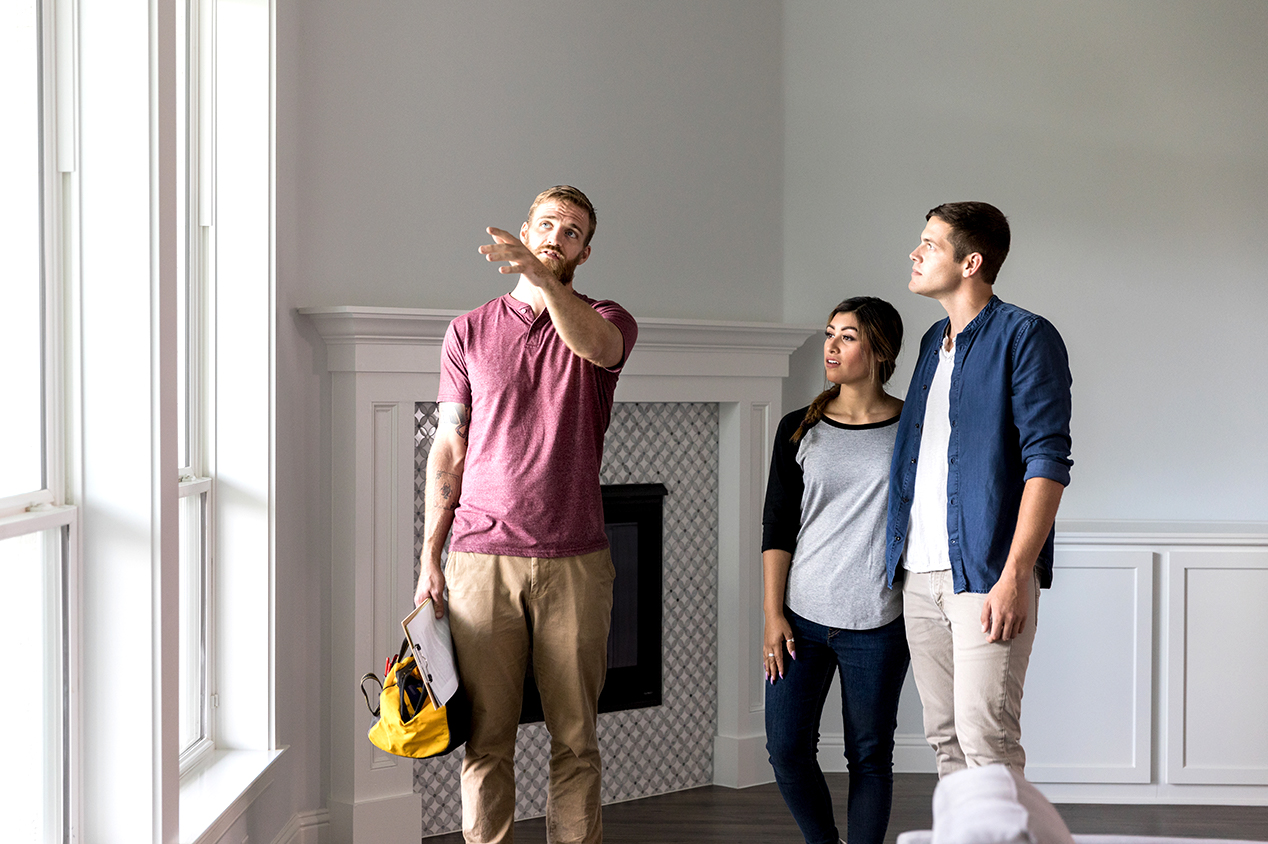 Hiring a home inspector is one of the most important steps of buying a house. A professional local home inspector about $350 to hire, and might help you save thousands on home repairs and updates. The home inspection process can be hands-on for homeowners — in fact, you should always feel encouraged to get involved by attending and asking questions.
Whether you're a first-time homebuyer or you have multiple properties, this home inspection checklist can help empower you throughout the process. Keep in mind, this is not an exhaustive list, but you can use it as a helpful guide to stay informed on the process.
On This Page
What Is a Home Inspection?
A home inspection is an investigative process where an inspector checks a home for potential issues before the buyer finalizes their offer.
Essentially, an inspector's job is to thoroughly assess a home's condition and to check for any hazards. These inspections usually last three to four hours and cover four main categories: physical structures, interior structures, major systems and utilities.
Many states require proof of home inspection for safety reasons before purchase. Also, certain home insurance companies require proof of inspection before agreeing to cover your property.
As a homebuyer, be sure to request the following two documents before your inspection:
1) Ask for a property disclosure statement from the home seller before an official inspection happens. A disclosure statement points out areas that have been recently renovated or repaired. You'll want a home inspector to confirm that these home updates are up to code.
2) Ask for an inspection contingency in your offer before signing your offer letter. You'll want the option to renegotiate the home price with the seller or back out of the buying process if you find any major or irreparable issues. Since it could impact the final price of the house, schedule a home inspection within the first few weeks of escrow.
The cost of a home inspection varies depending on the size of the house and location, but it's a small expense compared to most projects. Most homeowners spend between $280 and $400 for a home inspection, but it's a worthy investment considering the information could save you thousands on repairs.
Check out this home inspection checklist below.
Checklist
Do I Need a Home Inspection?
It is absolutely crucial to get a home inspection during escrow, even if you aren't concerned about a property. Otherwise, you're depending on the seller to disclose every possible issue with the home, and chances are they aren't an expert. A licensed inspector can dig deep to uncover and diagnose issues that aren't obvious to the average person, such as the potential for water or air quality issues.
You can ask your local house appraiser for recommendations on trusted inspectors, but it's best to do your own research. That way, you can hire a third party to ensure that you're getting the most unbiased and thorough inspection possible.
It's important to keep in mind that even the most experienced home inspectors are usually generalists who might not be able to answer every type of repair question. However, they can refer you to the right service professional for any follow-up work before you purchase a home.
Common Home Inspection Questions
Be sure to hire an inspector who encourages your involvement in the process. They should answer your questions openly, and you should feel comfortable attending the inspection appointment if you'd like to.
Once you've received the inspection report, you may want to read through the inspection notes while the inspector is still there. This way, you can ask clarifying questions and figure out the next steps.
Interior Home Inspection Checklist
Here are a few of the main inspection categories and the questions to keep in mind under each section.
Electrical: Does the house have an adequate electrical load capacity?
If the inspection report says that you need a higher electrical load to handle computers, televisions and appliances, be sure to ask for more details. You'll likely want to look into the cost of hiring an electrician to do their own inspection. It's a good idea to look into the electrical load capacity if you're trying to buy an older home. After all, electrical repairs are often more expensive than the cost of an electrical inspection.
HVAC System: How old is the HVAC system? Is it up to date?
A home's heating and cooling air duct system is a crucial part of the inspection. Heating units generally only work at peak capacity for about 15 years. A trained inspector can notify you of any issues. You'll thank yourself later if you make plans to address major problems before the height of summer or winter.
Water Heater: How old is the water heater?
The limit on a hot water heater is around 15 years. If the home's water heater is nearing or past this age, discuss replacing it with the seller and consider hiring a water heater installer near you. If you're looking to save money in the long haul, consider an energy-efficient model.
Insulation: Is the insulation in good condition?
A trained professional can help identify insulation in poor condition to help you conserve heat. Without the right insulation, you could lose up to 25% of your home's heat in the winter. You can always hire a local attic insulation installer to add more padding, especially if it's been more than seven years since you've had the insulation checked.
Attic and Basement Inspection: Do the attic and basement have proper ventilation?
Not only is heat loss from the attic expensive, but it also reduces the lifespan of your roof. Consider hiring a certified roofing professional near you to investigate insulation located in the attic. Also, ask if you need to hire a professional mold inspector near you if the inspector identifies excess moisture in the basement.
Smoke Alarms: Are there enough smoke detectors in place and are they functional?
You can't test smoke alarms and carbon monoxide detectors often enough. Always ensure optimal placement of the alarms, depending on the floor plan of your home. Also, make sure batteries are replaced regularly.
Exterior Home Inspection Questions
Foundation: Are there cracks in the house's foundation?
Whether cracks are due to settling or a more serious problem with the soil, this is an important question to ask. If you find a problem, you might need to hire a structural engineer near you to shore up sags in the foundation or steps, which can be quite expensive.
Roof: How old is the roof?
If the roof is more than 10 years old and heavy rain or snow is common in your region, a new roof is a smart move. An inspector will help you figure out if you need to invest in the cost of replacing your roof. Since roof replacement usually costs between $5,400 and $11,000, try negotiating with the home seller to see if they'll cover the expense.
Gutters: Are the house's gutters clean and functional?
If the gutters are clogged, both the gutters and some parts of the roof are at risk of breaking. Make sure that the gutters and downspouts are securely attached and free of debris. Thankfully, the cost of gutter cleaning contractors across the country is typically affordable, ranging between $120 and $230.
Siding: Is the siding in good condition?
Your inspector will be able to gauge the health of the siding and identify the type you have. If the home has natural wood siding, it should be treated every four to six years. In addition to finding potential issues, the inspection is also an opportunity to gauge how the home's existing curb appeal can benefit you for years to come.
Windows: When was the last time the windows were replaced?
If a house's windows are more than 20 years old, they likely need repair or replacement. If they're newer, they'll still need caulking before winter for energy efficiency. A local window repair specialist can also help with window tinting or other treatments to help protect the home from the sun's rays. Treatments can also help preserve the color of the floors and furniture because the treatments prevent color fade.
Here are a few free printable activities to do when you first move in, including a time capsule worksheet, collage template and goal-setting sheet.
Printables
No Comments Yet