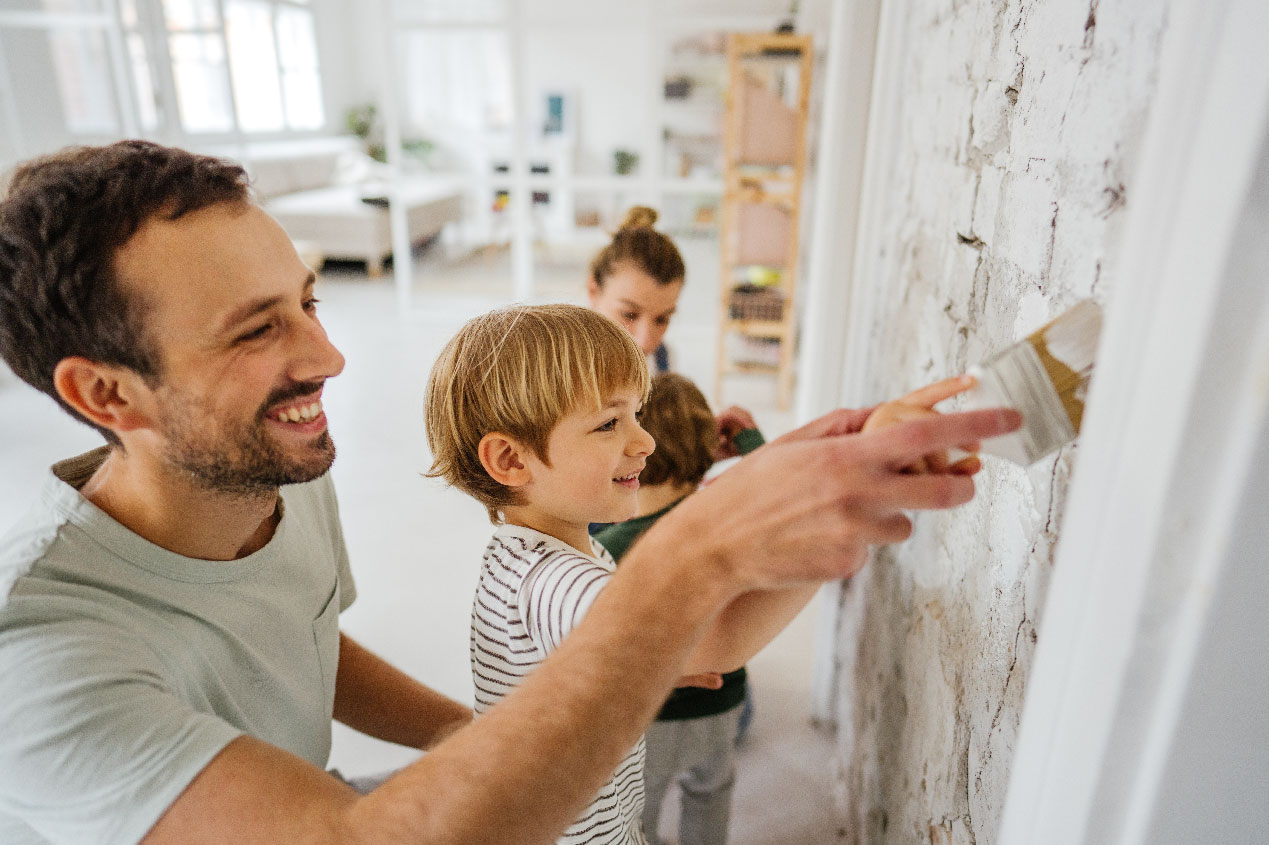 AleksandarNakic/E+ via Getty Images
With extra time spent at home during the pandemic, more Americans took an interest in fixing up or upgrading their houses.
In fact, average household spending on home services increased to $13,140, up from $9,080 in 2019. Did this increased activity lead to more informed homeowners when it comes to home improvement costs?
With higher demand and construction material shortages, home services pricing has been unpredictable. It's as important as ever that homeowners know how much home renovations might cost before taking on new projects.
Failing to properly budget for home upgrades can wreak havoc on homeowners' wallets, so we surveyed over 900 people to learn more about their outlook on home improvement and how accurately they estimate various projects.
We then compared the results with HomeAdvisor's true cost data and used the insights from the survey to provide budgeting tips to help homeowners prepare for their home services spending in 2022.
Key Findings:
65% of Americans find home maintenance projects at least somewhat stressful
Less than 1 in 10 people feel improving their home's energy consumption is a top benefit of home maintenance projects
When estimating popular home improvement costs, over 25% of people underestimate interior painting costs, 24% severely underestimate landscaping costs and 40% underestimate window installation costs
Nearly 2 in 3 Americans Find Home Maintenance Stressful
In order to get a sense of people's outlooks on taking on new projects around the house, we first asked 900 Americans how stressed a home maintenance project would make them feel.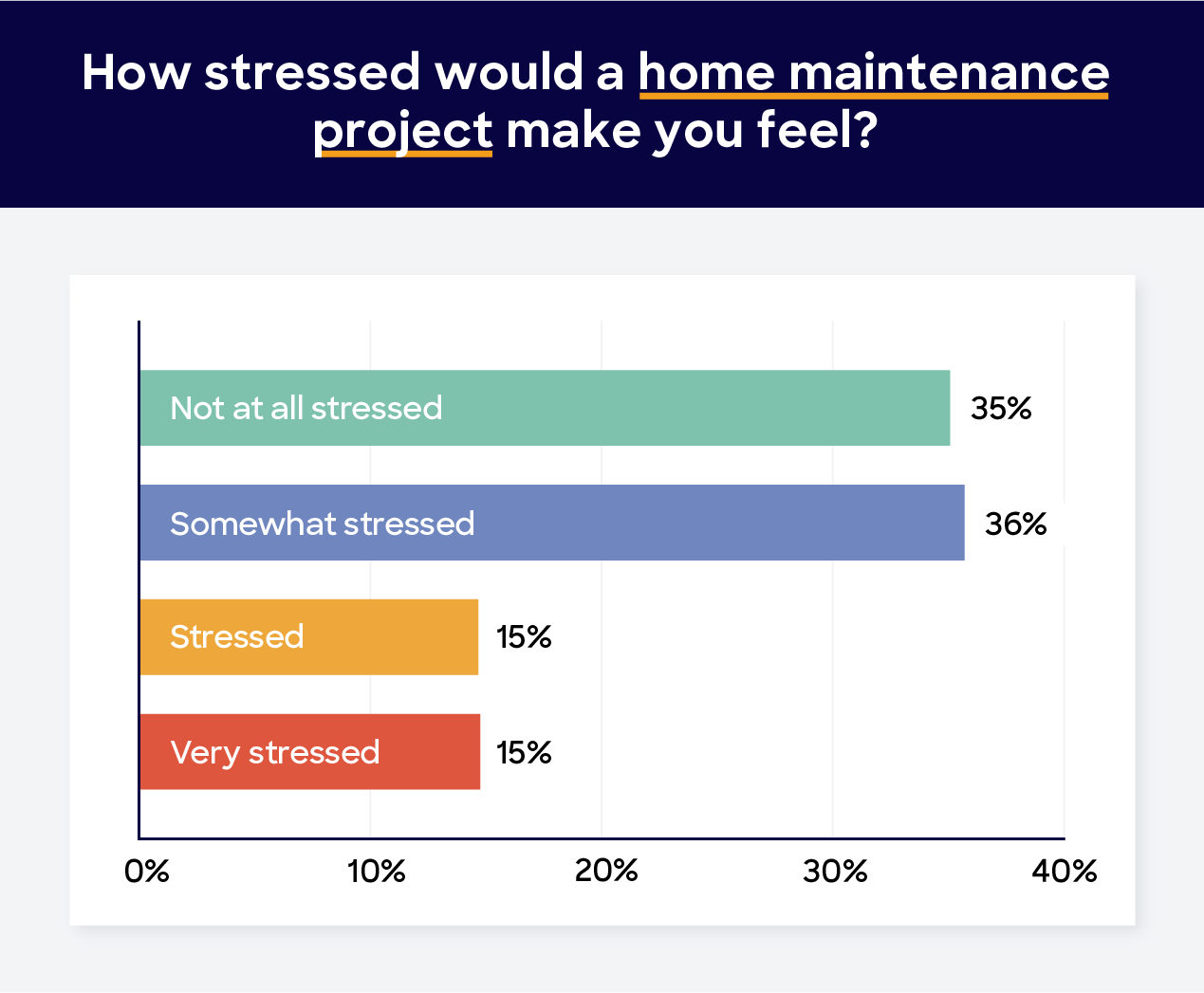 We found that 65% of Americans find the idea of taking on a home maintenance project at least somewhat stressful, including 15% who admit to feeling "very stressed" about such an endeavor.
Home maintenance projects require planning, logistics, spending, and meticulous execution, so it's understandable that most people feel some degree of stress when taking on a new project.
Men Are More Likely to Find Home Maintenance "Not at All" Stressful
When looking at respondents' outlooks by gender, we found that men were more likely than women to say they would not be stressed at all by a home maintenance project—58% compared to 43%.
What Is the Top Benefit of Home Maintenance?
Home projects require an investment of time and money. To find out what inspires people to commit to home spending, we asked 947 Americans what they perceive to be the top benefit of home improvement projects.
Nearly 3 in 10 Americans Say Improving Function Is the Top Home Maintenance Benefit
According to our survey respondents, improving a home's function and completing necessary repairs are the top benefits of home maintenance projects—with 29% of people agreeing.
Behind completing necessary repairs, improving home value (25%), and improving home comfort (15%) were the second and third most popular perceived benefits of home maintenance projects, respectively.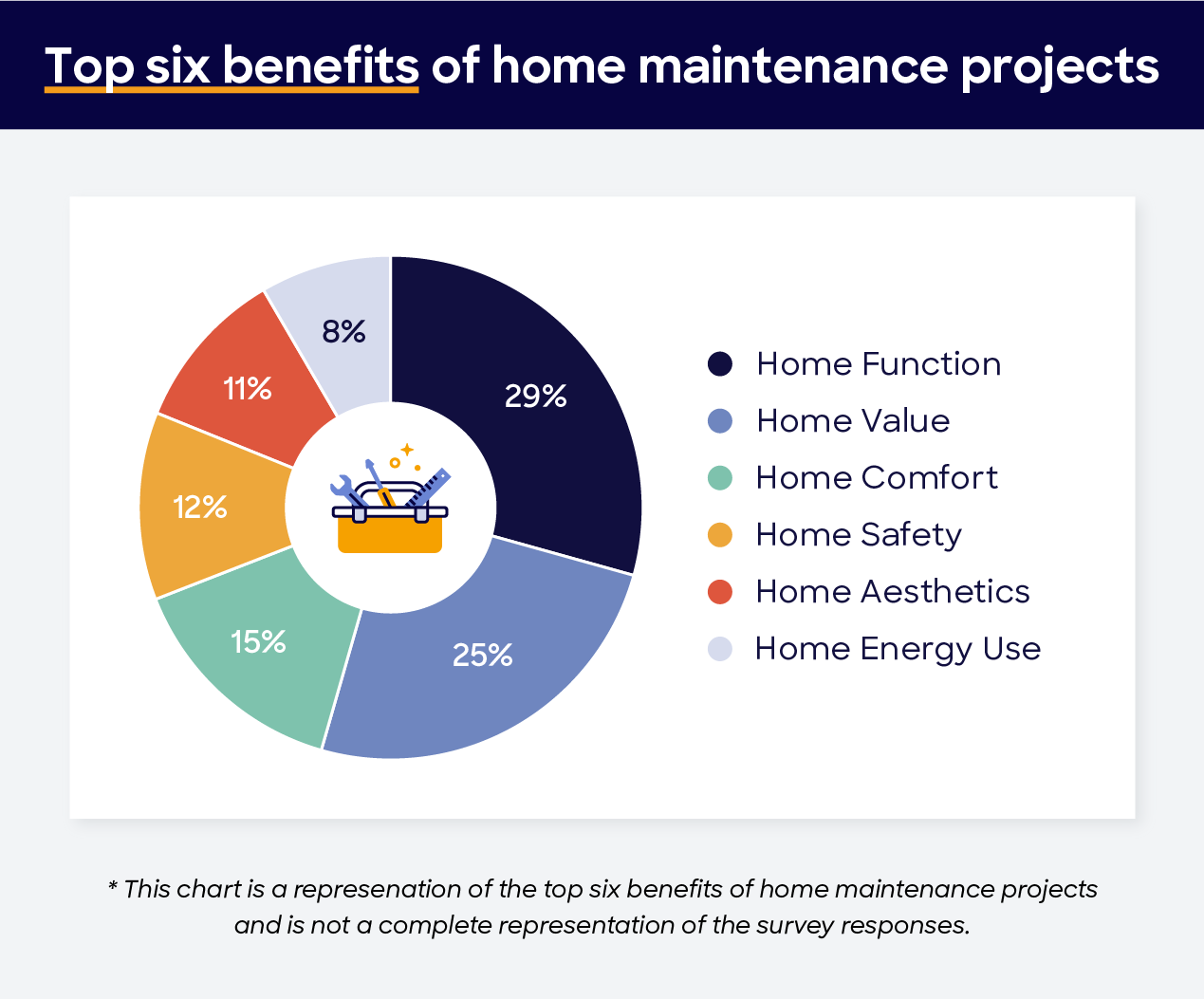 Interestingly, a 2019 Angi survey also found that the top reason people listed for home improvement spending was to replace or repair a problem. So perhaps, while home spending has increased year over year, people's motivations have remained steady.
Improving Home Energy Consumption Was a Lower Priority
Improving energy consumption was not a top reason people pursue home improvement projects. In fact, just 8% of respondents identified it as such.
This could be cause for concern, given that residential energy consumption accounts for roughly 20% of the greenhouse gas emissions in the U.S., and the average household spends $250 per year in wasted energy alone.
Cutting back on energy consumption can make a huge difference not just on homeowners' wallets, but also on the amount of fossil fuels that are burned each day.
For example, if every American household swapped one incandescent light bulb for an efficient compact fluorescent lamp, it would produce the same reduction in carbon emissions as taking 1.3 million cars off the road.
Home Improvement Costs: Perception vs. Reality
Next, we asked our respondents to estimate the costs of three popular home improvement projects: interior painting, landscaping, and window installation. Here's what we found.
Despite Popularity, Over 1 in 4 Americans Underestimate Interior Painting Costs
HomeAdvisor's Annual State of Home Spending Report found that interior painting has been the most popular home improvement project during the pandemic, with 35% of U.S. households completing such a project in 2020.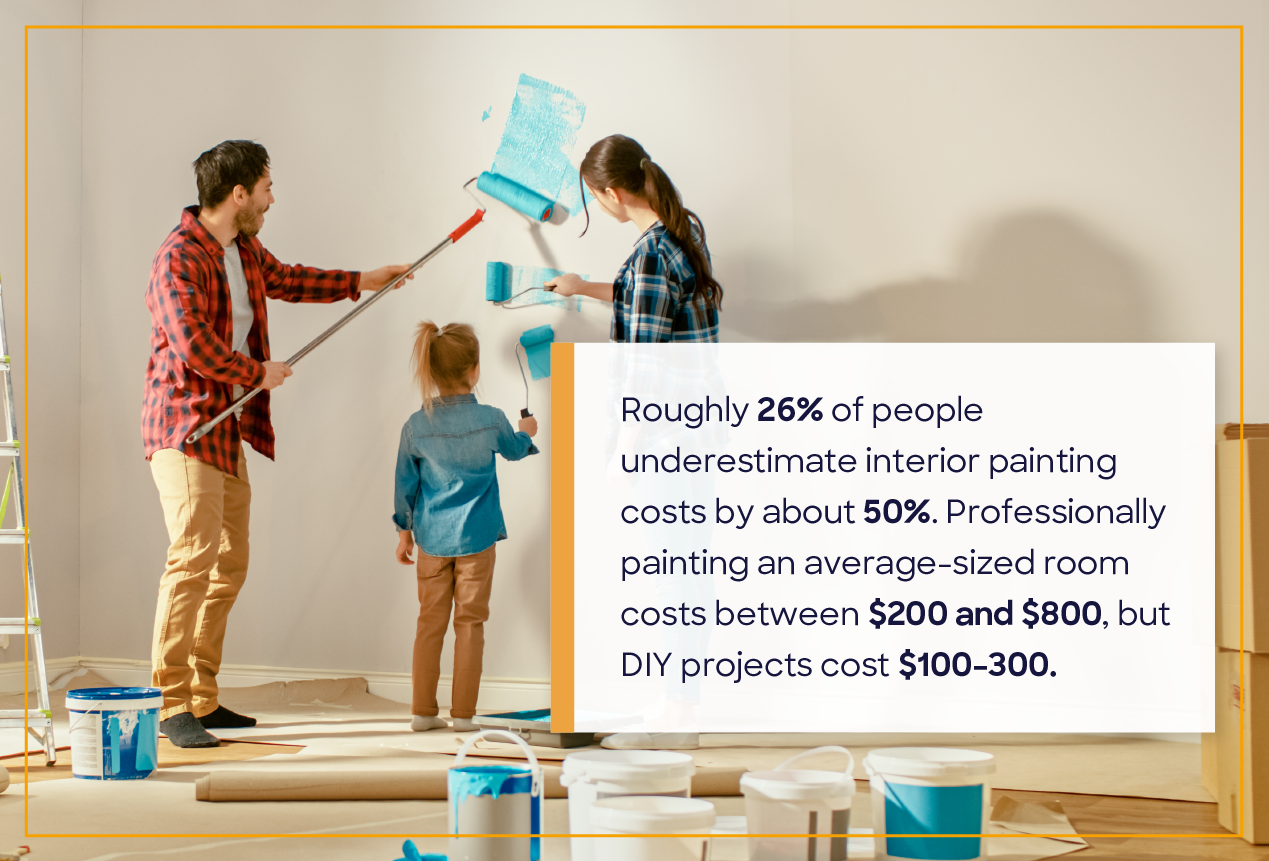 gorodenkoff/iStock/Getty Images Plus via Getty Images
Despite the popularity of the project, when we asked 905 Americans to estimate the cost of painting a single 10-by-12-foot room, we were surprised to find that over 25% of people underestimated the cost by about 50% of the average DIY cost.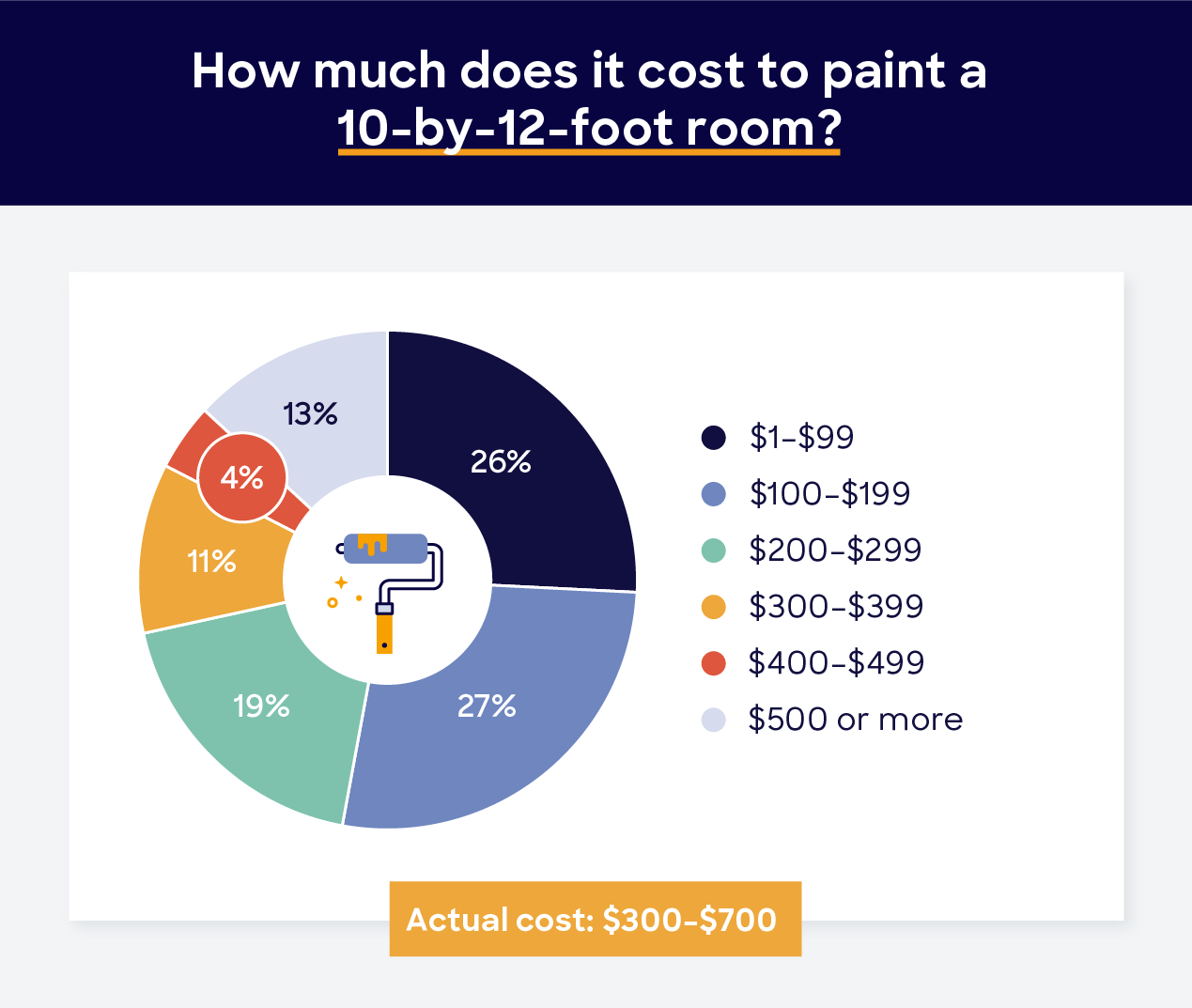 The cost to paint a room that's 10-by-12 feet typically ranges from $200 to $800. However, homeowners can cut this cost by $100 to $300 if it's a DIY project.
Taking a look at the high and low ends of the estimated spectrum, we found that among those who estimated costs at less than $100, men were slightly more likely than women to underestimate—52% compared to 48%.
Meanwhile, of those who estimated $500 or more, we found that women were more likely than men to overestimate—57% compared to 43%.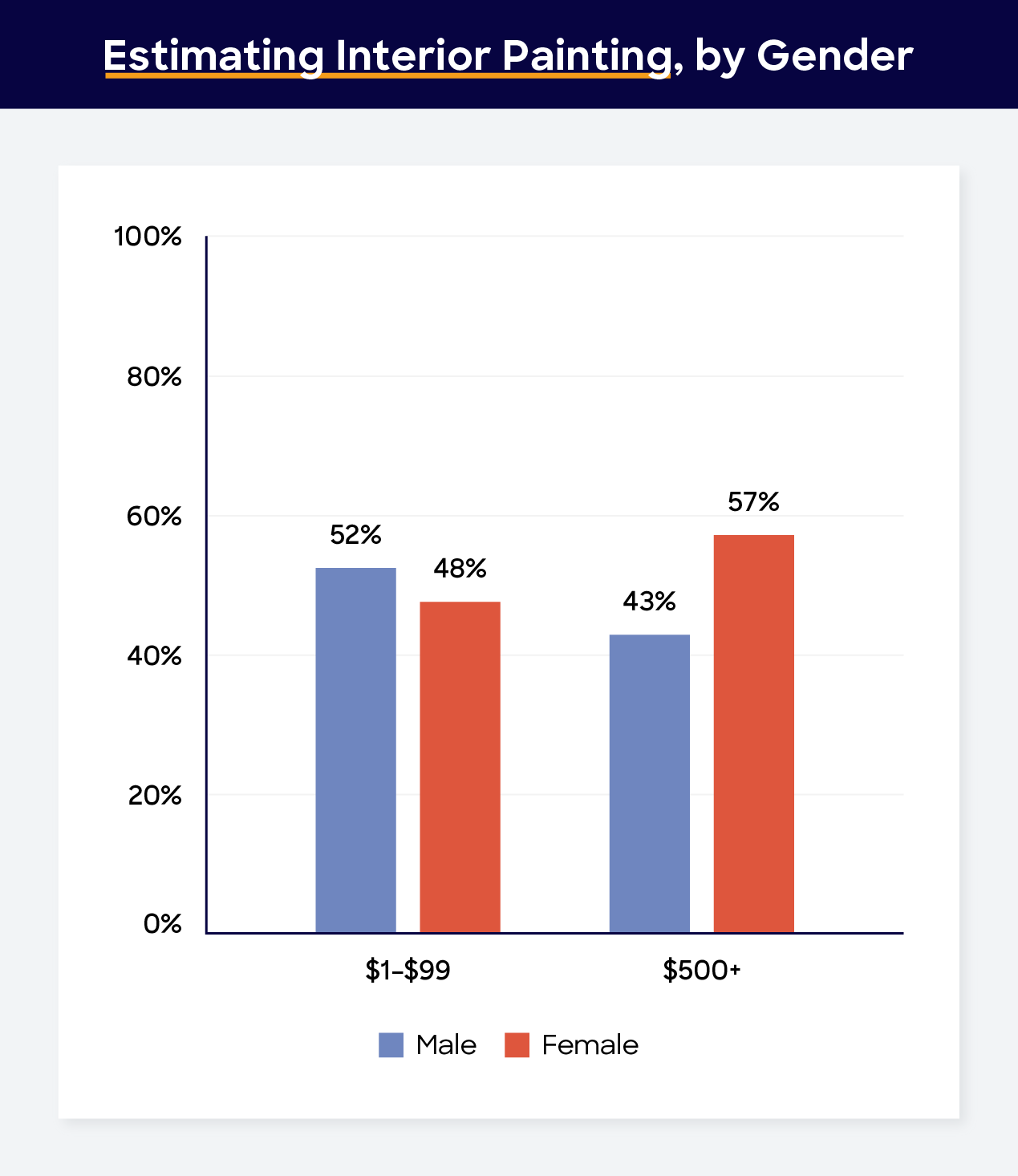 Americans Severely Underestimate Landscaping Costs by 67%
Landscaping projects can add to the curb appeal of a home—a good first impression can improve sale price by up to 5%. Perhaps it's for this reason and an opportunity to get outside, that 24% of households completed a landscaping project in 2020, according to the 2021 HomeAdvisor True Cost Report.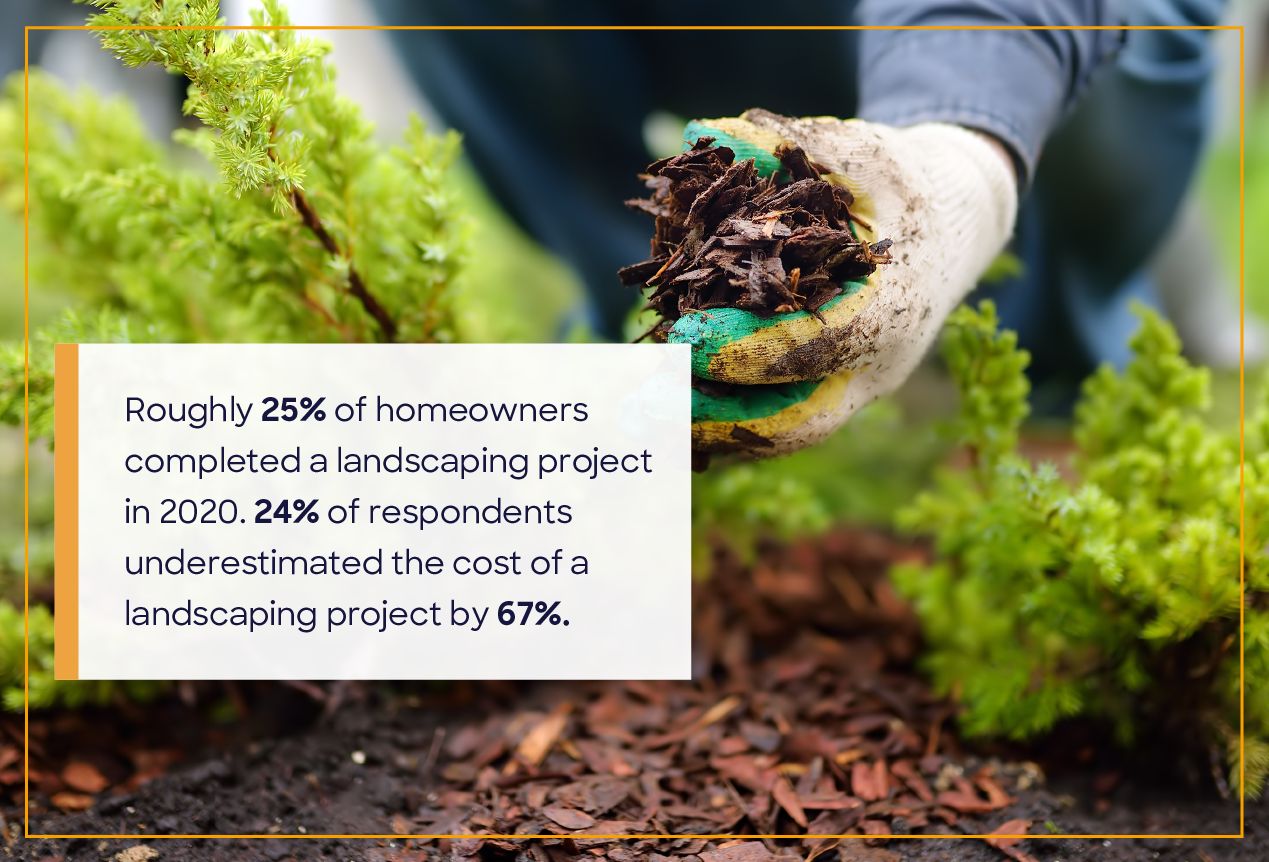 SbytovaMN/iStock/Getty Images Plus via Getty Images
However, when we asked 923 people to estimate how much it would cost to plant five small trees in their yard, we found that 56% of Americans estimated that it would cost less than $300, including 24% who estimated the cost to be less than $100.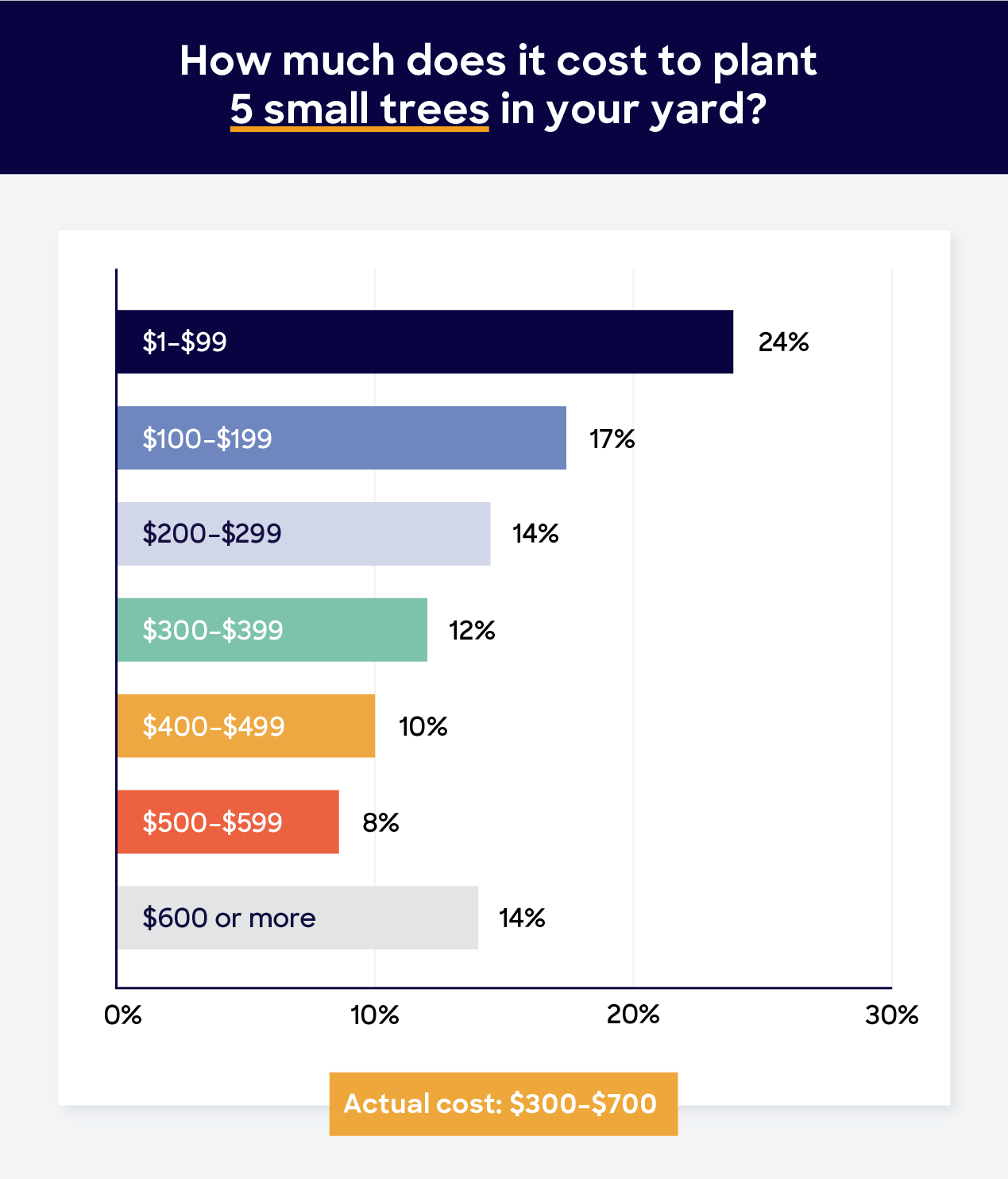 In reality, planting a single tree costs between $150 and $300, but you can save by doing multiple trees at once. Landscape installation expenses like planting five small trees typically range between $300 to $700, or $60 to $140 per tree.
Compared to the lowest average cost of the project, our participants were actually most likely to underestimate the cost by at least 67%.
Nearly 4 in 10 Americans Underestimate Window Installation
Installing insulated, energy-efficient windows is a popular way to improve home function and lower utility bills. However, material prices for window installation increased 5% to 10% in 2021 due to high demand, so we wanted to know how familiar people are with current costs.
We asked 910 individuals how much it would cost to install a single insulated, energy-efficient window. 40% of Americans estimated that the project would cost less than $250. However, the most popular single estimate was between $250 and $349, with 22% of respondents.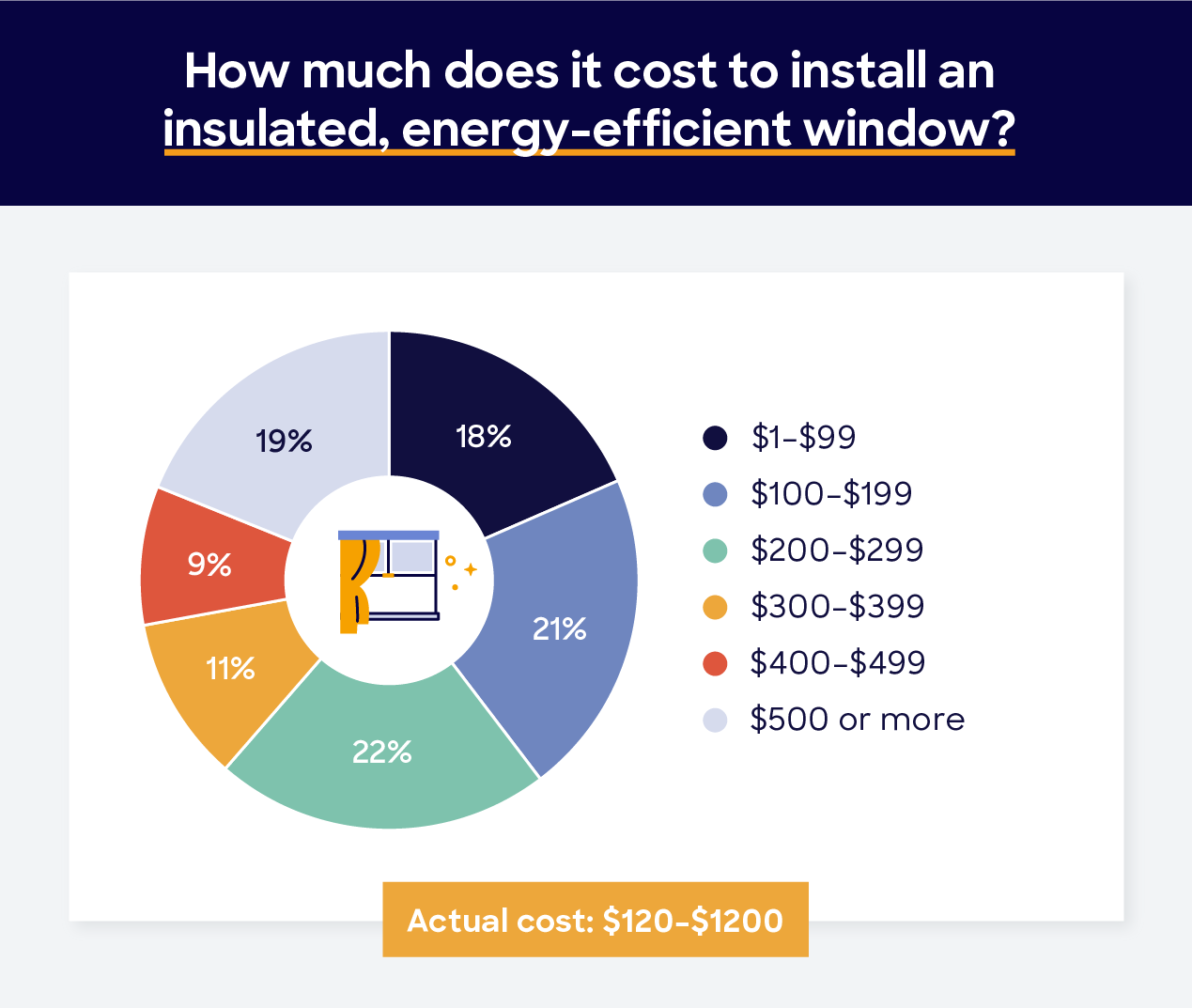 In 2021, installing a single thermally insulated, energy-efficient window costs anywhere from $120 to $1,200 or more, while having one professionally installed adds $200 to $800 of labor cost per window.
Given such a wide range of potential expenses, it's understandable that people also had a wide variety of estimates. While many estimates skewed lower, it's also worth noting that 19% of people estimated the project at $550 or more.
With energy-efficient windows, price tends to indicate how well they perform. The more expensive varieties incur greater upfront costs but offer greater long-term savings due to their higher efficiency.
Budgeting Tips to Create Your Dream Home in 2022
We've found that many people have a tendency to underestimate the true cost of home improvement and maintenance projects.
When construction materials are in short supply and high demand, it's even more difficult to accurately forecast your budget. Here are a few tips to help you keep on top of your home renovation finances in 2022.
Account for Inflation and Higher Demand
In 2021, prices increased 5% to 10% for the materials involved in projects like roofing, siding installation, and window installation. Homeowners should start these projects as soon as possible but prepare for potential price fluctuations and longer wait times when ordering materials.
Adding 5% to 10% to your initial project estimate will help you from overextending your budget in the event of upward price fluctuations.
Go Green
If you're interested in taking on new home improvement projects but aren't sure where to start, consider hiring a home energy auditor near you to conduct an energy assessment.
The assessment will tell you how much gas and electricity your house consumes and identify ways to improve efficiency. Home energy audits cost an average of $410, but you can save 5% to 30% on utility bills by fixing the problems the assessment uncovers.
When taking on projects inspired by the audit, you can further recoup your investment by using sustainable materials.
For example, windows typically account for 25% to 30% of your home's heat loss—installing Energy Star-rated windows with low e-coatings may add 10% to 15% to the upfront cost, but will help you save on your utility bills and may help you qualify for local or federal energy rebates.
Solicit Quotes From Vendors and Contractors
Getting at least three quotes from vendors and contractors can help you stick to your project budgets by providing more accurate data about how much a project will cost in advance.
Quotes from vendors will inform you of material costs and gathering multiple quotes will help you find the most favorable price.
Similarly, multiple quotes from contractors will give you a better idea of the overall project cost. Depending on the project, you may not have much room to negotiate a lower price, but it's also worth trying to leverage various bids. If it's a project you decide to do yourself, you can subtract roughly 10% to 30% of labor costs from the quotes you received.
Monitor Material Costs to Select Your Next Project
If you're concerned about your budget, it could pay off to keep an eye on material costs when selecting a project to take on in 2022. In 2020, popular projects like new additions and cabinetry soared in cost from 2019 by 49% and 30%, respectively, as lumber prices rose due to the pandemic.
When project costs are temporarily higher due to more expensive supplies, you could explore other, less expensive projects. Installing a smart home system, for example, became 37% more affordable in 2020 than 2019 as the electronic components involved became less expensive.
Repair or Refinish, Rather Than Replace
With potentially lengthy wait times and higher prices for materials, distinguishing which projects call for repairs or refinishing rather than outright replacements can save you a lot of time and money.
For example, new cabinets were the 11th most popular household project in 2020 but also saw one of the highest price increases from 2019 to 2020, inflating 38%. The cost to replace kitchen cabinets also varies widely by material and labor costs, anywhere between $2,000 and $38,000, depending on your preferences.
On the other hand, repairing cabinets can cost between $1,600 and $4,100 and can still give your kitchen a new look at a fraction of the cost. Due to the materials and labor involved, you can also reliably expect to pay the average cost for refinishing cabinets ($3,040) and stick to your budget more easily as a result.
Similarly, installing new siding typically costs homeowners around $10,750, but the cost can range from $5,400 to $16,000. On the other hand, you can give your home a revitalized look by repainting your siding for anywhere between $400 and $10,500, depending on the material type.
Hire High-Quality Professionals
Hiring an experienced home service professional for your projects could be most beneficial for your home and your budget in the long run.
Onboarding a reputable professional may add to the initial expense of a project. However, this could be a bargain if the project is completed on schedule and within your discussed budget. A skillfully handled project should also minimize the need for repairs down the road.
There are many things you can do to vet a professional, but a few helpful places to start include:
Reading reviews from trusted sources
Asking for and speaking with referrals
Checking their licenses and work history
Viewing their portfolio

Akarawut Lohacharoenvanich/iStock/Getty Images Plus via Getty Images; Morsa Images/E+ via Getty Images; Jean-philippe WALLET/iStock/Getty Images Plus via Getty Images; skynesher/E+ via Getty Images; PeopleImages/E+ via Getty Images; izusek/E+ via Getty Images; Bogdan Kurylo/iStock/Getty Images Plus via Getty Images; kali9/iStock/Getty Images Plus via Getty Images; Nes/E+ via Getty Images; ljubaphoto/E+ via Getty Images

Methodology
The survey was conducted on behalf of HomeAdvisor using Google Surveys. The samples consisted of no less than 900 U.S.-based respondents per question. The responses were collected in October 2021.
No Comments Yet