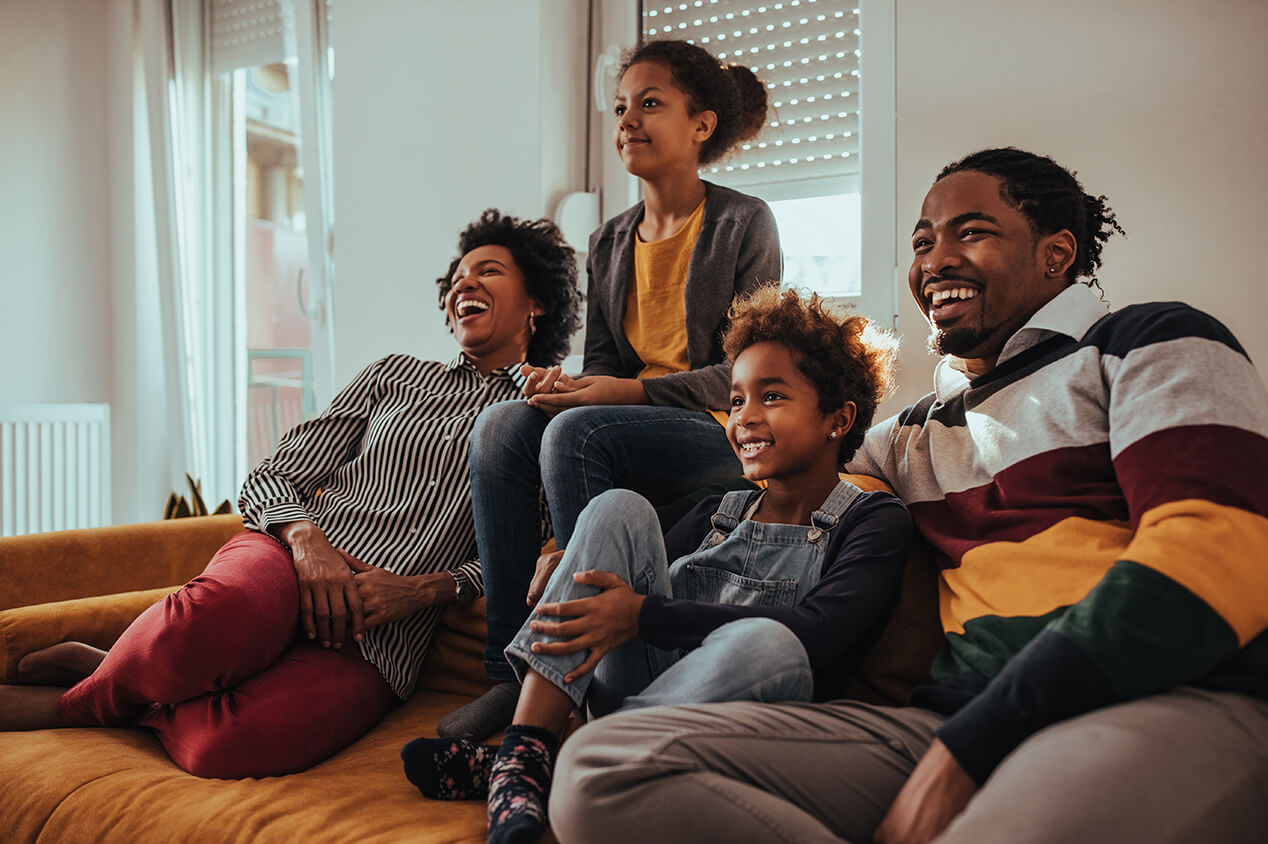 Photo: bbernard / Shutterstock
Do you dream of having a dedicated space to screen your favorite films and binge your go-to Netflix series? Regardless of your lifestyle or budget, there are plenty of options to bring your vision to life with the help of a local home theater installation expert.
Once you've nailed down the basics of a high-quality home theater, then you can have fun picking a theme. When deciding on a room layout, screen size and seating arrangements, be sure to pick something that will make you and your family smile.
The 26 ideas below will inspire you to create a fun space dedicated to movie watching. Whether you spruce up your living room, remodel your basement or create an outdoor theater area, you can't go wrong.
1. Art Deco
Decorate your home theater room with streamlined metallic furniture, like a retro coffee table and stylized pillows with geometric patterns. This will help create a sleek aesthetic reminiscent of the 1920s.
2. Vintage
To give your theater room a classic vintage feel, incorporate antique-looking accents, like weathered, distressed wooden side tables and fabric with a lived-in look. You might even consider thrifting some furniture to find a unique piece or two.
3. Traditional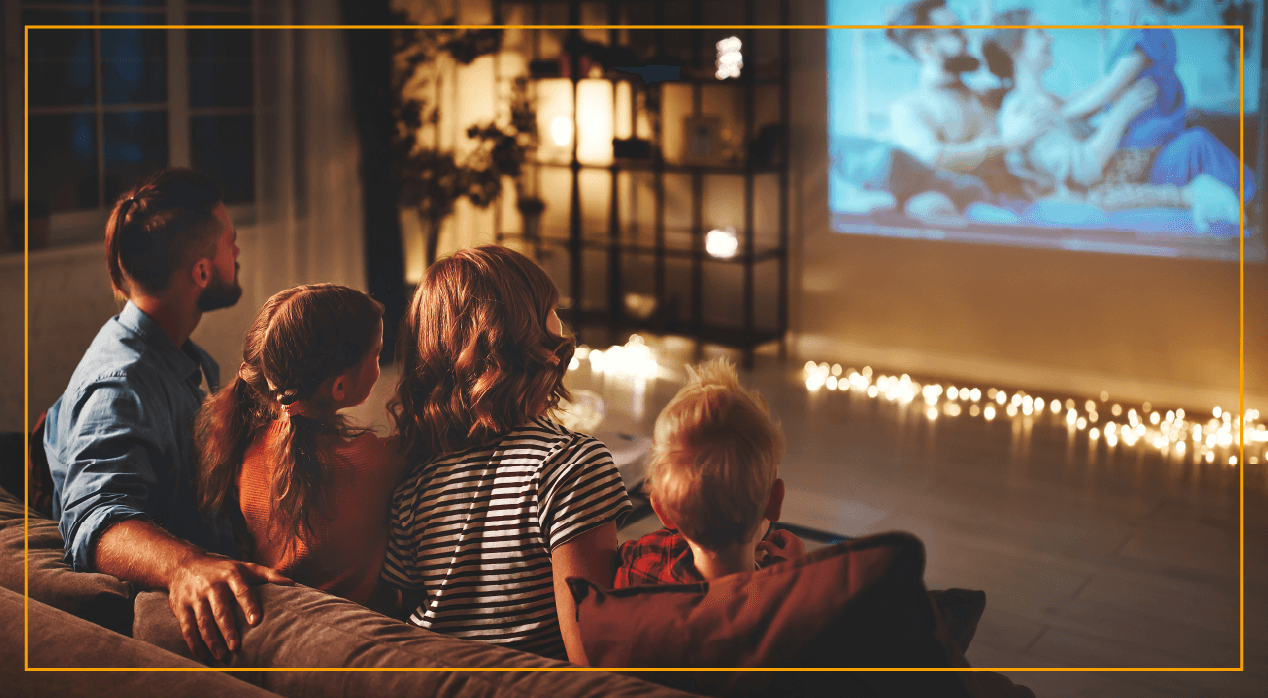 Photo: Evgeny Atamanenko / Shutterstock
Sometimes all you need is a traditional theater setup with a super comfortable couch or recliners and a darker hue of paint on the walls. The muted wall color helps keep the focus on the main attraction: your television or movie projector.
4. Eclectic
Creating an eclectic home movie theater is all about featuring bright, bold elements. For example, opt for a chrome TV console, a funky patchwork chair or pink velvet upholstered ottoman. Remember that mixing and matching patterns and materials can be liberating and fun.
5. Rustic
Consider exposed brick, a natural wood TV console and aged or distressed fabrics. Remember, rustic doesn't have to be minimalistic—feel free to incorporate as many cozy pillows as possible into your seating area.
6. Bright and Bold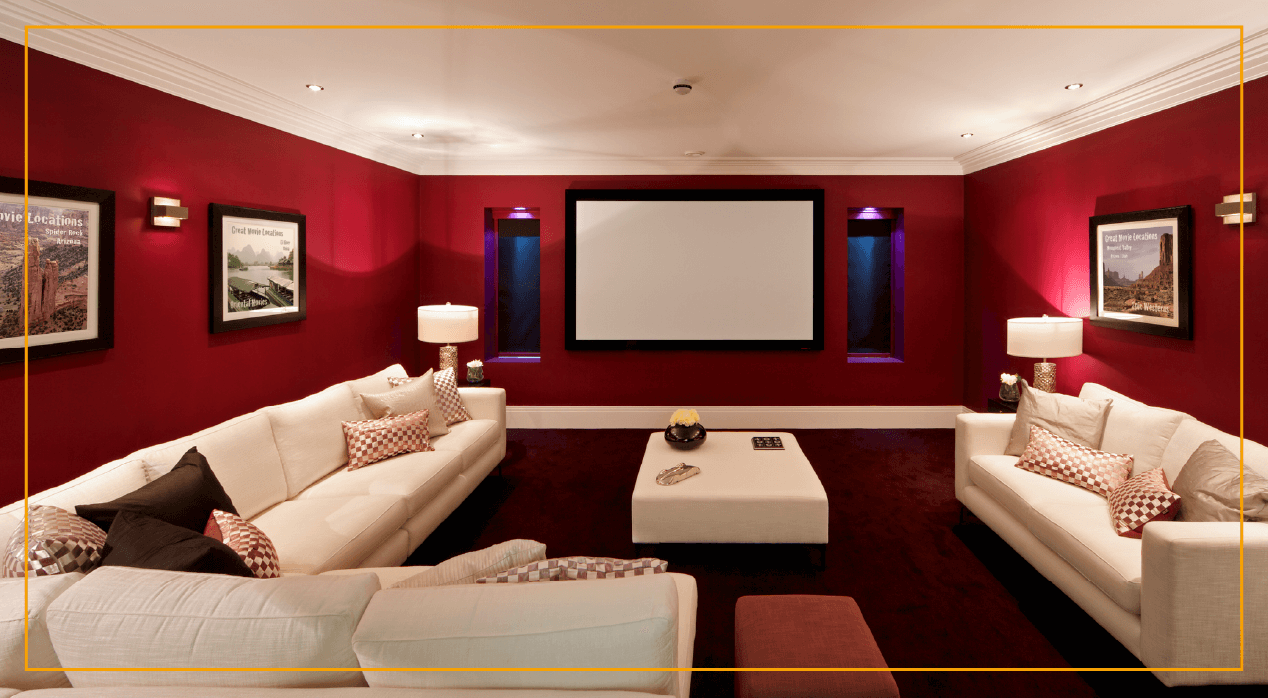 Photo: phototropic / Getty Images
Make your movie screening atmosphere more enjoyable by creating an environment with colorful flair. Whether you opt for a bold, solid hue like a deep red or a fun, patterned wallpaper that pops, get playful with your color palette.
7. Urban Industrial
Unfinished high ceilings and a console made of natural wood and metal, like steel or iron, will create an urban industrial theater that feels expansive and modern.
8. Bohemian
Give your theater room a relaxed, warm and lived-in feel with a boho aesthetic. Keep the main color palette neutral and add splashes of bright colors. Comfort is key and you can achieve an elaborate yet laid-back feel with layered, textured fabrics and colors.
9. Scandinavian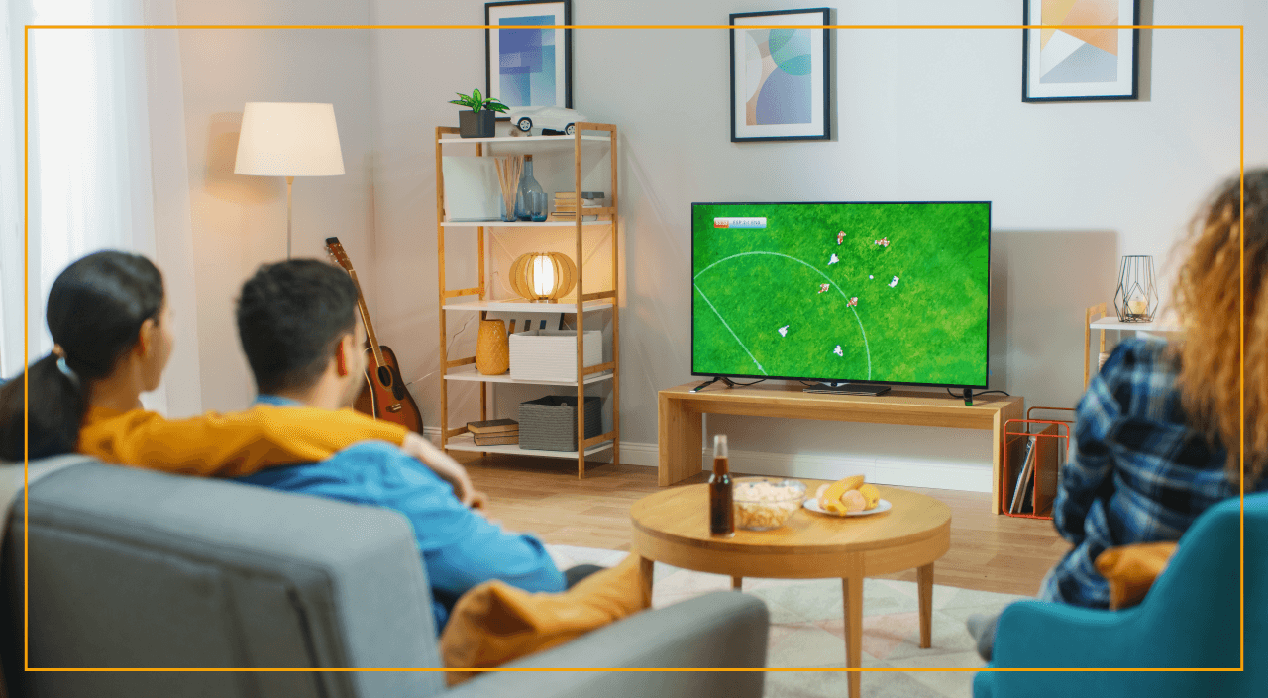 Photo: Gorodenkoff / Shutterstock
A minimalist, spacious theater room with cozy seating and stylish accent pillows and blankets is an amazing option. It will encourage a sense of togetherness, balance and coziness.
10. Futuristic
For a futuristic feel, try finding a console and accent furniture made of sleek metal and glass, and pair it with comfortable but minimalist seating. Emphasize your smart tech, like an Ultra High Definition (UHD) screen, and strategically place top-tier acoustic systems.
11. Contemporary
Decorate your movie theater room with simple contemporary furniture. Try a pastel, plush settee with symmetrically placed end tables that will showcase your style while framing the screen as the center of attention.
12. Monochromatic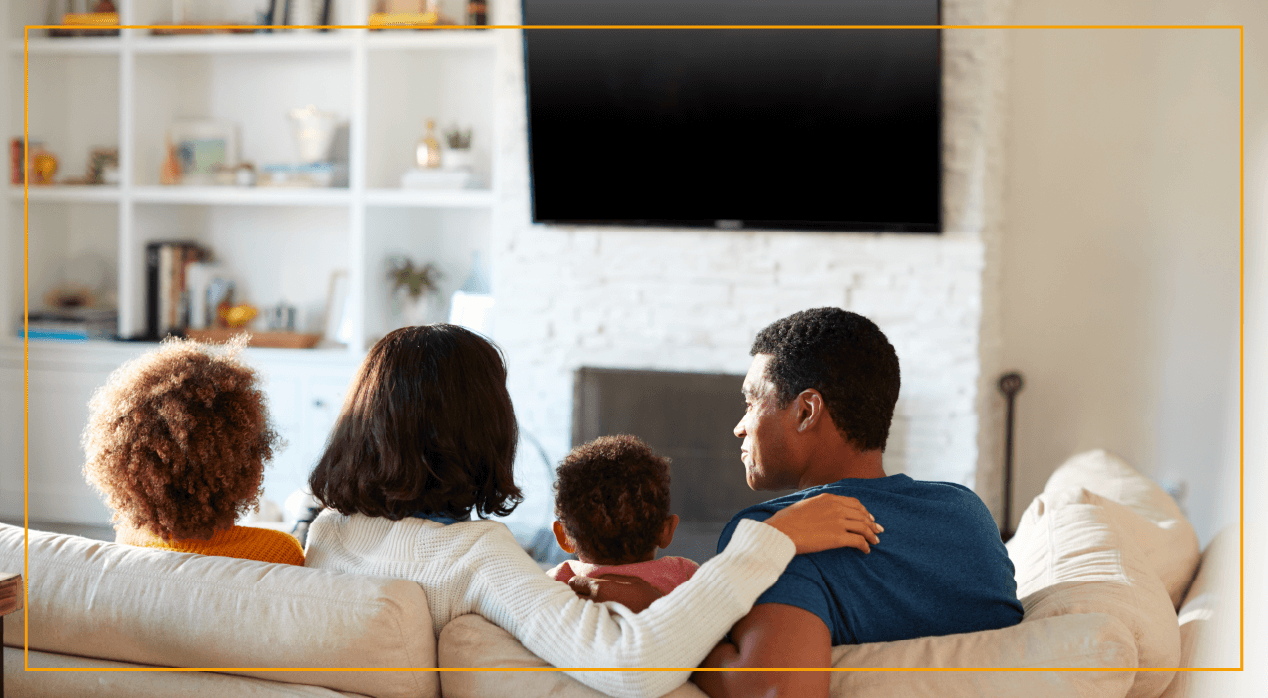 Photo: Monkey Business Images / Shutterstock
Picking a calming, monochromatic color scheme can help create a comforting hideaway for enjoying your favorite movie. Try a creamy white or pale gray to keep the room airy and light.
13. Car Lovers
If 'Fast & Furious' is a family favorite, you might want to consider using your theater room to emulate a race car. A sleek black or metallic TV console and leather seating are reminiscent of your favorite upscale race car or other luxury vehicle.
14. Disney Enthusiasts
With an endless amount of themed furniture, wallpaper, artwork, accessories and rugs to choose from, there's always an opportunity to highlight your love for Disney in your theater room.
15. Out of This World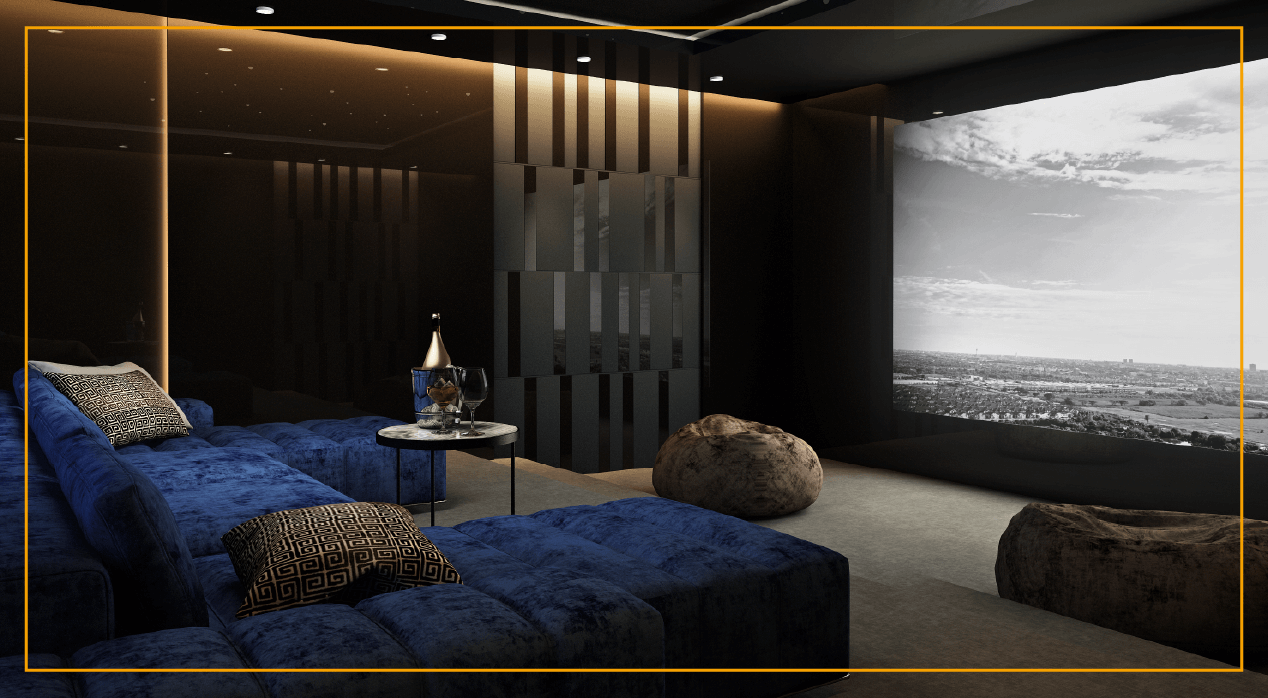 Photo: P11irom / Shutterstock
If you love outer space or simply adore a starry night sky, consider painting the ceiling of your theater room a dark color with strategic lighting. Recessed lighting can create a cosmic or whimsical feel. For a more affordable option, try an LED star projector to create a magical feel with constellations on the ceiling.
16. Superhero Themed
Whether you're team DC or Marvel, adding stylish and intentional decorations can share your love of superheroes. Plus, this is a great way to add a fun personal touch to your home theater space.
17. Sports Fanatics
In addition to decorating with sports team memorabilia, include a snack bar in your theater design. This will help everyone enjoy their favorite finger food and snack foods like pretzels, chips and salsa during the game.
18. American Western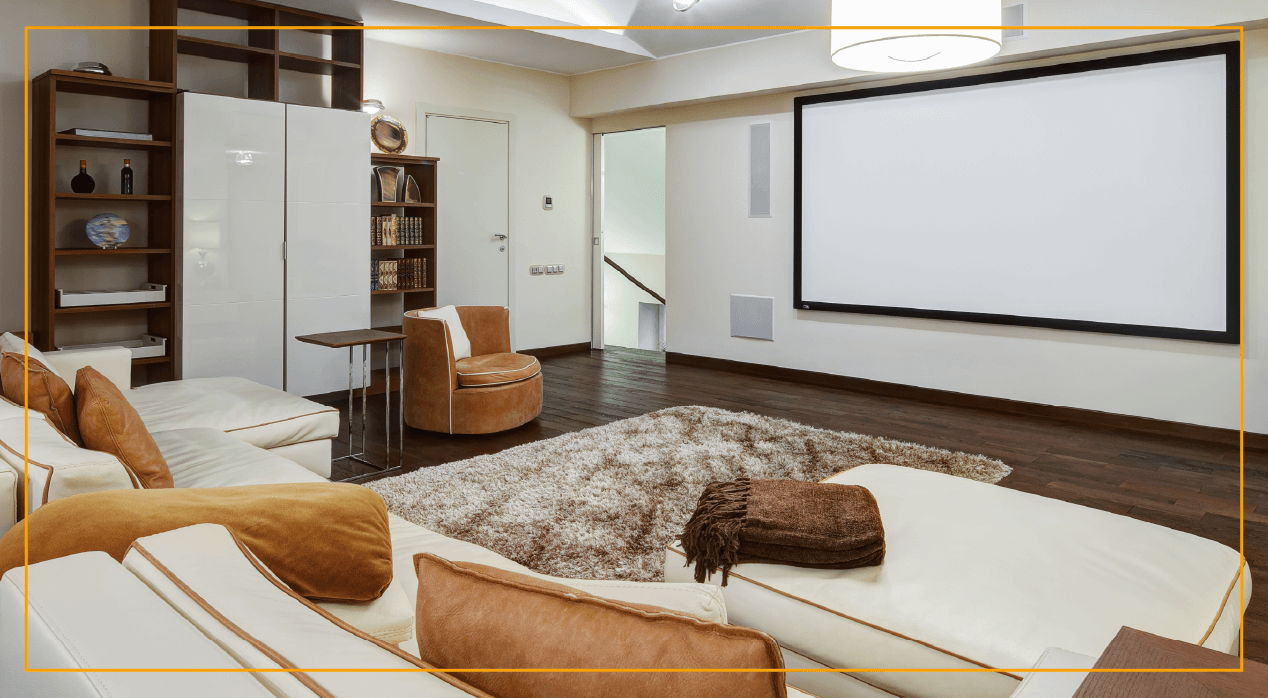 Photo: Artserstudio / Shutterstock
Maybe you've grown up watching and appreciating Westerns, or simply love their nostalgic, rustic feel. Either way, you can't go wrong with a theater room with a tan color scheme and leathery fabrics reminiscent of the deserts and rolling plains of the Wild West.
19. Urban Inspiration
Whether it's Paris or New York, adding some signature decor or accents to remind you of your favorite urban metropolis is sure to create a fun movie-watching atmosphere. To evoke these cosmopolitan cities, feature black and white framed posters or modern metallic side tables, lamps or mirrors.
20. Nautical Flair
A dreamy nautical-themed movie theater room could be perfect if your family is full of beach lovers. Look for elements reminiscent of the ocean—everything from wicker baskets filled with seashells to driftwood accents can set the ideal beachy tone.
21. Elements of Nature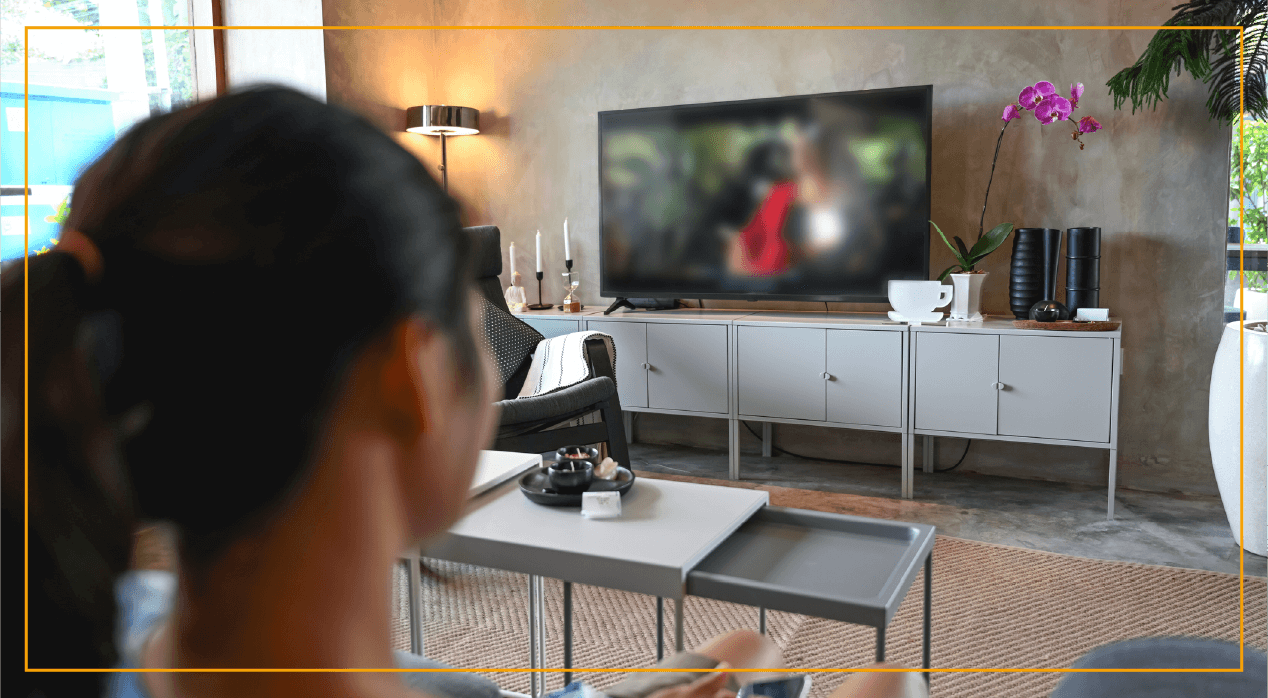 Photo: webphotographeer / Getty Images
Why not add decor elements to your theater room that remind you of natural phenomena? Incorporate bamboo plants, light-colored natural wood and earthy textiles.
22. Favorite Movie or Series
Every family has favorite cult films they can watch over and over. Replicate furniture choices from your preferred fictional characters or follow a color scheme reminding you of an iconic series or classic film. For example, you might find inspiration from your favorite Wes Anderson film.
23. Hollywood Starstruck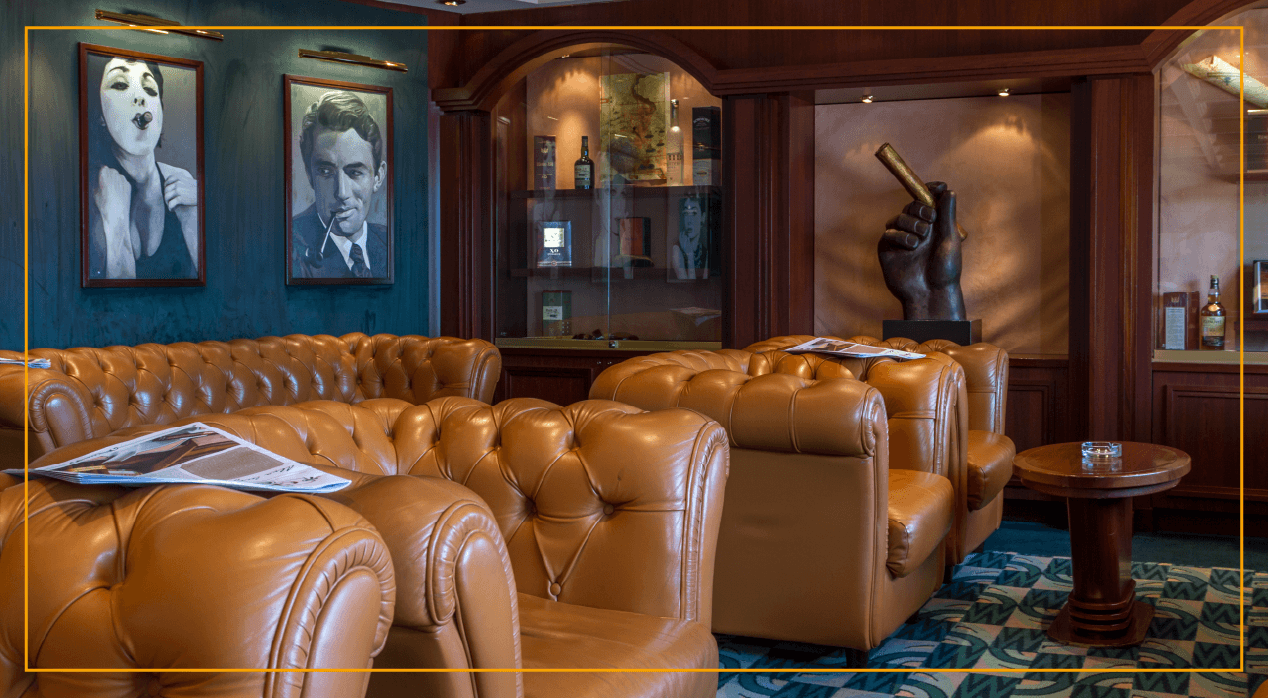 Photo: gmlykin / Shutterstock
Why not pay homage to your all-time favorite actors or Hollywood icons with something reminiscent of a red carpet experience? Hang tastefully framed movie posters or subtly display memorabilia in your theater room. Maybe even consider a fun personal touch like adding a Hollywood star to each person's seat.
24. Iconic Directors
Whether you're a loyal fan of John Hughes or Quentin Tarantino, consider showcasing their work in your home movie theater. Adorn your home theater's walls with the colors and textures that remind you of their movies. Or, you can even take inspiration from a piece of furniture highlighted in one of their films.
25. Backyard Movie Setup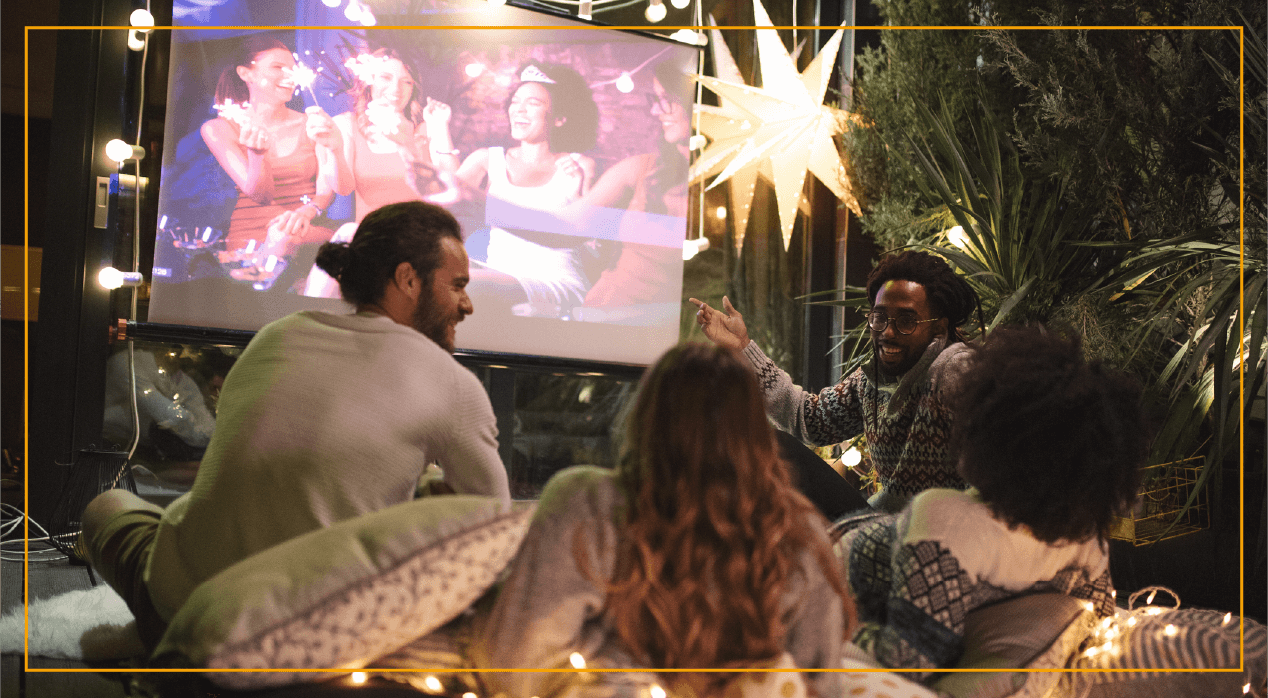 Photo: M_a_y_a / Getty Images
Take your projector outside if you want to feel like you're camping in the great outdoors while having a cinematic experience. You can even incorporate a small fire pit in the center of your seating area wherever it doesn't distract from the screen. It's the perfect excuse to enjoy s'mores while watching your favorite films.
26. Drive-In Style Outdoor Movie Theater
Consider converting your garage door into the screen for your outdoor film projector and pretend you're at a drive-in movie. You can always invite your neighbors to enjoy the fun, too!
How to Make a Movie Theater at Home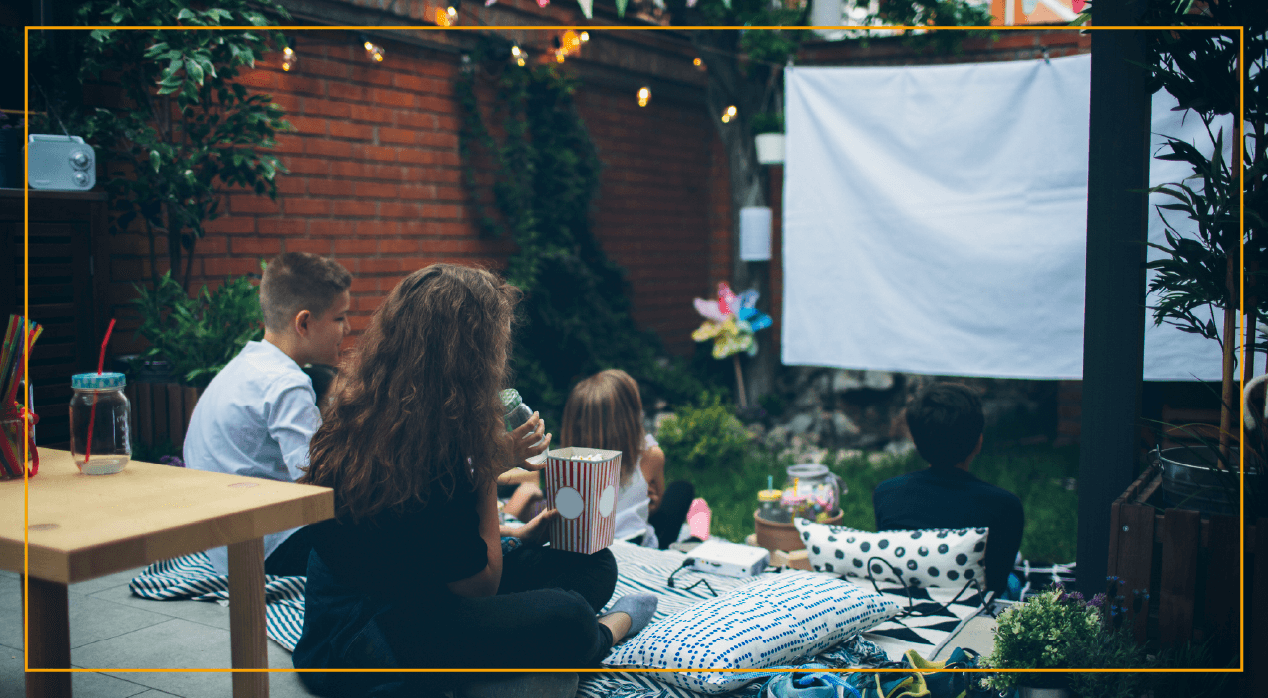 Photo: vgajic / Getty Images
Before you start designing the movie theater of your dreams, there are a few guiding questions to ask. Once you've answered the five questions below, you can put the home movie theater ideas you've brainstormed into action.
What features of a movie theater room are most important to you?
What would be your ideal movie theater room theme or aesthetic?
What types of seating, decor and materials do you prefer?
How large of a space do you have to work with? Is it outdoors?
How much would you like to budget for the project?
You might want to bring a professional on board to help you navigate the process of installing a high-definition television (HDTV), surround sound speakers and any other audio/visual equipment. The cost of creating a home theater balances out since you will use your home theater for many years.
Below, enjoy some printable "movie tickets" to use when hosting a movie night with the kids, or try a film- and television-themed categories game.
No Comments Yet