December 13, 2016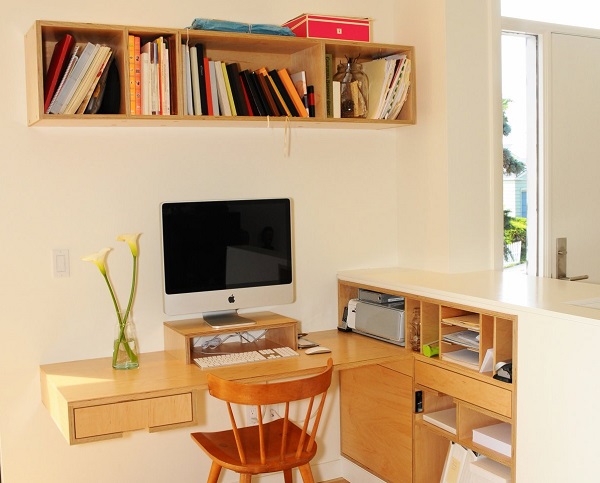 Shift in Home Office Trends
Home offices became increasingly popular during the 1990s and 2000s, but as of the last few years, some renovation pros are seeing a decline in the demand for home improvement services related to working from home. More and more people are working from home, so why the decline? More people are working at least part of their time from home, but they are just doing it differently than teleworkers did in the past.
While high-speed internet allowed this work-at-home transition to occur in the first place, home Wi-Fi is allowing another shift, from the separate office to the couch or the kitchen counter. When the most recent home-office surge began, people consolidated their computer, their desk, their chair, and their files around the Cat 5 cable that was their lifeline to the internet. Now, in the age of Wi-Fi, people can work from their backyard, or from their favorite chair.
That said, there is still a need for some centralization within the house. Some people still want to have their desk, and it is certainly efficient to have your file cabinet nearby, but now they have more flexibility.

Five Key Issues Shaping Home Office Trends
The home office is becoming more of an occasional work area for some people, needed for its peripherals and storage (printer, backups, and files). Just like laptops have docking stations that they plug into their peripherals when needed, the human being uses the office area in the home as a "human docking station.
For some, the home entertainment center is merging with home office, because TVs and monitors are increasingly becoming the same thing.
We are seeing more pull-out shelves and desk surfaces in non-office parts of the house, hidden, but available when somebody needs it.
I'm hearing designers say that some homeowners with kids like to have their kids do their homework in a common living area rather than in their room. A pull-out surface in the living room or in a foyer, a nook workstation, or just a kitchen counter, can serve for tandem homework and bill-paying by the parents.
Investment considerations. Are there financial advantages to having a formal, built-out home office? We find that the choice to dedicate a room is usually more about lifestyle and work productivity than financial advantage.

Remodeling Magazine put the cost of a typical home office remodel at $29,066 in 2015, with a cost-versus-value ratio of only 48.7%, meaning you'll only get half of what you put into it when you sell your house.
Is a home office a good tax writeoff? Not for most. It has to be your "principal place of business," and if you are an employee, you must be using your home for the convenience of your employer, rather than for your own convenience. The standard deduction is high enough to make it a non-factor for many.
Lifestyle and family play a huge role in deciding whether to dedicate a room as a formal home office. Some people need an environment that "feels like an office" to remain focused and productive. Being able to close a door can be important, to keep the kids out while you're working, and to create closure at the end of the work day (literally as well as figuratively).
Here is a link to an article on a related topic, by Patrick Clark at Bloomberg.
No Comments Yet