A home stager's job is to make your house look its best so it's appealing to as many buyers as possible. Through strategic home styling and simple upgrades, home staging can make the home-selling process much easier and more lucrative.
In a hot seller's market where there are many prospective buyers, it might seem like home staging is less important than it used to be. Even though there isn't a shortage of prospective buyers these days, there are still numerous factors to consider when preparing a house for the market. Investing in the cost of a professional home stager can maximize your chances of closing an advantageous deal as a seller.
Ultimately, certain popular home styling tricks and techniques can help a property sell at a higher price more quickly. Depending on the current state of your home and how much you're willing to spend, the price of home staging can vary greatly. Below are some helpful home staging statistics and trends to empower you to craft a space that you're proud of and benefits you as a seller.
On This Page:
Benefits of Staging a Home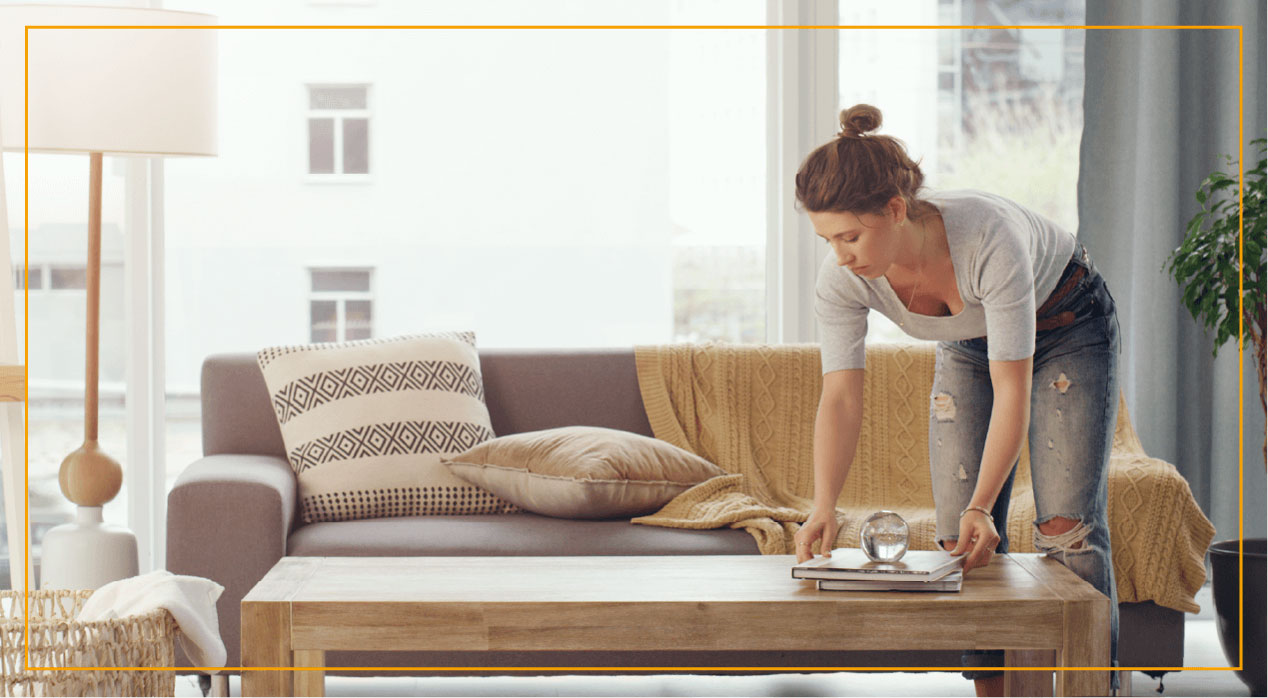 Home staging is the process of setting up furniture and decor with the intent to make a home as appealing as possible to potential buyers. Although some people think interior decorating and staging are interchangeable, they're actually quite different. Home staging is about being both stylish and depersonalized. After all, staging appeals to the masses to make a sale, while interior decorating is about being creative to match your own personal preferences.
Skilled professional stagers are constantly studying trends in the housing market and know exactly how to design a space to target the ideal buyer. Staging professionals are also helpful because they'll take care of everything from the furniture arrangement and lighting to the art on the walls.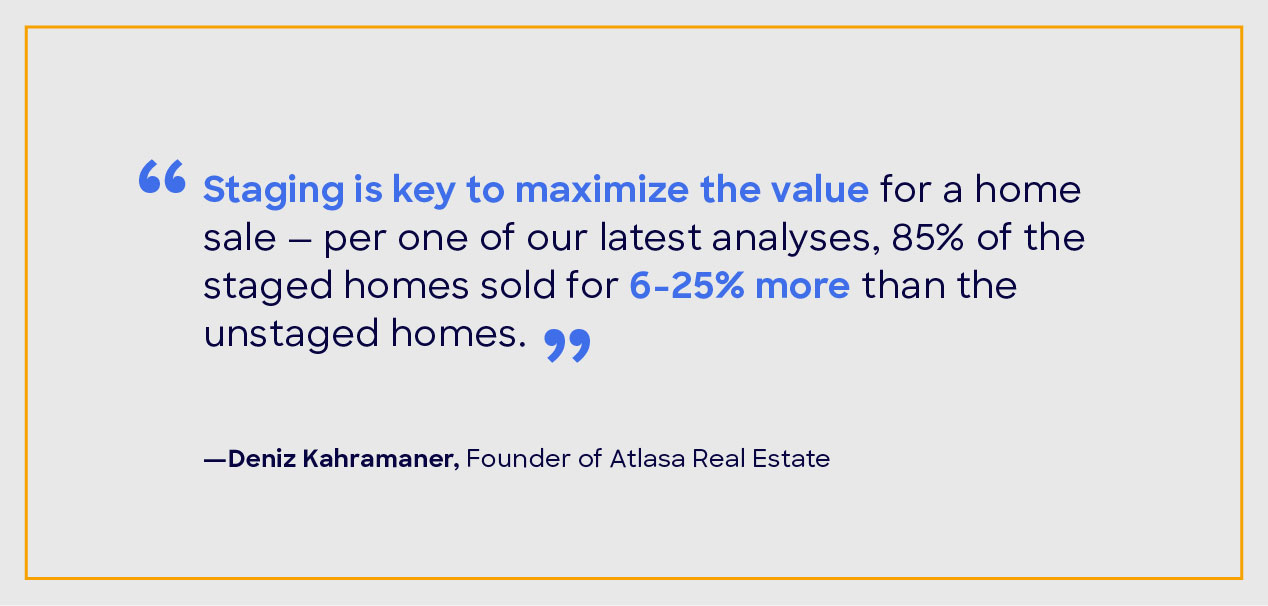 Timeless and tasteful yet modern home staging can do wonders for your home on the open market, potentially earning you thousands more than you would have negotiated otherwise. It's likely worth reaching out to home stagers near you to find the right team for your house and budget. Keep in mind that the price of traditional staging fluctuates between $560 to $2,100.
Selling Staged vs. Unstaged Homes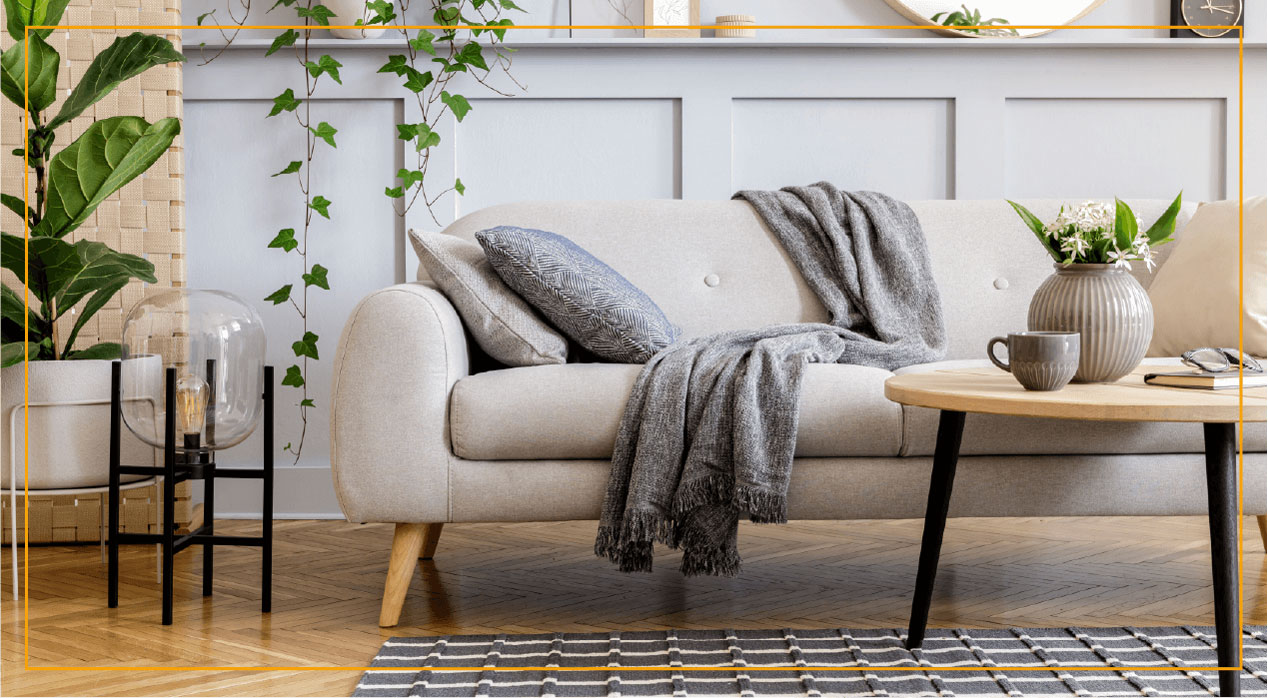 Professionally staged homes tend to be easier to sell than homes with an improvised staging job. Even though some people might remain skeptical about the true benefits of staging, statistics support that it's a smart move.
1) Staging can save you several months of time on the market, which might translate into thousands of dollars of savings. Otherwise, a homeowner might be wasting money paying for the upkeep of a home they no longer desire.
2) Staged properties typically sell for list price or even above list price vs. unstaged properties, which tend to sell for under list price.
3) According to the Real Estate Staging Association, 85% of staged homes sold for 5–23% over list price.
4) According to the 2019 NAR Home Buyers and Sellers Report, 83% of homebuyer's realtors claimed home staging helped the buyer envision the property as a potential place to live.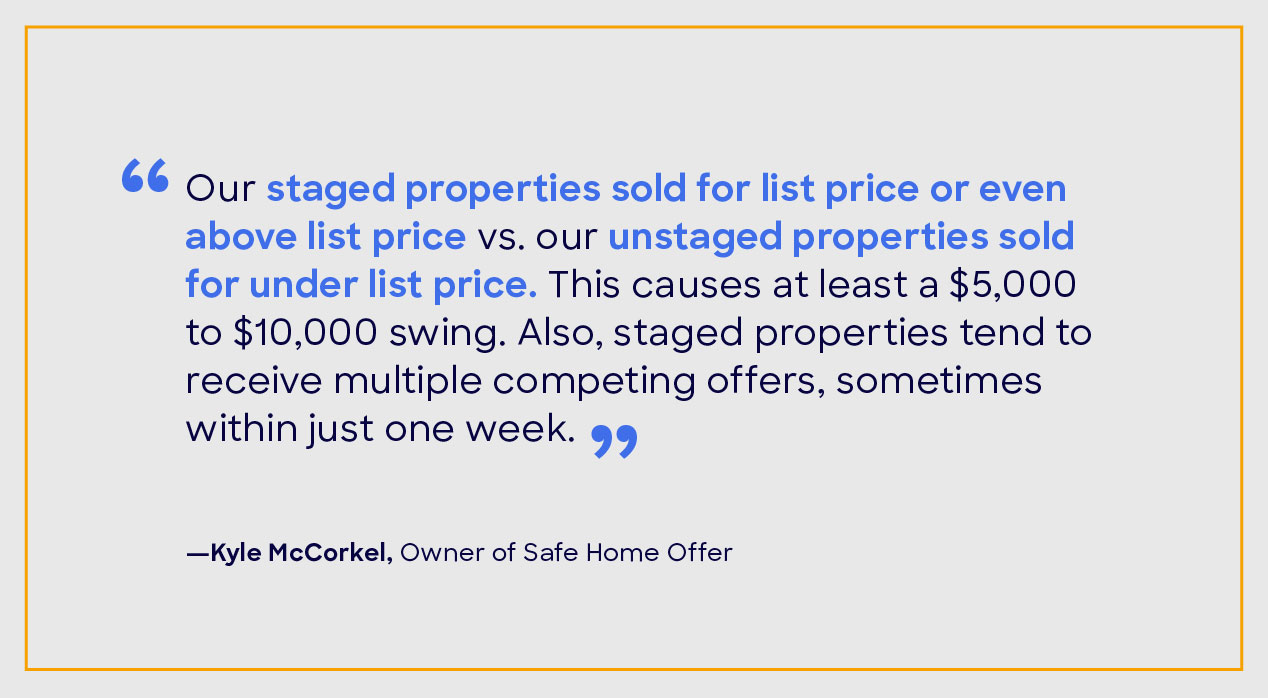 5) As of August 2020, most homes remained on the market for roughly 56 days from listing to closing, according to Realtor.com.
Home Staging Tips to Follow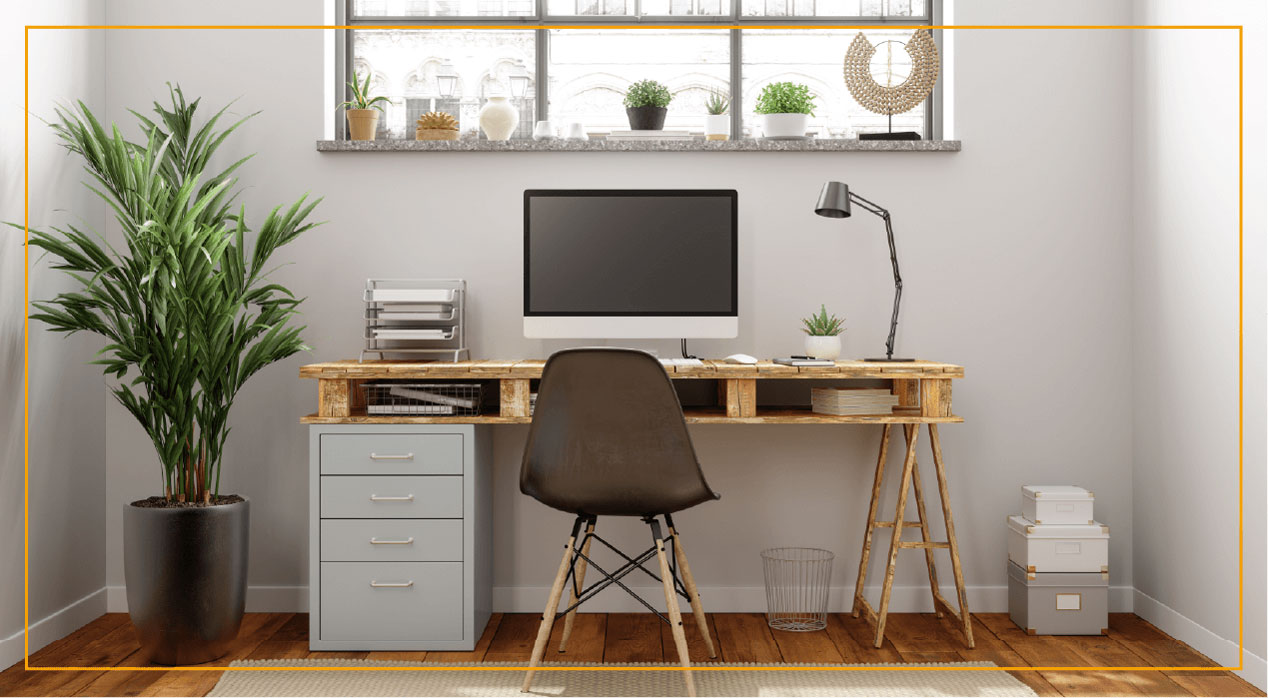 Even if you can't hire a professional home stager to help you win a great offer for your property, there are some strategic tips to keep in mind. One of the most important overarching themes with staging is that you have to remove all personal ties and biases. When your house is on the market, it's important that prospective buyers can imagine what their lives might look like in your house.
6) Consider virtual home staging. This is done when a graphic designer uses high-resolution photos of empty rooms and decorates each space digitally. It's much more affordable than the price of traditional staging, which ranges from $560 to $2,100. The cost of virtual staging is about $100 per photo.
If you choose this option, note that depending on the number of rooms in your home, it can ultimately become more expensive than traditional staging. Remember, virtual staging isn't accomplished via Zoom — it's about computer-generated images for people who are browsing listings digitally.
7) Use a fresh coat of interior paint as a relatively inexpensive and effective way to enliven a space. Whether it's a new palette of calming colors or simply an accent wall that makes a room appear larger, it's probably worth the cost of hiring painting professionals. Be mindful that it's best to stick to a muted or neutral palette, though.
8) Staging is an initial upfront investment to maximize the rate of return on your home's sale. A staged home typically sells for 17% more than an unstaged home.
9) According to the International Association of Home Staging Professionals (IAHSP), the money lost on the final sale of an unstaged home is more than the cost of staging in the first place. In fact, the cost of not staging tends to lead to a price reduction of five to twenty times what the initial home staging investment would have been.
10) Stage a home office set up, even if you don't have a dedicated room to spare. With the surge of people working from home since the start of the COVID-19 pandemic, it's a great idea to curate an attractive home office space wherever you can. You can even repurpose a closet by using it to stage a "cloffice", or closet office.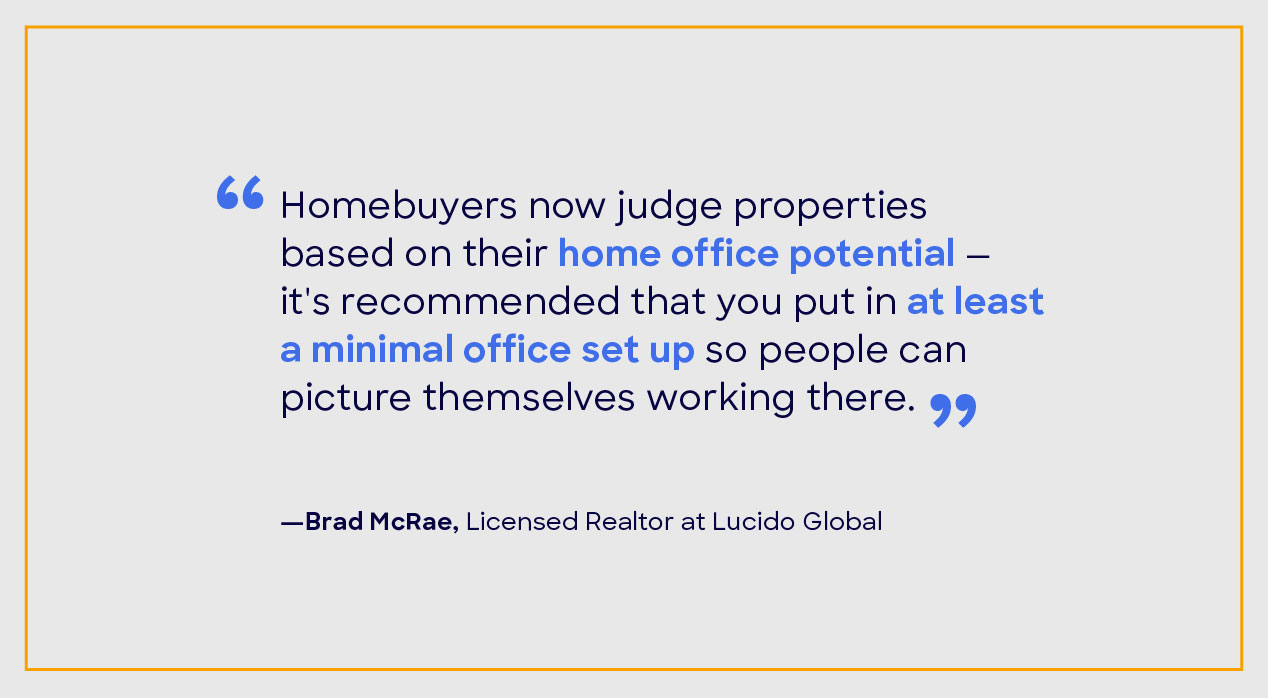 11) The IAHSP says that the living room, dining room, primary bedroom, kitchen and bathroom were among the top areas to focus on staging in 2020.
12) Update light fixtures and hardware like doorknobs, drawer handles and more to give the space more polish. If possible, light fixtures in the living room or dining room should be about a third of the height of the front door and should have warm white bulbs.
13) Try staging your home to create a balanced welcoming space. A new creative furniture arrangement is a home staging technique that can have a strong impact.
14) Remember to stage outdoor areas — whether it's a small balcony or a full backyard, since people seek privacy and comfort outside. Add greenery, lighting and affordable patio furniture so buyers can envision themselves enjoying the space.
Home Staging Mistakes to Avoid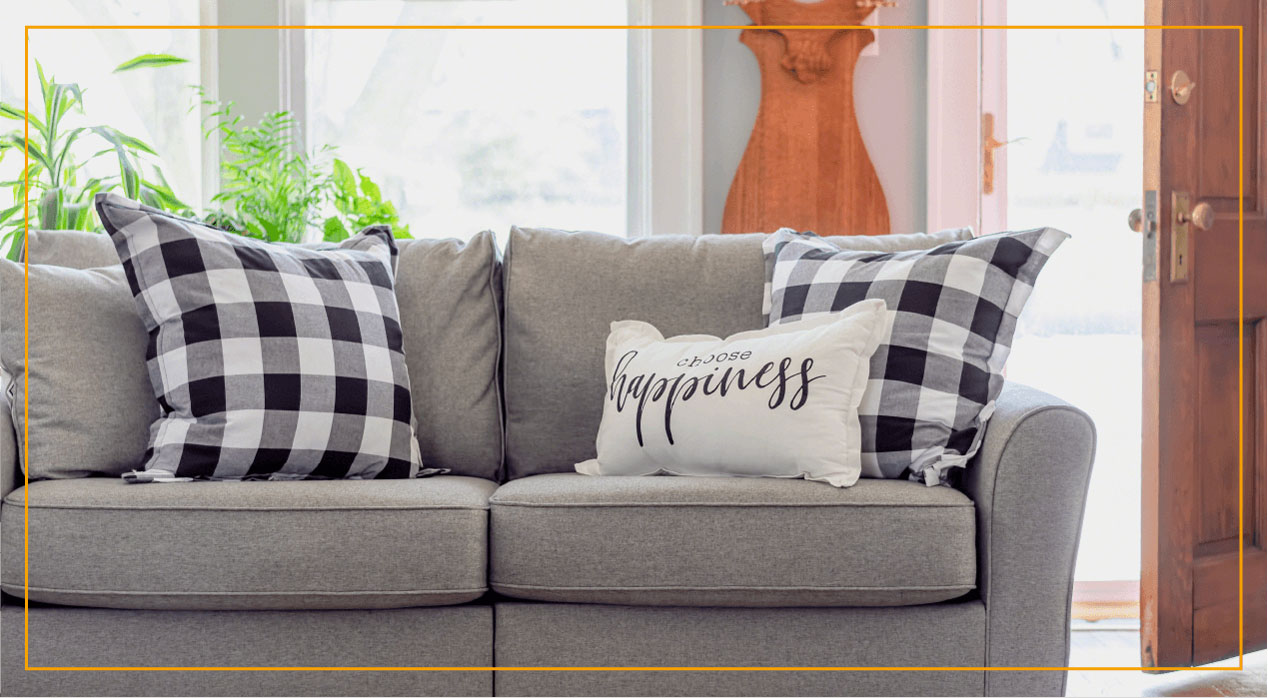 It's important to remember that the point of home staging is for the seller to improve the sale price and their negotiating power. The real estate agent also has incentive to sell your property at the highest possible price. It's worth making sure you're on the same page with them about steering clear of these mistakes.
15) Instead of trendy, bold and eye-catching colors and decor, generic, neutral staging will help truly display a home's features. It's best to focus on the overall aesthetic that will appeal to the majority of people coming through the home, not just your personal preferences.
16) Try not to have too many types of materials, shapes and textures in one room because it can be overwhelming. Try to stick to three separate textures in a room — for example, incorporate wood-accented items, linen fabric and simple metal light fixtures.
17) Don't forget to get high-quality photos taken, preferably shot by a professional, after staging is complete. Especially since virtual showings are common these days, you need to make sure your photos are an accurate representation of how the room appears, with the proper angles and lighting.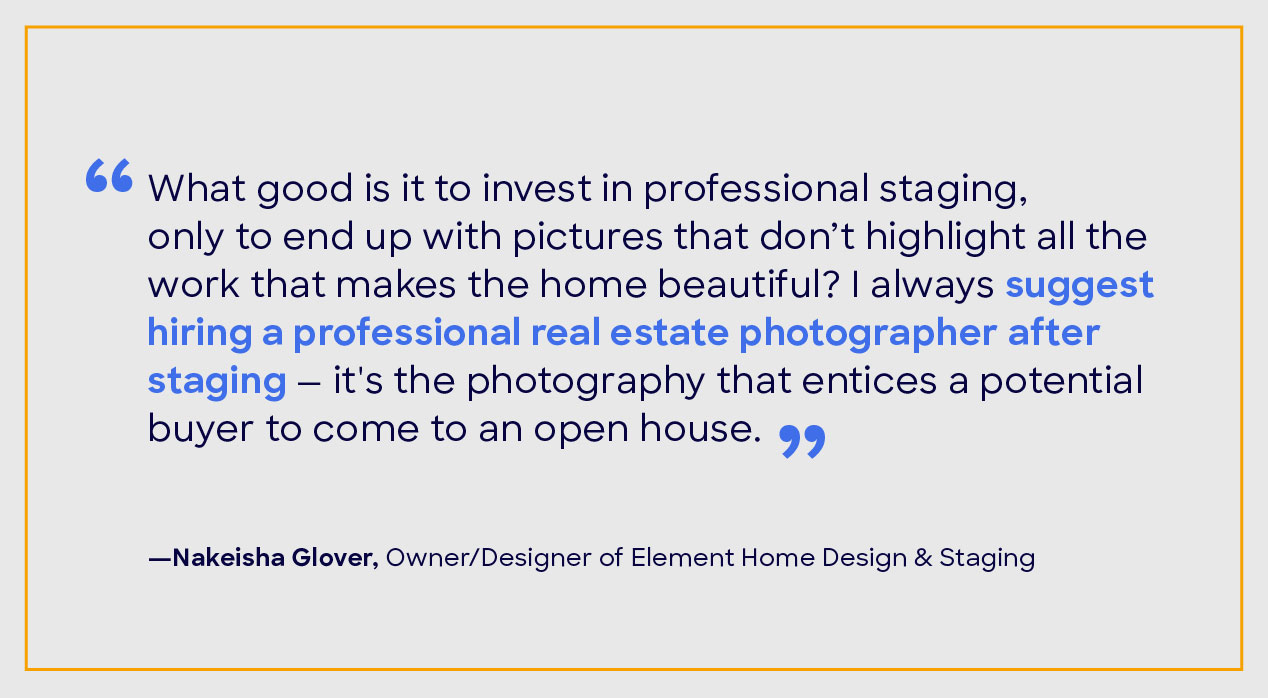 18) Don't rely solely on overhead lighting — vary your light sources. If a room doesn't allow for a lot of natural light, find multiple ways to compensate: an overhead light or a modern floor lamp can help. Find creative ways to maximize natural light coming in from any windows.
19) Don't unnecessarily fill empty spaces — staged houses should appear more spacious and minimal to make it easy for prospects to navigate rooms and envision themselves living there.
20) Don't delay staging due to indecisiveness — as we mentioned, unstaged properties can end up on the market for a considerable amount of time.
One of the main benefits of staging is that it helps the potential buyer envision a house as a place to live, not just as a piece of property. As new technology continues to evolve in home design and the real estate industry as a whole, it's helpful to keep an eye on the latest trends and tips. For example, by adding certain smart home elements to your home staging plan, you could increase your likelihood of making a sale.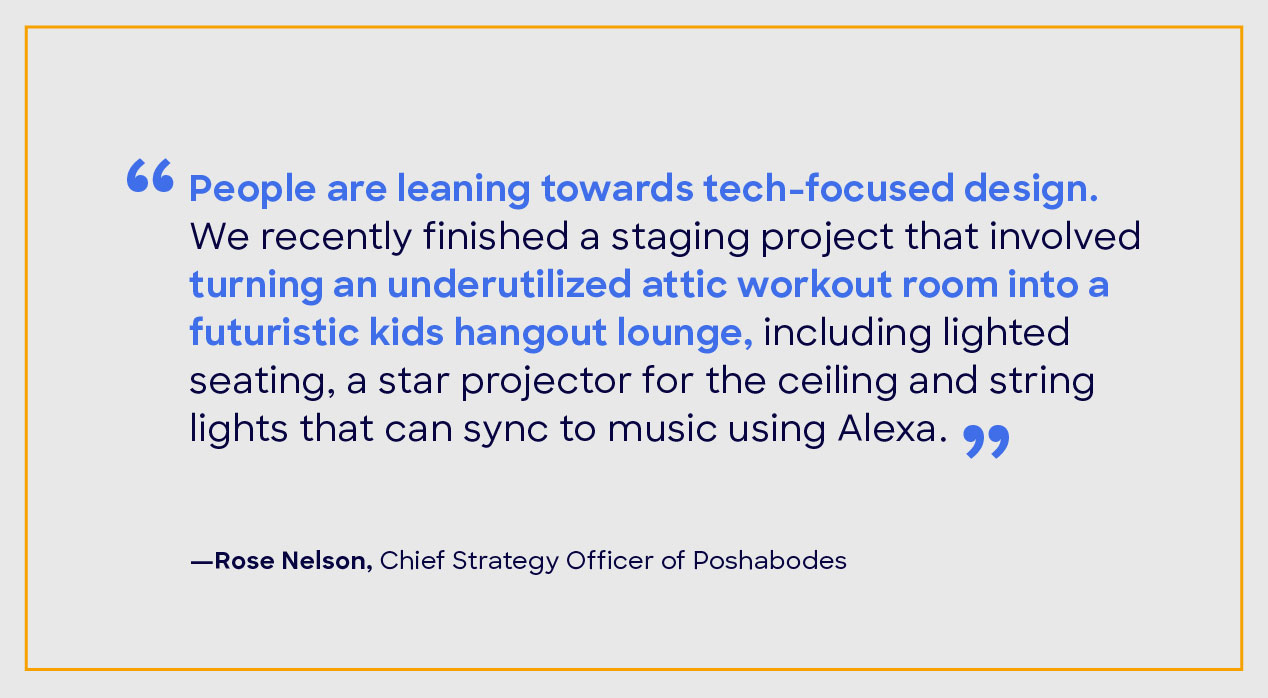 Below you can download a fascinating guide featuring some of the top trends in home staging in a visual format.


No Comments Yet