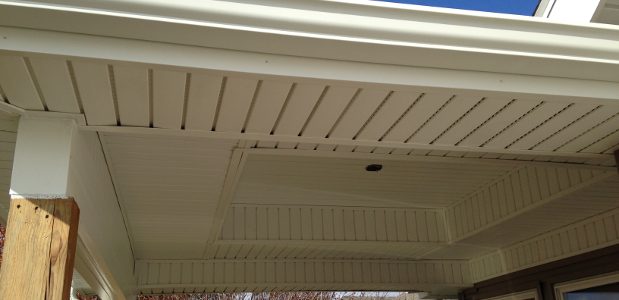 Whether a home has wood, stucco, brick or stone siding, the fascia, soffits and trim around doors and windows are traditionally wood. Wood is second-to-none for decorative materials, and for most homeowners, the primary function of exterior house trim is to accent the architecture and increase curb appeal. Since trim requires less building material than siding and framing, the cost of maintenance, repair, and replacement is dramatically less, making wood trim a reasonable choice for many homeowners.
Painting Trim
Wood, especially high-end or exotic wood, is a naturally beautiful material and may be left unpainted. That said, most people prefer to paint their trim. Rightfully so, as certain combinations of red, pink, and orange, needless to say, are probably not the answer, but you shouldn't be afraid of color for your home's exterior. Most people prefer to paint their house trim a different color than the siding. Monochromatic homes fail to accentuate architectural features, such as the trim, siding, gables, etc. Painting trim is obviously not a home improvement project that requires a great deal of technical skill. Still, many homeowners hire a professional painter to alleviate the time and headache of schlepping a ladder around the house and wasting a beautiful spring or summer weekend. So if you do decide to take the project on yourself, try to find a mild, dry day. Work your way around the house to minimize any sun exposure to recently painted surfaces.
Wood Trim Alternatives and Alterations
Wood, of course, needs regular maintenance and repainting. Even for a house with wood siding, maintaining the wood trim has always been the most labor-intensive and costly part of any exterior paint job. If not maintained well, exposed wood can deteriorate, warp, and may need extensive sanding before repainting or replacement. One way to avoid the chore of repainting is to consider installing other types of trim. Vinyl, aluminum or steel soffits, fascia and wrapped door and window trim can be applied with all kinds of siding to eliminate the need for homeowners to ever paint trim again. Using these trims also eliminates any potential leaking and rotting problems associated with wood.
Need to find a pro for your House Trim Project?
Find Pros
Most commonly, owners of stucco homes decide to replace their soffits and fascia boards and wrap their wood trim with a vinyl or metal product that looks like painted wood to enjoy a virtually maintenance-free exterior. Keep in mind that only sound wood can be wrapped with vinyl, aluminum, or steel. If existing wood trim has signs of warping, wood rot or any other deterioration, the wood will need to be replaced before it can be wrapped.
Interior House Trim
Of course, house trim isn't just for curb appeal. Interior trim is a great way to improve your home decor. Much like the exterior, doors, windows, and wall edges are all great house trim options. Your house trim options are even greater since materials don't have to withstand the abuse of the elements. Installing interior trim doesn't involve dealing with the sun, rain, or potentially dangerous heights. Whether you have a casual, contemporary, country, or any other style home, you can find a trim that will work for you. Both exterior and interior trim will frame your home to emphasize the artistic appeal of your home. For an even greater statement, you should consider wainscoting or decorative paneling for interior wall coverings.
---
No Comments Yet
You can be the first to comment!