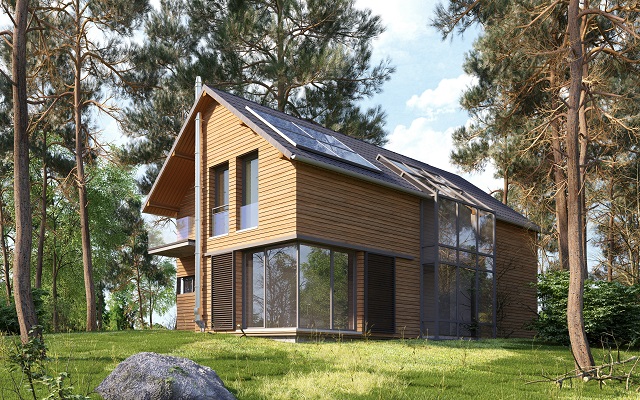 From rising energy costs to the aging population, seismic shifts throughout U.S. society are changing the way Americans think about housing. As we turn the corner into 2019, the final year in a decade that's already seen massive change and disruption, we checked in with the pros at HomeAdvisor to identify the biggest buzzwords in housing.
Whether you're a homeowner embarking on a major renovation, a builder about to break ground on a new project, or a real estate agent with a home to sell, here are five concepts you'll want to know.
#1: Sustainability
Energy costs are soaring for most Americans. Residents who heat their homes with oil, for example, could see bills increase 20 percent or more this winter, according to the U.S. Energy Information Administration. Then there's the larger issue of climate change, since homes and other buildings account for nearly 40 percent of the nation's total energy consumption.
Whether to protect their pocketbooks or the planet (or both), more Americans are keen on sustainable housing, which includes energy-efficient appliances, alternative energy sources like rooftop solar, and the use of local materials.
#2: Adaptability
Americans are staying in the same home for longer stretches of time. The mobility rate dropped to 11 percent in 2017, half what it was in the 1980s. HomeAdvisor's latest True Cost Report found that 80 percent of Americans plan to stay put in their existing home.
That's putting a premium on durable, long-lasting materials, reliable systems and appliances, and reputable home service pros to install and service it all. It's also creating demand for adaptable designs, including flexible floor plans that can evolve with the changing needs of the household. We're also seeing more new homes with apartment-like suites (aka "mother-in law apartments") shoehorned into the floor plan, either to house an aging relative or to rent out as a source of additional income.
#3: Automation
About a third of homes in the U.S. with broadband access now have at least one internet-connected device. By the year 2022, one in two households will have a smart speaker. This rapid adoption of smart home technology is already changing the way Americans interact with their homes.
Voice control is the most obvious example, but it's just the tip of the iceberg. Look for artificial intelligence (AI) to play a major role in home technology moving forward, including sensors throughout the home that can anticipate maintenance issues before they arise.
#4: Livability
Americans aren't just staying in their homes longer, they're also getting older, at the highest rate in history. By 2030, one in four Americans will be over the age of 65, and 90 percent of seniors say they plan to stay in their homes as they grow old. That's fueling the aging-in-place movement, or the creation of homes that are livable for people of all ages and abilities. In 2019, look for accessible home features like curbless showers, lever-style door knobs, and slip-resistant flooring to become increasingly synonymous with great design.
#5: Wellness
With many Americans leading longer, healthier lives (is 60 the new 50, or is it up to 70?), they're looking to their homes to support a wellness-based lifestyle. We see this in appliance design, for example, with the emergence of steam ovens, which was tapped by the National Kitchen & Bath Association as an emerging design trend in its 2018 industry report. The small appliance market is also booming, including blenders for smoothies, dips, and other healthful recipes, and multi-cookers that can whip up a batch of quinoa, oatmeal, or even yogurt.
From a design perspective, the wellness trend will heat up in 2019 with new, inventive uses of windows, which flood homes in health-enhancing natural light. A connection to nature, achieved with open-air kitchens, enclosed porches, and other indoor-outdoor living spaces, is another expression of the wellness trend that HomeAdvisor pros say will pick up in 2019.
No Comments Yet