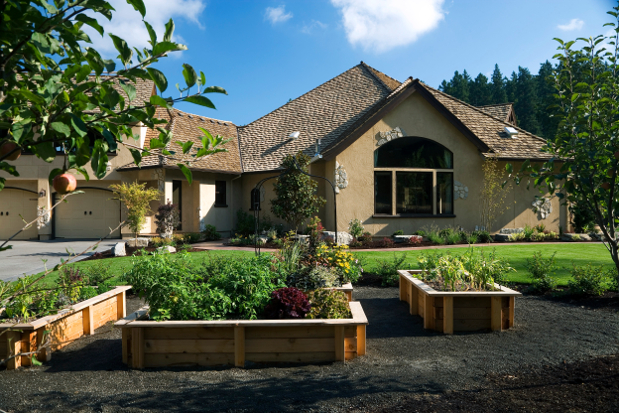 The U.S. Department of Housing and Urban Development (HUD) was established in 1968. It was originally developed to manage federal housing and community development programs.
HUD incorporated numerous housing agencies and assumed administrative responsibility for them. One of these agencies was the Federal Housing Administration (FHA). Since 1971 the agency has been commonly known as HUD/FHA.
How Does HUD Get the Property?
The old FHA programs and the newer HUD programs act as an insurance agency for banks, savings and loans and mortgage bankers who make real estate loans to buyers and investors. HUD/FHA does not make the loan, they only insure the lender against loss in the event of default.
You apply for a real estate loan through an approved HUD lender, the lender determines whether your application is accepted, and if so, gives the money to you. Once the money has been given, the lender will receive an insurance policy from HUD that protects its financial interest.
HUD homes are sold to the public when HUD/FHA mortgages are foreclosed. HUD pays the original lender the amount of the loan due and other expenses. HUD then resells the property.
Once the loan is made by the bank, savings and loan or other authorized lender, that lender does have the right to foreclose on the property if the borrower fails to make their monthly payments on time. When the foreclosure process has been completed, the lender submits its HUD insurance policy back to them with foreclosure costs, accumulated interest and legal fees for reimbursement.
HUD will reimburse the lender. With the lender paid off and no longer in the picture, HUD, who now owns the property, can dispose of it in any manner deemed reasonable.
How Does HUD Sell Property?
When HUD gets a property back, it turns it over to its Property Disposition Department which first secures the property from vandalism or damage. Next, this department determines if the property will be sold directly or through an outside broker.
If a broker is used, he must complete the necessary repairs required by HUD, secure the property, advertise the property, accept sealed bids, control the escrow account and make sure the escrow closes.
HUD will pay a 6 percent sales commission to agents involved in the sale, whether sold through a broker or sold by HUD directly.
HUD will allow real estate agents to acquire HUD properties. A real estate agent bidding on a HUD property could effectively reduce his bid price by the amount of commission he may earn on the sale. Clearly, this gives the agent an unfair advantage.
In addition, an authorized HUD broker will receive lists of HUD properties before the general public does. A broker could prevent the public from having access to properties.
To buy a HUD home, you must contact a licensed and approved HUD broker or other agent authorized to sell HUD-owned homes. All offers are submitted through him.
HUD properties are sold "as is." All properties are sold on a cash basis. While paying in cash is not required, having your financing arranged without HUD is. HUD will not be required to arrange or carry financing themselves. You will need the services of a conventional mortgage lender.
Condition of HUD Homes
HUD homes can be of low to moderate value. Traditionally, however, HUD homes have been in better shape than the average VA property.
As discussed earlier, if real estate agents can bid on and buy HUD homes at an unfair advantage to the home buyer and investor, then it stands to reason that many of the nicer properties are bought by these agents. The result may be lesser quality homes left for the general public.
Locating HUD Homes
You can find HUD properties by calling a local real estate agent or authorized HUD broker, looking in the newspaper for HUD property sales or by calling HUD directly. Check you local phone book for HUD registered real estate agents.
If you contact HUD directly, they may not send you a list of properties, but they can send you a list of HUD authorized brokers in your area. HUD brokers receive new listings of HUD homes every week. If sold directly, HUD will generally place ads in newspapers, rather than place individuals on mailing lists for their single-family homes.
Buying HUD Homes
Armed with your list of available properties, narrow your selection by price, neighborhood, or size. Try to drive by the property if possible.
HUD restricts the sale of some properties to "owner occupant" only. Generally advertised under the heading, "New Listings," HUD wants the buyers of these properties to actually reside at that property for at least one year.
The advertisement will indicate the case number, address, number of bedrooms and bathrooms, price, an unrepaired price and repair escrow amount if available. Due dates for bids are listed. There will also be a statement indicating whether or not these properties are eligible for FHA-insured financing.
If you are still interested, contact an authorized HUD agent. The bid package will state whether the home can be insured through HUD from a private lender. If the property can not be insured by HUD, ask yourself why and do you really want the property?
Inspect the property. Always do a thorough inspection inside and out of a property you intend to purchase. If necessary, hire a professional inspection service. Compare the asking price to the "sold" prices of comparable properties in the area. There is a good chance the asking price will be around fair market value.
HUD claims to use current appraisals to establish each home's value according to age, condition, size, location, and lot size.
If you still want the property, you must submit a bid package containing a complete set of contracts to a HUD field office with your deposit of 5 percent. The deposit must be in cash, cashiers check, money order or appropriate letter of credit.
The bid package contains instructions, a sales contract, a "Forfeiture of Earnest Money Deposits" document and an addendum regarding lead-based paints.
The "Forfeiture of Earnest Money Deposit" document clearly states that if an individual buyer submits a contract to purchase a HUD home and does not perform, the 5 percent deposit will be retained by HUD on a non-refundable basis.
The buyer has 30 days to close escrow once the bid has been accepted. Extensions of this deadline can be authorized by HUD by prior written approval. Extensions are normally granted when a private lender has agreed to finance the property but needs more time to process the loan application.
The "Lead-Based Paint Addendum" disclaims any and all responsibility from the government if illness is caused by owning a HUD-owned property, whether or not it contains lead-based paint. When signed, this document completely declares HUD immune to any future claims.
HUD defines a one-to-four unit property as either a single-family, duplex, triplex or fourplex. These are properties that can be sold through HUD brokers.
HUD defines an apartment complex as a property which has five or more units contained within it. They can be walk-ups, townhouses rented as apartments and have either no garages or detached garages.
Unlike the procedure for single-family to fourplex properties, HUD likes to sell the multi-family properties directly through their Property Disposition Department in Washington, D.C.
You may bid more or less than the asking amount for any HUD home. If you are not the successful bidder, your earnest money deposit will be refunded to you. If you are the successful bidder, the earnest money deposit is credited toward your down payment. Depending on the asking price, earnest money deposits generally range from $500 – $1,000.
Benefits of Buying HUD Homes
According to HUD, some benefits to buying HUD homes include:
A real estate broker will prepare and submit your offer and deposit for you without charging you.
HUD pays up to 5 percent of the closing costs, saving you thousands.
You can move in faster if you purchase a HUD home eligible for FHA-insured mortgage because it has already been appraised.
HUD homes may be eligible for repair loans built into the mortgage and buyers may qualify for 3 percent down payments.
7 Comments