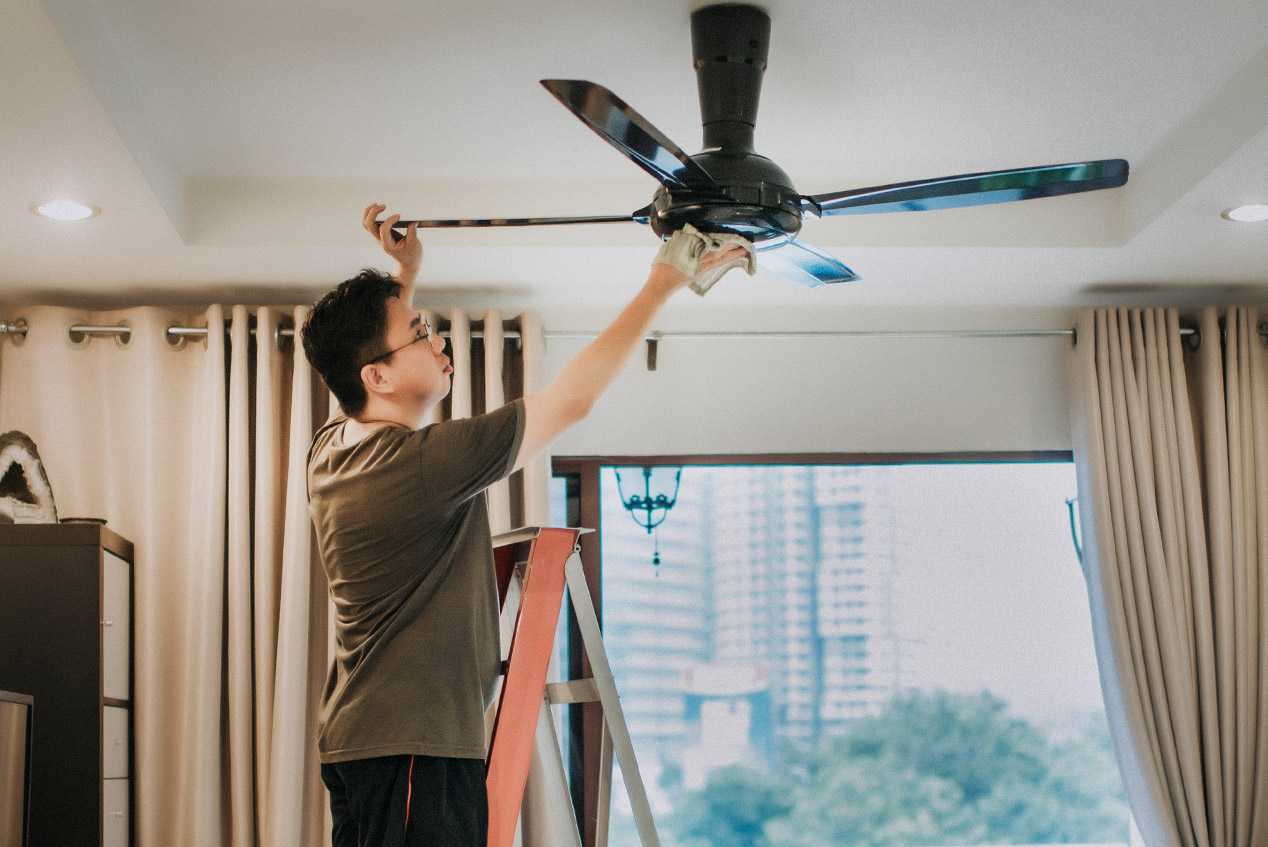 Photo: Chee Gin Tan / E+ / Getty Images
One of the best ways to make your home comfortable through all four seasons is to install ceiling fans by local pros. By circulating warm air in the winter and a cool breeze in the summer, these appliances can help regulate your home's temperature. In doing so, they can even help you save money on your home energy bills.
Before deciding which fans fit your style and budget, there are a few factors to consider to make sure your new ceiling fan checks all the right boxes. The height and pitch of your ceiling might restrict you to certain selections, for example. If your home has an open layout or multiple stories, you may want to consider adding more than one fan per room.
If airflow is a concern or you want to add some functional style to a room, this guide can help you decide on the best ceiling fan for your home.
On This Page:
Consider Room Size and Layout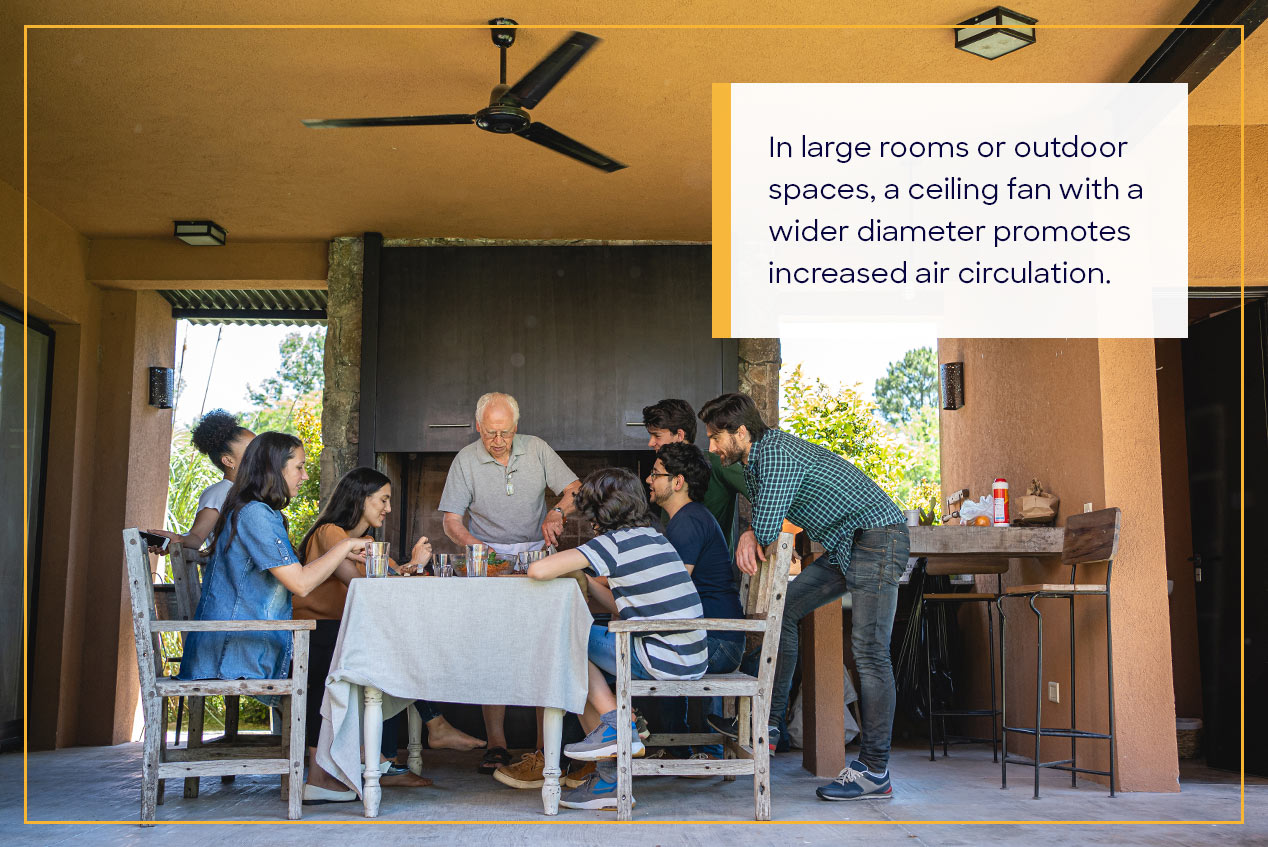 Photo: FluxFactory / Getty Images
While fan size controls the amount of air circulating, a room's square footage and layout will determine the best fan size to choose. For large living rooms, open layouts or outdoor covered spaces, you might need two or more ceiling fans to keep air moving.
This table can help you decide which fan is right for your space. The measurements listed here are guidelines that Energy Star recommends to keep your ceiling fan running efficiently.
| | |
| --- | --- |
| Room Area | Optimal Ceiling Fan Size |
| Less than 75 square feet | 29 – 36 inches |
| 75 – 144 square feet | 36 – 42 inches |
| 145 – 224 square feet | 44 inches |
| 225 – 399 square feet | 50 – 54 inches |
| 400 square feet or more | 60 – 80 inches, or multiple fans |
You might need to deviate from these guidelines depending on the limits of your space. For example, if your finished basement is larger than 400 square feet but has a ceiling height of 7.5 feet, a large fan could be dangerous. Multiple small fans can keep air moving while reducing the possibility of an accident.
A room with a very high ceiling, like a vaulted or cathedral ceiling, could require a fan that's larger than what's recommended for the room's square footage. Higher ceilings can make a room more expensive to heat and cool. A large fan can help you to reduce those energy costs while staying comfortable.
How to Measure a Ceiling Fan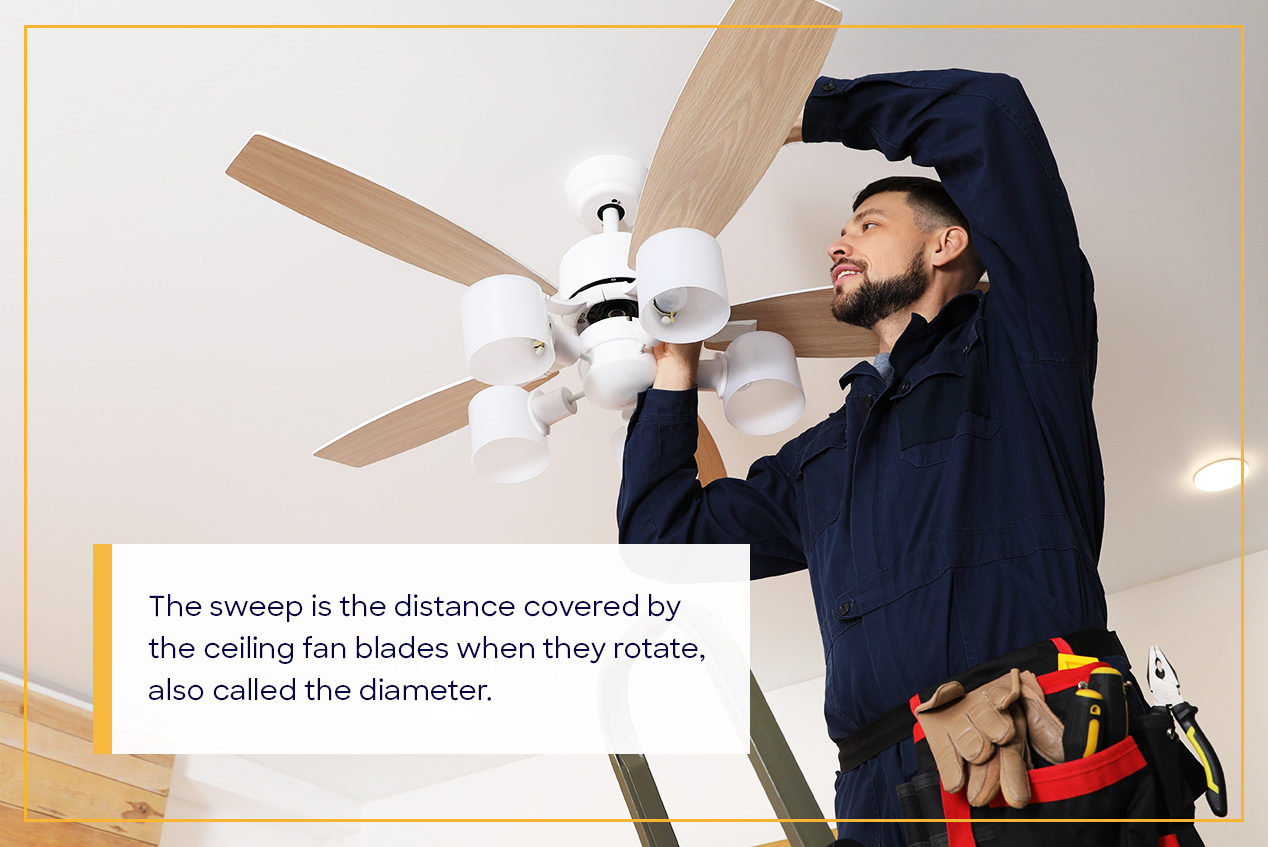 Photo: New Africa / Shutterstock
Most ceiling fans use diameter as the main measurement. The diameter of a fan is the amount of space it covers when spinning, also called the sweep.
Sweep is important to consider for your safety and the safety of your home. A fan that's too large for a space can cause gusts that knock down or damage objects, potentially injuring someone. A fan that's too small won't circulate enough air throughout the room to make a difference in temperature.
There are two ways to measure diameter, and the method you use depends on the number of blades the fan has:
For fans with an even number of blades:

Measure from the tip of one blade to the tip of the opposite blade.

For fans with an odd number of blades:

Measure from the tip of one blade to the center of the fan.
Multiply that number by two.
Once you've decided on the ideal fan size for your space, you should begin to think about the best place in the room to install it.
Locate the Most Efficient Fan Placement
Placement is critical to make sure your fan is efficient and effective. If you're installing a single fan, the center of the room is usually a good place for it, but think about how you use the room first. Place a fan above your seating area in the living room rather than the room's center to more directly enjoy the breeze in warmer months.
If your room lacks natural light, you may want to consider hiring a local electrician who can wire your room for a ceiling fan with a light fixture. If your fan's destination is your kitchen, bathroom or patio, it may need humidity protection. Look for a "damp" rating for indoor fans and a "wet" rating on outdoor fans to ensure your investment will resist water damage.
Find a Safe Ceiling Fan Height
The height of your fan matters both for functionality and safety. Energy Star recommends mounting a fan with at least 7 feet between it and the floor below. However, mounting your fan between 8 and 9 feet high may result in improved efficiency and air circulation, as long as your ceiling height allows.
Select a Ceiling Fan Mount
Depending on the height and slope of your ceiling, the fan you install will need an appropriate mounting system that secures it safely in place. Fans create lots of movement when they rotate, so it's crucial to choose the right mount. Most mounts have a downrod, which is a stem that connects your fan to the ceiling mount and allows it to hang down.
Browse the chart below to learn more about which mount could work best for your space.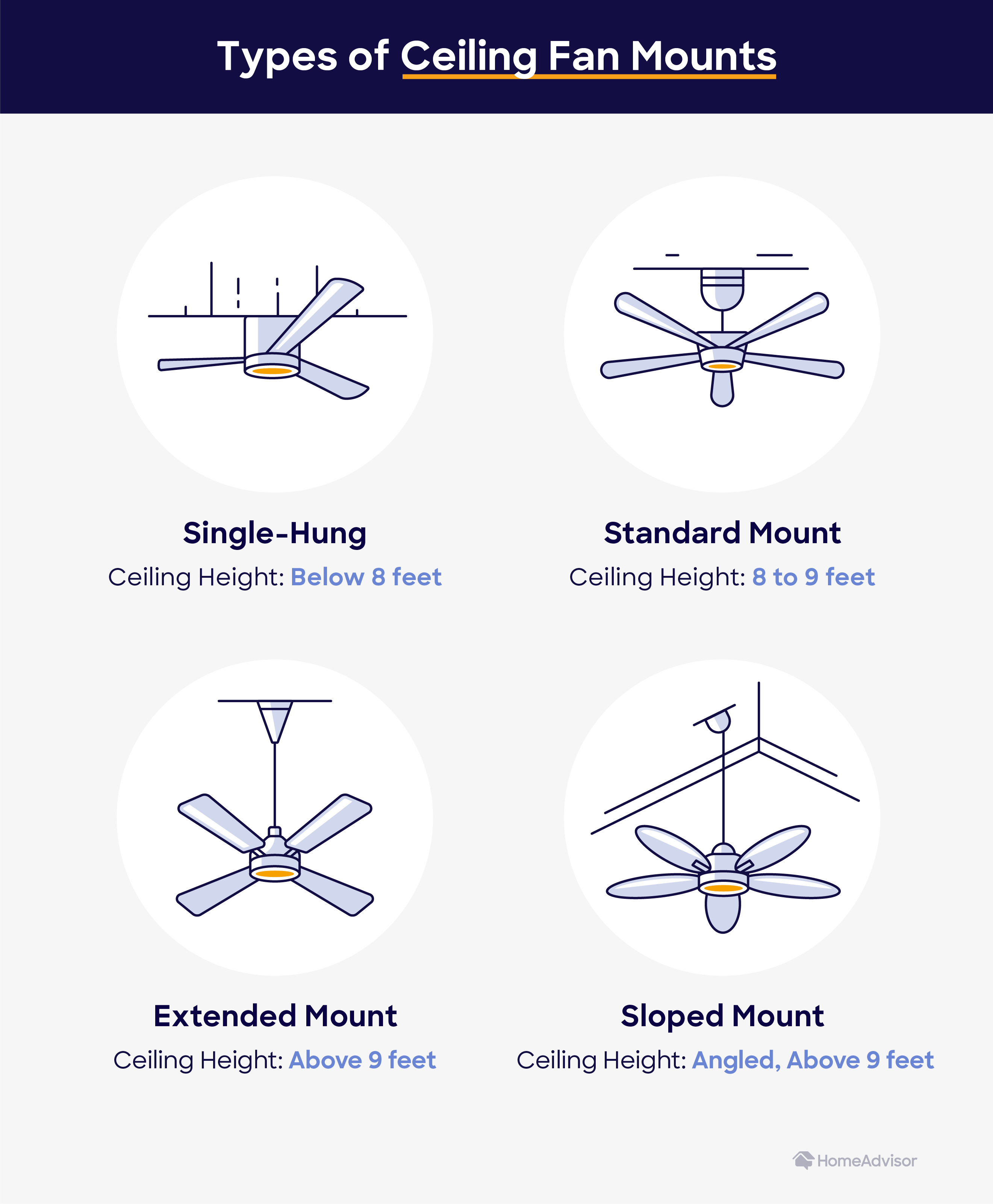 As with other features, the fan's mount will affect airflow. The closer a fan is to the ceiling, the less air it can push up or down. This is important to note if your ceilings are lower than 8 feet and you're considering a flush-mounted fan (a fan that's mounted directly to the ceiling without a downrod). An extended mount can help lower your fan to the recommended height of 8 to 9 feet if you have higher ceilings.
Decide on a Number of Ceiling Fan Blades
The most common fans available have five blades, but they can have as few as one and as many as eight or more. With more blades, a fan can circulate more air around the room.
In addition to the number of blades, a fan's pitch also affects airflow. Pitch is the angle a fan's blades rest at so they push warm air up (during the winter) or cool air down (during the summer). Blades are usually pre-installed at a pitch between 12 and 15 degrees for optimal airflow.
Choose How You'd Like to Control Your Fan
Lastly, you'll need a way to turn the fan on and off. There are three options to control your fan: pull chains, wall switches and remote controls. Pull chains work best for ceiling fans at lower heights, while wall switches and remote controls can operate any compatible fan. You'll especially want to consider a remote or wall switch if your ceiling fan is out of reach.
Ceiling Fan FAQs
How do I choose the right ceiling fan?
To make the best choice for your lifestyle, consider how you use the room where you'll install your fan. Room size and ceiling height are important to consider while selecting a fan that fits your style choices.
How many blades are best on a ceiling fan?
While the number of blades on your fan is partly an aesthetic choice, this number will also determine how much air your fan can move. More blades means more air is pushed around the room. For smaller rooms, fewer blades might be more comfortable while avoiding air gusts that can damage small items.
How do I select a ceiling fan for the kitchen?
A fan can keep hot air from the stove or oven from becoming trapped in the kitchen.. However, you'll want to consider that too large of a fan could affect the efficiency of a gas stovetop by weakening the flame.
If possible, try to avoid installing a ceiling fan directly over a gas stove. Instead, choose a fan you can install centrally in the room, perhaps over an island or a table.
Is a 52-inch ceiling fan too big for a bedroom?
Depending on the size of your bedroom, a 52-inch fan may be the perfect size. 52-inch fans circulate air best in rooms with 175 to 350 square feet, or about a 13- to 18-foot square. If your room falls within this range, this size fan will likely fit just right.
Is a 3-blade or 4-blade ceiling fan better?
The more blades on a ceiling fan, the more air it's capable of circulating. If you're thinking of installing a fan in an open space or prefer even more circulation, opt for more blades on your fan.
What is the best height to hang a ceiling fan?
According to Energy Star, you should hang a fan at least 7 feet above the floor. If you have higher ceilings, a fan height of 8 to 9 feet will promote better air circulation.
What size is a good compact ceiling fan?
For smaller rooms or enclosed spaces in need of increased airflow, such as a walk-in closet or tight hallway, a compact ceiling fan can bring cooling relief. These compact fans commonly range from 29 inches to 36 inches across and work best in spaces with less than 75 square feet.
Ceiling fans blend form and function to create comfortable, stylish living spaces. Available in a wide range of sizes, fans cater to nearly any need. Larger fans with more blades can modernize your home with their sleek looks, while smaller fans can help improve air quality in smaller spaces by increasing airflow.
A fan helps you cool down in the summer and keep air moving through your home year-round. A highly-rated professional can help you install a ceiling fan in your home so you can lay back and enjoy the breeze.
No Comments Yet