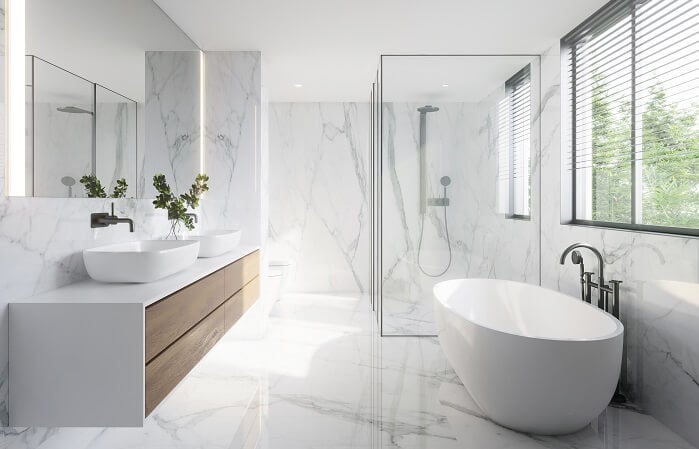 April 15, 2021
Reviewed by Asya Biddle, Cleaning Services Professional & Owner of The Dust Busters, Williamsport, PAWritten by HomeAdvisor.
The bathroom is often one of the trickiest spaces to clean in your home. Whether you struggle with maneuvering the tight spaces, cleaning various surfaces or removing extensive grime and buildup – this chore can be tough to tackle. While a professional cleaner can certainly help with this project, here are a few tips to help if you decide to go it alone.
Before You Clean: Prep Steps
Remove any items that don't belong in the room, and anything that might get in the way of cleaning.
Remove rugs and other floor coverings.
Turn on the fan to help dissipate cleaning fumes – and open a window if you can!
Always wear gloves, whether you're using harsh chemicals or not. Light switches, bathtub rims, toilet seats and any other high-touch area can contain bacteria.
Once you've prepped the space, start cleaning from the top down.
How to Clean a Toilet
Pour a disinfectant (such as bleach) into the toilet bowl. This will clean the bowl and help disinfect the brush.
Use the brush to clean around the rim and seat.
Rinse the brush in the bowl.
Flush as many times as necessary to clear the water.
Shut the toilet lid and use a sponge or cloth to wipe the back of the toilet.
Save the base area of the toilet for when you mop. Or, wipe down the toilet base and surrounding area of the floor with a microfiber cloth.
How to Clean a Tub and Shower
Apply a scrubbing powder or foam to the dirtiest areas in your sink, tub and shower.
Let it sit for 10 to 15 minutes to help penetrate. Clean your mirror and faucets with glass cleaner while you wait.
Clean off residue with a sponge once the time has passed.
Take care of the shower head by filling a plastic bag with white vinegar and tying it over the showerhead overnight. Run water through in the morning to get rid of residue.
Tip: Don't leave your shower curtain or door out of this process. Wash your curtain in hot water and dry it as instructed to remove any mildew. You can clean shower doors with a microfiber cloth, baking soda and a few drops of vinegar. Check out our guide on how to clean shower doors for more.
How to Clean a Tile Bathroom Shower
Spray an all-purpose cleaner all over the surfaces.
Turn the shower on as hot as possible.
Let the steam build and combine with the cleaner for about 20 minutes.
Shut the shower off and wipe everything down with a clean cloth.
Save the floor for last.
How to Clean a Bathroom Floor
If your bathroom surfaces are all painted walls with a non-tile hard flooring, you can use a vacuum cleaner to remove dust and debris from the floor. Then, clean the area with a mop. Wipe down walls with a warm, wet cloth.
If you have grout on your bathroom floor, you can clean it using a grout brush and some bleach. Just dip the brush in bleach and scrub any stained areas. For tough stains, consider buying a grout cleaner to help with the job.
Tip: Hire a pro to seal your grout every six months to keep moisture out. Or, DIY this project using a store-bought sealer.
Bathroom Maintenance Tips
Run the fan frequently (especially after showering) to discourage mold growth.
Wipe down the shower doors and walls after showering as well, for the same reason.
Wipe faucet and sink areas after use.
Tip: Hire a plumber annually to make sure drains are clear and functioning properly if you notice any issues.
No Comments Yet