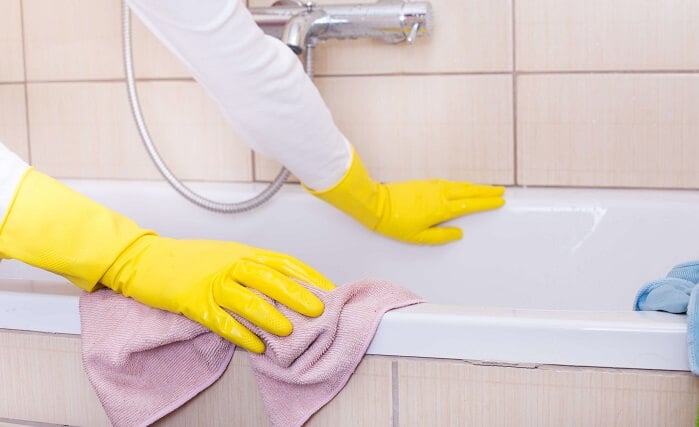 April 14, 2021
Reviewed by Asya Biddle, Cleaning Services Professional & Owner of The Dust Busters, Williamsport, PAWritten by HomeAdvisor.
Over time, your bathtub gets a lot of wear and tear. With each use of the tub, you leave a layer of skin cells, soap scum, hairs and other debris behind, making it dirty and filled with germs. Help your bathtub sparkle again with the help of a professional cleaner. Or, follow these tips to take care of things yourself.
Best Way to Clean a Bathtub
Avoid a large cleaning project down the road by cleaning your bathtub after each use. Quickly remove visible pieces of soap, hair and lint each time you bathe or shower. Then, give it a rinse to clear any leftover debris.
How to Clean Bathtub Jets
Cleaning a whirlpool or jetted bathtub can be tricky. Over time, dirty water and bacteria can form a biofilm on the jets. This biofilm can cause stains, odors, mold and mildew on the tub. While it's best to hire a cleaning professional for this tricky job, you can do it yourself if you follow these steps.
Wipe out the tub using a cleaning solution like vinegar to dissolve buildup.
Fill tub with hot water until it covers jets.
Turn off air induction valves according to manufacturer cleaning instructions.
Add a cleaner to the water according to manufacturer directions.
Run the jets for several minutes to flush debris from them.
Drain tub, then fill it with clean water for a final rinse.
Drain tub again before scrubbing away any remaining gunk with baking soda or a commercial cleaner.
Give the jets extra attention by scrubbing with a toothbrush or other small scrubber.
Wipe away any excess once complete and remember to turn on air induction valves as needed.
Tip: If you use your whirlpool bathtub frequently, clean the jets at least every two weeks.
How to Clean the Bathtub Drain
A clogged drain in the tub means slow-draining dirty water. This can lead to accumulated layers of hair, soap scum and hair care products in the tub and drain. Call a professional plumber to help fix this problem, or try one of these DIY solutions:
Use a drain snake to remove hair and other debris from the drain.
Pour a non-corrosive pipe cleaner, like hydrogen peroxide, down the drain once per month.
Pour boiling water down the drain to break up debris, followed by baking soda and white vinegar. Rinse with another round of boiling water.
Tip: Prevent future clogs by investing in a drain stopper, which will keep hair and debris from going down the drain.
How to Get Rid of Bathtub Stains
Everything from hair products to natural water minerals can stain your tub. Luckily, a local cleaning professional can usually take care of tough stains with ease. If you'd like to try to solve the problem alone, try some of these tips:
Make a thick paste of hydrogen peroxide and baking soda. Let it sit on stains for an hour, then wipe away.
Apply white vinegar to stains and let sit for several hours. Scrub away with baking soda and rinse.
Use a store-bought cleaner intended to remove bathtub stains and follow manufacturer instructions. You can also use a Mr Clean® Magic Eraser with a non-abrasive cleaner.
Tip: Never mix chemical cleaning products – this can create toxic fumes. Always clean in a well-ventilated area using a fan, with open doors and windows.
No Comments Yet