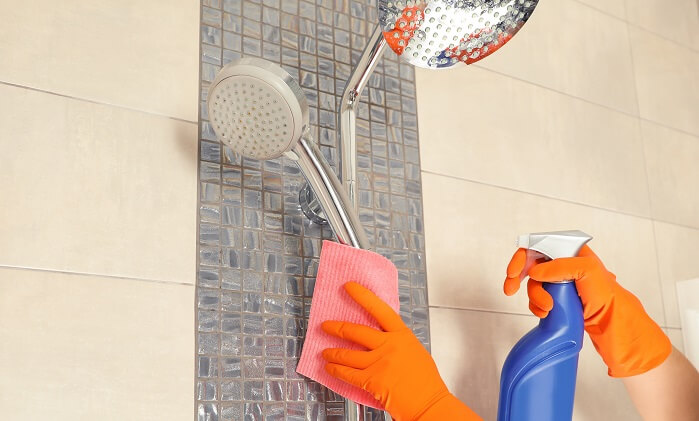 May 18, 2021
Reviewed by Asya Biddle, Cleaning Services Professional & Owner of The Dust Busters, Williamsport, PAWritten by HomeAdvisor.
Over time, your shower can become grimy and dirty. Hard water and other mineral buildup can even lead to staining your fiberglass or tiled surround if not cleaned regularly. Luckily, it should only take a bit of elbow grease to help your shower sparkle again. Hire a cleaning company to fix this problem quickly. Or, follow these tips to help refresh your shower on your own.
Cleaning Supplies You'll Need
Bleach
Mildew spray
Sponges
Hot water
Vinegar
Specialty cleaners
Latex or rubber gloves to prevent chemical irritation
How to DIY Clean a Shower
Before you get started, take everything out of your shower so you have a clear space to work. Remove shampoo bottles, razors, soaps and anything else that may be laying around.
Rinse the entire shower with hot water to prepare it for a deep cleaning.
Remove any debris like hair and throw it away.
Get rid of mold or mildew with a mildew remover spray – just apply it to the affected areas and then rinse away with hot water.
Tip: If you notice your water is draining slowly, it could be due to debris buildup or a more serious plumbing issue. Call a plumber if the problem persists.
How to Disinfect a Shower
You can treat hard water or mineral stains while you disinfect the shower. Simply follow these steps:
Sprinkle powered bleach cleaner liberally onto all surfaces of the shower.
Let the bleach sit for a minute.
Then, use a brush or sponge to scrub it into the shower surfaces.
Spray off the shower with hot water and rinse all of the powdered bleach solution down the drain.
Wipe the shower head with a rag to leave it sparkling.
Tip: Be sure to keep your bathroom well-ventilated during this process in order to stay safe. Turn on a fan, open any windows and keep your shower and bathroom doors open.
No Comments Yet