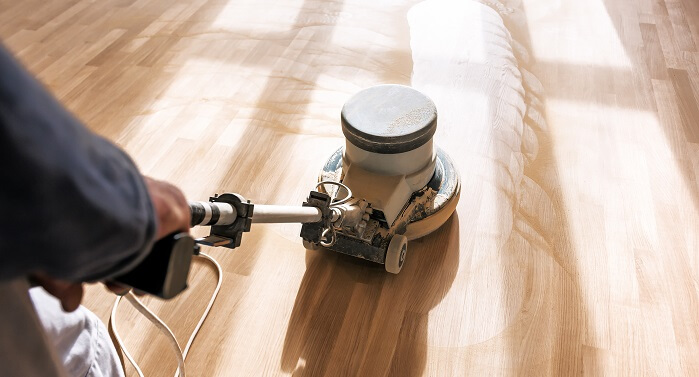 Reviewed by Asya Biddle, Home Building and Remodeling Expert.
Installing laminate wood floors in your home can be a great way to achieve the elegant appearance of genuine wooden floors without the cost and tedious maintenance that generally comes along with real wood. In order to keep your laminate wood floors looking their best as the years go by, there are some steps you will need to take when it comes to cleaning and maintenance. Otherwise, your laminate floors may begin to peel, scratch, stain and become damaged to a point beyond repair. Fortunately, caring for your laminate floors can be quite simple if you choose to hire a professional to take care of them.
Ideally, you should have your laminate wood floors cleaned at least once a month. More than likely, the company that manufactured your flooring sells a cleaning kit specifically designed for your flooring type; however, these kits tend to be quite expensive and would require you to spend precious time mopping on a regular basis. If you are looking to have your floors cleaned quickly and thoroughly, you are probably better off hiring professionals, who will have their own quality cleaning supplies.
However, if hiring a professional is not feasible, here are some tips to get you started.
Materials Needed
There are a few different materials you should have on hand to give your laminate flooring a thorough cleaning. This includes a mop, non-abrasive sponges and rags, a bucket, hot water, soap, and a cleaner specifically designed for laminate materials.
Steps to Getting a Clean Floor
Start by moving any furniture that is on the laminate floor to another area of the home. This way, the floors can be thoroughly cleaned without any of your furniture being in the way. (Note: If you're hiring a professional cleaner, most will include the price of moving furniture in their overall cost for the floor cleaning, but it may be worth it to check)
Once the floors are completely bare, begin by treating any spots or stains. Using a combination of hot water and soap, apply a small amount to a non-abrasive rag and scrub the stain away. Once the stains are eliminated, gently wipe off the surface of the floor with hot water. The entire process of scrubbing with soap and water may then be repeated until all major stains are gone.
Next, mix the laminate floor solution with hot water in a bucket. Then, apply the chemicals to your floor with a mop. The laminate cleaning solution will not only lift other stains and damage from the floors but will also dry to form a protective barrier over the floors as well. The length of time this process can take will vary depending on the size of the space that is covered in laminate flooring.
From there, it is just a matter of giving the floor some time to dry. To expedite the process, you can place fans on the floor, which will help the solution to dry more quickly so that you can get your furniture moved back and begin using the space as normal again in no time.
To maintain floors in between cleaning or professional visits, consider sweeping weekly to remove general dust and debris. Be sure to clean up any major spills immediately to prevent damage to the surface of the flooring material.
Benefits of Professional Floor Cleaning
While laminate wood floors cleaning can be done on your own, many home owners find that they simply do not have the time in their busy schedules to complete the task as often as is recommended, especially when the floor area in need of cleaning happens to be large. If you find that you do not have the time for such tasks, consider hiring a professional floor cleaning company. By calling around and receiving quotes from various professional flooring companies in your area, you can make sure to find the best deal on such services.
Having laminate wood floors at your home can be a great luxury, but it you want your floors to last, you will need to take the time to have them maintained and cleaned on a regular basis. By having your laminate wood floors professionally cleaned, you can enjoy longer lasting floors, which will save you money in the long run and help to maintain the value and appearance of your home.
No Comments Yet