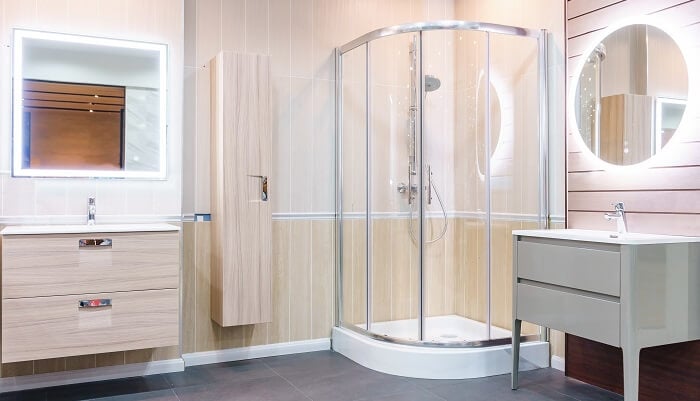 Reviewed by Asya Biddle, Cleaning Services Professional & Owner of The Dust Busters, Williamsport, PA
Glass and fiberglass shower doors help prevent the hassle of hanging curtain rods and replacing liners. But over time, permanent doors can accumulate soap scum and hard mineral deposits. A cleaning service can help with removing scum fully and effectively. If you choose to tackle this project yourself, make sure to keep these tips in mind.
DIY Cleaning Shower Doors
Finding a good cleaner for your shower doors can be tricky, especially when soap scum or water deposits are involved. You'll likely need something other than a regular glass cleaner for this task. Consider either vinegar or baking soda and water. Following the below steps when using each:
Cleaning with Vinegar & Hot Water
Mix undiluted vinegar and hot water.
Apply mixture to doors using a cloth or non-scratch scrub brush. Do not use anything that could scratch the glass surface like a regular scrub brush or a sponge with bristles.
Wipe away imperfections and rinse with water as needed.
How to Clean a Shower Door with Baking Soda & Water
Make a thick paste using baking soda and water.
Apply it to shower doors using your hand or a sponge.
Let sit for several minutes, allowing the baking soda to react against soap scum and minerals.
Apply vinegar to rinse off the solution.
Rinse off the vinegar, baking soda, scum and minerals with warm water.
Wipe away excess.
Tip: Don't forget to pay attention to the shower door track. WD-40 can keep the track moving back and forth quickly so it doesn't get stuck. You can also remove any buildup in tracks with a vinegar solution. Take care of any mold or mildew using a solution of bleach and water.
Once the buildup is removed using either of these methods, use a glass cleaner to remove any streaks left behind and make the shower doors shine.
Hiring a Professional Service
If you decide you need assistance with this project or others, consider hiring a local professional house cleaner for the job. On average, you'll pay $40 to $80 dollars per hour for this service. They can help you maintain your shower doors, bathroom area and the rest of the house as well.
1 Comments