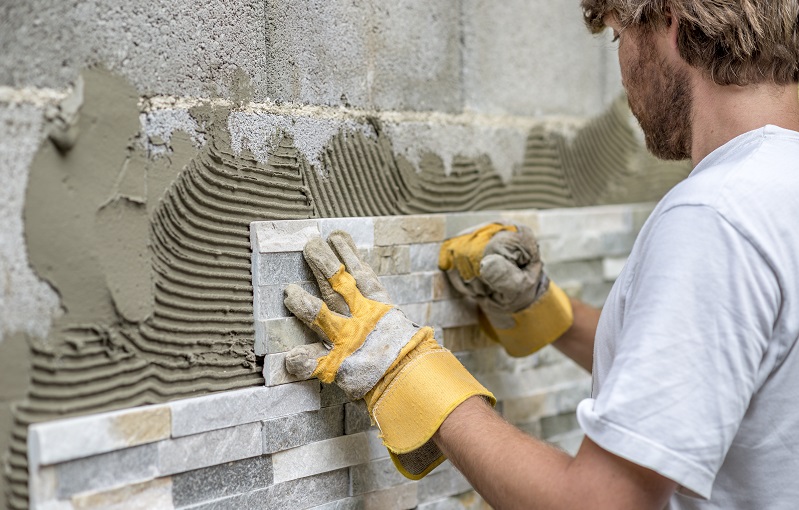 Need Tile Work?
Planning to remodel your kitchen, bathroom or flooring? Tile can be an excellent choice for its durability and timeless appeal. It's best to have a professional do the work. This guide shows you everything you need to knowpro about hiring a tiler, from the best ways to start your search to the questions you should ask each pro.
On This Page:
How to Find a Professional Tile Installation Contractor
What Is a Tiler?
A tiler is a professional who has trained to prepare your home and install tile on a specific surface, like a kitchen floor or bathroom wall. People in this field may be called a:
Tiler
Tile Installer
Tile Contractor
Tile Installation Professional
An Installation Pro usually works under a certified tile installer to gain experience, until they can get their own certification.
Tile Installation Companies vs. an Independent Handyman Installer
When you start to research local services, you'll see independent contractors and bigger companies that may have several installers on staff. The one you choose depends on your schedule, budget and project plans.
Service Provider
Pros
Cons
Company

Greater flexibility in timing
More predictability in pricing
Bigger selection

Experience levels can vary among the people doing the installation

Independent

More flexibility in custom work
Opportunity to talk to the installer before the project

Smaller selection of materials
You may have to schedule weeks or even months in advance
Tile Subcontractors
If you plan to remodel your kitchen or bathroom, or you're building a custom home, you'll probably hire a general contractor. They typically hire a subcontractor to put in the tile. Most of the time, you will ask the general contractor for information about the subcontractor's credentials, insurance and costs.
Tiling Experts by Material Type
When you start researching tile basics, you'll learn that ceramic and porcelain are the two most common types. You can expect your installer to have experience with both. If you want to use another popular material like glass or natural stone, you'll need to hire a tiler who regularly works with those options. Read on for tips on finding the right pro for the job.
Consider ceramic or porcelain tiles? Check out our Porcelain vs Ceramic Comparison Guide.
Tile Backsplash Installers vs. Shower, Wall or Floor Contractors
Some companies have the skills and experience to handle all of your tiling needs. Others may limit their services by the project. Installing flooring is significantly different than putting in a backsplash or shower surround. Be sure that the contractor is ready to handle the job you have in mind.
Tile and Stone Professionals
For your tiling project, you might want to add some natural stones or other objects that are not cut in the shape of square tiles. This is a specialized task that involves the cutting and fabrication of custom items. Many installers will not have experience working with the tools and materials needed to size, correctly place and seal unique objects. Confirm that the pro knows what to do, so that you get a result that looks good and wears well.
Grout Contractors
In most cases, your tile installer will place and seal the grout for you. As part of a larger remodeling project, different subcontractors may install the tile and grout. There are special companies who will re-grout or reseal existing work. However, in the original installation, these tasks are usually part of the same job.
Tiling Work for a Remodel
The level of design advice you need depends on the size and scope of the project. When you're overhauling the whole room or creating an intricate tile design, you may want to hire an interior designer. If the installer offers to handle the design, ask about their experience and get a copy of the layout plan.
How to Find a Professional Tile Installation Contractor
Before you can hire a professional tiler, take these steps to narrow down your options: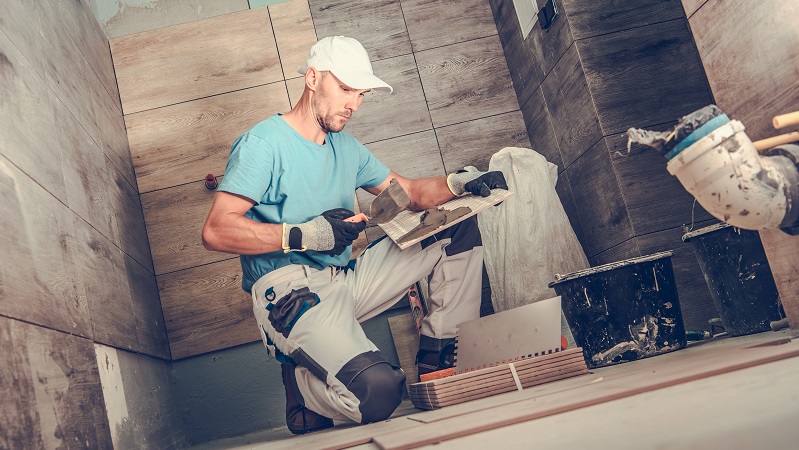 Read Ratings and Reviews
Take a look through online directories to find pre-screened professionals in your area. Search for tilers who have experience with the kind of work you need. Read their ratings and reviews to get a sense for the job they can do for you.
Ensure You're Hiring a CTEF Certified Tile Installer
Certifications and memberships may not be a requirement, but they are a sure sign of a credible tile contractor. Several associations and foundations provide these opportunities, such as the National Tile Contractors Association (NTCA) and the Ceramic Tile Education Foundation (CTEF). Look for someone who is a Certified Tile Installer (CTI) or find someone with the equivalent in experience and reputation.
Request Proof of Insurance
Contractors need insurance to protect themselves and pay for repairs in the event that something goes wrong. Make sure every pro you consider working with can prove that they have current coverage.
Get Several Bids from Pros
The average cost to install tile varies for the following projects:
200 square foot Flooring: $3,000 to $4,000
30 square foot Backsplash: $1,500
75 square foot Countertop: $3,500
Ask at least three professionals for quotes. Some tilers may be willing to give you a general estimate electronically, but you'll want to follow it up with a consultation. In-home estimates allow the installer to inspect the space and confirm that the price they set is accurate.
Request a Tile Installation Agreement or Contract
Once you've got an agreement or contract in writing, you will have a much better idea what to expect from the professional. Anyone can give you a verbal estimate, but you'll need more than that if you want to be sure the contractor can deliver. It's fair to ask for a copy of the design plans as well, especially for complicated or custom work.
Questions to Ask When Looking for a Tiler
Big or small, your project is a significant investment. That's why we recommend interviewing at least three qualified contractors before making a hiring decision. Ask the following questions to determine whether a pro is the right fit for your project:
1. Have you worked with this kind of tile before?
When someone has been in the industry for a while, it's likely that they've worked with every kind of tile available. However, if your installer isn't comfortable with the tile you've selected and doesn't have prior experience with it, you should probably find someone who knows correct installation practices for that material.
2. What experience do you have with projects like this?
Just like with the tile material, you want to be sure that the tiler knows how to handle projects like yours in similar homes. Older houses will have different requirements than new construction. Likewise, a pro with experience in flooring may not necessarily be an expert in bathroom tile installation.
3. How long have you been doing business in this area?
For the most reliable services, look for a contractor who has been working in your area for longer than a year or two. This way, you can be sure of their local reputation and the likelihood that they will stay. An established installer is more likely to be available if you have issues down the road.
4. What is your warranty on installation?
If your contractor offers a warranty of at least a year on their installation, you can be sure that you're working with someone who stands by their work and values their reputation. You want to find a contractor who will stand by their work if you find a problem with the final product.
5. What advice do you have about materials?
Tile contractors are a vital resource when it comes to choosing your materials. Ask them for advice and be prepared to hear that you can't get what you want. A contractor who is honest about materials and works with you to get it right is invested in the project outcome.
FAQs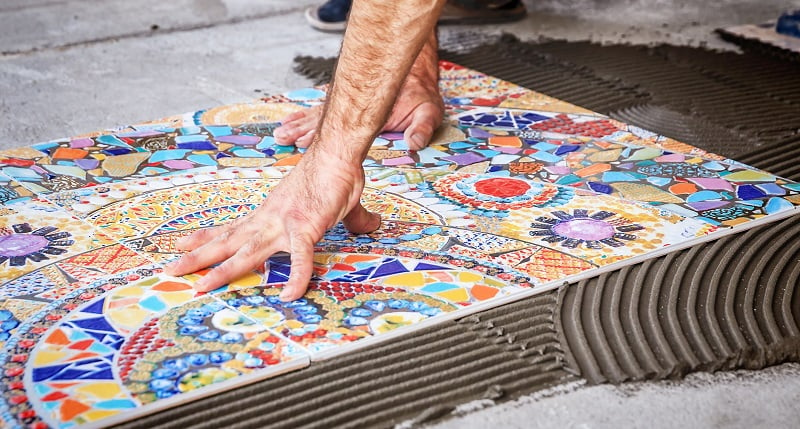 Do You Tip Tile Installers?
Tilers typically charge by the square foot or set an hourly rate for their services. Tipping isn't standard. If you are pleased with their work, write a good review or recommend their services to friends and family.
Can an Installer also Clean, Remove and Repair Tiles?
As a general rule, tile pros limit their services to the actual installation. If you have a problem once the job is done, you may need to call the tiler for warranty service. Otherwise, you'll want to ask a different company for an estimate on tile repair, maintenance and removal.
How to Find a Good Tiler
With this information, you're ready to find a tile contractor near you. Remember to:
Do a comprehensive search
Ask for bids from several pros
Confirm their credentials
Get a detailed estimate
No Comments Yet