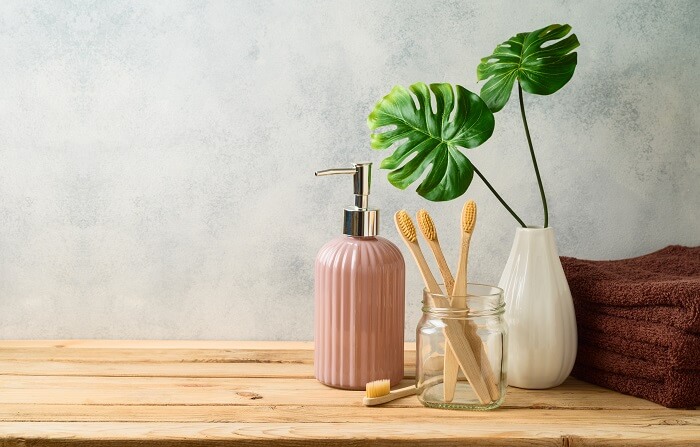 Table of Contents:
Toilets
Toilets account for nearly 30% of indoor water consumption, thanks to water leaks and inefficient flushing. Save water (and your wallet) with these tips:
Replace old, inefficient toilets with WaterSense labeled models. According to the EPA, a family of four can save about $2,000 in water bills over the lifetime of a high-efficiency toilet.
Try a dual-flush toilet, which features two flushing volumes, so you only use the water you need.
Composting toilets require little to no water to operate.
Tip: If it's time to make a change, talk to a toilet installer about which eco-friendly toilet will work best in your home.
Faucets
Residential households typically use more than one trillion gallons of water across the nation each year. Cut your usage with one of these tips:
Switch to WaterSense labeled water faucets and accessories. This can reduce a bathroom sink's water consumption by more than 30% without impacting its performance.
If you choose not to replace the faucet itself, try replacing the aerator on the faucet to cut down water consumption.
Fix leaks as soon as they arise to cut down on the water bill (and avoid damage, mildew and mold!).
Tip: Find a faucet installer to help you choose the most energy-efficient model for this project.
Showers and Tubs
In the United States, approximately 17% of all household water consumption stems from showering. Here's how you can lower your own usage:
Switch current showerheads to efficient fixtures with the WaterSense label. These typically cost from $10 to $20.
Choose a low-flow showerhead – these models consume less than two-and-a-half gallons per minute.
Refinish your tub or shower instead of fully replacing them. This will help cut down on landfill waste.
If you must replace your tub or shower, purchase reclaimed models. These are made of recycled materials and are often vintage.
Replace parts of the shower wall with glass, or caulk areas in the tub that could be leaking water.
Tip: Finding reclaimed tubs and showers can be a difficult process if you're not sure where to look. Talk to a shower installer for guidance.
Cabinetry
If your bathroom cabinetry is made from hardwood paneling, particle board or fiberboard, it could contain volatile organic compounds (VOCs). These are harmful chemicals that contribute to outdoor and indoor air pollution. VOCs can also be found in cabinetry finishes. Here are a few ways to get more sustainable cabinetry:
Purchase cabinetry made with VOC-free adhesives and finishes.
If you're starting a new cabinetry project, purchase natural, organic materials.
Buy cabinet materials or salvaged whole cabinets at reuse stores to help cut down on waste.
Avoid purchasing cabinets made of tropical woods.
Tip: Get free quotes from professional cabinet installers to help you budget and plan your next project.
Countertops
Purchase countertops made from recycled materials to make your bathroom remodel more eco-friendly. These models are made of biological composites like recovered newspaper and soy flour. Recycled countertops can look like regular building materials like stone, glass or granite.
You can also try salvaging countertops from local building material reuse stores.
Tip:Talk to a countertop installer before starting this project to find out which styles will work best in your bathroom.
Lighting
Install LED lights in the bathroom vanity or as overhead lighting.
Be sure new lights are Energy Star certified – they'll only consume a quarter of what normal lightbulbs do.
Tip: Find a local electrician to complete this project, especially if you have complicated light fixtures in the bathroom.
Flooring
There are a number of green flooring alternatives for your bathroom, including:
Sustainable or reclaimed materials
Recycled content
Toxin-free options
Cork, fast-growing bamboo, certified hardwoods, reclaimed lumber
Recycled ceramic tiles, rubber or stone
Tip: Check to make sure your flooring material was made using a green production process. You'll want to look into a flooring product's certification, shipping distance, maintenance issues, and whether it contains any VOCs. A local flooring professional can help you vet manufacturers.
Ways to Reduce Water Use & Water Heater Costs
Fix existing leaks.
Shut off the faucet when not in use.
Take shorter showers.
Reuse water when possible.
Monitor monthly water consumption.
Insulate the water heater using non-toxic insulation.
Decrease the temperature on the water heater to below 125 degrees.
Install a hot water recirculation pump or drain water heat recovery system to help recycle the hot water you use.
Avoid single-use plastics by purchasing bamboo toothbrushes and organic products in glass bottles. When running low on products, bring your empty bottles to your local natural grocery store or "fill" stores to fill up.
Tip: When it's time to have a pro replace your water heater, consider getting a tankless model. This will help reduce your energy usage.
No Comments Yet