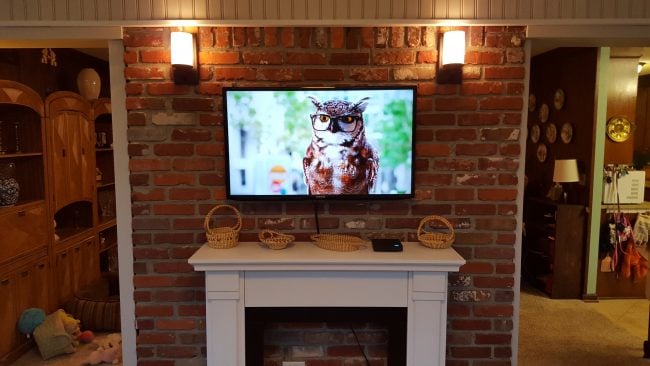 On This Page: 
You have finally purchased that flat screen TV you have been wanting for some time. Now you have a decision to make. Will you mount it, or will you set it on a sturdy cabinet? There are some good reasons for mounting it. Here are a few:
Sleeker design
Less clutter
Space saver
Ability to angle your TV for the ultimate viewing experience
Potential to hide wires and cables
Location, Location, Location
As it turns out, mounting a TV is a little like assessing real estate. It is all about the location. While you want your TV to be in an aesthetically pleasing spot in your room, remember that you need to be able to watch it comfortably once it is installed.
In a perfect world, your TV would be mounted to be at eye level when you sit down to watch. Positioning it so that you are not looking at it from an angle will give you the best viewing experience.
In cases where you must mount the TV above eye level, you can purchase a tilting wall mount kit so that you can angle the screen down to watch it. A tilted angle may also help reduce potential glare.
Many people like the idea of mounting a TV above the mantel of the fireplace, but some professional installers discourage this choice. While it can be done with the appropriate amount of planning and attention to detail, it is a more difficult type of installation and, depending on your use of your fireplace, may expose your television to harmful levels of heat or soot.
The other factor to consider when deciding where to mount your television is what you intend to do to hide the wires and cables. Generally, the closer to an outlet you mount it, the less hassle you will have with hiding unsightly cables and wires.
Mounting a TV to Drywall
If you choose to mount your TV to drywall, you will need the following tools and materials:
a wall mount kit sized correctly for your TV
a stud finder
drill and assorted bits
level
screw drivers
tape measure
pencil
Once you have these items, it is time to mount your TV, following the steps below.
Step by Step Instructions
1) To save trouble later, read the directions that came with your TV and with your wall mount package before proceeding.
2) If it has a pre-assembled base upon which it stands, gently place your it screen-side down on a soft blanket and remove the base.
3) Locate the four mounting holes on the back. For some models, you may have to pry the plastic caps off of the holes. Attach the mounting arms to the holes on your TV. Be sure to use the bolts that came with your kit to do this. Do not over-tighten the bolts. Before proceeding, make sure your mounting arms are level.
4) Once you have determined where you want to place your TV, use a stud finder to locate the two studs in your wall that will support the unit. Remember that it is heavy, so use care to find your studs. Drywall alone will not support the weight.
5) Use your pencil to mark the center of each stud. Test with a small nail to ensure you are in the right place.
6) Measure the distance between the top and bottom holes on your mounting arms. Mark two spots in the center of the wall studs to correspond to the position of these holes.
7) Use a level to ensure that the spots you have marked are even.
8) Use a power drill to drill pilot holes in the four spots you have marked.
9) Attach the wall bracket plate to the wall using the hardware provided in the wall mount kit. Before tightening fully, ensure that that wall bracket is level. If it is not, make adjustments to level it before tightening your bolts or screws for the final time.
10) Connect your cabling to the TV before mounting it. This allows you greater access to the connection panels and saves a bit of labor later.
11) Determine how you will hide the wires. (See information about hiding wires in two popular ways below.) Once you have figured out how best to hide the wires, lock the mounting arms onto the wall bracket. It is best to handle this part as a two-person job for easiest installation.
12) Make sure that all your connections are solid, and that there is no wobbling in the mounted TV. If it is mounted correctly, you should be able to give it a tug without it moving.
13) Test all your connections and make sure the television is working properly.
Mounting a TV to a Brick Wall
Mounting a TV to a brick wall can be intimidating to the weekend DIY warrior. If you are unsure or uncomfortable attempting to do this, it is recommended that you call a professional installer for help.
If you have a level of comfort and a skill set to match, you can mount your television on a brick wall following these steps provided by TheNaturalHandyman.com:
Step by Step Guide
First, determine which kind of anchoring system to use. The two types recommended are concrete sleeve anchors or Tapcon® Concrete Screws. If possible, it is better to anchor to the mortar joint than to the brick itself.
If you choose concrete sleeve anchors to mount your TV, follow these instructions:
Cut-out and install the wall-boxes that you will use for cabling.
Using a level, determine the desired height of the display. Next, attach the mount to the brick wall.
Using a hammer drill, drill a hole the same diameter as the anchor diameter using a carbide-tipped masonry bit.
Clear the hole of all debris.
Insert the sleeve anchor into the hole and make sure it is secure and positioned correctly. Continue to insert each anchor into the correct bracket.
Position the mount in the desired position. Tighten all nuts to ensure the mount is secure.
Carefully hang the flat screen to the mount, making sure to check that any safety tabs are in place for extra security.
If you choose Tapcon® Concrete Screws, follow these instructions:
Cut-out and install the wall-boxes that will be used for cabling.
Using a level, determine the desired height of the display before attempting to install the wall mount.
Using a hammer drill, drill holes using the correct diameter carbide-tipped masonry bit for the concrete screw diameter in use.
Clear the hole of debris.
Position the mount in the exact position desired. Drive the screw into the hole with a standard drill and continue until all brackets are firmly in place.
Carefully hang the flat screen television to the mount, checking to ensure that safety tabs are in place for extra holding.
How to Hide Wires
If you want to ensure that your newly mounted TV gives your room that sleek makeover you have been wanting, you will need to decide how to hide all those unsightly wires and cables. Hiding the wires and cables helps make your home safer for children and pets as well, a benefit that cannot be ignored.
There are several options to hide wires, but two options stand out as the easiest and most economical ways to handle the situation.
Option One: Raceways
The first option is to hide your wires and cables in plain sight with paintable cable management raceways. These raceways usually cost less than $20, and come in a number of shapes and sizes to accommodate your particular needs. They can be painted to match or contrast with your wall color, depending on your personal preference.
Option Two: TV Wiring Kits
With a TV wiring kit, you can hide your wires and cables behind your walls, giving your room a clean, neat appearance. Most kits can be purchased for $50 to $100 at your local home improvement store. These kits are code-compliant and fairly easy to install. No electrical experience is required. Simply follow the instructions provided with your kit.
Hiring a Pro to Help
With patience, attention to detail, and enough time to do the job correctly, you can mount your TV to drywall or to a brick wall as a DIY project. It is recommended that if you choose to do it yourself, it is best to have the help of one more person to get the job done more easily.
Of course, if you are unsure about how to handle mounting a television or feel uncomfortable with the project, your wisest course of action is to hire a pro to do the job for you. When you choose this option, remember to find a licensed, bonded, and insured professional installer to protect your property and your rights and get the job done correctly and efficiently.
No Comments Yet