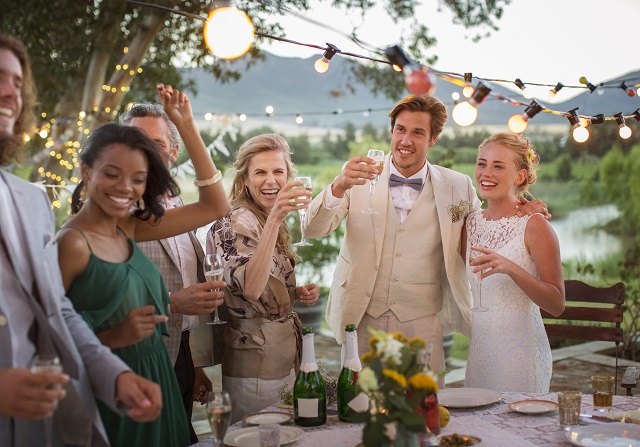 Traditional wedding venues are still the most popular place to get married. For the most part, they're also the most expensive and offer the fewest customization options. That's why couples who are trying to save money or create a more laid-back vibe for their special day are choosing to forgo the elevated price tag and menu of options offered by banquet halls, country clubs, and resorts. Some are heading to exotic destinations, urban settings, or rustic spaces. Others are heading home.
Backyard weddings and receptions are a cost-effective, blank slate of a venue. Unlike a traditional wedding package, there are few limitations beyond the size of the space. Otherwise, the couple can curate every last detail to match their personality and style, from budget and decor to food and festivities. Of course, hosting all or part of your special day in a space that wasn't designed specifically with dancing, cake cutting, and bouquet throwing in mind comes with its own set of challenges.
The goal of this guide is to walk you through the steps you'll take as you prepare your backyard for the wedding or reception of your dreams, offering solutions to common problems and helpful suggestions along the way.
Start with a Plan
Whether you'll use your own backyard or someone else's, you should begin planning as early as possible. Unlike a wedding venue that is always prepped and ready for a couple's special day, a residential property is almost guaranteed to require some work before it's truly wedding-worthy. Planning out your perfect event should start several months to a year in advance, giving you ample time to make repairs, create a design that works, and ensure your guests are comfortable.
Repairs
As a homeowner, you know there is always something in your home or yard that needs a little work. Chances are that there are at least a couple of repair projects you'll need to take care of before your big day. In addition to making sure your home and yard look amazing, you want to be sure they are safe and accessible for your guests. That may mean finally installing outdoor landscape lighting, replacing the lock on the gate, or resurfacing your patio to repair dangerous cracks.
While you can take care of smaller, do-it-yourself projects anytime before the event, bigger jobs that require a pro should be scheduled right away. Whether you're working with a licensed contractor to make major repairs or hiring a handyman to help with minor ones, you never know what other problems may turn up once you get to work. After all, if replacing a few deck boards turns into rebuilding the whole deck due to termite damage, you're going to want to know that as early as possible so that you have time to plan, pay for, and complete the work — or consider an alternative venue.
Design
After you've taken care of the repairs, you can move on to the fun stuff, like designing a beautiful backdrop for your ceremony or post-wedding party. Depending on your budget and your timeline, designing your outdoor space could be as simple as a few, inexpensive DIY landscaping projects. If that's the case, your local home and garden store, online tutorials, and a friend or family member with a green thumb can help make it happen.
If you're planning a major outdoor overhaul, it would be wise to consult a backyard designer near you who can help you shape and sculpt your yard based on your climate and location, your desired maintenance level, and your intended use. Once you have a plan in place, hire a professional landscaper in your area with the skills, equipment, and experience necessary to do the work on time and on budget. Finally, closer to the event date, you can hire a local gardener to spruce the place up before guests arrive.
Comfort
There's no doubt that outdoor weddings are beautiful, but they aren't always comfortable. Extreme weather, fuzzy or flying nuisances, and access to bathrooms are just a few of the issues that can come up with hosting your ceremony or reception outdoors. Luckily, there are ways to counter each of these issues, as long as you plan ahead.
For summer weddings in hot climates, cute hand fans with your monogram may not be enough. Adding powered fans is a great solution, but you'll need to sort out your electrical needs in advance. You'll already be using a lot of energy, so consult with a nearby electrician to make sure you won't be overloading your power capacity. He or she may suggest using a generator. Another option is to install umbrellas or rent a tent where guests can escape the sun. If you want to go a step further, a more permanent, attractive, and expensive solution is hiring a gazebo builder near you to construct a custom structure.
If you're worried about bugs or other pests, be sure to schedule a consultation with an outdoor pest control company. Just make sure you hire the right pest control pro for the job. For rodents, ants, or snakes, a general pest control company is your best resource. For mosquitoes, ticks, and bees, you usually need to call someone who specializes in the nuisance you are trying to eliminate.
Last, but certainly not least, take care to ensure you have enough bathrooms so that none of your guests have to wait. Furthermore, check with a licensed local plumber to be sure your system can handle the extra capacity. If not, you have options. Portable restrooms don't have to be unglamorous. There are actually plenty of elegant options you can rent.
Take it Inside
Even if most of the activity will take place in the backyard, you'll want to spend some time prepping the interior of your home as well. Whether guests will be utilizing the space to mingle or just use the restroom, there are a few tasks that every host should take care of before the doorbell rings.
A clean space is priority number one. Clear clutter, like stacks of paper and children's toys, and your space will automatically appear larger and cleaner. As the event draws closer, you'll need to clean all the areas that your guests will use. On the day of, do a quick refresh of bathrooms and spaces where guests will be eating. If you're afraid you won't have time leading up to the event, consider hiring a house cleaning service near you to take the extra work (and stress) off your plate.
If you'll be using the space for cocktails, photos, or as an extension of your backyard, you may want to reorganize it. Moving furniture out of the room and removing non-essential pieces can make the space feel bigger. If you would like to equip the room or yard differently or restyle it for the day of the event, consider hiring a professional home stager close to home. While they do charge a fee, they can save you money in the long run by allowing you to rent furniture and furnishings that will match your color scheme.
The bottom line is that hosting a wedding in your backyard is not the simplest option. However, if you're willing to put in the work, it can save you money and bring the wedding of your dreams to fruition. As an added bonus, any modifications or investments you make in the space are yours to enjoy —as long as you both shall live in your home.
No Comments Yet