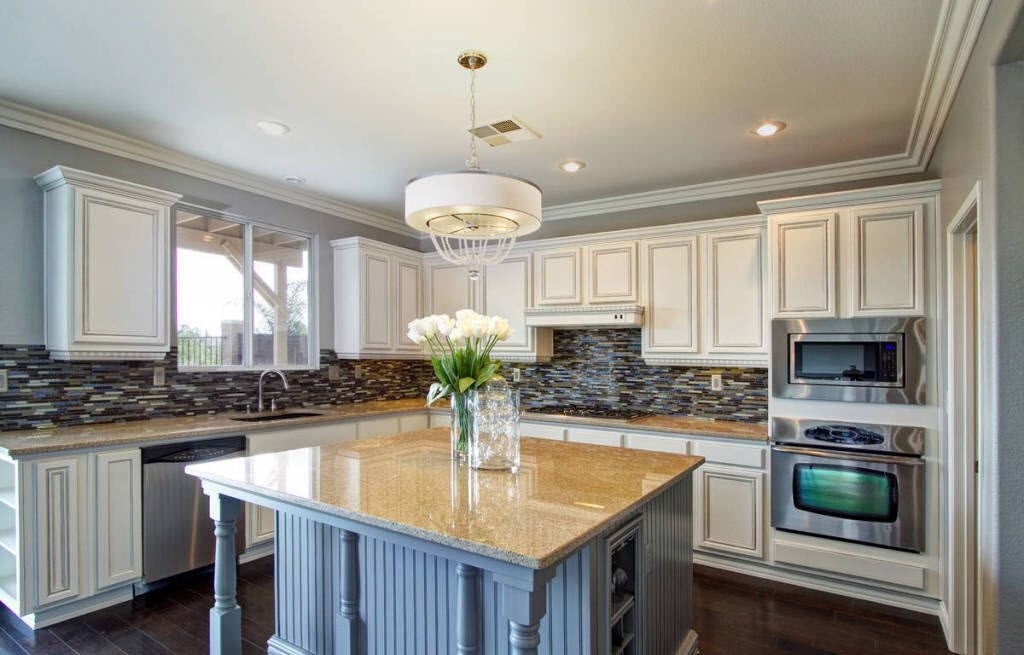 One of the most dramatic ways to give your kitchen a new look is to change your cabinets.
There are a number of options available today. The most expensive choice, of course, would be to replace the cabinets completely. But, if your cabinets are well-made and in good condition, another more cost-effective route may be the better choice for you.
Refacing cabinets costs 35% to 50% less than replacing them. This involves applying a new wood veneer to the cabinet bases and installing new doors and drawers. You can also keep the wood look by having the cabinets stripped, bleached and refinished (a messy and expensive process with sometimes disappointing results).
The last option would be to refinish the cabinets, either by painting or staining, which can be the most cost-effective of all, and offers the best return on your investment.
Cabinet Refacing
In refacing, your service professional will remove cabinet doors, drawer fronts and hardware. A thin coat—generally about 1/4-inch—of wood is then wrapped around the remaining cabinet faces. This can be selected from a wide variety of veneers such as a wood grain, pure white or a favorite color or finish. Laminates are also available.
The new, matching cabinet doors, drawer fronts, and hardware are then installed to give the room a completely new look.
Refacing may be a good idea for more extensive kitchen renovations as well. New countertops and flooring, combined with refaced cabinetry and snazzy new hardware can work wonders. In addition to providing new design options, refacing can greatly improve the durability of kitchen cabinets, adding years of life. And don't forget your bathrooms. Refacing cabinets and drawers in those areas will provide dramatic changes for those spaces, too.

Ready to start your
Cabinet Makeover

?Find Pros
Cabinet Refinishing
Professional cabinet refinishing is the most inexpensive way to give your cabinets a new lease on life.
Cabinets in colors can be very exciting in the kitchen: in postal blue, light pastels, whisper gray and sunny yellow can all create surprising results. Decorating magazines often show cabinets in spruce green, Navy blue and weathered or faux finishes.
One of the latest trends is to combine painting and staining in different areas of the same kitchen cabinets, or stain in two different colors. You are only limited by your imagination!
If you are not sure which color to select, your paint professional may offer color consultations, or you may want to get advice from an interior designer.
For the best results, a professional should paint or stain the cabinets. Not to mention that a professional job will last for many years, probably longer than the finish you currently have. Of course, this will depend on the amount of traffic that goes through the kitchen. Just as the painted wood work and doors in your home need periodic painting, so the kitchen cabinets will also need maintenance. An advantage to painted cabinets is that any nicks or worn areas can easily be touched-up, thereby extending the life of the paint job.
A small to medium kitchen will take about three days. Larger jobs will take from three to five days. If you have other dark wood work in your home—such as your bathrooms vanities, doors, casings, base, etc.—these areas can be painted at the same time as your cabinets, giving the whole house a new look.
2 Comments