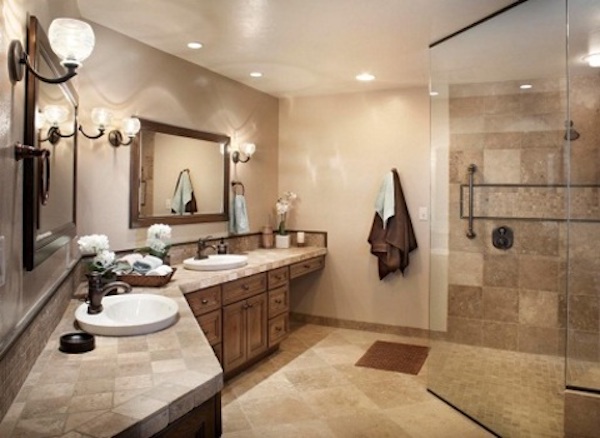 The idea may sound far-fetched or like some easy money scheme, but it's no joke. Using a variety of cost-cutting methods and alternative resources, you can take a modest budget and complete a first-rate home remodeling project. While the strategies outlined below may sound slightly outside the box, the need and the numbers are pretty standard. While Remodeling Magazine lists the average cost of a full kitchen remodel at $56,611, most homeowners are likely to start out with a remodeling budget no bigger than $10,000.
A Dramatic Solution: Is Getting on TV that Unlikely?
Of the easy ways to take $10,000 and truly make it look like $50,000, looking for opportunities to participate in a home improvement show might be the best-possible scenario. Almost every TV network has some programming geared for the home improvement audience. It might seem tough to get on those shows, but they need people every week, so why not you? Altogether, dozens of home improvement shows are out there. Many of them have transparent application guidelines. Having a project bankrolled by one of these shows isn't impossible, especially if you have a compelling storyline or a marketing angle to pitch to the show.
Reclaimed Materials and other Ways to Save on Remodeling Products
Reclaimed materials are just that—materials that have been used before and, rather thrown away, are reclaimed and sold on the secondary market. If at all possible, finding extra materials directly through a remodeling contractor will usually yield the highest savings. Contacting a salvage company is a surer way to find materials, although the price may be only marginally discounted. In fact, some companies focus on high-end architectural salvage, where the materials may be discounted but will still be higher than low-cost alternatives from home improvement manufacturers. You can also take a look at websites like craigslist. These websites are especially good at finding high-quality secondhand appliances and furniture, although other home improvement materials may also be posted.
Social Networking: On or Offline
From simple things like help carrying heavier materials to diamonds-in-the-rough who may have some expertise with plumbing, electrical, or carpentry work, finding willing and knowledgeable neighbors and friends is a great way to slash at considerable labor expenses. Keep in mind that many remodels can be done partially as a DIY project and partially by a professional contractor. More than just meeting people, online social networking can provide a stress-free environment to proposition neighbors with whom you may have only casual acquaintanceship. (Sending an email or other online correspondence is a lot safer than knocking unannounced on somebody's front door.)
Specific Advice can Eliminate Need for General Contractor
One way to stretch your remodeling budget is to serve as your own general contractor. It's not as easy as it looks, and doing the actual work probably entails some type of hands-on experience. Yet, coordinating different subcontractors and schedules isn't outside the realm of possibilities for someone who has the time to dedicate to the process. Nowadays, dependable subcontractors can be found through online referral services.
Moreover, online home improvement forums can be great tools for tips, cautionary tales and general advice that will help you navigate the waters. The key to using these forums effectively is to first educate yourself to the point where you can ask the right question. Don't simply ask what the best countertop is. For a new countertop, specify a budget, typical daily use, and any problems you've had with countertops in the past. While these forums can solicit responses from over-reaching amateurs and willfully ignorant fakes, reliable experts will debunk these responses for you. Generally speaking, once you've received a dozen or so replies, the knowledgeable responses will jump out at you.
Style vs. Substance
Cutting corners generally involves sacrificing some quality with the final result. You can take $10,000 and make it look like $50,000 by focusing on the surface materials of a remodel, or you can take $10,000 and find a top-of-the-line contractor, construction materials and energy-efficient appliances to make your remodel act like $50,000 while cutting out the frills. The latter might seem like the obvious choice, but even surface-level remodeling has its merits. Take, for example, hardwood flooring. You might find reclaimed wood flooring panels on the cheap. By studying online manuals or assembly kits, you might be able to install a wood floor on your own that lasts 5 or 10 years for about the same total cost as new carpeting.
No matter your approach—pursuing several strategies can be a good idea—the key is to get creative without getting careless. Don't stretch your remodeling budget so thin that the quality of the work becomes too diluted or even dangerously shoddy. Yet, these cost-saving strategies are also at the heart of the rarefied project that can pay for itself in additional property value.
1 Comments