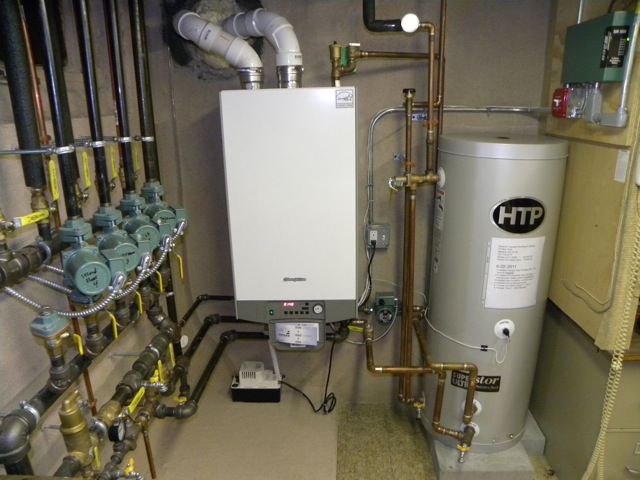 An indirect water heater is one of the most energy-efficient, low-cost water heaters on the market today. In fact, when paired up with a specially designed high-efficiency boiler or furnace, these water heaters steal the show. Whether you need a replacement for a broken heater or you're just looking for a smart, water-heating alternative, an indirect model water heater should be at the top of your shopping list.
How an Indirect Water Heater Works
Not to be confused with a tankless coil water heater (though they are similar), an indirect heater uses a storage tank and the heat from your boiler or furnace to provide your home with all the hot water you and your family needs. In an indirect system, water is heated up by your main boiler or furnace through a heat exchanger attached to the space heating unit. That water is then moved by the water heater into a storage tank, much like a traditional water heater, where the hot water is kept until it's needed.
How an Indirect Water Heater Saves you Money
Compared to other alternatives, an indirect model water heater saves you money in two distinct ways. The first and most important way is by utilizing your space heater to heat water. By using your furnace or boiler to heat water and air you are getting more bang for your buck compared to a traditional model, especially during cooler months when your furnace or boiler runs regularly anyway.
An Indirect Water Heater Pays Off in Summer, Too
If outdoor temperatures always remain cool, then a tankless coil water heater would be all a person needs to get energy-efficient water heating. In fact, if you do live in a cold climate it probably pays to compare the two types of heaters in order to find out which is going to be more effective for your situation. It's for the rest of us living in warmer climates that the storage tank on an indirect unit becomes a nice addition. With both tankless coil and indirect systems, your main furnace or boiler will have to kick on to heat water, even when it's 100 degrees outside. With a good storage tank, however, you can drastically reduce how often your heating system needs to fire up in order to provide hot water to your home.
Second to One
When it comes to smart decisions regarding energy-efficiency and cost-saving measures for heating water, there are few options better than indirect water heating. In fact, solar water heaters are the sole option that gets higher efficiency ratings, an advantage that barely holds up if you partner your indirect water heater up with a highly efficient boiler or furnace as the heat source. And since solar water heating still isn't practical for many climates and homes, an indirect model is your best bet when it comes to installing a unit that combines optimal hot water output with energy-efficient performance.
Installing an Indirect Water Heater
While do-it-yourself installation isn't impossible, many homeowners choose to hire this job out to professionals. Installing an indirect water heating system, much like installing a boiler, requires at least a basic knowledge of several different home improvement skills, including plumbing, HVAC, and electrical work, and is over the heads of many weekend handymen. Hiring a pro is the only way to ensure that your new water heater will perform at optimal efficiency, and save you money long into the future.
4 Comments