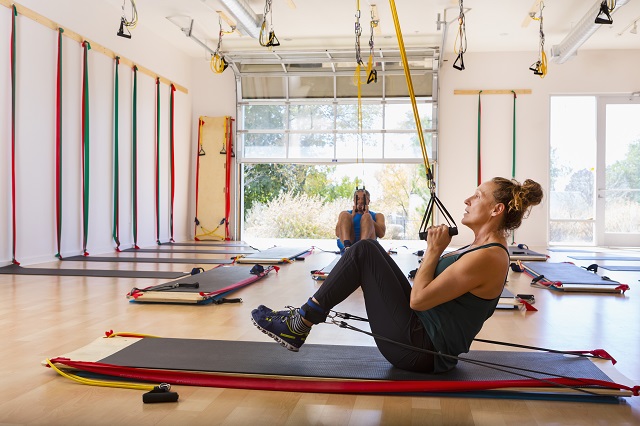 Garage doors don't have to just be for a garage, they can be a great way to bring in natural light and create a door from the indoors to the outdoors.
Garage doors can create industrial or modern looks, while being multi-functional.
Types of Garage Door Styles & Prices
There are many different types of garage doors that you can choose from, depending on your style and needs.
Rolling doors
Rolling doors are the classic and most common design for a garage door. They are easy to install as they don't need clearance outside, and the walls of your home don't need to be very tall.
However, they do have big metal tracks that look very industrial and are pretty much impossible to hide, which is something to keep in mind when choosing a rolling door.
Tilt-frame doors
Tilt-frame doors are a newer trend, and they can take a garage door to the next level of luxury.
However, they do require a good amount of clearance outside to allow them to swing out when you open them. This can be a bonus if you have a lot of space in your backyard, because they create an overhang that can serve as a small awning.
The cost of garage doors varies depending on the style and whether it is a custom frame or not, and the materials of the door will influence price too.
Slide-up doors
Slide up doors are modern and chic. They don't leave unsightly tracks on the ceiling and look effortless when closed or open.
However, slide up doors only work on homes with raised ceilings, usually leading to a backyard. Slide up garage doors are a great way to maximize space in smaller, city homes that are tall and narrow as they don't fold.
Bi-fold
Bi-fold garage doors fold in half either upwards or to the side, which can still be a great way to have a large open space. They are an alternative to sliding glass or french doors.
They take up some room to the outside of your home though, so they will require a certain amount of clearance as well.
Insulated Glass Garage Doors
Glass garage doors work well in places that are warm year round, however colder climates might not be ideal for winter months. This is where insulated glass garage doors come in, they are made to keep cold out and heat in, or vice versa. Insulation also helps keep noise from outside to a minimum when it's closed.
While prices for insulated doors vary, it is a good idea to consult with a local garage door pro to find out what the best option for your home is.
Places to Put a Garage Door Inside
There are many different rooms in your home that you can install a garage door, whether it is knocking out a dividing wall or a wall to the outdoors, the glass door will create a moving barrier to allow an open concept.
Kitchens
Walls to backyard
Reasons to Install One
Indoor garage doors can open up a space no matter where you place them in your home. They allow natural light to come in and can also make your home feel bigger.
Garage doors made with glass windows provide a space that can feel like an outdoor area, while still being indoors if the weather isn't accommodating.
If you have a smaller backyard, this can maximize space for entertaining. Just simply open the garage door and people can be in both spaces at once.
Garage doors are also a great way to increase your property value. They add a modern touch to any home and are a widely sought after luxury.
Other Spaces to Put a Garage Door
Garage doors can also serve as barriers indoors, between different rooms in your home. They are a great option to install instead of a diving wall; because there is still the option for privacy – yet it can be opened to create a common space.
Large windows can be replaced with smaller, garage door-esque frames that slide up and open up to the outdoors. Think windows over the kitchen sink or in the front of the house.
While sliding windows aren't used as a walkway, they can be a great option to classic windows and can create a modern, industrial feel.
No Comments Yet