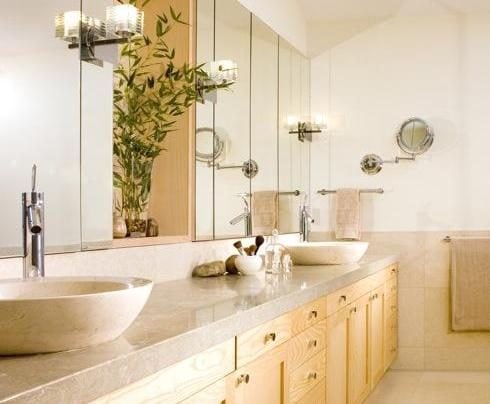 If you've lived in your house for a while or recently purchased an older home, then chances are that the design of your bathroom is a bit outdated. While the vinyl flooring and enamel tub may serve their purpose, the design leaves something to be desired. A renovation not only transforms your bathroom into a spa-like oasis, but also offers some of the highest resale returns when compared to other home improvements. Check out these nine bathroom renovations to get some inspiration for your next project.
1. Open Whirlpool Tub with Chandelier
Image Credit: DesignMine Private Gallery
Let the tub be the center of attention in your bathroom. This round whirlpool tub is perfect for relaxing after a long day at work or when pampering yourself with a spa weekend at home. The chandelier and recessed lighting create a peaceful and relaxing atmosphere. Glass cabinets with lighting help to brighten the room with soft and subtle light. Built-in cabinets and the addition of an island ensure that you have space to store all of the essentials.
2. Sliding Barn Door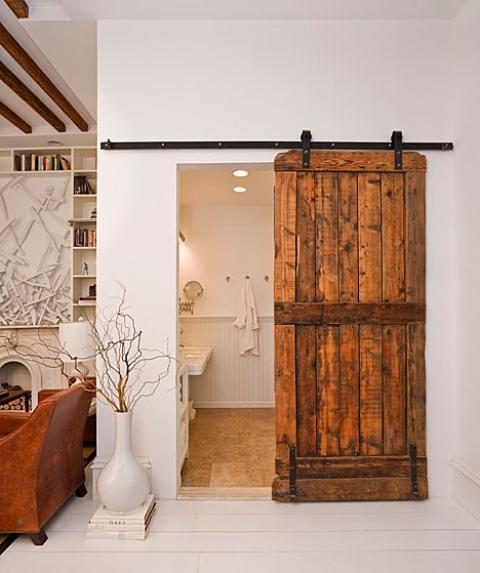 Image Credit: Wavelength Developments, Rogers, AR
Rolling barn doors add character to just about any space — even the bathroom. The rustic look of reclaimed wood on an iron track adds a unique touch to your commode. Additionally, it allows you to hide the bathroom in a decorative way. Depending on the location of the room, barn doors can also serve as the focal point. Because barn doors slide to the side rather than opening out, they are perfect for homes that are low on space.
3. Rainfall Shower Head
Image Credit: Leone Plumbing & Heating, Inc., Rochester, NY
An overhead showerhead provides you with a luxurious spa experience. The relaxing flow of water allows for total body coverage and makes you feel as if you're bathing in the rain. The addition of a second showerhead allows for even more coverage. The natural stone tiles brighten up the small space to make it feel more open. Combined with a single stainless-steel shelf, the entire space has a minimalist design for those who prefer simplicity.
4. Bathtub with Fireplace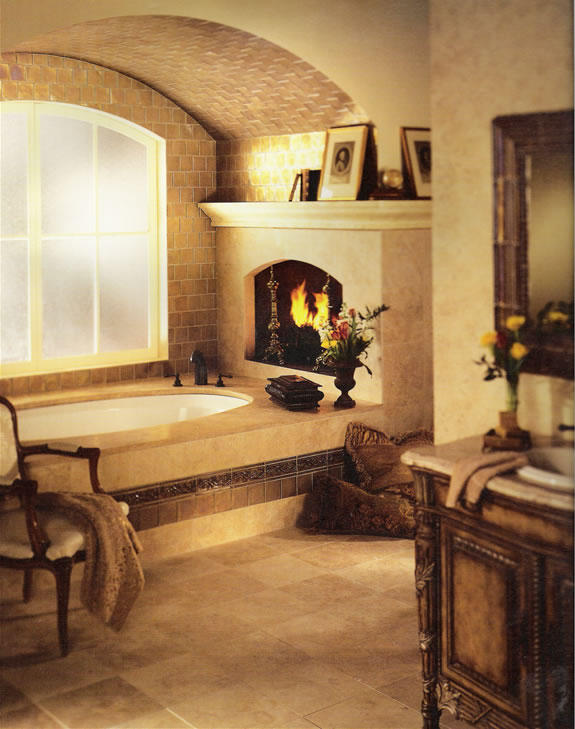 Image Credit: Castro Construction and Cleaning Services, Silver Spring, MD
There's nothing quite like getting cozy next to a roaring fire. Fireplaces are common in living rooms, dens, and bedrooms, and they are becoming increasingly popular in bathrooms too. The warmth and glow from a crackling fire adds a special touch to the atmosphere when unwinding in a relaxing bath. A drop-in tub with a wide rim gives you ample space to place your wine glass and a novel. The large window next to the tub illuminates the entire bathroom with natural light.
Ready to start your
bathroom design

?Find Pros
5. Painted Mural Floor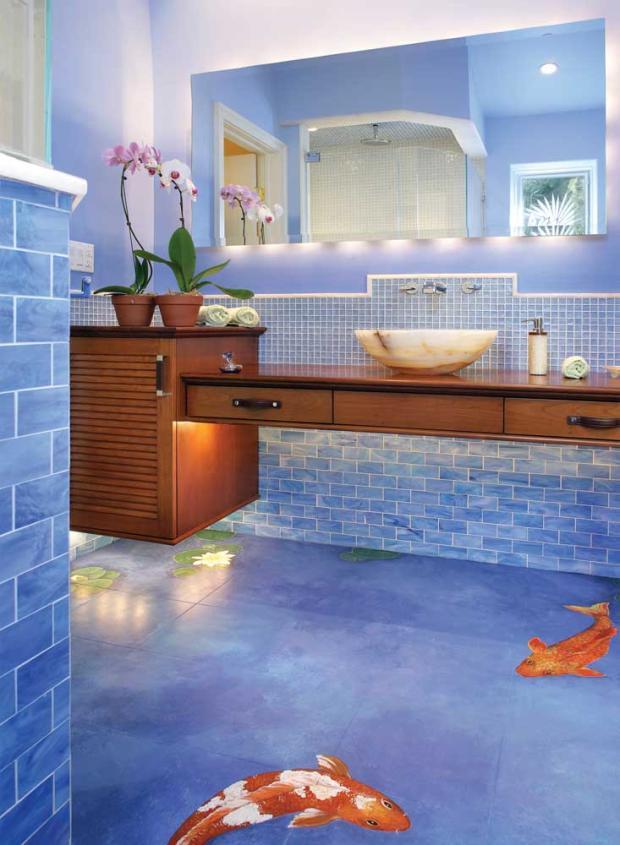 Image Credit: AJ Development Group, LLC, Mesa, AZ
Make your bathroom truly one of a kind by adding an artistic touch. Rather than adding a few accessories to determine the theme of your bathroom, add a floor mural. There's no need to choose from traditional floor coverings when you can have a masterpiece painted directly on the floor. Design your entire bathroom around the painting, choosing tile, fixtures, and paint that tie into the theme.
6. Traditional Wood Cabinets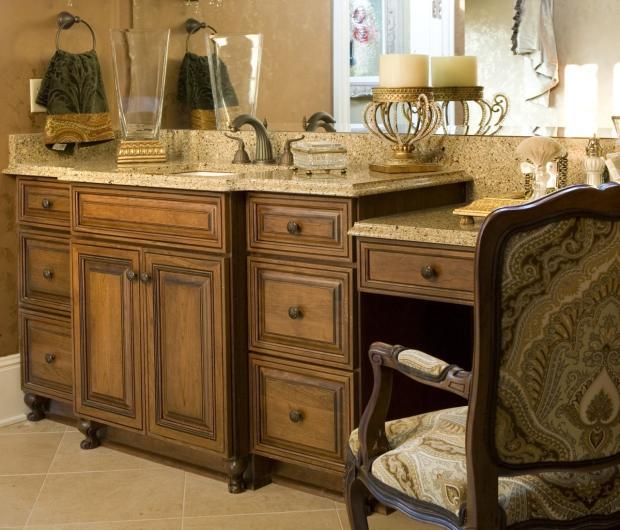 Image Credit: Quantum Construction Company, Inc., Memphis, TN
You can never go wrong with a traditional style. Dark wood cabinets combined with beige granite counters have an elegant look and are easy to accessorize. Adding a built-in vanity increases your storage space and allows you to keep all of your essentials close at hand while clearing off your counter tops. The undermount sink with gold fixtures are timeless and never go out of style.
7. Luxurious Tile and Marble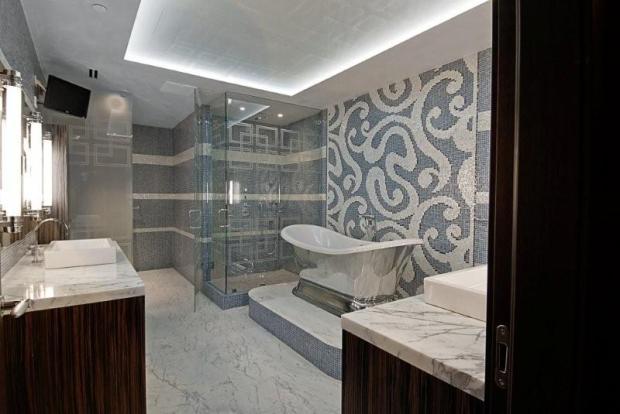 Image Credit: A Z Drywall Finishing, Northlake, IL
Transform your bathroom into a spa-worthy retreat by opting for a luxurious design. The gray and white marble countertops combined with the cool blue tiles give the bathroom a clean and relaxing atmosphere. The freestanding tub set in front of artistic mosaic tiles creates a focal point for the room. The large walk-in shower with floor-to-ceiling glass gives your bathroom a high-end feel. Mounting a television in the corner is a must for creating the feel of luxury.
8. Simple Design and Neutral Colors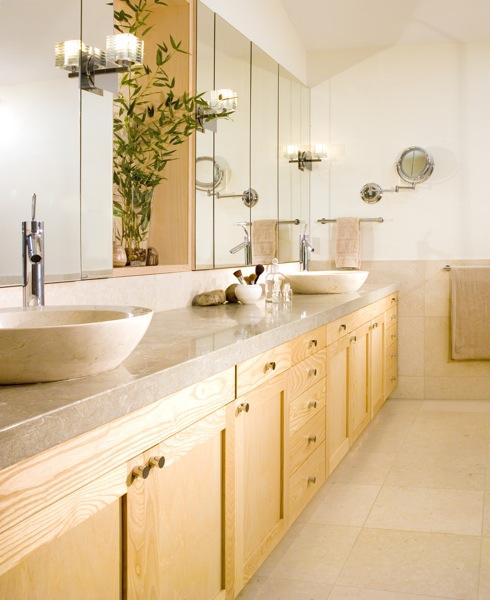 Image Credit: Kimberly Rider Interiors, Sausalito, CA
A simple design can go a long way. The light wood cabinets combined with beige granite countertops and a neutral color palette throughout the bathroom give it a crisp and clean look. Additionally, neutral colors invite you to decorate with natural elements for an earthy feel. Vessel sinks are designed to look like antique washbasins and have become increasingly popular in bathrooms. The elegant design draws the eye and becomes the center of attention because of its distinct style.
9. Stylish and Functional Design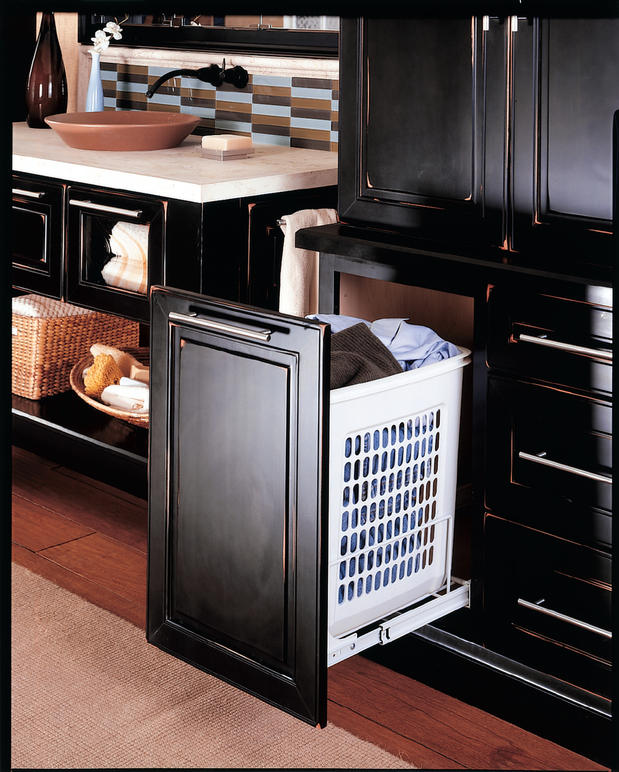 Image Credit: Building Pros, Danville, CA
When renovating a bathroom don't neglect function for style. Your bathroom is a functional space, so make sure the design works for your day-to-day activities. For example, adding a drawer with a laundry hamper makes it easy for you to deposit your dirty clothes without having to pile them up in a basket in the corner. Installing the drawer directly in the cabinets creates a seamless look to keep your dirty clothes safely hidden away.
A bathroom renovation is a large project, but is well worth it. Whether you prefer traditional, contemporary, or minimalist designs, you can transform your old and outdated bathroom into a space that you can relax in and enjoy.
Ready to start your
bathroom design

?Find Pros
No Comments Yet