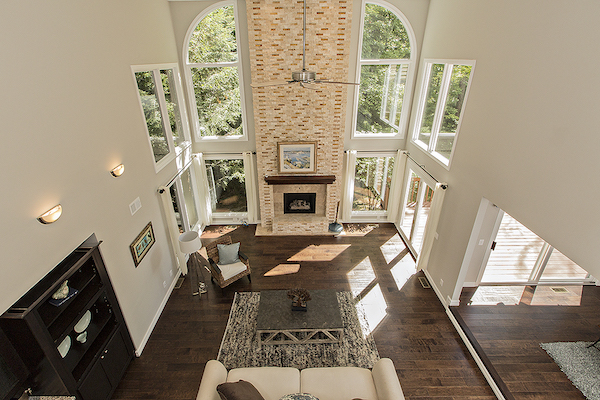 With the wide range of fireplaces that are available to today's homeowner, it's tough to focus on any universals when it comes to installation. Here's a little information on the most popular styles and some basic installation requirements of each.
Wood Burning Fireplaces and Stoves
For many homeowners, there just isn't any substitute for a good wood fire. To install these fireplaces correctly, you'll need a functioning chimney as well as a suitable area in your home to accommodate the unit. Also, you'll want to take extra precautions regarding fire danger prevention, including proper screens, doors, and non-combustible floor and wall materials surrounding the fireplace or stove where appropriate. Depending on the type of wood burning fireplace and mantel you choose, there may also be other aesthetic and functional masonry or construction work that needs to be done as well.
Vented Fireplaces
Another popular fireplace installation project is a vented natural gas or propane fireplace. These fireplaces are very energy efficient, clean burning, excellent for heating a room or home, and can easily be installed just about anywhere with a good set of tools and a little help. You'll need to cut out an area for the fireplace to be installed, run electricity and gas lines to the fireplace, build a fireplace vent leading to the outside of your home, and install a mantel. Most of these tasks are within an experienced do-it-yourselfer's ability to complete, though anytime you're working with electricity or natural gas, it's best to bring in a professional during those phases of the installation.
Ventless Gas Fireplaces
Ventless gas models require all the same fireplace installation procedures as vented, minus the need for a vent to the outdoors. Beware of using these models irresponsibly, however. If used properly they are safe, economical and great for rooms that otherwise wouldn't be suited for a fireplace. Since they vent directly into a home, however, they can cause serious moisture buildup, carbon monoxide poisoning, and even death when used improperly.
Ready to start your
fireplace installation

?Find Pros
Electric
Fireplace installation is never easier than when you're installing an all electric model. With an electric unit, you need to cut a hole, wire in the unit, and install the mantel. That's it! Since it heats with electricity there aren't any harmful emissions to get rid of, and while it's not quite the same as a real flame, the flickering light and heat they produce make these faux fireplaces the perfect additions to many a living room or den.
Fireplace Inserts
If you presently have an older, open-combustion fireplace and want to upgrade your energy efficiency when it comes to heat output, energy use, and emissions, look into installing a fireplace insert. These inserts are available in wood burning, vented gas, ventless and electric varieties, and fit into your pre-existing fireplace. Follow the fireplace installation requirements mentioned for each of the styles above.
Faux Fireplaces
If you've always loved the feel of a fireplace in the home but don't have one, you don't need to invest in chimney construction or renovation in order to have a fireplace in your home. Faux fireplaces are realistic simulations that create the same atmosphere and are essentially free to operate. Another major advantage of faux fireplaces is the absence of time-consuming maintenance. There's no fetching wood, no cleaning out the mess of soot and ash that's left behind, no chimney flue or damper cleaning and repair. Plus, it nearly completely eliminates the fire hazard a fireplace can pose.
Faux fireplaces can be installed in one of three ways. Pre-manufactured fireplaces are fully-assembled fireplaces that are ready to go on delivery. This is probably the best option as long as you have the space to get the full fireplace into position and plan to have or hire sufficient manpower to move it. Knocked down fireplaces require some assembly and typically aren't as sturdy as pre-manufactured fireplaces, but will make delivery and installation easier. High-end, custom fireplaces may be manufactured on site but at an additional cost and without the aid of factory machining.
Talking to a Professional
When it comes to fireplace installation, it's always prudent to at least consult with an expert. Remember, anytime you're installing a new fireplace you're dealing with combustible gases, electricity, and potentially dangerous emissions, and potential fire hazards. Improper installations could easily result in disaster. If you have any doubts about your ability to perform a fireplace installation, it's probably best to hire a professional installer to get the job done right.
1 Comments