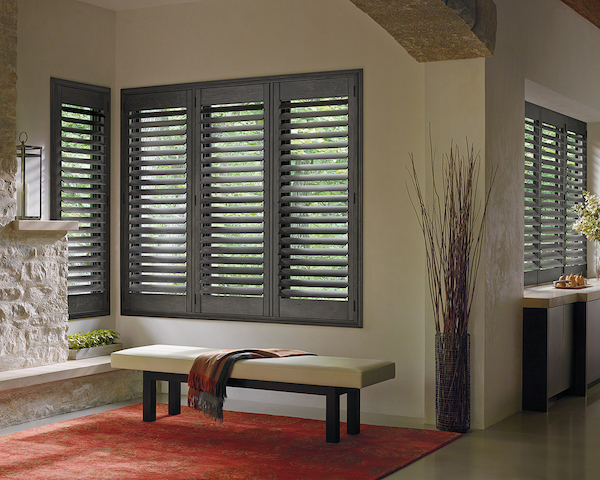 Homeowners, who are fed up with trying to beat their curtains clean or keep the cats from clawing floor-length drapes, often run to the nearest box store to find basic window blinds. Nothing against the growing popularity of this window covering, but you should at least consider the convenience and reliability of window shutters. Interior shutters are the ticket for a truly flexible, hassle-free window treatment. Few homeowners appreciate the number of looks, both classic and contemporary, that shutters can create when fashioned from wood, vinyl, metal, or fabric.
Design and Decorative Versatility
Interior window shutters are also the perfect window covering for odd-shaped windows. While blinds and curtains tend to work more for windows with right angles, interior shutters can be customized to fit in any size or shape window. The most elaborately curved windows still need only extra measurements and custom-carved wood to match. In fact, for new construction, the versatility of shutters can specifically allow for you to play with unique window shapes. You should also be able to find shutters for any number of decorating schemes. Although shutters are generally linked to a country-style decor, larger plantation shutters are a great idea for more contemporary-style homes.
Interior Shutter Installation and Costs
Most interior shutters require more than drilling a few holes in the area above your window. Basic shutters can still be a viable candidate for DIY installation, if you have moderate carpentry skills, but most homeowners opt to hire a professional to install custom-made shutters. This helps explain why interior shutters are, on average, a more expensive project than other window coverings. According to data collected by HomeAdvisor, the average cost of installing interior window shutters for your home is $1,670, while drapes or curtains cost $932 and blinds or shades cost $787. These prices may seem steep to many homeowners, but custom-designed and professionally installed coverings provide permanent elegance for your window treatments.
Energy-Efficiency and Interior Window Shutters
Interior window shutters are great at darkening rooms and offering plenty of privacy. This same ability to shield interior spaces against the brunt of daytime sunlight also makes them great window coverings for energy-efficiency. During the summer keep your window shutters closed from mid-morning to sunset. Then, throw them and your windows open after sunset (or whenever moderate temperatures prevail) and you should see some relief in your monthly utility bills.
Ready to start your
window shutters

?Find Pros
Shutter/Blind Hybrids
The main difference between a window shutter and a blind is that a shutter swings open, while blinds rotate their slats. Needless to say, it took something less than a home improvement Thomas Edison to realize you could have the best of both worlds. Shutter blinds can be swung open or opened like blinds. These hybrid window coverings are nifty. The biggest drawback of a standard shutter is that it's difficult to control the exact amount of light that enters a room. Shutter blinds fix that problem. They also improve on the idea of standard blinds by creating decorative wings for your windows the shutters are opened. Plus, you don't need that annoying pull string that will eventually lead to guiding the blinds down with your hand in a couple years.
Interior Shutter Mounts
Interior window shutters can have inside or outside mounts. Inside mounts attach the shutters inside the window jamb; outside mounts attach them directly outside the jamb. If your window has enough depth, inside mounts are generally preferred as they will help give the impression that the shutter is a part of the window. Essentially, it looks better. For either mount, the depth and the size of the window opening will influence the desired thickness for your shutter.
1 Comments