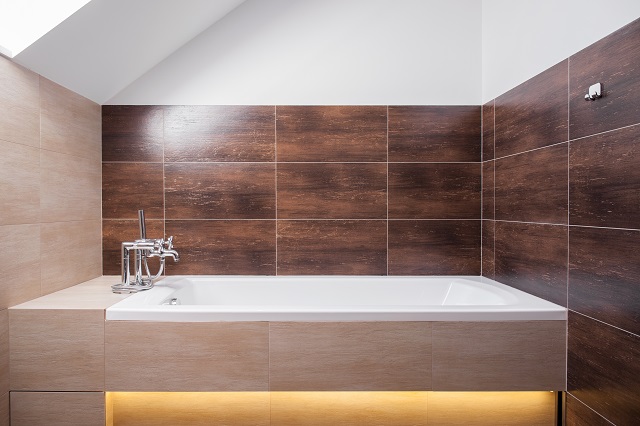 A relaxing bubble bath should be a tranquil place to unwind at home. A spa tub can cost about $3,000 on average to install. Avoid buyer's remorse in the bathtub, and make sure it's the right choice for you.
Cost & ROI
Between the inconveniences listed below and the time commitment of filling and taking a bath, many homeowners would rather have a walk-in shower or luxurious soaking tub. However, with the growing popularity of hotel-like amenities at home, we may see this trend reemerge.
Hire Certified Professionals
It's important to remember that in addition to whatever you pay for the tub itself, you'll also need to have it professionally installed. This is not a DIY project unless you have the proper man-power, experience and certifications. The average cost to hire a plumber ranges from $170 to $430. They will ensure the job is tested and done right so that your bath is secure and resale-safe.
If your home isn't already equipped with the necessary water heater capacity, plumbing and electrical systems, you could incidentally double your overall cost.
Additional Expenses
Special styles, like alcove and platform installations, will increase the overall cost. Does your bathroom have stone or tile flooring or walls? If so, you'll need to find matching or complementary materials to cover a platform-encompassed unit. Consider buying a modern style, like a stand-alone model, which can help you avoid additional labor and material costs.
Self-heating features, which keep your bathwater hot, often cost extra, but are very popular. Heated tubs need to be hooked up to your electrical system. It's argued whether this significantly increases your electricity bill or not; however, you can find environmentally-conscious models. It's also worth noting that some soaking tubs offer these coveted heating features and are less expensive.
Jet Type: Air vs Water
There are two types of jets, air and water. Water jet tubs, also called whirlpools, are what give you a powerful massage. Unfortunately, older models are known for being very noisy. Water jets often protrude a little too, which may be uncomfortable when you want to lean back.
Important note: water that rests in the pipes and jets can settle and create algae, mold, and black bacteria that emerge the next time you turn them on. Keep reading for solutions.
Air jets are quieter, less intrusive, more relaxing, and help keep the tub safe from bacteria buildup. But, if you want a deep muscle massage during your bath, you might be disappointed by the gentle sensation offered by these.
Have they gotten better?
Whirlpool tubs have improved some in recent years. For example, you can now get a tub with both air and water jets with varying pressure. This allows you to choose your setting from bath to bath. You can also purchase a water jet tub that sanitizes itself after use—-although this usually comes at a higher price.
Is it easy to clean?
As stated above, if you invest in a higher-quality, whirlpool model, it may have self-cleaning features that take care of the pipes. If your whirlpool isn't self-cleaning, you'll need to mix bleach or cleanser with enough hot water to cover and run through the system. This gets the job done and keeps the tub looking like new. But what about the walls?
Whether you drop a bath bomb in the water or wash your hair, there's a good chance that soap residue will appear on the sides of your tub. Home spas of all types need to be cleaned frequently if you use them with any regularity. Invest in cleaning products that get rid of soap scum and hard water stains—and a sturdy, long-handled brush.
Can you take a bubble bath?
Bubble baths and bath bombs are a great way to enjoy a colorful, decadent-smelling bath. But, if you're investing in a spa tub and you enjoy these, consider turning the jets off. The bubbles react quickly to currents in the water. Before you know it, you have a mountain of bubbles that can take hours to dissipate.
Health Benefits
Ever taken a relaxing soak in a hot tub or spa bath before? You may be familiar with its physical and mental benefits. If you suffer from chronic joint or muscle pain, or find home hydrotherapy helpful, this type of tub might be just right for you.
Choosing a low-maintenance, air jet model or high-end, whirlpool tub can help reduce stress, maintenance and elbow-grease related to cleaning.
Take It for a Test Run
Showrooms offer a great opportunity to test the best models before you spend. Take your bathing suit along, and find out which one is right for you.
Here are some questions to think about:
Is it easy to get in and out?
Is it comfortable to lean against or prop yourself up on?
Is it the right size for your bathroom?
Is it too shallow or deep?
How's the water pressure and temperature?
How long does it take to fill?
Is it quiet enough to relax in?
Testing models you're interested in is the best way to make sure that a spa bath is worth your investment.
1 Comments