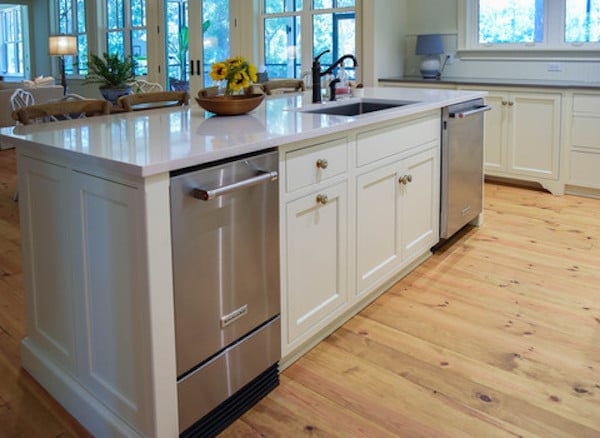 Think of all the things you do in the kitchen: cook, eat, hang out, entertain, read the paper, converse. So since this one room takes on so many responsibilities, it's important to optimize the space in order to keep it under control. It's easy for counters to become overrun, clutter to build up, and cabinet space to diminish and disappear. The room can become so congested that it may sometimes feel like you need two kitchens at once. And, believe it or not, this is a viable option when you invest in a kitchen island.
Making Up Ground
Most kitchens are bigger than they seem, it's simply that everything in them is pushed up against the wall: counters, cabinets, appliances all line the perimeter. But this leaves a lot of unused square footage in the center of the room. Of course most people want an open floor plan in order to make the space look bigger, but there's a difference between being airy and organized. In other words, an "airy" room will not look bigger if it's completely cluttered and uncontained. So, in order to make up some ground, why not take advantage of this additional flooring? A kitchen island allows you to install more storage, more counter space, more cabinetry, and more shelving right in the middle of everything.
Convenience or Hindrance?
You may think that a kitchen island will swallow up all the space; that it'll be more of a hindrance than a convenience. But even if it's a smaller area, if you choose the correct kitchen island design, you'll actually create more breathing room. They are meant to simply act as another countertop; however they also take on several different capacities: a table, a cooking space, or storage area. So first you have to decide what purpose you want the thing to serve? Then you have to consider size.
They come in an assortment of customized lengths, widths, and heights in order to fit within your pre-existing floor plan. Just make sure there is enough buffer room to create proper pathways and a smooth flow: you want to add space, not interrupt it. Next, you'll want to consider style. These installations take several forms, but whether simple or complex, it'll always become your newest focal point, so make sure you choose a model that matches the rest of your décor.
Kitchen Island Design
When considering your floor plan, you'll want to think about the shape of your kitchen island. In order to create more counter space, yet still have efficient traffic patterns, you can literally choose any shape. They can be angled into an L-figure, a U-turn, a V-shape, or even a pentagon. Or be creative: if you don't have room for one big installation, maybe create two smaller, parallel table tops in order to generate more passageways. However, this is only the beginning. The reason it's important to first think about how you'll use this product is because of the limitless kitchen island design options available.
Appliances: If it's a functional space, then think about installing cook tops, an oven, a microwave, a sink, or maybe a fridge to help you cook. Just make sure you also install the proper plumbing, electrical, and ventilation (such as an exhaust hood).
Storage: This is a chance to provide more cabinetry, drawers, or shelving to help store your supplies, cutlery, and cookbooks. Or maybe hang your pots and pans overhead to free up even more space.
Portable Storage
Though built-ins look more permanent and sturdy, they're also very expensive. If you choose a big model using elegant materials and an intricate construction (overhung ledges or multilayered "step-ups"), it can cost thousands of dollars for installation. However, there are other alternatives. Smaller, pre-manufactured carts are also available. They don't take up as much room, they can be cheaper (they range from $300 to several thousand depending on the model), and most importantly, they're versatile: most come with wheels, making them movable to fit any location. And though you won't be able to have all the amenities of built-ins, they're still an elegant addition to any home.
No Comments Yet