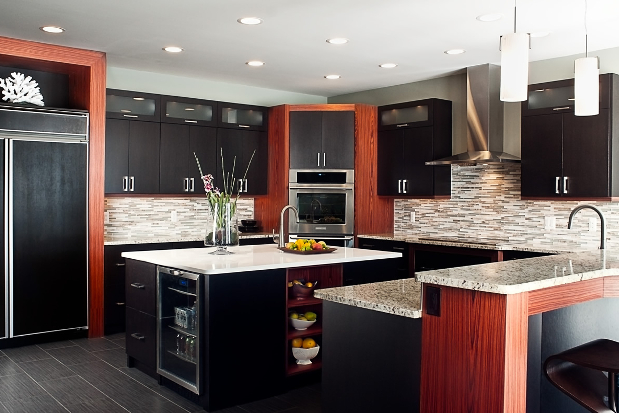 Today's kitchens serve as more than just places to cook up dinner. Modern kitchens are more and more often the home's central gathering place, an area where families socialize and spend time together as much as they actually sit down for meals. Kitchen makeovers are one of the most popular home remodels in the business for just this reason. From cabinetry to countertops, there's an entire world of kitchen design out there to make sure your makeover not only updates kitchen space in your home, but makes your life easier and more enjoyable at the same time.
Kitchen Makeovers: Cabinetry and Countertops
Most kitchen makeovers start with discussions about new cabinets and countertops. It makes sense, since these are probably the two most important things to consider when it comes to making your space more efficient, convenient, and beautiful. If you can afford it, install custom cabinets. They are built to fit so they make the best use of the space you have to work with, and you can choose the perfect building materials and finishes to fit your home design and personality. When it comes to countertops, stone is always a homeowner favorite. If you want to add a little more character to your kitchen, however, take a look at the wide variety of ceramic tile on the market as well.
Ready to start your
Kitchen Makeover

?Find Pros
Kitchen Makeovers: Flooring
Kitchen flooring is another important consideration when its time to remodel. Unlike some other areas of the home, it's wise to choose a flooring material that is resistant to the inevitable spills, splashes, and stains that cooking and eating areas are sure to experience. Stone and ceramic tile, along with laminate flooring, are your best bets here, though any hard surface will work if you're diligent about cleaning up messes and spills as soon as they happen, and are willing to pay a little extra up front for protective sealant.
Kitchen Makeovers: Appliances and Fixtures
Advances in technology are hard to keep up with these days, and kitchen appliances and fixtures are no exception. For appliances, visit a retailer and get an idea of what's out there. Induction cooktops, steam assist ovens, microwave drawers, and undercounter freezers can help transform your kitchen into a chef's paradise at the drop of a hat. When you move on to choosing fixtures, think convenience, looks, and innovation. Apron sinks, pot fillers, pull out faucets, and water stations are just a few of the thousands of innovative designs you'll have to choose from.
Eat-in Kitchens and Kitchen Nooks
Why simply update kitchen cabinets and appliances, when you can re-envision the entire space? Building an eat-in kitchen that includes a dining bar and space for a table is a great way to adapt to meet the current trend of the kitchen as the heart of the home. And if you're looking for something a little more quaint, how about a nook? Installed in an area with large windows that overlook views or garden areas, a kitchen nook is a wonderful place to sit and chat with family members, or just to enjoy your morning cup of coffee.
Ready to start your
Kitchen Makeover

?Find Pros
Other Ideas for Kitchen Makeovers
Of course, these ideas are just scratching the surface of what's possible. From kitchen entertainment centers to custom lighting, there's an almost limitless number of possibilities when it comes to kitchen design. If you're thinking about a remodel, talk to a designer about helping you come up with the perfect plan. These professionals live, eat, and breathe kitchen design. If you're looking to get the most out of your new kitchen, they are the first people you should call.
1 Comments