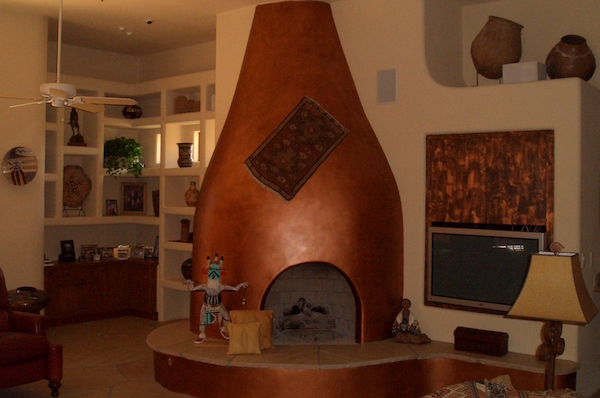 A kiva fireplace is an indoor or outdoor fireplace inspired by southwestern pueblo architecture. They tend to be tall, flowing fireplaces and are constructed of an interior firebox surrounded by a plastered metal face frame. It's this plaster that gives a kiva the trademark stucco or adobe appearance, making these fireplaces the perfect fit for any home that embraces southwestern architecture and style.
Install your Kiva Fireplace Inside or Out
Another reason these fireplaces are so popular in southwestern architecture is that they're perfectly suited for both indoor and outdoor applications. Inside a home, they are a perfect addition to the corner of any living room, family room, great room, or even a dining or sun area. Outdoors, they can be seamlessly blended into tiled and stuccoed outdoor patios, making it possible for you to enjoy the outdoors even when the weather gets chilly. And unlike other fireplaces that can look industrial and out of place in the smooth, natural, pueblo look of modern southwestern homes, a kiva style fireplace blends in perfectly, like it's always belonged.
While traditional adobe fireplaces can be cumbersome, time-consuming, and messy to install, a kiva model is one of the easiest fireplace builds you'll ever encounter. The fireplace consists of five primary parts (six if you choose a gas-fired model): the firebox, chimney, face frame, air intake, finish stucco, and the gas assembly if you prefer to go that route. While hiring an experienced contractor is always recommended when you're installing any home improvement that presents potential fire danger, the fairly simple construction of these fireplaces is easy enough for an experienced DIY'er to do it themselves.
A Multi-Level Fireplace
Another big plus of these fireplaces is their versatility when it comes to weight and where they can be installed. Don't let their solid, stone appearance fool you. The stucco that gives a kiva fireplace that trademark southwestern look is only applied in a thin layer over the metal face frame that sits over the firebox and chimney. Most of the space beneath is open air, meaning these fireplaces are significantly lighter in weight than other fireplace designs. It makes them the perfect fireplaces to install in upstairs studies, master bedrooms, and other second floor spaces.
The Basics of Kiva Fireplace Installation
As mentioned before, this is a straightforward process. Probably the most time-consuming aspect is going to be waiting for your scratch, base, and finish coats of stucco or plaster to dry. Before that you'll need to build your fire box (which will take some masonry work), run the steel chimney from the firebox up to the roof, and install the face plate. Once you've got that done, you'll apply three coats of stucco or plaster to the face frame to give your fireplace the stucco look you've been waiting for. And since either you or your contractor will mix these coats yourself, you can add any color you like to match your finish coat to your current interior design.
If you're interested in the southwestern charm of a kiva fireplace, talk to a retailer or contractor experienced in working with these style fireplaces about the steps you need to take to get your installation underway.
3 Comments