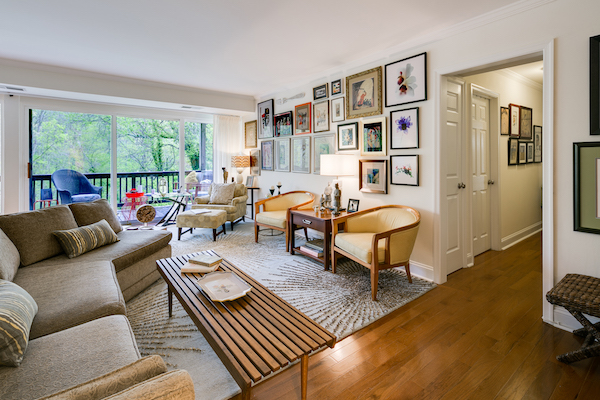 In the home, where do you spend most of your time? Which room is really lived in? Just a guess, but it's probably your living room (it's called that for a reason). So it's important this room is designed properly since it sets a tone for the rest of the house. It says a lot of about you as a homeowner and person. Though you could hire a trained interior designer to help achieve a specific look, most of the time these professionals will initially try to get a sense of your style and taste before they come up with a plan. For that reason, it's a good idea to have some ideas of your own before hiring an expert. The following creative tips for your living room design are sure to help get you started.
Living Room Design Tips
Define the Room: The best way to plan a room is defining its purpose. Is it supposed to be a playroom? Is it for entertaining? Is it formal? Is it for looks alone? Or do you want it to have multiple functions? The more specific the function, the more appealing the area. In other words: when people know how to visualize a room's purpose, the more comfortable they feel in that space. This preliminary decision will help determine the room's overall shape.
Find the Focal Points: Once the purpose is defined, you now have to find a centerpiece: that one feature that draws the eye. Most of the time, it's the TV. But why? Entertainment centers take up a lot of space and can often look clunky. Instead, consider being more original with your living room design. Focus on the fireplace, a painting, or something more personal to you. But if it has to be the TV, try to find a way to camouflage. Buy a cabinet that can be closed off. Or invest in a TV that can hang on the wall, thereby blending into the decor when not in use.
Arrange or Rearrange Furnishings
Once the focal point has been defined, the next step is living room furniture. In order to make things look fresh, you don't have to buy new stuff. And unless you're changing the room's entire color scheme, you shouldn't even have to reupholster. Instead create a whole new atmosphere with just a little imaginative rearranging. Before you start moving around heavy couches and love seats, it's a good idea to make large templates of your living room furniture from newspapers or old bed sheets in order to test out different arrangements. Remember, not everything has to be against the wall. Some contemporary designs use "floating" living room furniture in the middle of the room to help divide up the space (this is especially important if the room is taking on two different functions, such as an office and a den). Also, while arranging, don't forget to supply ample walkways for guests.
Ready to start your
living room design

?Find Pros
Create Space in Your Living Room Design
Many times these spaces can become cluttered. Not because of poor housekeeping but because there's too much going on. Here are some popular pieces that could use some re-evaluating in order to create more square footage:
Coffee tables: Why walk around these objects and risk bumping your knees? End tables are more user-friendly and less in the way. But if you still want to put your feet up then get a recliner or an ottoman, which save space and are easier to negotiate.
Couches: Maybe get a smaller love seat instead. Or if you like big couches, possibly invest in a sectional or a wrap-around, and make it the room's focal point.
Bookcases: These are an elegant feature to any room, but to save space you could invest in some simple shelving or have them built directly into the walls. Most of all, remember that they don't have to be used just for books, but also knick-knacks, picture frames, etc.
Antiques: It's cool to have decorative living room furniture but beware of them getting in the way. Antiques set a mood, but they can also clutter an area, especially if they're never used. Be judicious in your selection, which should also help on your costs.
Professional Living Room Designers
To hire a living room designer for comprehensive design and decorating services, you can expect to pay at least $1,000. Most homeowners, however, don't require this level of professional service. Many designers offer consultation services and charge per hour, allowing you to customize the professional assistance you receive. Maybe you're having trouble getting started. Maybe you've reached the end but still feel something is missing or not quite coming together as it should. Professional living room designers are expert problem-solvers, and you shouldn't hesitate to use this underrated home improvement resource.
No Comments Yet