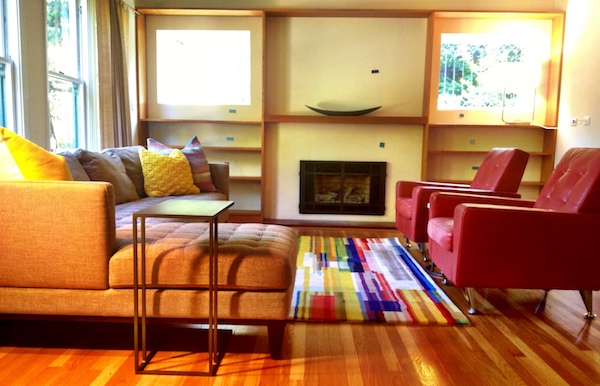 The living room is one of the most important rooms in any household. Whether you have a large family or you entertain regularly, chances are your living room will be one of the most frequently occupied rooms in your home. To make sure you're getting the most out of your living room furniture, here are a few tips for selecting something that can withstand the wear and tear of heavy use.
Image source: International Home Improvement via DesignMine
Be realistic about your budget. Though you don't want to spend a fortune on a new set of furniture, you also don't want to get caught buying anything that's cheaply-made. Selecting solid wood-framed pieces might cost you a few extra dollars, but you'll be happy when your sofa hasn't fallen apart after just a few years of use.
Image Credit: blog.ba-stores.com
Choose upholstery wisely. Certain materials are more resistant to various aging factors than others. For instance, while microfiber and leather are stain-resistant, cotton is not; likewise, cotton is resistant to moths while wool is attacked by them. Depending on your home and lifestyle, the fabrics that you want in your upholstery may vary, so make sure to do extensive research before buying.
Get a feel for what's inside. The material that your furniture is stuffed with is just as important as the material it's covered with. Polyurethane foam fillings are inexpensive and easy to care for, though they can deteriorate more rapidly than high-resilient foam or down feathers. Although down feathers are cushy and soft, they clump together easily, they can be allergenic, and feathers can stick out through the upholstery. Often, combination materials like foam/down or foam/polyester are the best choices due to their affordability and durability.

Image source: Reamco, Inc.
Try it before you buy it. While you may only have a few minutes of exposure to a piece of furniture in a showroom setting, there are a few tests you can run to ensure its quality. First, lift up one leg of the furniture six inches off the ground. If the other legs remain on the ground, then the frame is not very durable. Also try rubbing the fabric 20-30 times to test for colorfastness, and sit on it in a few different positions to make sure that the springs aren't low-quality or uncomfortable.
As with any type of investment, make sure you know what you're getting yourself into before purchasing your living room set. Furniture store sales associates like those at Jaron's Furniture are knowledgeable about the durability and materials used in the pieces in their showrooms. Remember, it's not just about style; you want furniture that can stand up to all of the happenings in your home.
2 Comments