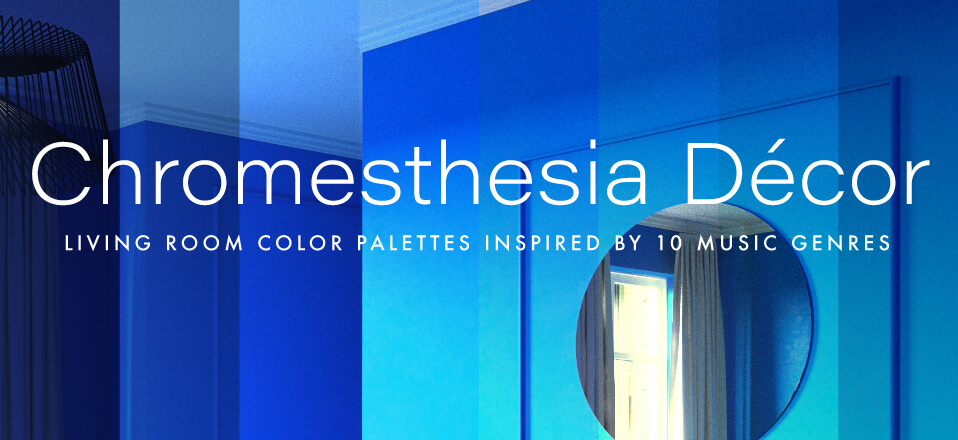 Imagine a world where color and music go hand in hand — where each note has a corresponding visual shade and shape and each beat creates a vibrating hue. What would your favorite song look like? What colors would you see at a rock concert? And what if you could take that vision and splash it on your walls, floors and furniture? We asked people with a rare neurological condition to do just that and created a unique suite of rooms inspired by music genres.
What do you see when you listen to music?
For most of us, the images we conjure in our heads are freely-associated with the lyrics, melodies and rhythms that we hear. You may see the musicians playing the song in your mind's eye or picture a scene from a movie. But Rachel and Michael don't need to use their imagination to visualize the music they hear. They have a neurological condition called chromesthesia – a particular form of synesthesia that affects around 1 in 3,000 people — that allows them to automatically see a range of colors evoked by the sound of music.
Michael, an 18-year-old Canadian chromesthete, describes it this way, "I actually hear colors and motions, whereas some people just hear colors. For example, if I hear drums in a song, I can see the colors moving based on the sound. I predict that having chromesthesia probably boosts my creativity, but I don't know what it's like to hear music without it. Maybe if I didn't have it, I would still love music the same amount!"
Michael only recently discovered his condition. "Growing up I had always loved listening to and making music," he says. "I was the type of kid who would have his headphones in everywhere he went. Around 2 years ago, I had overheard my older sister talking to my father about synesthesia and how they both had it . . . I remember thinking 'Hold on, I thought everyone sees colors when they hear music?' I was completely oblivious to the fact that the way I heard music was different than anybody else."
"I don't know what the world looks like to everyone else," says Rachel, a 27-year-old synesthete living in Denver, CO. "But I can't imagine life and sound with less color and connectivity."
Like Michael, Rachel grew up thinking that everybody saw colors when listening to music – until the subject came up in conversation with her father. "He stumbled onto a documentary about it on PBS, showed it to me and asked, 'Is that what you meant by seeing things in color?'" she says. "I was elated to find out that it wasn't alien and surprised to realize that far from everyone experienced it."
Musicians as diverse as Duke Ellington, Aphex Twin, and Pharrell Williams have described their experiences of using color to shape their music. "It's the only way that I can identify what something sounds like," says Williams. "I know when something is in key because it either matches the same color or it doesn't."
How Color Translates from Music to Our Interior Designs
It's no surprise that artists with chromesthesia use their neurodiversity as a creative tool to make music. But we wondered what would happen if you expanded the world of musical color into the realm of interior design.
Rachel and Michael agreed to listen to songs from the top of Billboard's genre charts covering a range of ten musical genres. They listed the colors that they experienced while the music was playing and, when their answers matched, we added the color they agreed on to the genre 'palette.'
We then virtually-painted ten identical living rooms with the chromesthesia palette for each genre. The result is a suite of rooms to inspire your interior design choices according to your favorite type of music.
Color palette 1: Rock room
You can't help but think Ozzy Osbourne would be pleased by the extravagantly named colors that Under The Graveyard planted in our listeners' minds: Tortilla, Tawny, and Champagne for Rachel, and "Artichoke with shadow accents, and small hits of crimson," for Michael.
"Different instruments carry their own color," says Rachel, "blending with the hue of the notes being played on them and with the way each artist plays that note. But these colors also have a sort of texture, like metallic, wet, velvets, speckled or smatterings of paint on a screen. The smoother the vocals, the more petal-like the sound."
Our rock-inspired living room has a stark, polarized palette that a local painting pro can help you achieve at home. Perhaps this represents the simple, homogenous sonic palette of the genre: punchy drums, wailing guitars and gruff voices.
You can listen to the playlist that we shared with the chromestetes here:
Check out the color palette inspired by rock tunes:

Color palette 2: Country room
"Country is such a brown genre in my head. All the acoustics and loose vibrations without enough rich or diverse musical elements can be monochromatic, but there were some songs that brought a little something else. One was very black-and-white; that surprised me!" – Rachel
Find a painting professional to help you mimic the look of this country room, featuring a palette of Cream, Laguna-yellow, Redwood, and Tortilla, the country room looks kind of like you'd expect a country room to look.
Is there something fundamentally 'brown' about guitars and sad men in ten-gallon hats, or have our participants absorbed the cultural association of country music with wooden ranches and chestnut horses?
You can listen to the playlist that we shared with the chromestetes here:
Check out the color palette inspired by country songs:

Color palette 3: Pop room
Do you see Circles by Post Malone when you look at our pop-palette living room? It's in there somewhere! Circles evoked the colors of Navy, Abalone, and Cream for Michael. Rachel, on the other hand, describes experiencing an array of colors for this song: Maya blue and Jade green; Gold, Byzantine, and Tea.
Overall, the pop palette is a harmonic balance between prime colors, pastels, and metallic hues – reflecting the clear, ordered accessibility of chart-ready pop hits.
You can listen to the playlist that we shared with the chromestetes here:
Check out the color palette inspired by pop music:

Color palette 4: R&B room
Most of the genre palettes our participants described were fairly unified. The R&B room is so harmonious that the colors might have been chosen by a professional interior designer.
The palette of Champagne, Charcoal, Cream, Lime, Pearl River, and Prussian seems to speak of the genre's refined, bassy arrangements and mellow moods; our R&B living room is equally set for party mode or something a little more chilled!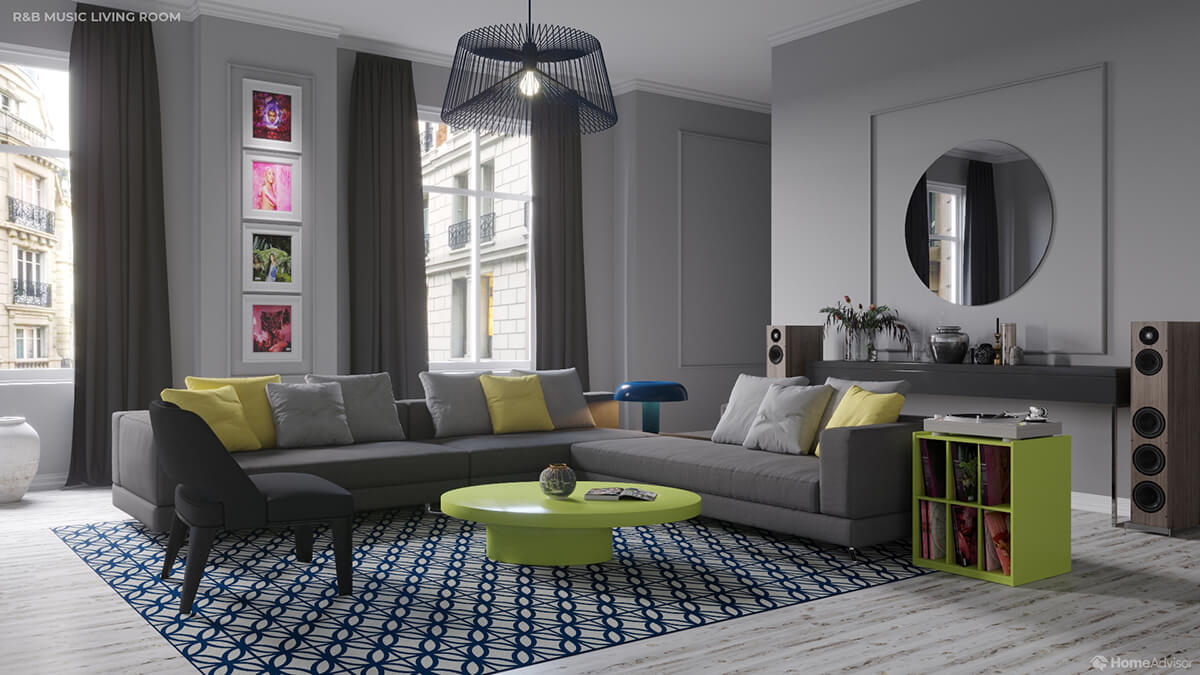 You can listen to the playlist that we shared with the chromestetes here:
Check out the color palette inspired by R&B songs:

Color palette 5: Rap room
Rap music conjured the most diverse range of colors of any genre in the minds of our participants. From Cream to Fire, Pearl River to Hot Pink, the colors cover the spectrum in both hue and intensity. To make these colors work harmoniously in your home, you may want to get in touch with an interior decorator.
Perhaps this is because rap music utilizes so many different samples beneath the lyrics. Old soul tunes, children's music, or songs from other contemporary genres all form part of rap's musical palette. The rap room is designed for those who listen to the details and savor hip-hop's eclectic nature.
You can listen to the playlist that we shared with the chromestetes here:
Check out the color palette inspired by rap music:

"Chromesthesia is an artistic experience for me. It feels like an extension of the act of creation by the artist. Home decoration is just as much an art and the creation of an experience and a sense of place." – Rachel
Color palette 6: Latin room
Latin is a changeable genre: sonically, it may resemble generic pop music or R&B. What defines it as Latin is usually the rhythm. Latin chart music may trace its roots to cumbia, bachata, reggaeton, salsa, or tango… or one of many other beats from the Spanish- and Portuguese-speaking world.
Perhaps it is this mash-up nature of Latin music that led our participants to report widely disparate experiences of listening to our Latin playlist. Rachel saw mostly pale colors, while Michael tended towards richer, more saturated shades. Language could be another factor. Languages, words, and even individual letters can evoke colors for synesthetes. For Rachel, language is another 'photographic' variable, in addition to the instruments, the rhythm, and texture of the vocals – so a Spanish lyric comes with its own special shade.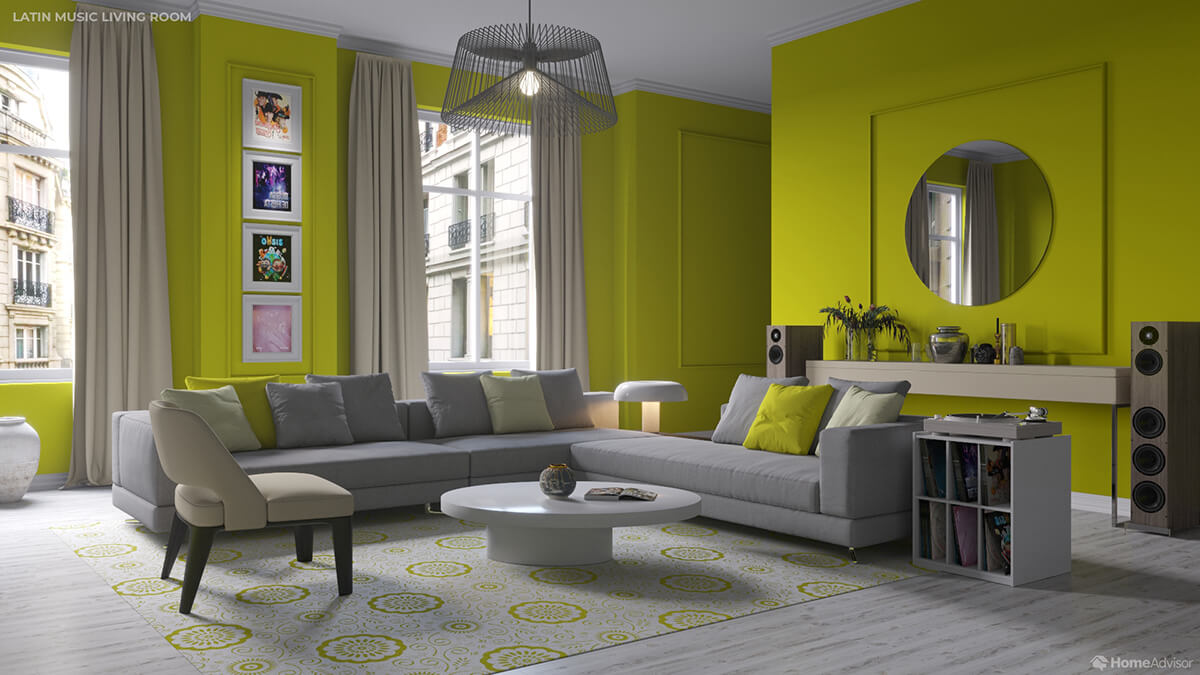 You can listen to the playlist that we shared with the chromestetes here:
Check out the color palette inspired by Latin rhythms:

"For me, listening to music is like taking a photo. The camera is always going to capture light, but the photo may or may not have a lot of contrast, focus, saturation, and lines." – Rachel
Color palette 7: J-Pop room
Our living room design project translates music from sound to visual color, but of course pop music is about more than just the sound – there is always a pop star image attached. J-Pop is the 'cute and sexy' sound and (image) from Japan: think mop-tops, short skirts, and micro-managed band brands. The design is just as important as the songwriting.
Somehow, the familiar J-Pop 'look' comes through music – according to Rachel and Michael. There is something about the joyfully artificial J-Pop sound in our bubblegum-flavored room, although – just like a candy shop – no two colors quite belong together.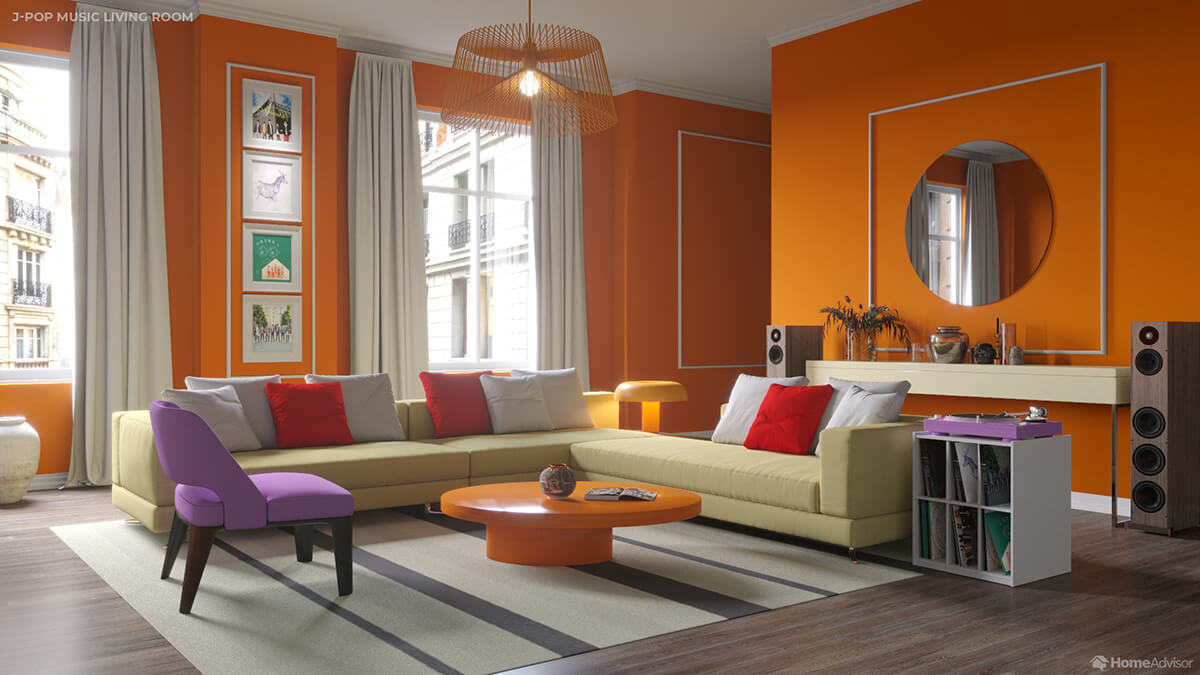 You can listen to the playlist that we shared with the chromestetes here:
Check out the color palette inspired by J-Pop songs:

Color palette 8: EDM room
"EDM is sometimes hard to grasp as I hear so many colors sometimes. Almost like a rainbow, bright and vibrant." – Michael
Electronic dance music (EDM) encompasses a variety of subgenres, but one thing they have in common is that they get you moving on the dance floor. There's a definite nightclub vibe to our EDM-themed living room, despite Michael's rainbow array of colors.
Rachel's response to EDM was more uniform, featuring a thunderstorm palette of moody Azure, Electric Purple, and Cyber Yellow.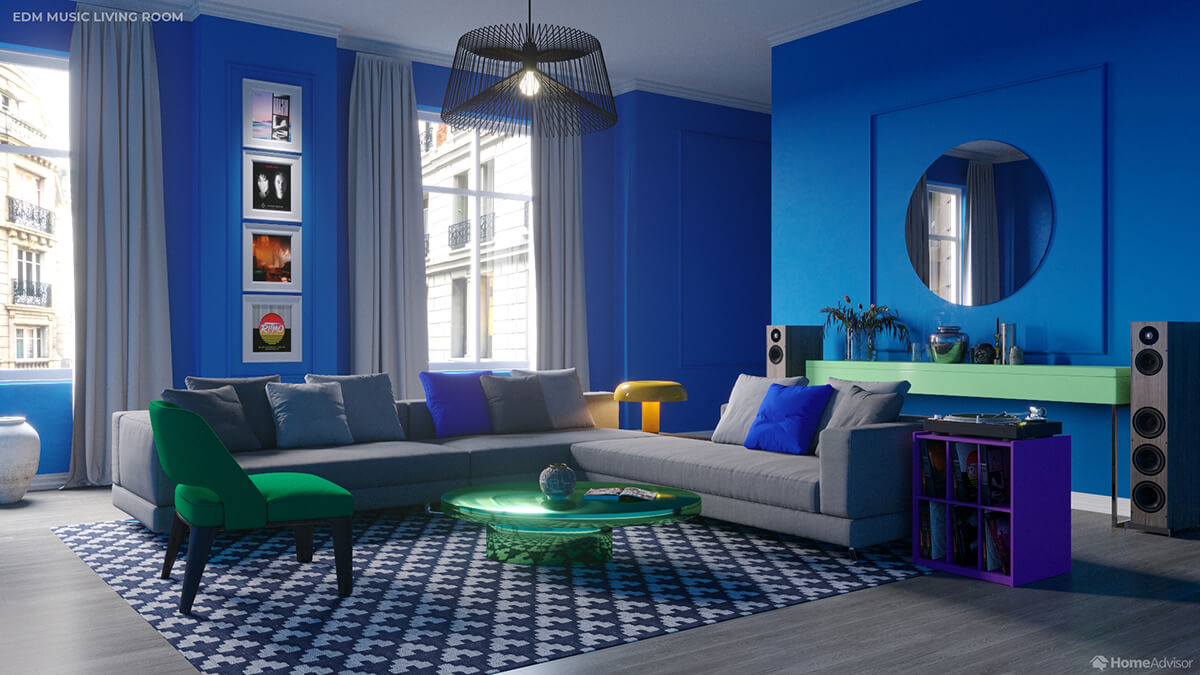 You can listen to the playlist that we shared with the chromestetes here:
Check out the color palette inspired by EDM music:

Color palette 9: Lo-fi hip-hop beats room
"I think Lo-Fi Hip Hop would be great for a living room because the colors are brighter and would provide a colorful, modern & positive color scheme for a living room." – Michael
Lo-fi hip hop (aka chillhop) is muzak for the Miyazaki generation. Easy-listening beats can add a flavor to your surroundings, helping you to relax, study, or code (depending what you need right now). In fact, playing lo-fi hip hop in a room is almost an interior design decision in itself.
Appropriately, the colors chillhop evokes for our chromesthesia crew are gentle background shades. Pastels such as Abalone, Air Force, and Laurel look hand-picked from Hideo Miyazaki's My Neighbor Totoro and create an instant sense of ambient bliss in our lo-fi hip hop room. A local furniture painter can help you get the perfect shade of cool blue for your table.
"After I'm done my school day and before I sleep I like to lay in bed, close my eyes and listen to music," adds Michael. "Just so I can sort of break the music down, break the colors down and hear every piece of it."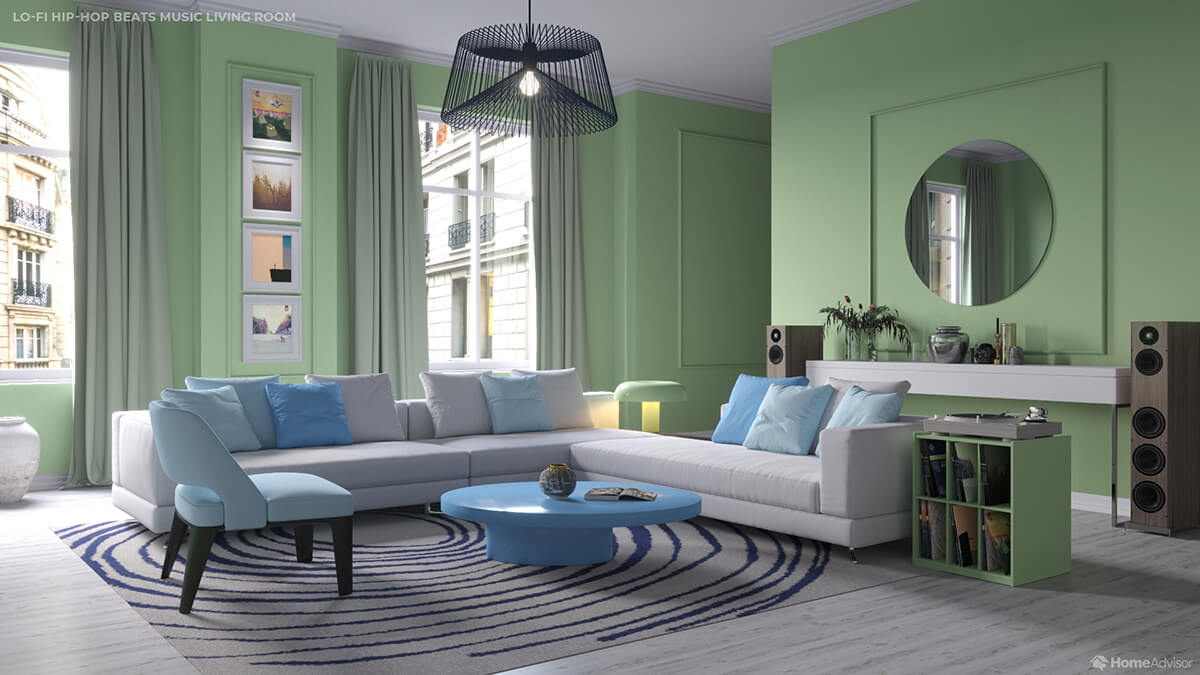 You can listen to the playlist that we shared with the chromestetes here:
Check out the color palette inspired by lo-fi hip hop beats:

Color palette 10: Heavy metal room
"Heavy Metal is as aggressive on the front of my mind as it sounds — it's really the Jackson Pollock of music genres. I enjoy Pollock's paintings more than the Heavy Metal experience because listening to it is like I'm standing behind a transparent canvas, watching all the paint fly at my face and darken my peripheral vision. My instinct is to cringe and look away." – Rachel
Jackson Pollock was an abstract expressionist who famously created his paintings using 'action' methods, such as splashing or pouring paint over his canvas in a kind of dance. "Heavy Metal is a bit of an abuse on my senses," adds Rachel. "I actively avoid it in my day to day life."
Michael, on the other hand, tends to hear the blacks and reds that we associate with heavy metal covers and stage shows. You know – black leather, chicken blood, the fires of hell, and so on. If you choose to incorporate these moody colors into your space, make sure you have enough natural light to counter it. A local window professional can help you figure out a way to incorporate more light in your space.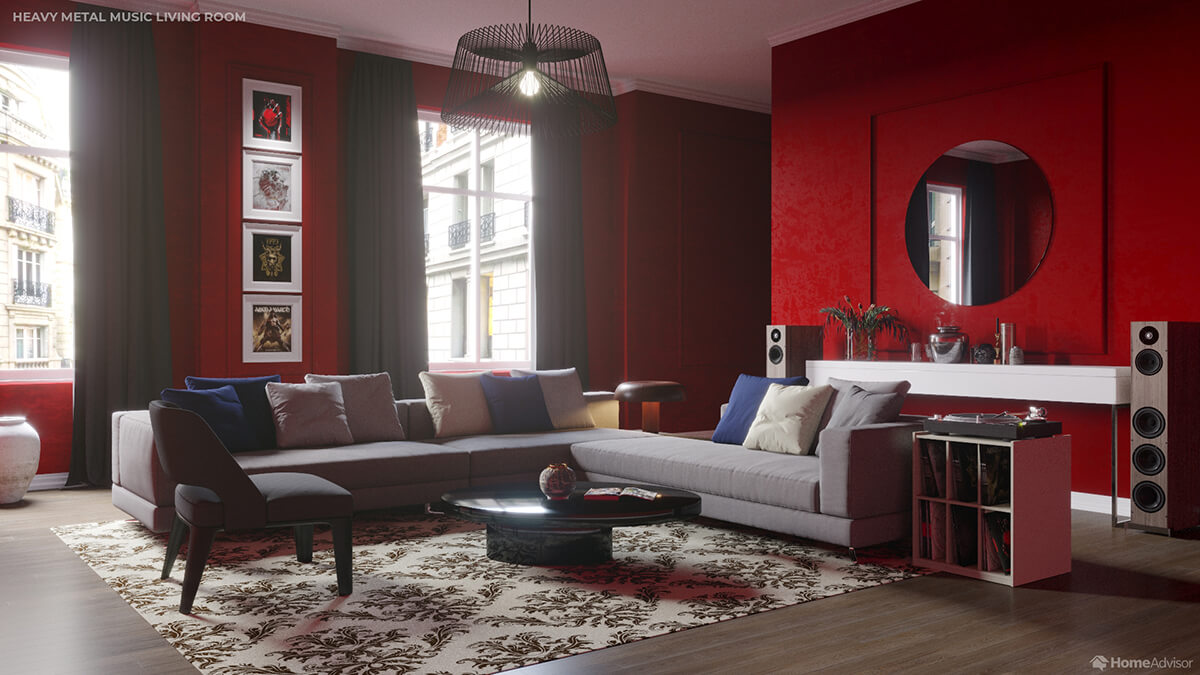 You can listen to the playlist that we shared with the chromestetes here:
Check out the color palette inspired by heavy metal songs:

A personal story of sound and vision
"I honestly can't imagine not having chromesthesia," concludes Rachel. "I have a handful of creative projects and entrepreneurial ideas that rely on my synesthetic perspectives. I'd hate to miss out on the opportunity to bring those to life without that vision."
When sharing his experience throughout this experiment, Michael confessed:
"I was surprised that when I listened to songs of the same genre, I heard similar colors"
Everybody experiences music differently, but our chromesthesia décor seems to capture something truthful about each of the ten music genres that we studied. If your favorite music genre is here, would you think about using its palette to decorate your living room? Or is there a different genre which color scheme makes your heart sing?
METHODOLOGY
We asked two people with chromesthesia to listen to five songs in 10 music genres and tell us which colors they saw. In order to choose the songs, we first agreed on the top music genres using Nielsen. We then chose the top five songs from each genre chart, removing any duplicate artists and replacing them with the next artist down on the chart. To establish the genre color palettes, we picked out the colors that were seen multiple times by both participants in each genre.
Interesting Note About Visual Art and Chromesthesia:
The chromesthesia deal works both ways. Visual artists such as Vincent Van Gogh and Wassily Kandinsky were chromesthetes. In fact, Kandinsky quit a successful law career to become a full-time painter after a moment of audio-visual enlightenment at a performance of Richard Wagner's "Lohengrin" – changing the whole course of the history of painting.
See what Kandinsky's dining room and Van Gogh's bedroom looked like before they painted their unique perceptions on canvas.
No Comments Yet