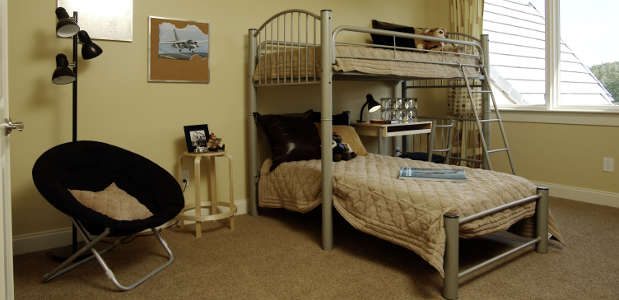 Somewhere between a loft bed and a bunk bed is the loft bunk bed. While bunk beds are great for kids, they often become too small too quickly. Loft beds, while good for kids and young adults alike, are still only one bed. A loft bunk bed is generally made up of two beds of at least twin size. Instead of being parallel to each other, the bottom bunk is perpendicular to the top and not attached to the loft structure. This design is quite desirable for many reasons.
Versatility
Unlike traditional bunk beds, the bottom section of these beds can be removed and placed somewhere else in the room with no hassle. The mobility of this bottom bunk is especially convenient as children get older and need their own space. It is also very easy to move the bottom bed into a completely different room.
Bunk beds are a definite plus during childhood sleepovers, but if more space is required in a teenager's room, a loft bunk bed quickly rises to the challenge. When the bottom bed is removed and stored, the room is left with a great deal of extra space for a TV, computer, or (if you're really lucky) a drum set.
Longevity
The convenience of a loft bunk bed doesn't end when your teenager goes off to college. Dorm rooms are notoriously small, as are first apartments. Your son or daughter may very well take advantage of the investment you made oh so many years ago after they go out on their own. The length of time this design is useful is far longer than a traditional bunk bed.
Need to find a pro for your Bunk Bed Construction?
Find Pros
Building Your Bunk
As far as wooden lofts go, you've got a couple options on how to do it. The easiest and most expensive option is to have someone build it for you. This option is especially suited for situations that are going to be permanent. A custom loft will out perform and probably outlast any other option and might come with some extras you didn't expect.
On the other end of the spectrum are kits. A kit will provide everything but the tools and elbow grease to make your bed. It is certainly less expensive than having one custom built, and the product will be functional as long as you follow the directions.
Those with some carpentry experience might also consider buying (or finding for free online) a loft bed plan; you'll have to cut the wood and drill the holes, but the designs are generally pretty simple and you'll save some cash, too.
A metal loft bed is usually fairly inexpensive and easy to put together, as well. The price is comparable to that of a wooden bed, and the structure will be strong and durable. The biggest drawback to a metal loft bed is, for most people, the look. Though quite functional, some might feel that the institutional look of some models doesn't really compliment the flow of the rest of the room.
---
No Comments Yet
You can be the first to comment!